Sterilizing jars is not needed when you're water bath canning, as long as processing time is more than 10 minutes. Most recipes call for at least 10 minutes processing time or more.
When it comes to preparing jars for canning, you should understand that processing for more than 10 minutes sterilizes both the food and the jars.
Sterilizing jars isn't necessary for pressure canning either. Everything will be well sterilized by the high heat involved in pressure processing.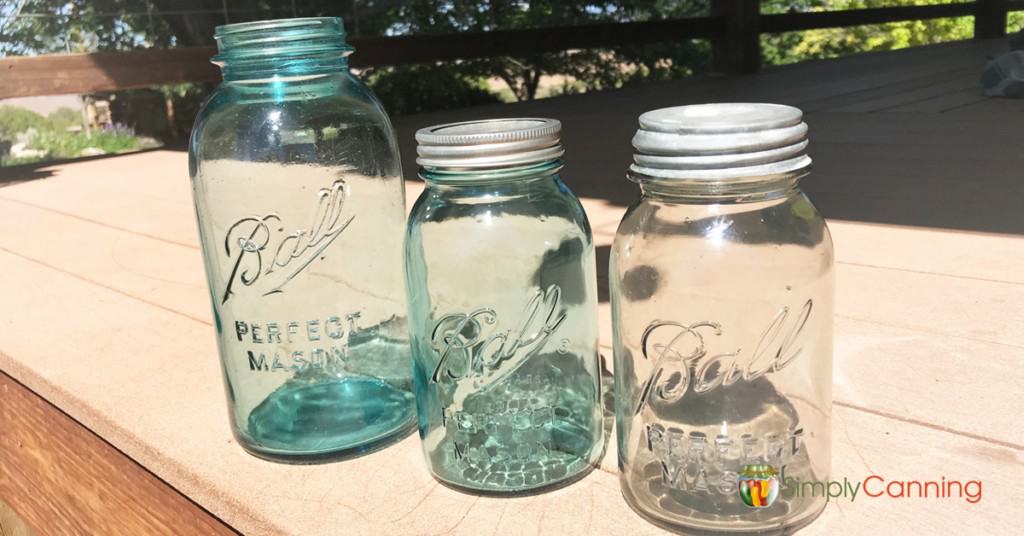 This Page Includes:
Information on Sterilizing Jars & Preparing Jars for Canning
Jar Cleaning
Before every use, wash empty jars in hot water with detergent and rinse well by hand, or wash in a dishwasher. Unrinsed detergents may cause unnatural flavors and colors. These washing methods do not sterilize jars. Scale or hard-water films on jars are easily removed by soaking jars several hours in a solution containing 1 cup of vinegar (5 percent acidity) per gallon of water.
Sterilization of Empty Jars
All jams, jellies, and pickled products processed less than 10 minutes should be filled into sterile empty jars. To sterilize empty jars, put them right side up on the rack in a boiling-water canner. Fill the canner and jars with hot (not boiling) water to 1 inch above the tops of the jars.
Boil 10 minutes at altitudes of less than 1,000 ft. At higher elevations, boil 1 additional minute for each additional 1,000 ft elevation. Remove and drain hot sterilized jars one at a time. Save the hot water for processing filled jars. Fill jars with food, add lids, and tighten screw bands.
Jars for Canning
Empty jars used for vegetables, meats, and fruits to be processed in a pressure canner need not be presterilized. It is also unnecessary to presterilize jars for fruits, tomatoes, and pickled or fermented foods that will be processed 10 minutes or longer in a boiling-water canner.
You must, however, always start with clean jars. Always wash your jars before you do any type of canning. I am assuming you would know that all equipment needs to be clean before any canning.
I don't personally use any recipes that call for less than 10 minutes. I am at high altitude and everything has time added, so I always simply start with clean jars instead of sterilizing jars.
How to Sterilize Canning Jars
Go ahead and check your recipe before sterilizing jars. Does it call for less than 10 minutes processing time? Don't forget to figure you altitude. If so, you should be sterilizing first.
Or if you've been sterilizing your jars and you are just more comfortable doing so, don't stop. It certainly won't hurt anything. Go ahead and sterilize the jars and have peace of mind.
Here's how to sterilize canning jars:
Place empty jars right side up on the rack in a boiling-water canner.
Fill the canner and jars with hot (not boiling) water to one inch above the tops of the jars.
Bring to a boil and boil 10 minutes.
Carefully remove hot, sterilized jars one at a time and drain.
They will be hot!
Leave the hot water left in your canner for processing filled jars.
Continue with your canning recipe.
Always Follow Complete Canning Instructions…
When it comes to home canning jars, keep in mind that your jars DO need to be clean and hot prior to filling them with hot ingredients and placing them in a hot canner. Here are instructions for water bath canning and pressure canning.
Sterilizing Jars Tips & FAQs
Can I Sterilize Jars in the Oven, Dishwasher, or Microwave?
While you may be able to clean canning jars in the dishwasher, it doesn't sterilize them. If you're using a recipe that requires jars to be sterilized first, they cannot be sterilized using the oven, dishwasher, or microwave. Use the instructions on this page to ensure your jars are safe.
If by sterilizing you mean processing the filled jars (i.e., canning), then no. That is not the same at all and is never recommended. I talk more about some unsafe canning methods on this page.
Best Way to Heat Your Jars for Canning
Video Transcript – Edited for Clarity
Hi there. This is Sharon Peterson with SimplyCanning.com and another Canning Chat. Today's question is about heating your jars before filling them. This question comes from Cora who asks, "Hi, Sharon. I have yet another question: When you were heating your jars in your pressure canner before canning, how much water do you place in the bottom, and how long do you heat them up? Or do you just place them in boiling water for a specific amount of time? Can this be done in a different pot? I'm sorry, but that was more than one question, huh?"
More than one question is fine. I don't mind that at all. It was actually one big question. She's specifically asking about pressure canning, but this works for water bath or pressure canning.
I put the amount of water that I need in my canner and heat it up to just below boiling. It doesn't have to be boiling, but you want it hot. You can put in the jars when the water is still cold, and then let them warm up.
You're not really sterilizing your jars. Remember, sterilizing them ahead of time isn't necessary. They have to be clean. As long as whatever you're processing gets processed for more than 10 minutes, sterilization is not necessary. Just warm up the jars. With my pressure canner, I put my three quarts in there. I turn my jars upside down, so they're mouth down, and I put them in my canner.
Sometimes, they want to float and fall over. It's a little frustrating, I'll admit that. But it's way easier than having another pot. I put my jars in there. When everything is warm and my food is ready to go in the jars, I just take out a jar, put the food into it, and put it back in the canner.
You can do it in a separate pot if you'd like. You'd just have a separate pot on your stove with hot water in it. The intent is to warm the jars. Having one pot works best for me. Warm up the jars in the canner, and you save that extra pot. You have more workspace for work. You don't have extra things out on your counter when you're using a water bath.
Of course, the water bath canner has a rack that sits on the sides, so the jars don't have to actually be in the water. As long as the steam is getting into them and warming them all up, you can just have the rack on the sides of the canner.
Just feel the jars. If they're hot, then you know that it's working. If your water is not hot enough to get the steam into the jars, you could lower the jars down into the water. There's a lot more water in a water bath than in the pressure canner. Your jars may tend to jostle and fall over. That's why I like leaving them in the steam to warm.
The whole goal is hot jars, hot food, going into a hot canner.
I hope that was helpful. You guys have a great day, and we will see you in the next Canning Chat video.
Related Pages
Guide to Canning Jar Lids – Canning jar lids are standardized these days, and with good reason! Find resources on best practices and safety steps.
How to Recycle Those Used Canning Jar Lids – Recycle canning jar lids (not for canning!) in many other ways with all the great ideas listed in this article. Made into garden markers and magnets, used to keep jars clean, and more!
Home Canning Jars – Creative Storage Solutions – Storing your home canning jars is not hard and they can be put in many places, but there are a few things to keep in mind.
Pin This to Find Later: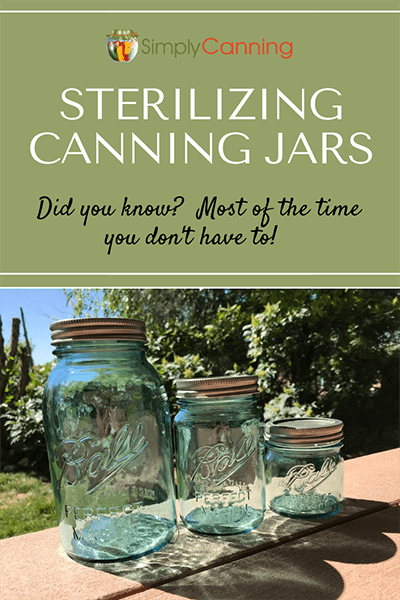 Source: https://nchfp.uga.edu/how/general/recomm_jars_lids.html
Page last updated: 7/6/2021