I found out this spring about a new canning lid brand. Superb Canning Lids. I tried them to see if I'd like them. So far so good! I'm actually impressed.
First Reactions. When I first opened the box of lids my first thought was wow, The gaskets seem thick! This is a good start. :).
Superb Canning Lids
Superb gaskets are blue, which is different than other brands. They call it Blue Seal Integrity. Very nice! Stands out from the crowd.
Blue is nice, but what I really liked is that the rubber seemed better quality than other lids I've used. I pressed it with my thumb and it felt rubbery and heavier than the gaskets of other brands. The seal area seemed a bit wider as well.
It looks to be a great lid that will have great seal rates. I've tried them with several batches and have had good results so far.
Superb Lids come in standard regular mouth and wide mouth sizes so they are compatible with other brands. The seals contact area will fit the rims of standard canning jars and rings.
They pop! Love that ping sound. So very satisfying.
Online reviews.
I did a bit of research on these before I tried them. Overall what I'm seeing is positive reviews. The only negative I've seen, (and it has been pretty rare) is when someone had them buckle.
Note on this – Remember, with traditional 2 piece metal canning lids, you don't want to over tighten the lids. Any metal canning lid may buckle if you've cranked the screw bands down too hard. The lids need to vent as they are heating up in the canner.
No liquid will end up in your jars but the air inside the jar needs to be able to be pushed out. (That is what venting is). If the screw band is tightened too tight… it causes the lid to buckle.
Just finger tight is all that is needed. Then as the jars cool, that lid is pulled down and suction action creates the seal.
If you wonder just what does "finger tight" mean anyway?? Check this video where I demonstrate how I tighten my jars.
How to use Superb Canning Lids
These lids are the same style as other 2-piece metal canning lids. So that makes it super easy. Just use them like any other canning lid. You'll use a tested recipe, follow the directions to fill your jar. Clean the rims of your jars and add the flat lid, use a screw band to hold the lid down. Remember just finger tight… (see the section above if you missed that.). Then process as directed for your food type.
How did Superb lids work for me.
I tried superb lids in my pressure canner. I was canning up a mess of green beans and beets. The lids worked great! No problems so far. I'll be keeping an eye on the jars to make sure they hold up over time but I don't expect any issues. The lids worked well with high temperatures of pressure canning, so I don't expect any issues with waterbath canning.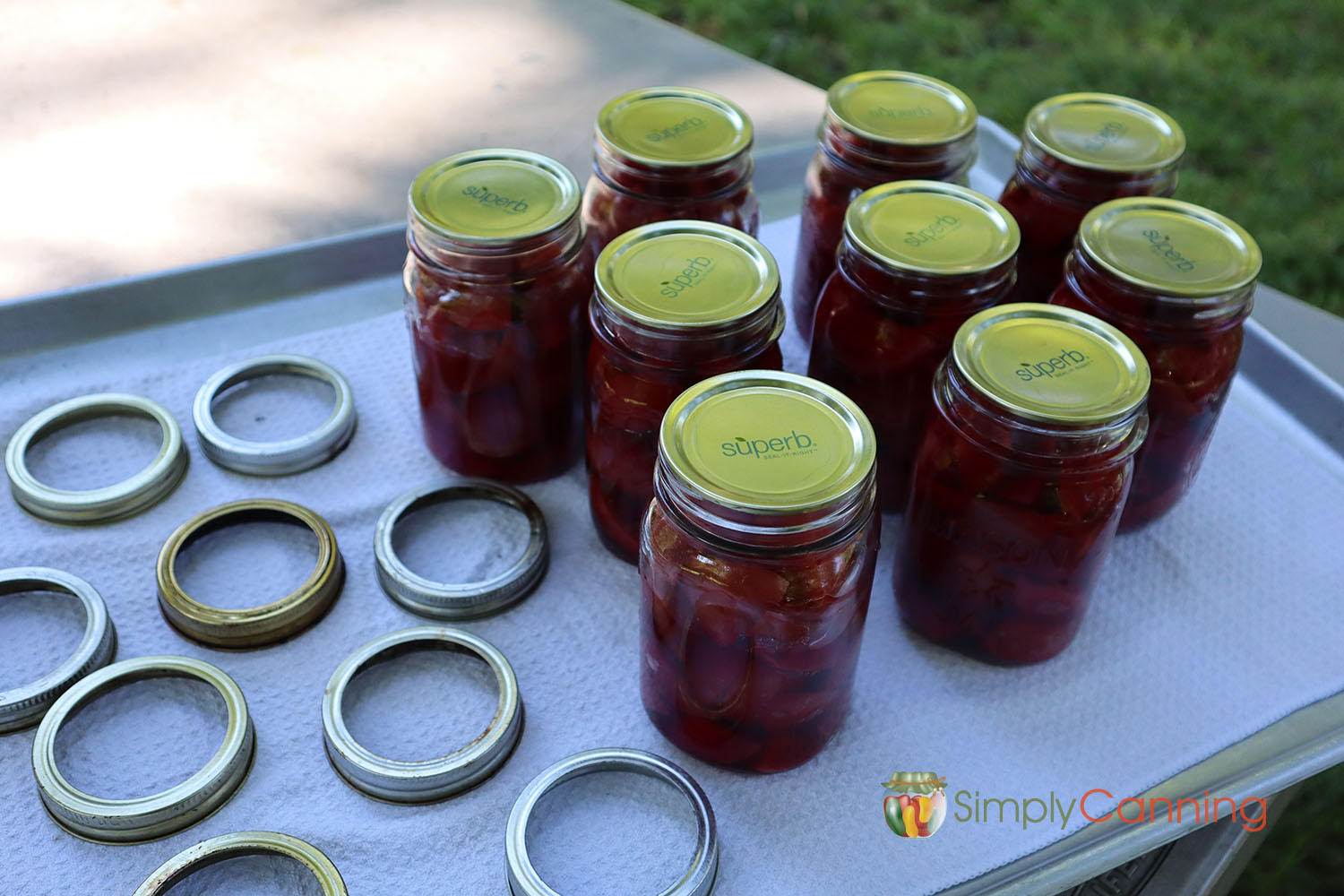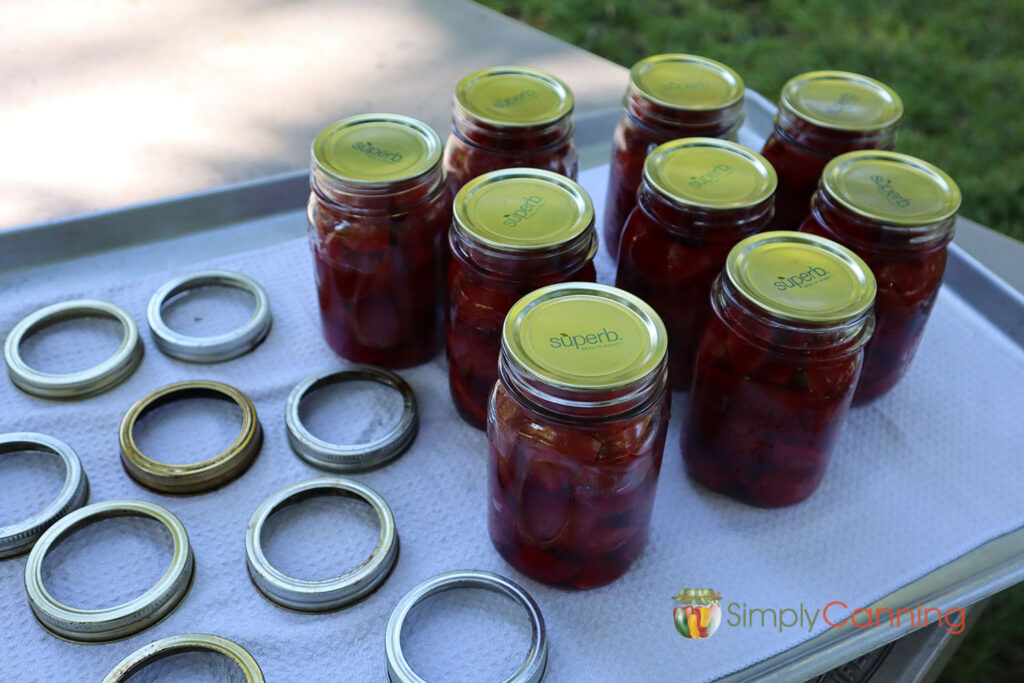 Are these lids tested? Are they food safe?
Yes, as I expected Superb Canning lids are food safe, BPA free, and have been tested by both internal testing and independent external testing labs.
What are the lids made of?
The lids are designed with 6 layers. Food grade and BPA free! Lots of protection in that thin layer of metal keeps your food safe.
Five layers of corrosion protection. Two layers of exterior protection. Three layers of interior protection.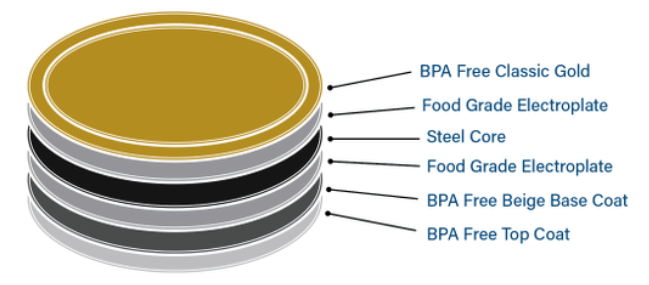 Packaging
These canning jar lids are packaged in compact boxes of 60 lids. People who do a lot of canning should love this. No more buying 12 at a time and having all the wasted packaging.
Fillmore container (who supplied these lids for my review) has the boxes available both singly and in case lots.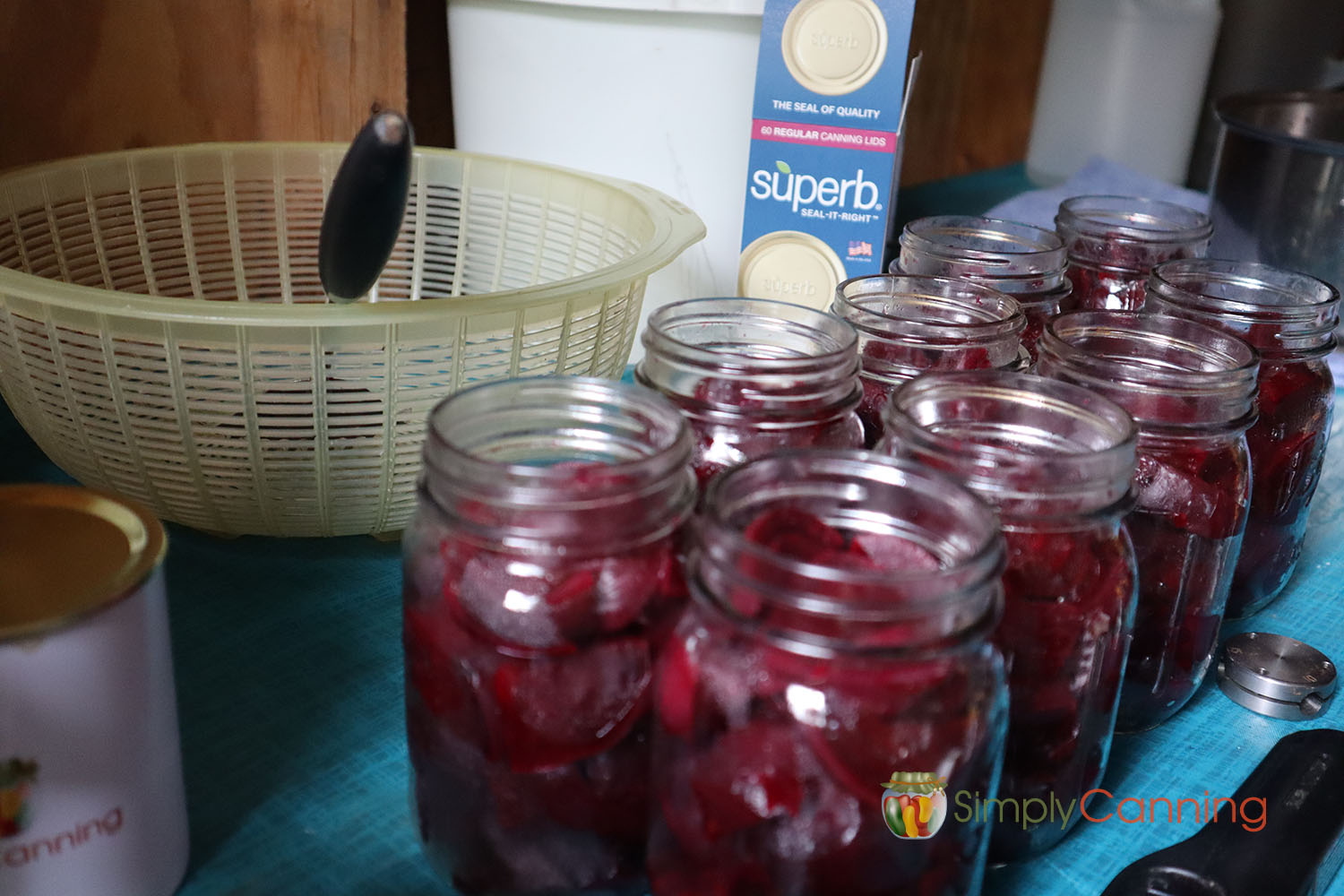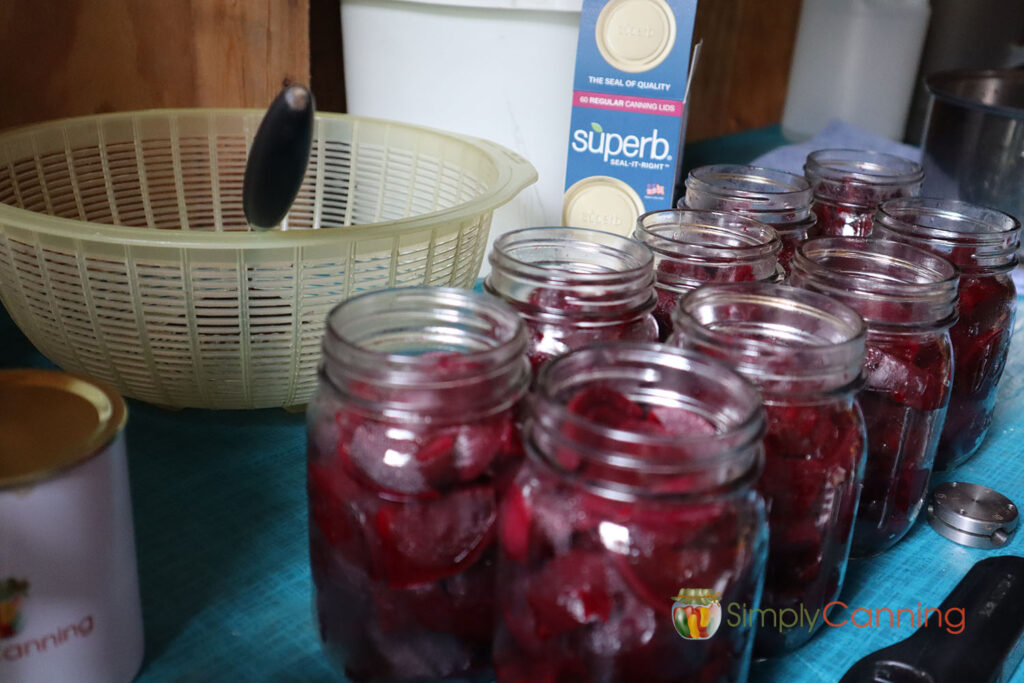 Who makes Superb Canning Lids?
The company is a small business run by people who have been canning for generations. They know the supply issues that have been happening lately and have happened in the past. They know canning, and are on a mission to produce quality.

Where are Superb Canning Lids made?
I'm excited to know that YES we have a made in the USA product here.  These lids are manufactured in Sugarcreek Ohio.  This home canner likes it!
Where to buy Superb Supplies.
Superb lids can be found at online retailers and many stores where canning supplies are sold. Contact your local stores to see if they carry them. Not all of them do yet. If they don't, tell them about the brand. It'll help get the word out. Maybe they'll get some and you can try them.
If you want to buy online I can highly recommend going through Fillmore Container. They sell canning supplies and have proven to be a good resource with great customer service. We've been working together for years.
Regular Mouth Superb lids are available here
Wide Mouth Superb lids are available here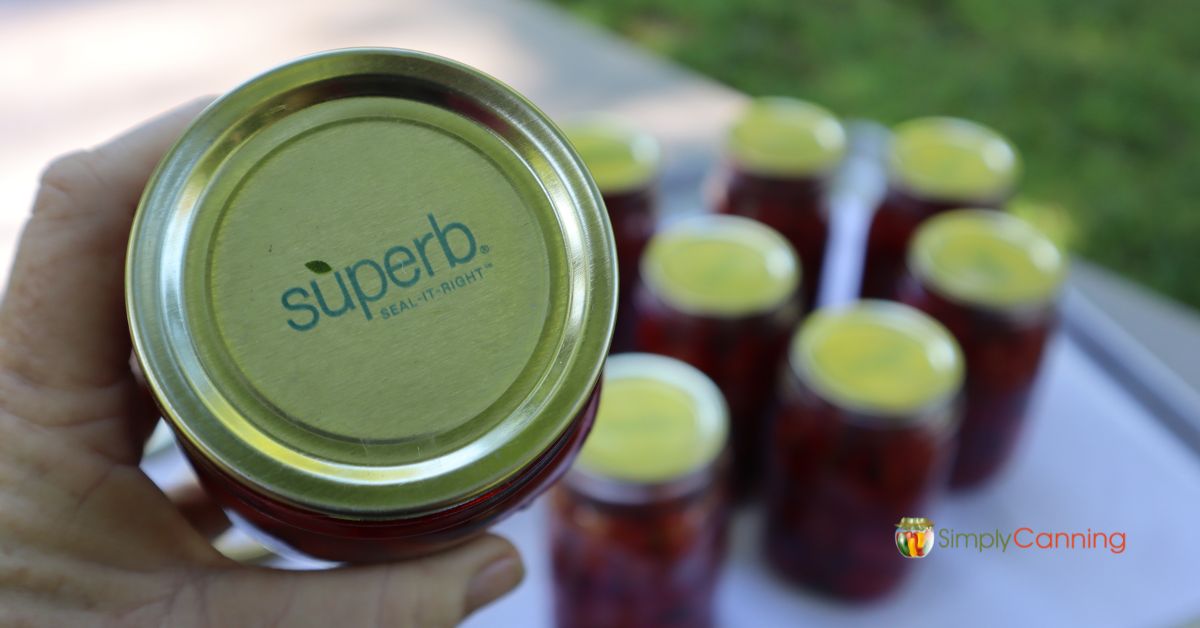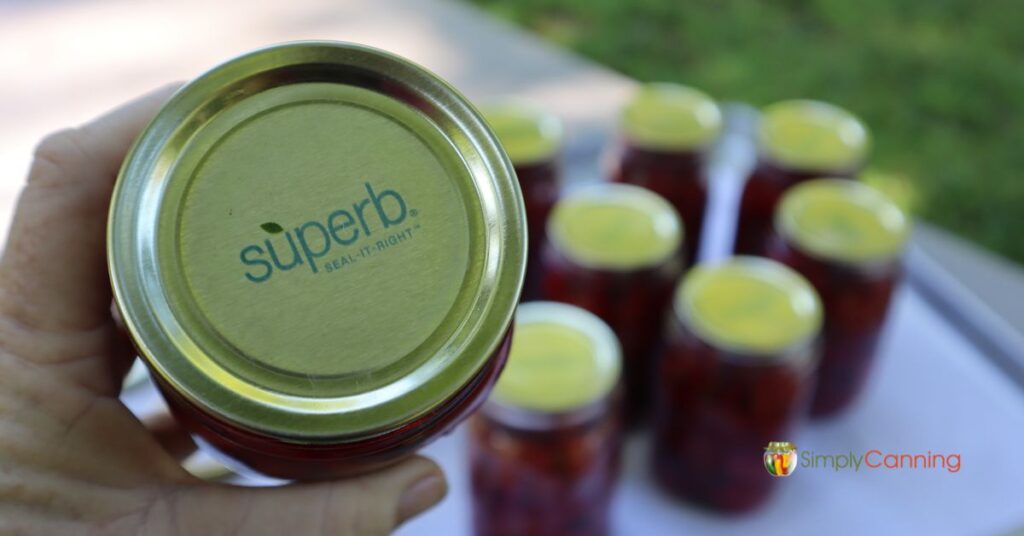 Questions You Might Have
Are Superb Brand Canning lids just another knock off canning lid? 

As many of you know the past few years canning supplies are sometimes hard to come by.  There were many canning suppliers popping up online that sell poor quality lids.  Some of these were even as brazen to use the Ball company name and claimed or implied that they are from Ball.  

I've warned people about using knock off lids.  But mostly I warn people against flyby night companies that are not producing quality.   Superb Lids are NOT one of these knock off lids. 
Where are Superb Canning Lids Made?
Superb is a legitimate company located in Sugarcreek Ohio.   I'd love to see them grow and encourage supporting them.  
Are Superb Canning Lids officially approved?
This question is easy to answer… did you know that THE NCFHFP nor the FDA approve any specific company?  They do however recommend the 2 piece style with the flat lid and screw bands.  Superb canning lids are the same 2 piece style that is recommended by the NCFHFP.
Are off brand canning lids safe? Do they work?
This is a difficult question to answer. They are safe… if they sealed. Unless the material is not food safe then even if it does seal. The lid will have food contact so it needs to be food safe. What you need to do is research the company and the quality of the lids.

Superb brand checks off all the boxes for safe canning lids. Seal quality is good so they seal well, lid quality is good and the company is up front with how they are made.
Is there a difference between canning lids?
Canning lids from different companies are designed the same… but it's the details that make the difference. That sealing compound is what makes the lid seal well. And the lid surface must be safe for contact with food in the jar. There are other details as well but those would be the two major things to watch.
Pin this to find later!