Antique canning jars…. I love anything vintage or antique, especially kitchen items. Sometimes they are still put to good use, like some vintage mason jars.
Please notice I said SOME. Vintage is fine. I have vintage jars that I still use for canning. In fact some of the vintage jars have a nice, thicker glass to them when compared to some modern jars. Antique fruit jars may be another story. The really old ones with the bubbles in the glass: they should not be used for canning.
I don't have a date to give you. I don't know if there is a date where you can specifically know that the jar is okay to use in the pressure canner. My only advice is…use caution.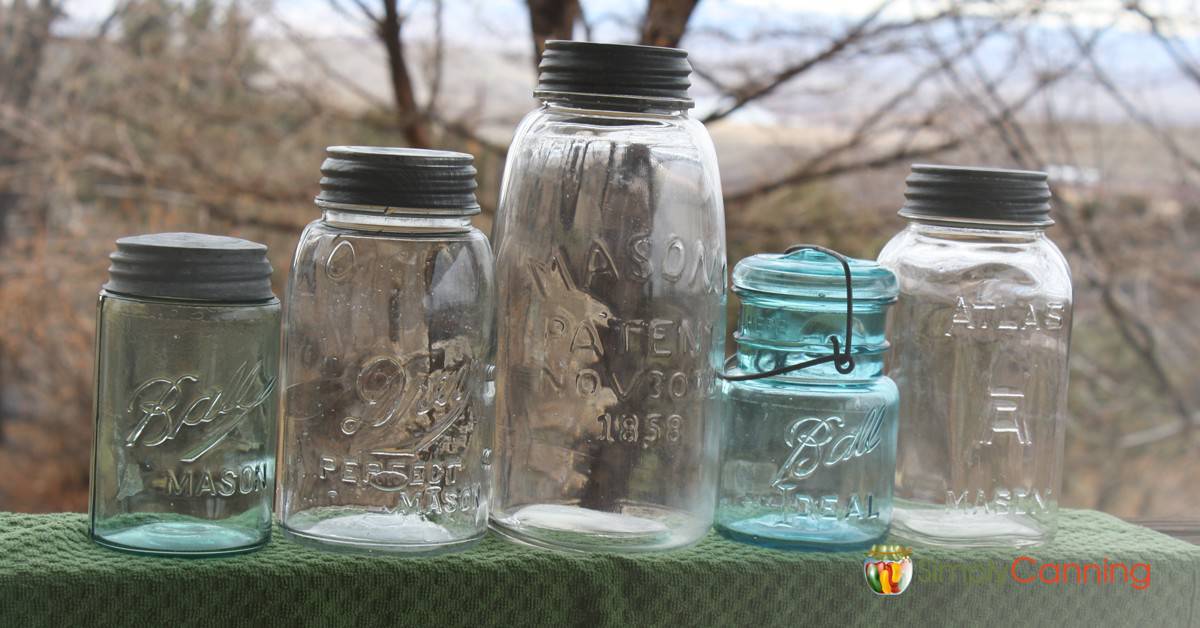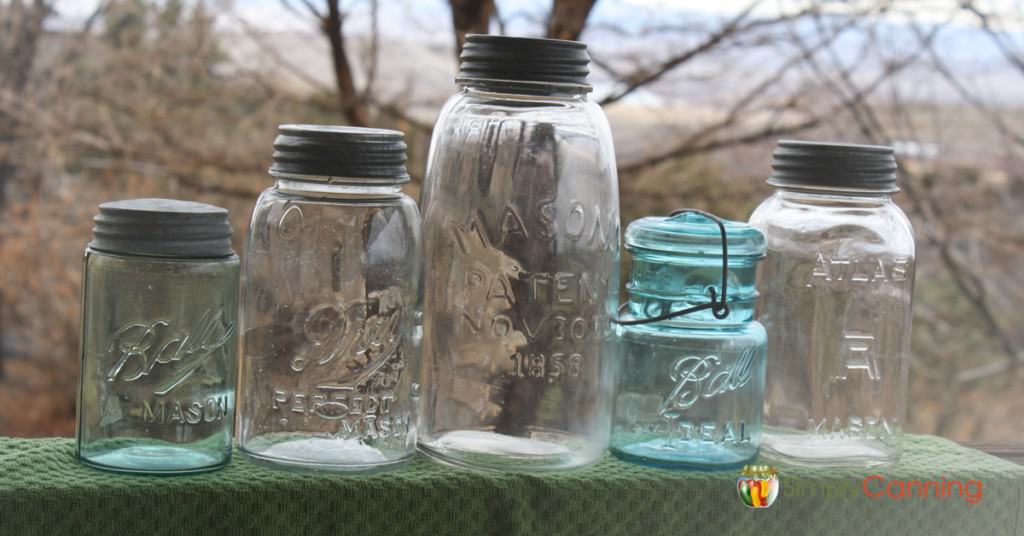 This Page Includes:
Using Vintage or Antique Canning Jars for Home Canning
Is it a good idea to use old canning jars or vintage canning jars for home canning?
Personally, I would not use antique jars for canning. Some jars that are old are just fine. In fact some of the old ones are nice, thick jars and seem sturdier than even new jars.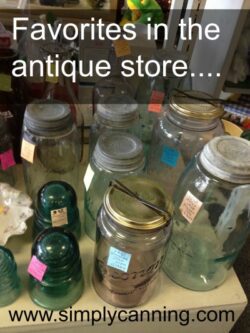 When I say don't use antique jars for home canning, I don't mean just old canning jars. Many of my jars are old and have been used for many years. They are well-used and that is okay, as long as they are in good condition.
The ones that you might be more careful with are vintage or antique canning jars. The collectibles with wire bails and glass caps. Bubbles in the glass. The really pretty ones!
They are great for decorative use. Fill them with pasta or dried beans for your kitchen countertop. Add potpourri for your bedroom or bathroom. Fill them with gift items and give as a gift. Fill them with homemade cappuccino or someone's favorite nuts or make a soup-in-a-jar gift.
Set them on a windowsill and let the light shine through.
But don't stick them in the pressure canner! I just would not trust them.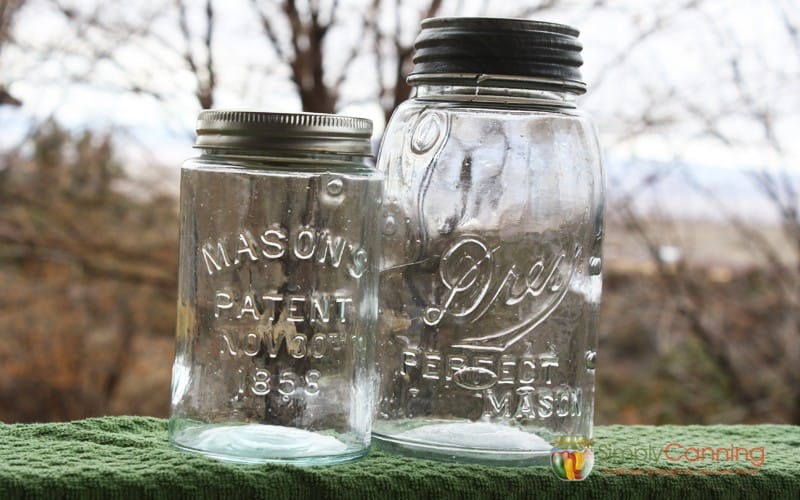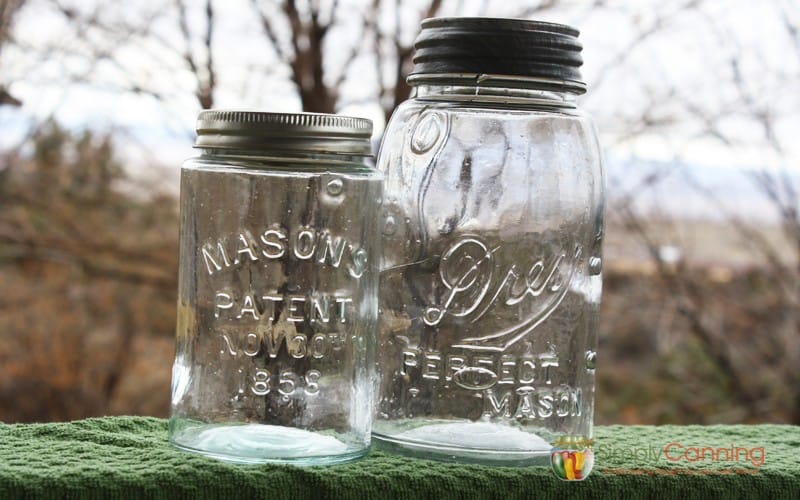 Jars that Make You Smile
Does anyone else have that special jar that just makes you smile when you pull it out of the cupboard? It's almost like I'm thinking, "Oh, there you are, my friend!"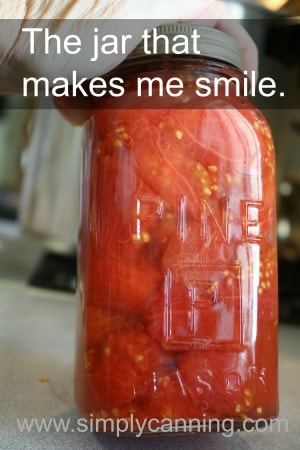 Here is mine. I don't know why, I just like the simplicity of this squarish-shaped Pine Mason Jar. This is a great example of a jar that is old…but still usable. As you can see, tomatoes went in it this year.
Pricing Vintage & Antique Canning Jars.
I'm not an expert on antique canning jars, but I've been told that the "Red Book" is the book to go to for valuing your old Mason jars.
In the Red Book, my Pine jar above is listed as 2367… worth maybe 4 to 6 dollars. Old…but not really old.
What to Do with Canning Jars Found in an Old Cellar?
Reader Question:
"Hi,
We just moved on July 6th to an old farmhouse. The house was built in the 1920s. One of the neatest things was finding an old root celler. At least to me. Hubby wants to fill it in, and I'm like noooooo. We're remodeling the house, building a better life for us and our children. It's 100 acres of magic. There are pecan trees, chestnut trees, pear, apples, blackberries and more. I get to have my first real garden this year.
My problem is this. I've NEVER canned before. Ever. I've started collecting jars. My mom bought me a pressure cooker, which I'm scared of. Argh.
My question is this. I found some old old antique canning jars under the house in the cellar. The lids were rusted out and broke through. The jars are awesome. Still have a little rust on them. But I love them. Hubby thinks I should throw away. Should I?
Simply Canning's Answer:
If you don't want them, I do! LOL. No seriously, it could possibly be that they would be fine for canning. Some of the older jars are actually a nice, heavy glass and even better quality than new jars.
Of course, I'm assuming you know that you need to throw the food away. Be sure and throw it away where animals won't get into it. If there is any botulism there it can make animals just as sick as people. Also, be sure and clean them well, and I would suggest even sterilizing them by boiling them.
This is what the USDA says to do with jars of food that are suspect. You have to make your own decision as to throwing the jar away or not.
If they are very old (antique canning jars with colored glass and bubbles in the glass), you don't want to use them for canning. If the jars are usable for canning, just be sure and check the rims for any chips. If they are chipped, they won't seal well.
You never know…you might even have a valuable gem in there that collectors are seeking. I'd just LOVE to go through them with you if I were closer. That sounds like a fun afternoon to me.
Oh, and I hope you don't fill in the root cellar either. Make sure it is stable and not falling in, and then use it for all those jars of food you will be canning up from your new garden. 🙂
Thanks for the question…and have fun!
Antique Canning Jars as Decorations
Antique canning jars make beautiful decorations. The jars you see above on the windowsill are jars I've picked up in various auctions, yardsales, and estate sales. I have more than what you see there. I love placing them in my windows for the light to shine through. That is the extent of my craftiness though.
There are many people more artsy than me that have made wonderful decorative pieces from antique canning jars. One of those people is from Treasure Again. She makes Solar Jar Lights. I have 3 hanging in my garden.
They are sooooo pretty.
I first saw these jars on Etsy when I noticed some pictures of her "lanterns." I call them lanterns because that is what they reminded me of.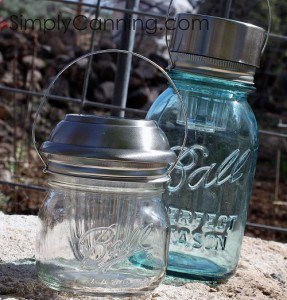 What Treasure Again does is she finds these beautiful antique and vintage jars at estate sales, auctions, yard sales or wheeever. She then cleans them up and makes beautiful solar canning jar lights. Put several jars together in a vintage canner rack, add some hangers, and you have a pretty outdoor chandelier. Add all types of other vintage items to create lovely (exquisitely lovely) pieces. You really should take a look at her Etsy site if you think these are the least bit pretty….you'll be amazed at the creativity and designs there. Really.
Best of all, they are solar powered, they don't use any electricity, and are so gorgeous out in my garden. The lids need to be in full sun to power up all day…they light up automatically at night when the sun goes down.
I got a wide-mouth lid and a regular mouth too. The regular mouth one I put in a quart-size vintage jar that is a pretty blue color. I have one vintage wide mouth jar, but the lid didn't quite fit. The jar rim is kind of messed up and chipped. All my other vintage jars are narrow mouth, so I just used a new wide-mouth jar that is a short, stocky shape. They are both really pretty.
The wide-mouth lid light is noticeably brighter than the narrow, so I'll be on the hunt for a wide-mouth blue or green vintage jar.
I know I could buy one of the new blue jars… but I don't actually like the color of those nearly as well as the "real" green/blue in the vintage jars. I think I'm the only one I have ever heard of that doesn't just LOVE the new blue jars! I mean, I like them fine…but the color is nothing compared to the blue in the antique jars, especially the ones with the bubbles in the glass.
So pretty! I love mine and wanted to share these with you. Treasure Again……check it out.
Sharon
Antique Mason Jar Lookalikes
Update: Ball now has limited-edition, vintage-looking jars available now, and the color is SO CLOSE to the original. Learn more in my review here.
Related Pages
Canning Jars – What are the different sizes and shapes of canning jars? What brands are out there? Can I reuse jars from the store or vintage jars? Get all of your canning jar questions answered here!
New Vintage-Look Ball Canning Jars – Comparison of Colors & Patterns
Canning Jar Lids are standardized these days, and with good reason! Find resources on best practices and safety steps here.
Pin This to Find Later!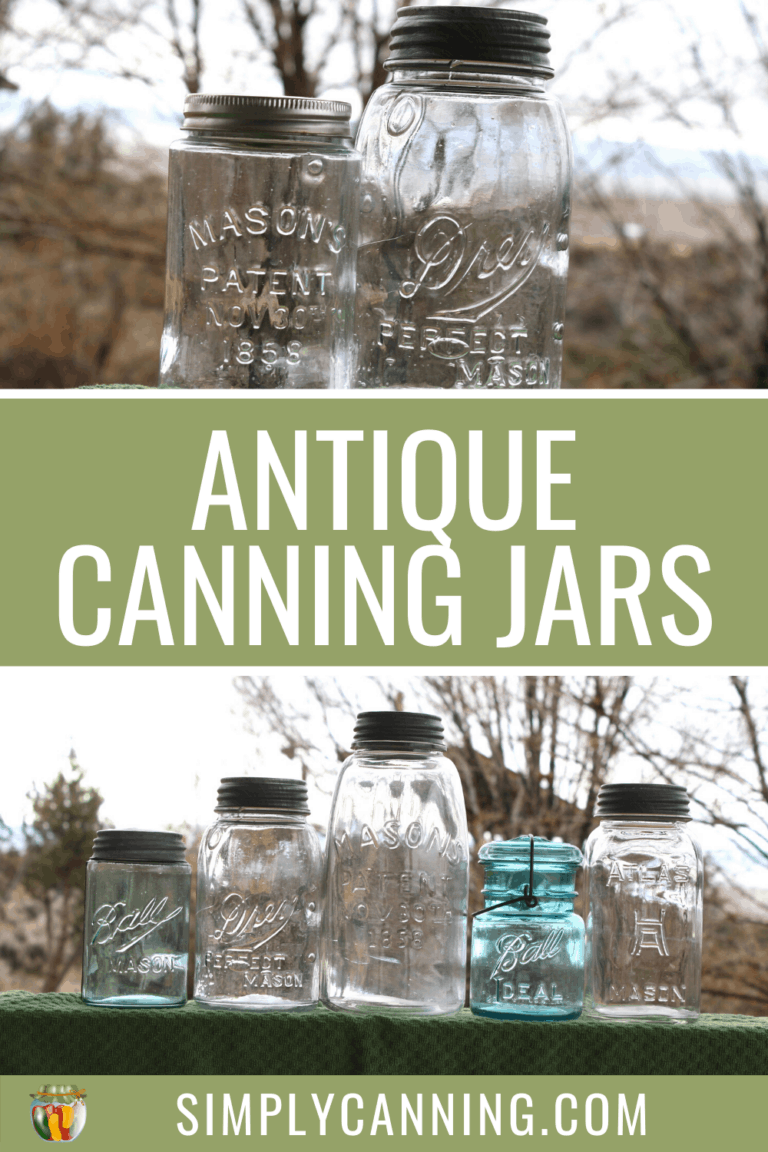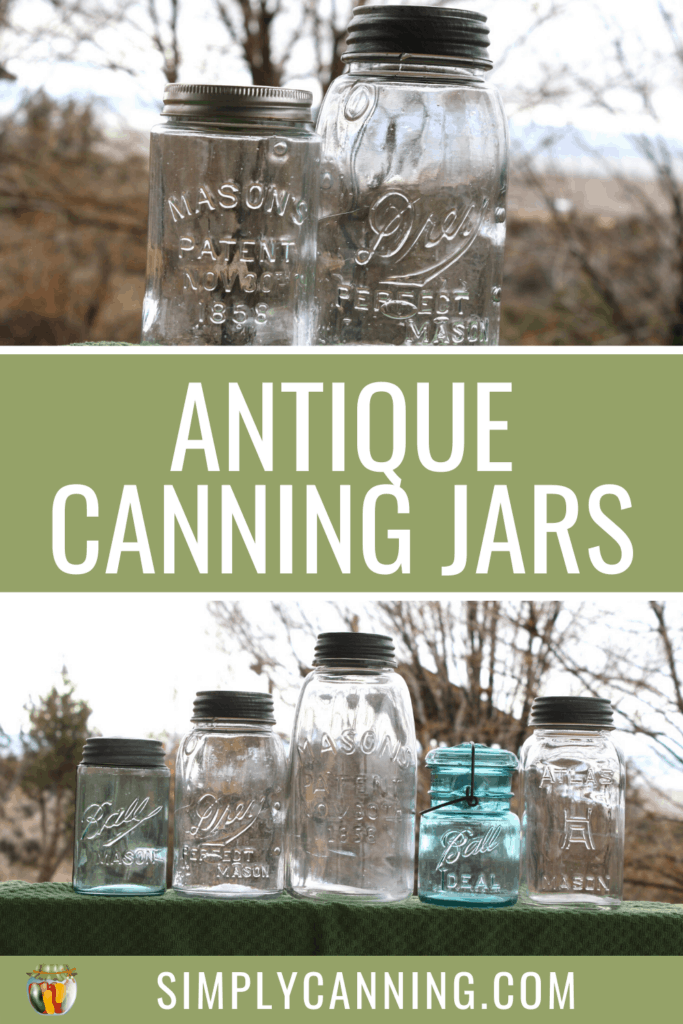 Page last updated: 9/30/2021