(editing to add – This post was written years ago. Unfortunately, I don't think the company is in business any more.)

A new canning supplies company? Yes! And I think I like 'em.
Orchard Road Canning is a new and upcoming canning company that recently contacted me. They asked about sponsoring Simply Canning. I am particular who I allow to advertise on simply Canning. I need to know that their product is a good product and something that you will value. So I checked them out.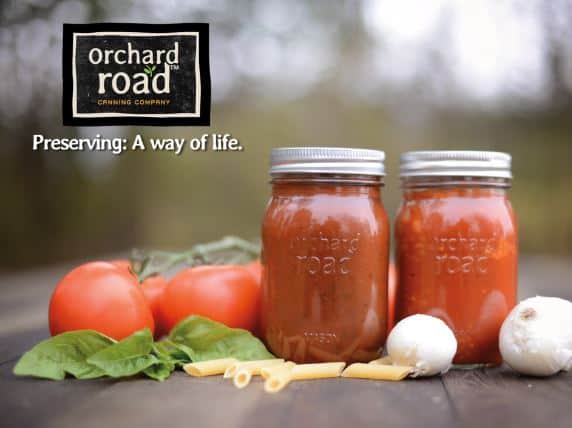 This Page Includes:
Are Orchard Road Canning Jars Safe for Home Canning?
When I saw images of their jars, my first thought was… "Oh, I like that clean, simple look." My second thought was, "Hmmmm, are they tested safe for canning?"
So I asked them! This is what they had to say.
"We have had our entire product line tested by an independent lab against Ball products, and our products performed just as well as Ball products did. Our jar weights are either the same or a bit heavier than that of other jars."
That independent lab part was good to hear. If you want more information on that, they'd be glad to let you know more.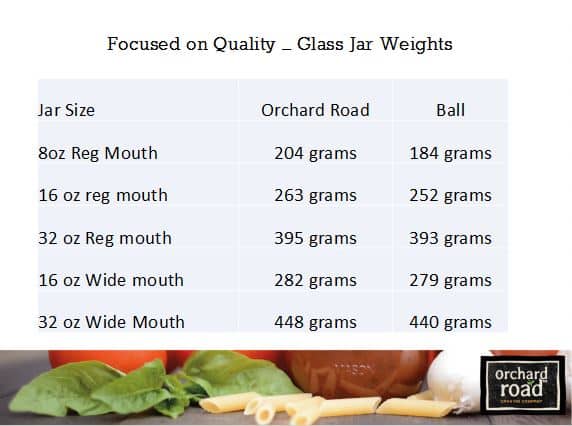 Then, of course, I needed to use them for myself. So yes, Orchard Road Canning sent me some sample jars and lids. My first impressions are, "NICE!" The jars seem heavy and sturdy. I like the simple, clean style.
I wanted to be sure and use them in both water bath and pressure canners. So I've used them to can a strawberry jam and pinto beans. They performed great in both.
The jars are the standard wide and regular mouth so they will interchange with other brands of lids and bands. Orchard Road lids and bands will fit to other brands of jars as well.
The Orchard Road Canning Look: Clean, Clear, No Clutter!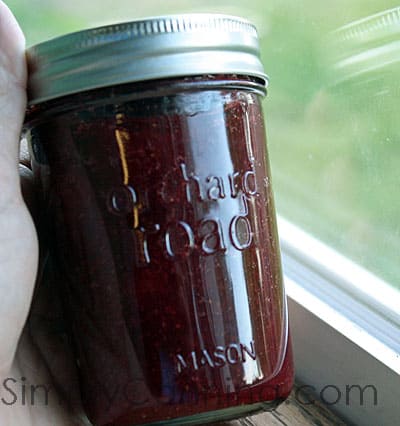 The jars have a simple logo on one side, with smooth sides all around the rest. Nice, clean, and simple. You'll be able to see your food clearly, because you know how pretty filled jars are all lined up on your shelves.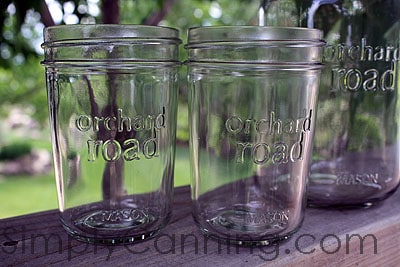 The lids also have a simple logo situated on the lid, with space below to do all your labeling… You do label your jars, right? Because you know you'll forget when you canned it or what the ingredients were, right?
Just nod your head and repeat after me… "Yes, Sharon, I will label all jars so I won't forget."
Edit to Add…Regarding the Dome Lids. 🙁
Editing to add new information on the lids.
While I really DO love the jars and the packaging, the lids have not worked out so well. When I first tried them, they seemed to work fine. They sealed and I thought all was well.
Skip forward in time…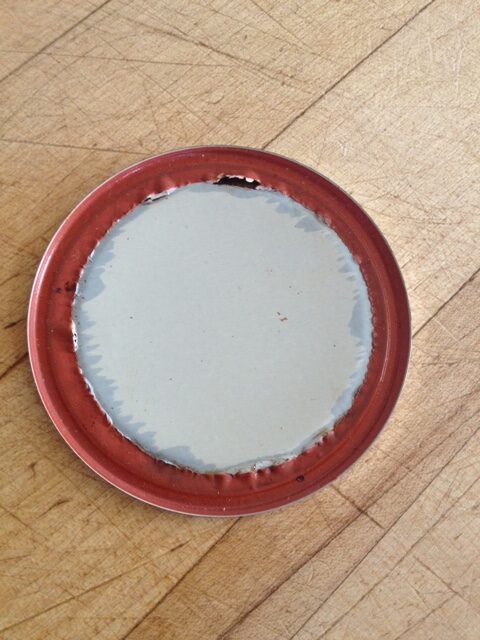 I have a concern about a lid I took off a jar of pickle relish. The lid was on the jar 3 yrs. Tthe edge of the gasket and the coating is peeling up. At first, I thought it was just a fluke, but it has happened several times.
We did go ahead and eat the relish as the seal was intact, but that peeling is not something I've seen before. And I'm not too thrilled with it. I e-mailed Orchard Road to see if they had any information. Here is their response.
"I've never seen this and this is the first time it's been brought up. I don't know but I'm going to send the pic to my factory and see if they have any info. The underside of the lid contains all food grade products so no concerns on eating the product."
I have not heard back from them. So, unfortunately, I have to say I do not recommend the dome lids anymore.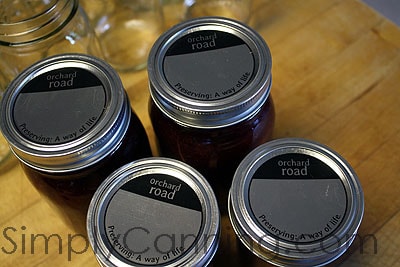 The Packaging on Orchard Road Canning Supplies is Great!
You know how jars these days come in those trays wrapped in plastic wrap? It seems no one sells jars in a good, sturdy box with dividers like in the olden days. (Like I'm so old, right?) I don't know about you, but I often have to store jars. The flimsy trays just don't cut it.
Orchard Road Canning worked to produce a box that will save your jars. In fact, they are even better than the old boxes. The top of the box comes up and around and slides down in between the jars. They also have dividers between the jars. It ends up being VERY sturdy, very secure, for the jars.
There are only 6 jars in each box…so the boxes won't get so heavy when full. It will much easier to go grab a box of green beans to replenish your kitchen pantry. No more straining your arms or back carrying a full box of quarts. Or no more calling your teen boys to come help you carry some food to the kitchen. Those teens are handy…but sometimes not around when you need them.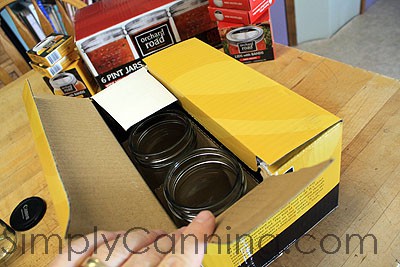 The boxes are also color coded: Red is wide mouth and yellow is regular mouth. The lid boxes have the same color coding.
These boxes are sturdy enough that I would probably venture to say you could even ship items in them. I have a son in the military. I remember shipping jars of goodies to him in Afghanistan, worrying a bit if they would make it. These boxes would work great. Now, NO guarantees here! But, if it were me, I'd give it a try. 🙂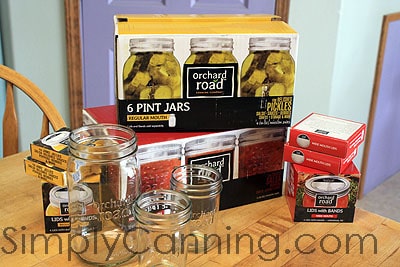 Where are Orchard Road Canning Supplies Made?
The most common question I am receiving since posting this page?
Where are they made? Are they made in America?
I was really hoping to be able to say YES! Made in America…but the answer is no. I asked them this too, and this is there response.
Our jars and lids come from China. Our manufacturers follow very stringent guidelines from a Q&A standpoint, since they produce a variety of products for other US companies.
Our plastisol compound that is used on our lids is produced by a US manufacturer.
With a background in the home canning industry our goal was to produce a high quality product. We looked at manufacturers from around the world that would produce the quantities we needed to launch our company. The best quality at the volume we needed came from China.
One Thing to Note on the American-made Issue
I understand the desire to purchase made in America… Really, I do. I'm right there with you. Here are a couple things to consider.
Orchard Road is a brand-new company who will offer the market some competition. That is always a good thing. From what I understand, USA manufacturers would not produce in the numbers Orchard Road needs. In other words, the orders were too small.
Their stated intention is to move to American made as soon as possible. I think every small company deserves a shot to get started. Here is hoping one of these days they will be able to make the switch to USA made.
Orchard Road Canning FAQs
Do Orchard Road Canning Jars Have Lead in Them?
The second most common question…is there lead in the jars?
Our Jars contain NO lead in them.
Are Orchard Road Canning Jar Lids BPA Free?
And finally…are the lids BPA free?
I asked them this question too as it is a hot topic in canning circles. They had their lids tested and got results back to me. They are BPA free.
We just received the testing report back from the independent lab we used to test for BPA on our lids. The results indicate that our lids are in fact BPA free.
Where to Buy Orchard Road Canning Supplies
Review from Paula Who Won Some Jars and Lids…This is What She Says.
I really like the Orchard Road jars. Call me crazy, but I think they're a heavier glass than the other brands. The sealing sound was definitely different than Ball or Kerr. What I didn't like…or should I say–need to get used to…is that you don't see a dimple in the middle of the lid as you do with the other brands.
I am glad the lids and bands are interchangeable. I had one jar in question. I simply ran my finger over the top; there was no doubt, I missed it. That's okay; bread and butter pickles won't last long : ) The jar is in the fridge!
Once again, thank you for the giveaway! Love your website. Love your ideas. I have shared information with many!
Many blessings!
Paula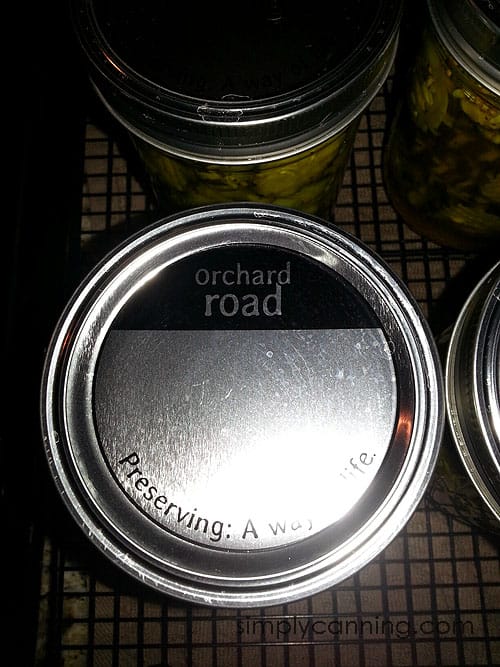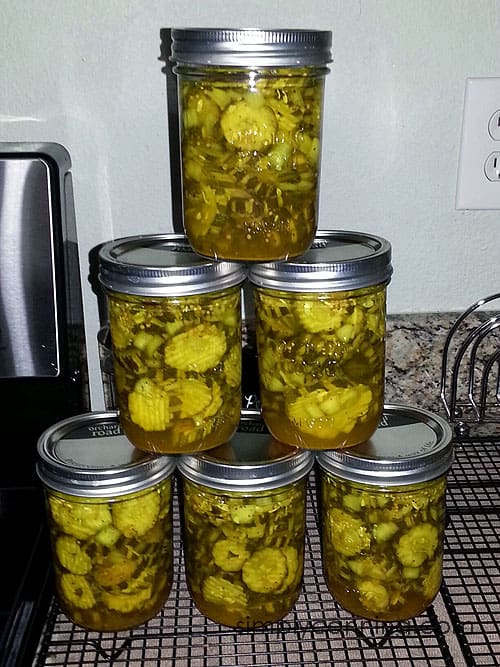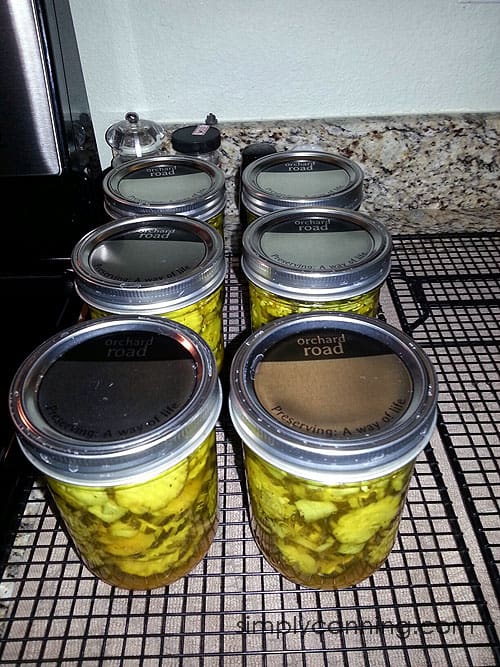 Related Pages
Learn everything you need to know about canning supplies here! Some are required, while there are some items that just make life easier, too. We cover it all here in a comprehensive list of items that SimplyCanning.com has compiled over the years.
Chalky Talky Canning Labels are a money and sanity saver when it comes to keeping things orderly. Ditch the paper labels and fall in love with these reusable labels that SimplyCanning.com reviews!
New Vintage-Look Ball Canning Jars: Comparison of Colors & Patterns – A review of the new vintage-look Ball canning jars. What did SimplyCanning.com think?
Pin This to Find Later!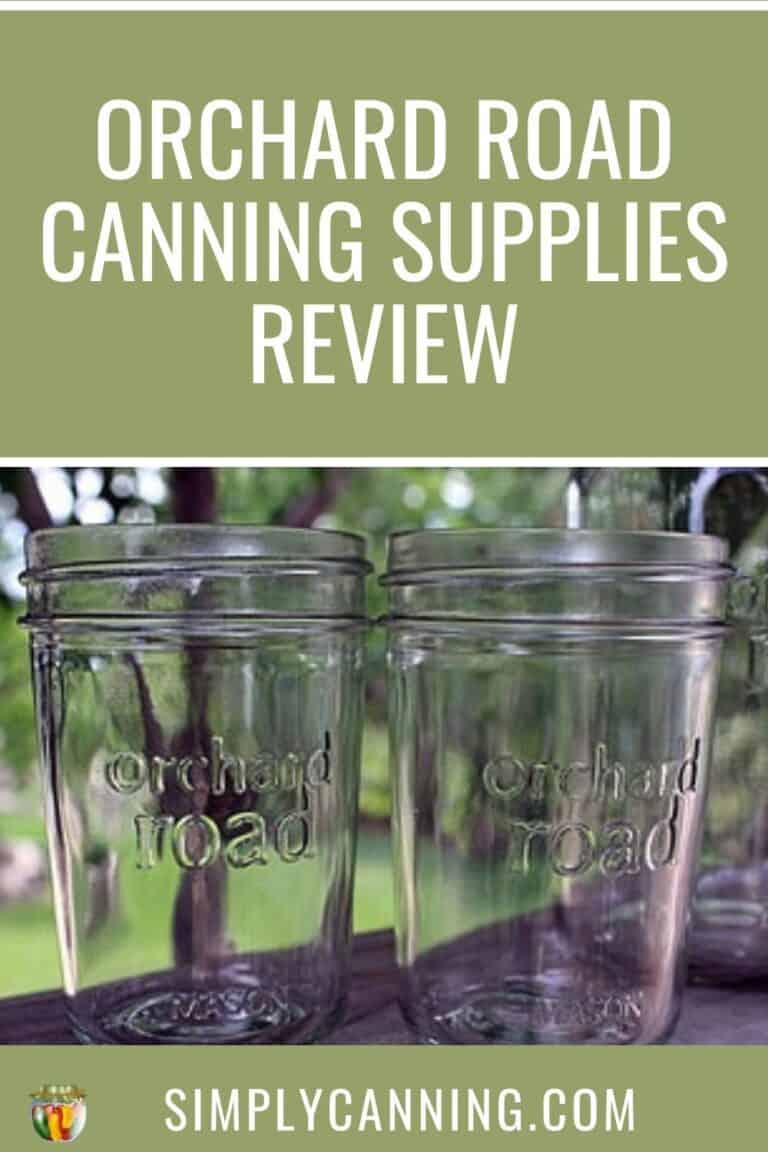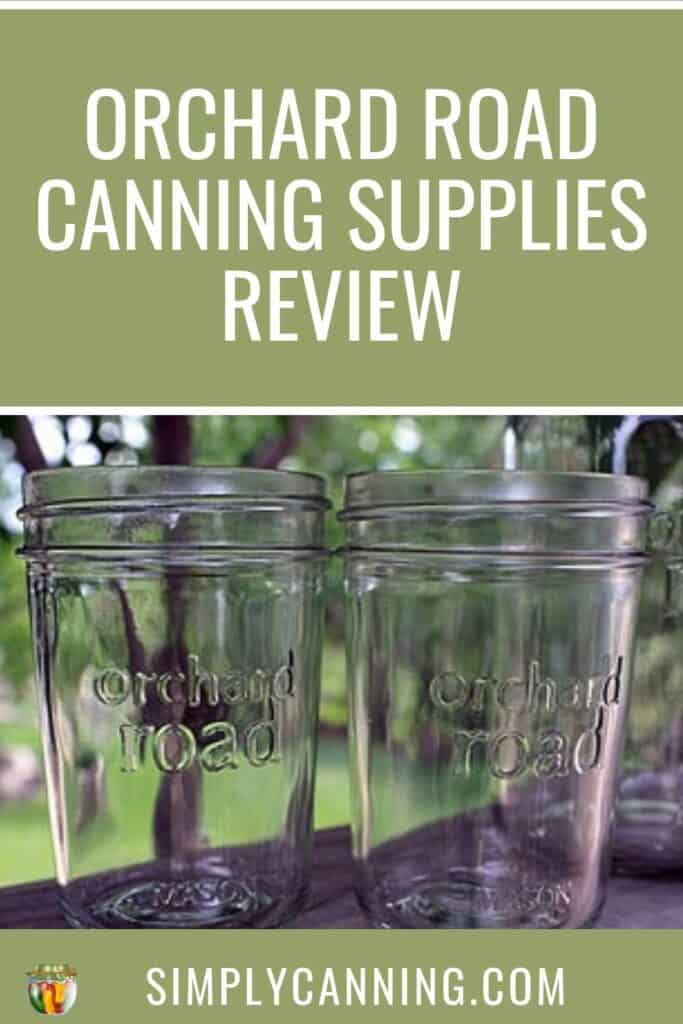 Page last updated: 11/12/2021