I spent the afternoon testing out the Camp Chef Tahoe 3 Burner Stove for use as an outdoor canning stove.
The Camp Chef did a good job for me. I had a planned canning session making dill relish (page yet to come) so I decided to go ahead and test with a pressure canner at the same time.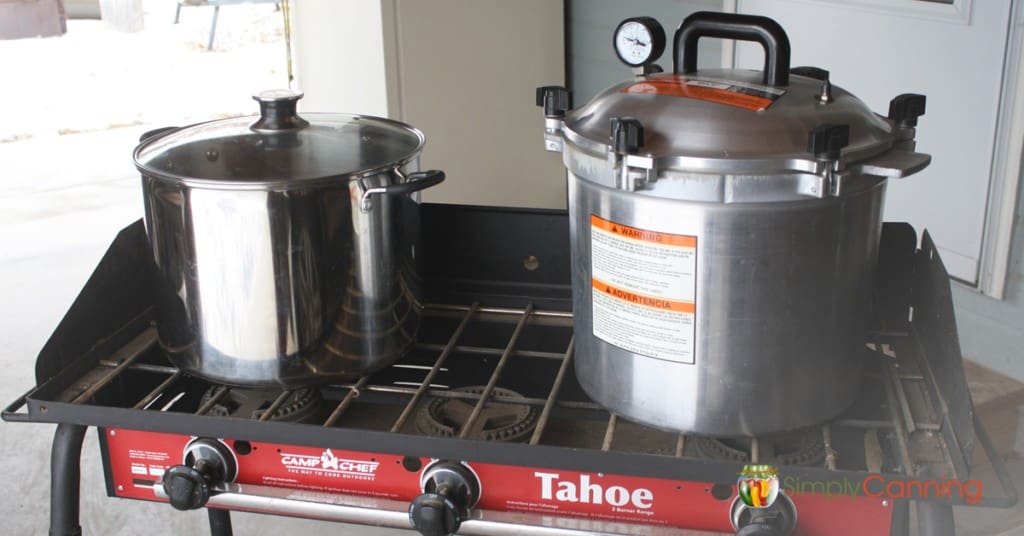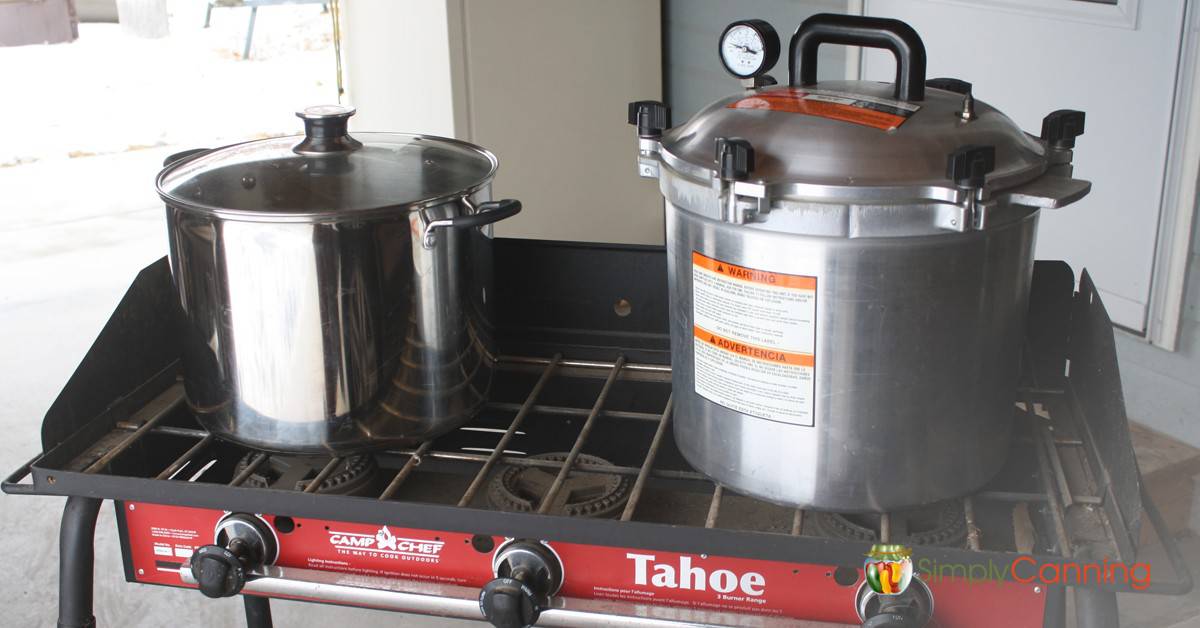 There are three things anyone should check with any outdoor canning stove choice.
Testing the camp chef with both a water bath and a pressure canner.
Testing control over the flame: This is especially important when using it with a pressure canner.
Testing sturdiness: Those canners are heavy when full!. All of those are important!
Set up was super easy.
I did a video of my husband unpacking and setting this up. It is incredibly easy. all you have to do is place the legs and attach the regulator. Light it up! start cooking! Less than 7 minutes. (There are two videos on this page. I have a full review video below this one!)
How I've used the Camp Chef Stove
Whether you've got a smooth top range that you are not sure will handle the weight of canners or you just would like to avoid the heat in the house, an outdoor canning stove can make life so much better when canning time comes around. I loved this camp chef for the feature of THREE burners. I can run two canners and have a pot of water heating all at the same time.
I tested with a Waterbath canner.
The camp chef performed splendidly just as I expected. Plenty of flame power and my canning was done without a hitch. Remember high on this burner is very high. You can probably just heat the canner up on medium or between medium and high.
I tested with a pressure canner
I tested a pressure canner. For me this was the ultimate test. I was not sure how a pressure canner would maintain a steady pressure. I had a successful test.
How you can control the flame is important. You need to be certain that the flame will go low enough to hold pressure. Sometimes this is very low. The camp chef did fine when the dial is turned to warm. I heated to pressure on medium heat. High is very high! You really don't need to go there. When you have reached temperature, turn the dial to warm. For me this was perfect to maintain pressure.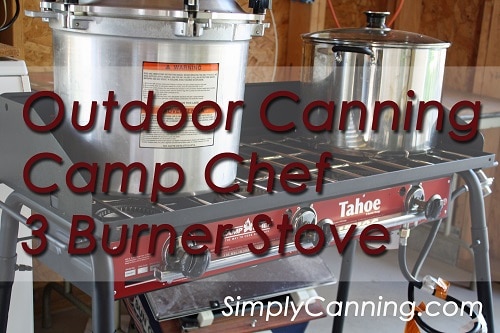 Warnings for Outdoor Canning Stoves
Please note: It has been pointed out to me that some pressure canner manufacturers do not recommend using their canner on a propane burner. I checked my owner's manuals and indeed my Presto has a warning against using a burner higher than 12,000 BTUs. I could find no such warning in my All American Canner owners manual. Read your owner's manual to determine if there are any warnings.
I've been using another propane burner with no issues so I'm comfortable using this and simply not turning the heat up to high… you of course have to make your own decision.
Here is a fact sheet regarding canning on outdoor burners from the National Center for Home Food Preservation.
I tested the sturdiness of the camp chef.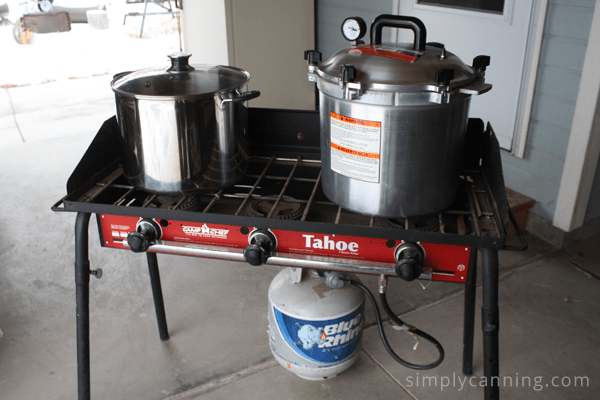 Two canners on the stove and I was very comfortable. These are very large pots with lots of hot water. You need to be sure there will be no tip overs. I knew that with common sense care I would have no problem with canners tipping over. There was even more space for yet another pot had I needed it.
Now let me explain what I mean about common sense care. I had no large dogs running around to bump into the stove. We all know that large exuberant Labrador whose whole body wags along with his tail, or maybe your best buddy has a Great Dane with a leash dragging. That would be common sense not to have these types of obstacles ramming into the stove. 🙂
I also did not have my stove pressed right up against the side of a building, or worse yet a tent. Any stove no matter what brand needs to be placed safely.
I ran both my pressure canner and waterbath canner with no reservations about the stove holding both canners at the same time. Heavy and full of water, I was confident the camp chef was able to steadily hold each.
Breezes will blow. When canning outdoors use caution!
Whenever you do home canning outdoors there are always minor breezes blowing. With any outdoor canning set up, you need to be in a sheltered area. This is so the canner and flame are protected from the wind. My carport worked great for this.
Another Note: Camp Chef states that the stove is not for indoor use. I don't know if my carport qualifies as indoors, it has a garage door size opening and another opening about half that size. The area I'm in is sheltered but open. I'm comfortable using it here. You of course need to make your own decision as to where you use the stove. Open but sheltered from the wind is my suggestion.
The Tahoe stove is built in a way that protects the flame under the pot. The area is protected by a boxed in frame. This was more effective than some other stoves I've had.
The day I did my testing. I had a slight breeze blowing even in my carport. Not much but enough that I wondered how I would do with the pressure canner.
In past experiences with other stoves and burners I ended up having issues with my canner losing pressure but this time around I did not have problems. The flame did blow out once but as I was right there, I just lit it back up without losing any pressure and kept on going. You will need to be close to monitor the canner. This is not unusual though, even when you are canning in your kitchen I recommend staying in the kitchen to monitor your pressure.
Click here to check out prices for the Camp Chef.
Disclaimer…. Camp Chef provided this stove for me to test out and review for you. This did not affect my opinion of or use of the stove. I really do think it is a great stove!
Pin this to find later!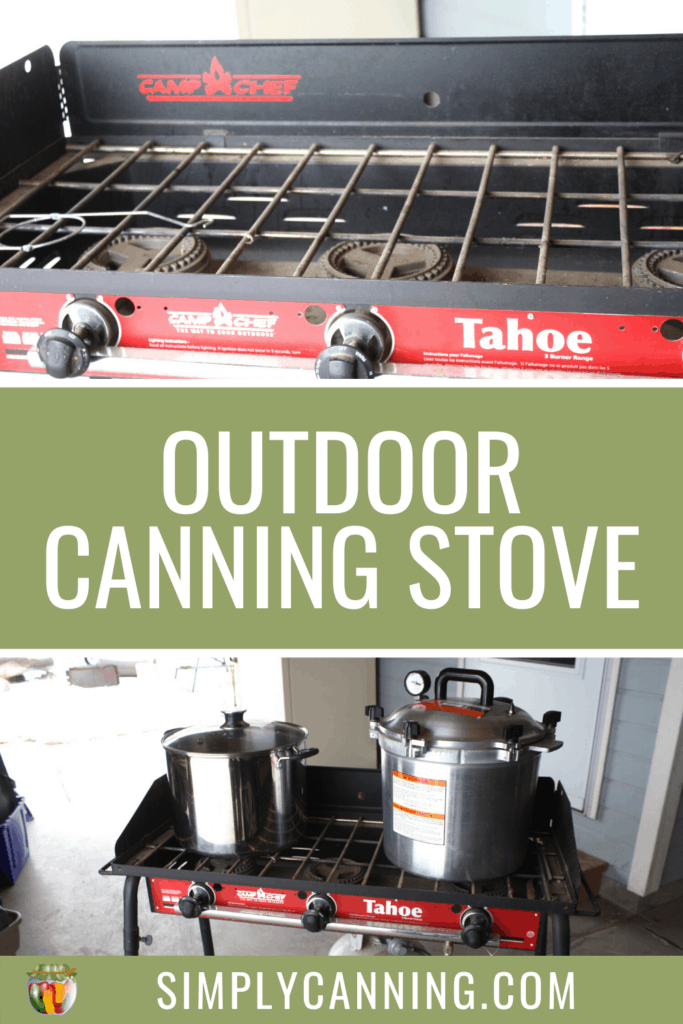 Page last updated: 7/2/2021