Tattler Review information
Update: This review is on the original Tattler lids. Since I've done this review the company has changed the format of the lids. I do not have experience with the new lids. Keep this in mind as you consider purchasing new. My experience is with the old style.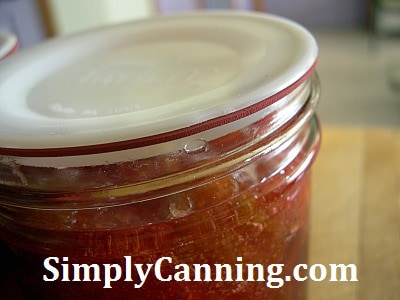 I have used Tattler Reusable Canning Lids in both pressure and water bath canning. They work well with both methods. I tried them out first in water bath canning… they worked great. So I decided to get some more.
I continued using them and added the pressure canner to the mix. Still worked great.
A few things to note…
Reusable canning lids are not flexible. To see if the seal is good you will need to test it by removing the screw band and lift the lid by the edges of the Tattler lid. It will not suck down and 'ping' like standard lids do.
When I went to mark my lids I also realized that masking tape or sticky labels are necessary…I did not want to write directly on the tattler lid. You could also write directly on the jar.
My first impression of the rubber ring (or seal) is that the seals seemed thin. I was mentally comparing them to the vintage rings that I have for a few jars in my antique jar collection. But this doesn't seem to be a problem. They seals didn't seem to stretch after use several times.
The rubber seals are dishwasher safe but… my personal recommendation would be to hand wash them. I think the dishwasher would wear them out sooner. We want them to last as long as possible right? Having said that, Tattler does say the dishwasher is fine.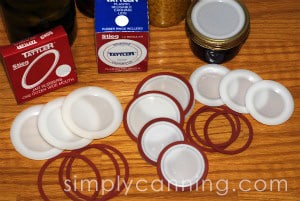 With normal care they will last a long time… now don't go and test that with a game of tug o war or anything.
Why use reusable canning lids?
Reusability: That is only one word but this is a big thing. This in itself makes the product valuable. I'll save money by using these lids… and it is much better not to be tossing old lids in the trash.
I teach how to use reusable canning lids in this other article. It is very very similar to using metal lids but there are a few important method differences. Check it out here.
How to use reusable canning lids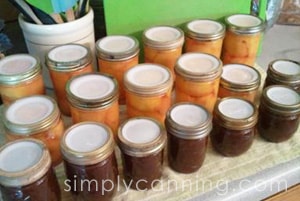 These lids are made with NO BPA. That is pretty cool too! They have more detailed information on their website if this is a concern for you. Here is a quote.
TATTLER Reusable Canning Lids are manufactured using a plastic compound that is safe for direct contact with food products. We utilize an FDA and USDA approved, food-grade product known as Polyoxymethylene Copolymer (POM) or Acetal Copolymer.
The formulation does not contain any Bisphenol A (BPA)!
Made in the USA
Remember Tattler lids can be purchased at Amazon… here is my affiliate link.
Related Pages
Reusable Canning Lids A canning lid shortage is happening now. Learn how to use these lids and the two brands available and recommended.
The Basics of Canning Jars What are the different sizes and shapes of canning jars? What brands are out there? Can I reuse jars from the store or vintage jars? Get all of your canning jar questions answered here!
Pin this to find later!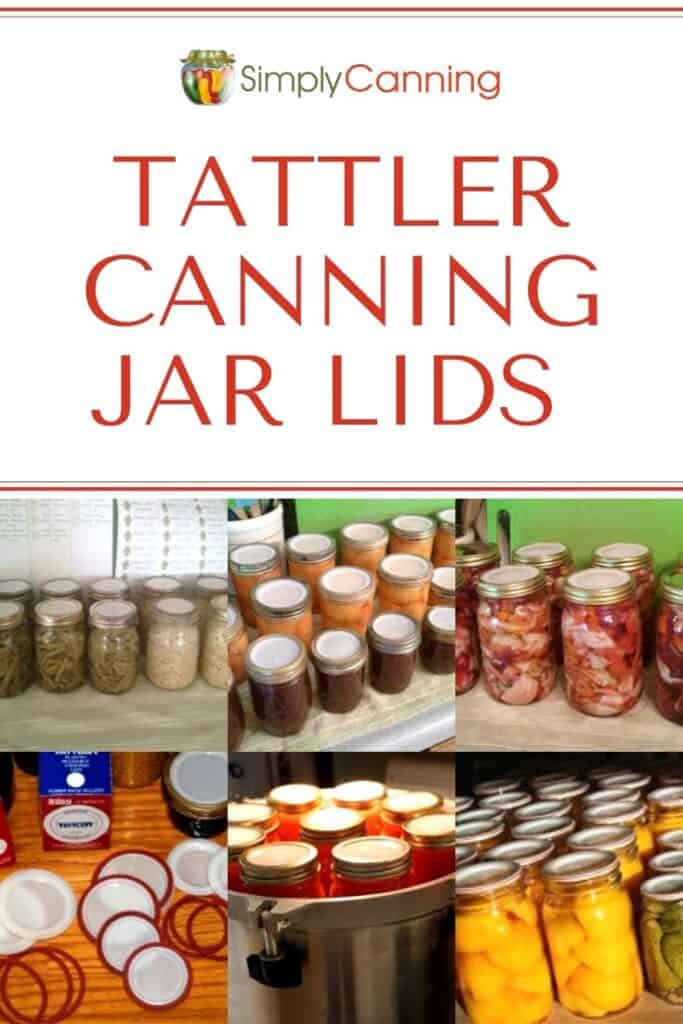 Page last updated: 2/26/2021