Stainless Steel Water Bath Canners
This page may contain affiliate links. More Information.
Stainless steel water bath canners are a great investment for someone who does a lot of canning each year.
This is a Victorio canner and is a standard-size water bath canner. It holds 20 quarts of liquid and will process 9 pint jars or 7 quart jars.
The glass lid enables you to see the contents and when those contents come to a boil.
I really appreciate the sturdy handles. They have this protective rubberized coating. They are nice and large, stay cool, and feel very secure when I need to move the canner when full. This happens rarely! And if I do, it is only usually to slide it to another burner or some such thing. But it does happen.
It is a REALLY nice canner!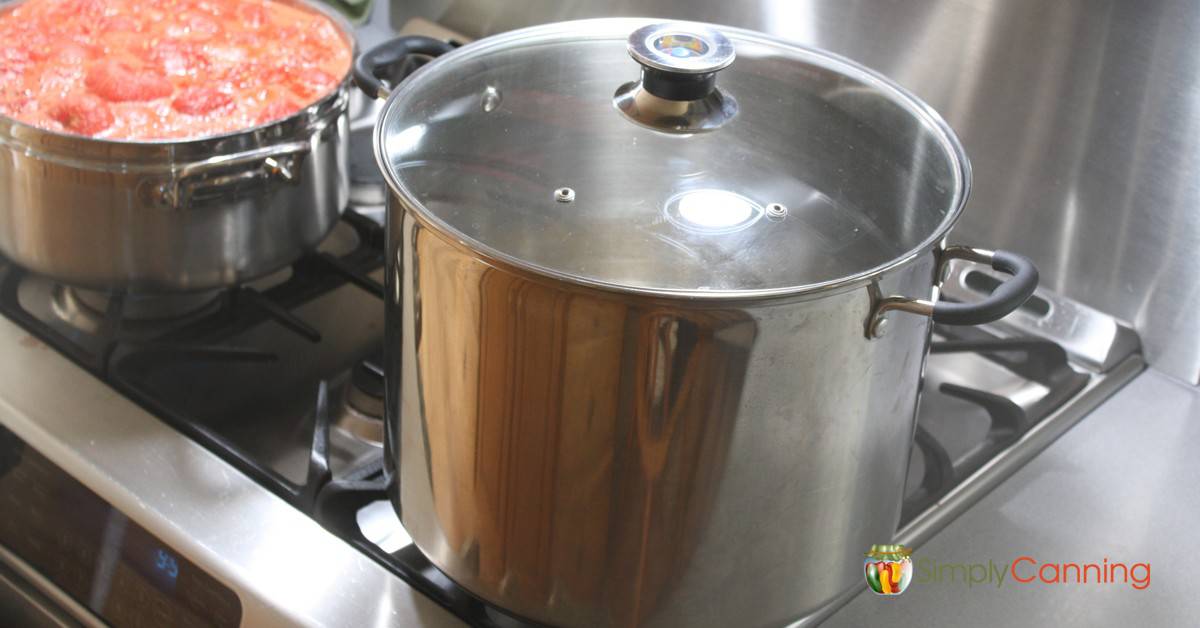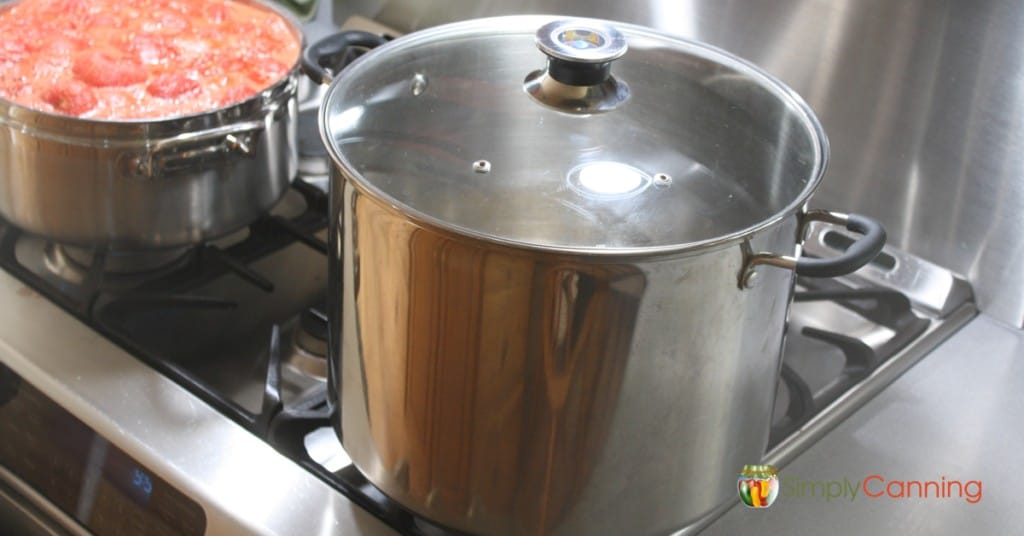 This Page Includes:
Traditional Water Bath Canners
The traditional canning pot that everyone usually imagines is a black or blue graniteware type canner. I affectionately call them "granny ware." You know, the ones with the little speckles on it.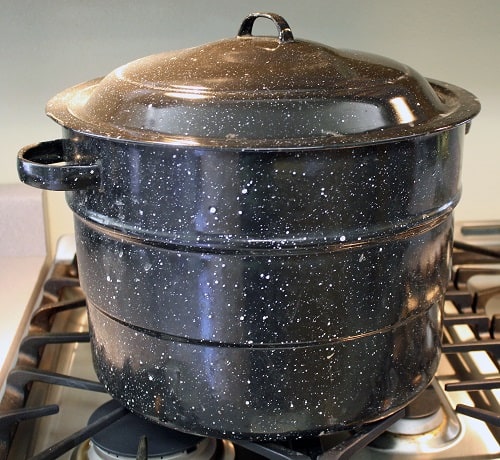 They are inexpensive and do the job. The problem is…chipping and rusting. No matter how careful you are, they are prone to getting bumped and knocked. This ends up chipping the coating, which leads to rusting.
The other option is an aluminum canner. Pictured here is my aluminum water bath canner. I used this for some time. It was suitable. It didn't chip and rust. It was even kind of cool because it still had the original label. (I love vintage stuff!)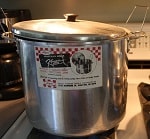 BUT…on a trip to a self reliance expo, the thing apparently got smushed in the back of the car and bent a bit. Now the lid doesn't fit very well. It still works, but when you are bringing a lot of water to a boil, you want it to be as efficient as possible. The bent lid just bugged me.
Stainless Steel Water Bath Canners
Then I received this stainless steel canner! I would never go back. It is not only great for canning, I now feel comfortable cooking right in the canner. I'm not an expert, but I read that cooking in aluminum is not good for you. Since these are stainless steel, they work great for other large batch cooking.
I've used these for making stock and will use it to cook large batches of stew, chili, soups…. whatever you want to make a big batch of. I've never felt comfortable using my old canners for this purpose.
These are also designed to double as steam canners. If you are not familiar with steam canning, read more here: Steam Canning
I haven't used it as a steam canner yet, but I look forward to it next canning season. I'll update then.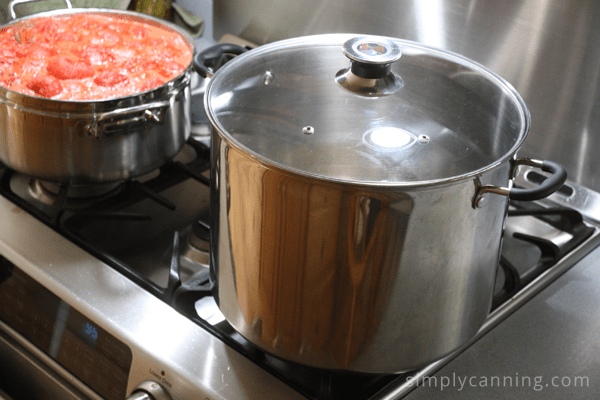 Stainless Steel Water Bath Canners are available to purchase here… (Affiliate, thank you!)

It has a stainless steel rack. I've replaced many a rusted rack for my other canners, so I really wanted a canner with a stainless rack.
And it has a feature in the lid handle that may be of help to a new canner: A lid temperature indicator. When your water is boiling, you start timing. This indicator tells you when the water in the canner is at the right temperature to start timing your load.
This indicator is also used when you are steam canning.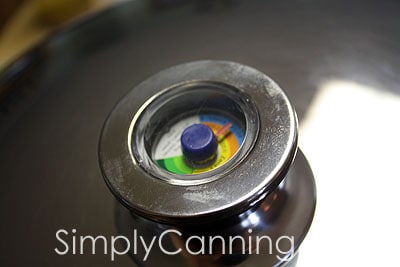 If you are serious about canning, you really should consider stainless steel water bath canners. That and a good pressure canner, and you are all set!
Related Pages
Pressure canners are compared and discussed here in this video by SimplyCanning.com. Learn about the different styles and features of each brand to make an informed choice on which is right for you!
Steam canning uses a steam canner to process the food, versues using water bath or pressure canning. The debate on its safety lies between the USDA and local Extension Offices. SimplyCanning.com shares what they learned.
A water bath canning step-by-step tutorial can be found here! Includes a printable checklist to help you learn. It doesn't have to be hard or confusing.
Pin This to Find Later!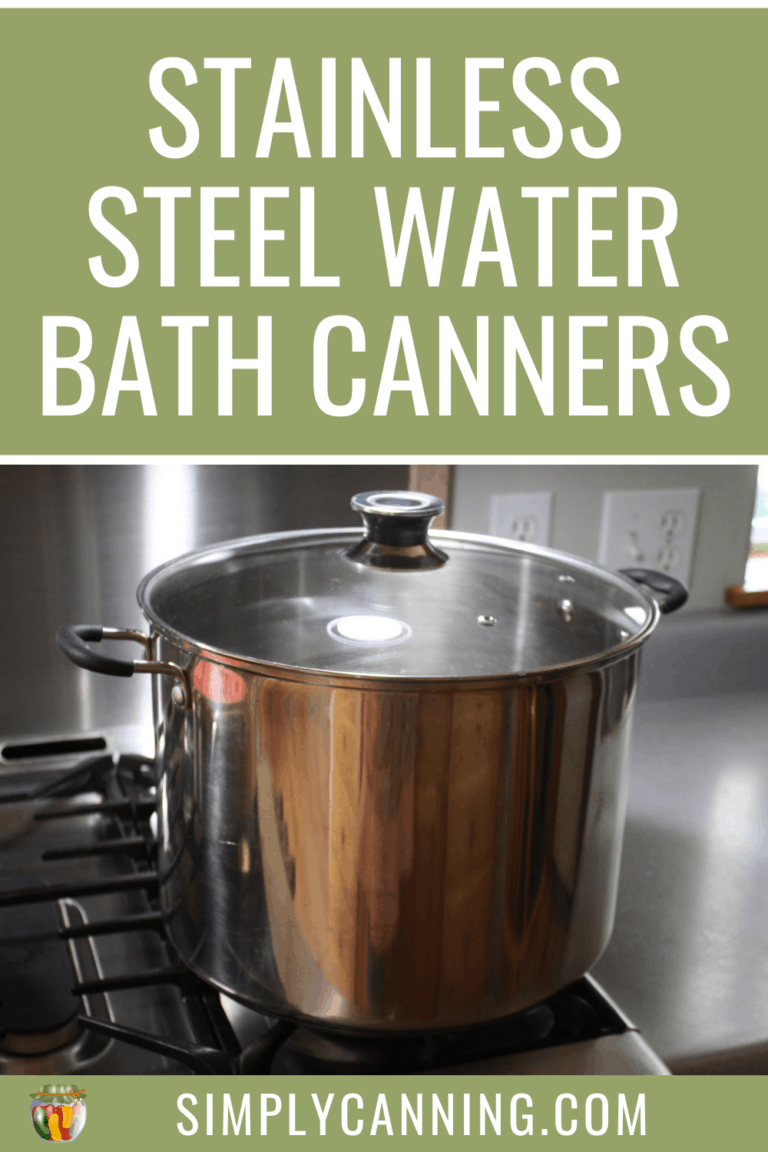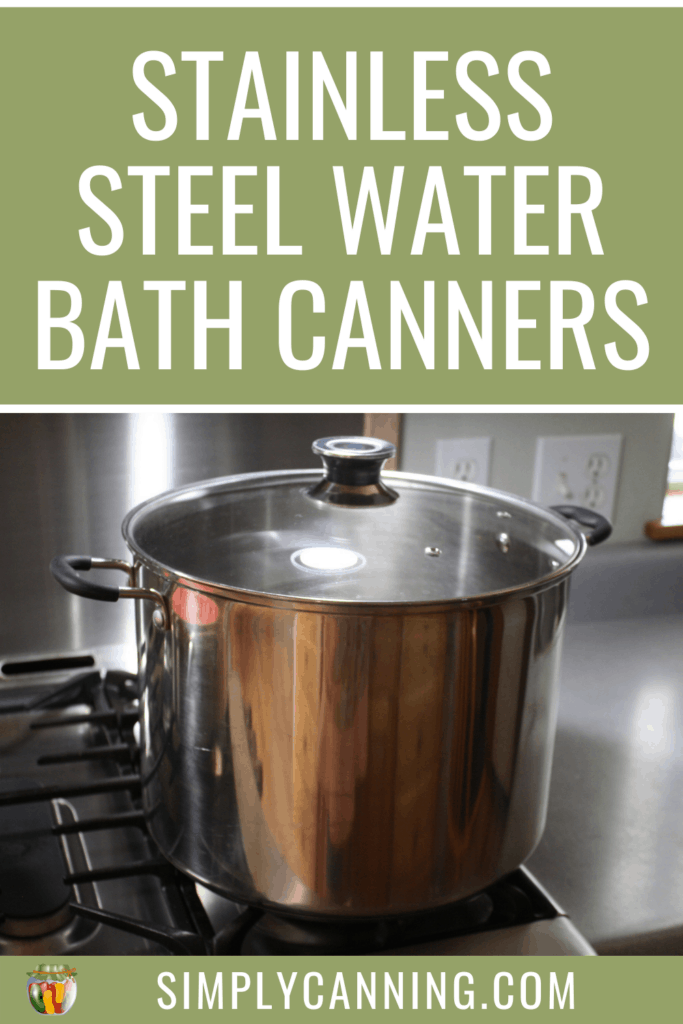 Page last updated: 11/12/2021