Homemade chicken soup recipe ~ combine ingredients, simmer until the kitchen smells wonderful, serve with homemade bread, and add a dose of love!
If you want to can your chicken soup, you will need to know how to use a pressure canner. The pressure canning page has more detailed information and step-by-step instructions, while you can find instructions for how to make chicken soup on this page. You should NOT water bath can chicken soup!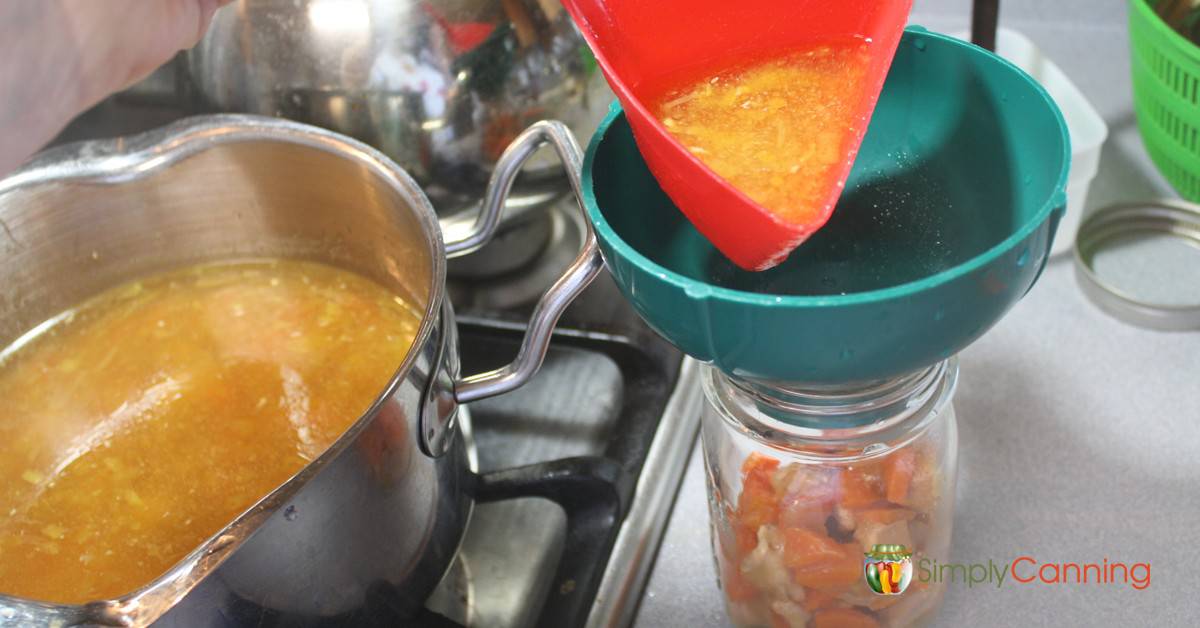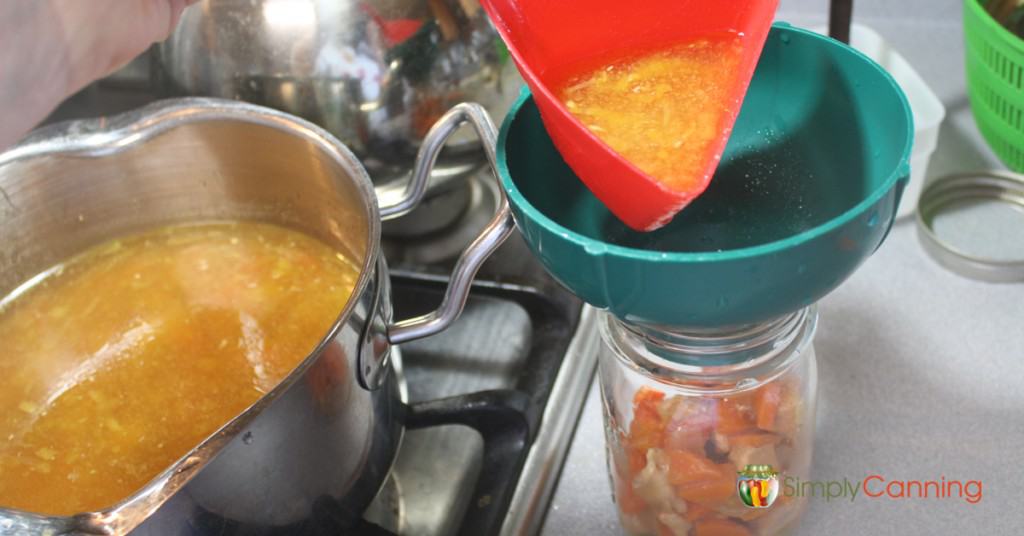 This Page Includes:
Homemade Chicken Soup: Extended, Step-By-Step Directions
Gather Your Canning Supplies:
stock pot
bowls
large spoons
sharp knife
towels and dish cloth
ladle
Ingredients:
4 quarts chicken broth – homemade chicken broth is best!
3 cups chopped chicken – cooked
4 cups vegetables – I use 1 cup celery, 2 cups carrots, 1 cup onion. Adjust this to taste.
Salt and pepper to taste
If you like other seasonings, you can add them. Remember, they will be stronger by being canned.
Note: This recipe yields 4 quarts of homemade chicken soup.
Canning Homemade Chicken Soup
Place chicken broth and chopped chicken in a stock pot. Bring to a boil. Homemade broth makes superior homemade chicken soup.
Chop all your vegetables. I use about 1 cup each celery and onion and 2 cups carrots. You can alter the types of vegetables as long as you end up with about 4 cups total.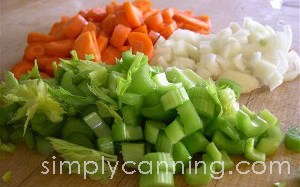 Add vegetables to stock pot and bring to a boil.
Add salt and pepper. I use about 1 Tbsp. salt. I don't really measure my pepper, just shake some in.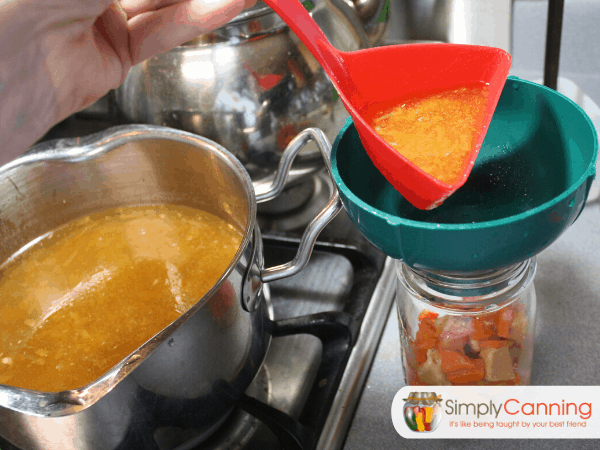 Add any seasonings that you prefer. We like ours with just the ingredients listed.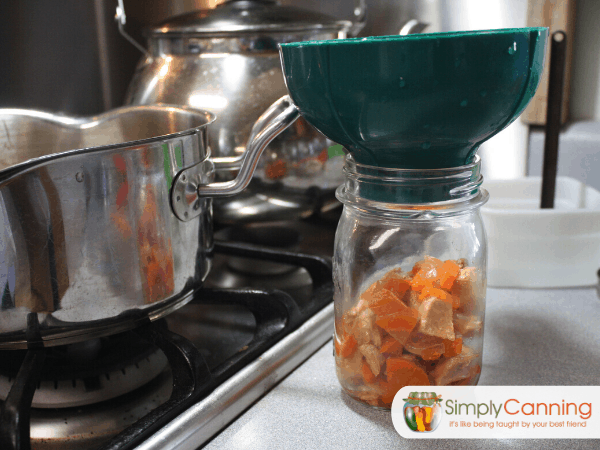 You might like to add dill or basil. Remember that fresh seasonings may get stronger as they are canned. If you add bay leaves, let the soup simmer for a bit to get the flavor throughout, but remove the bay leaves before filling jars. The only herb I read that is not a good idea for canning is sage. Apparently it gets very strong in the jars. But I've never heard of adding sage to chicken soup anyway.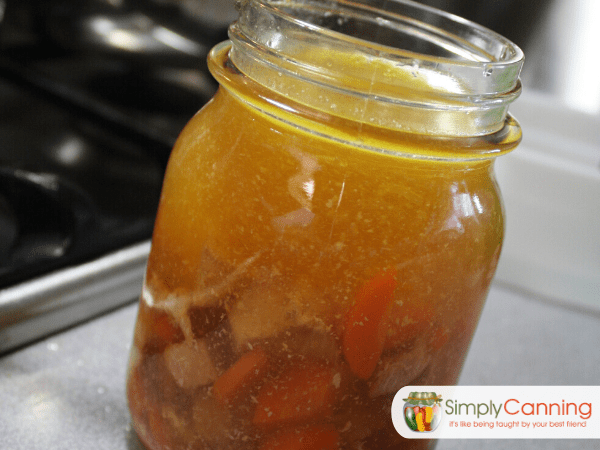 Using a slotted spoon, add your solid ingredients to the jars. Aim for no more than 1/2 filled with solids. Then go back and top off each jar with the cooking broth.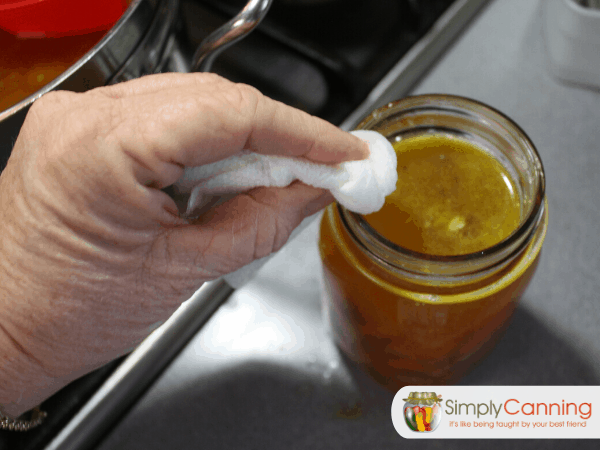 Leave 1-inch headspace.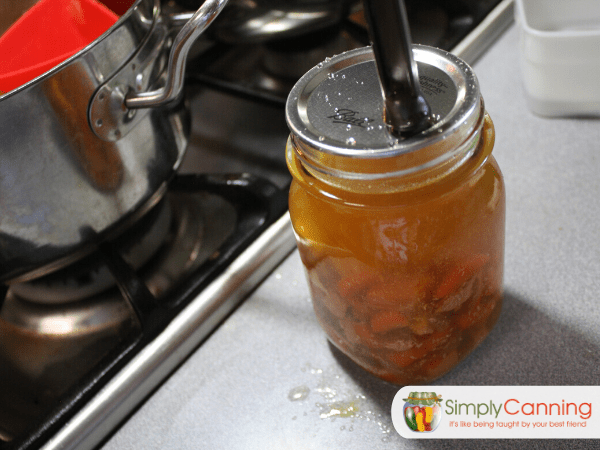 Place your lids on and process according to pressure canning instructions.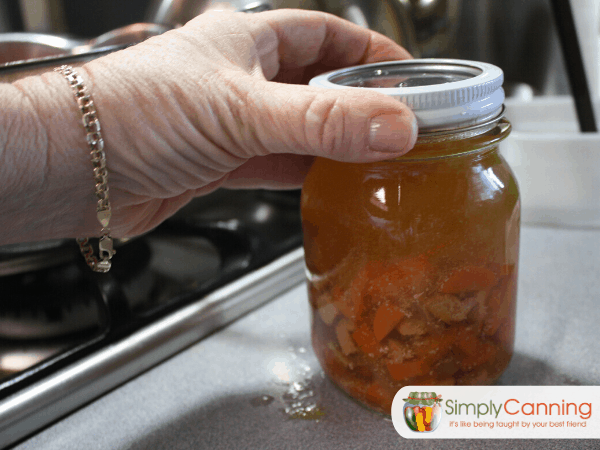 How to Can Homemade Chicken Soup: Canning Processing Times
Pints – 1 hour and 15 minutes
Quarts – 1 hour 30 minutes
You might notice a difference in processing times compared to my canning soup page here. THAT page discusses adapting your own soup recipe. Many variables are involved so the processing times will be different, and it is important to fill your jars half full of solid ingredients as well as follow the processing instructions provided.
These are both tested recipes from two different sources. I always recommend following tested recipes. The source for this recipe is this – Ball Blue Book. That book is a older version and is often not available. If you are looking for a more recent version, try this one here: Ball Blue Book 37th edition.
Recipe Card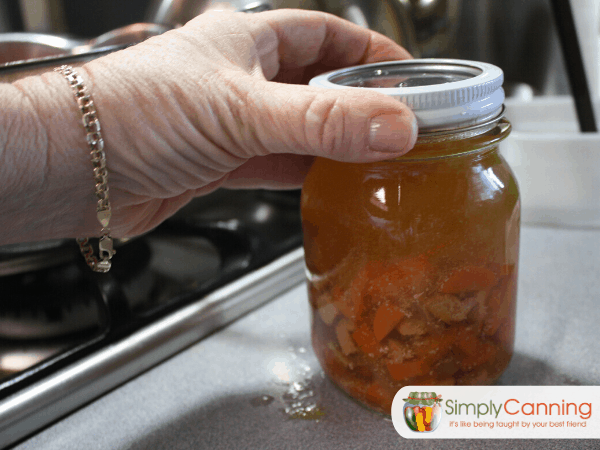 Homemade Chicken Soup
Ingredients
4 quarts chicken broth

3 cups chopped chicken, cooked

4 cups vegetables

(I use 1 cup celery, 2 cups carrots, and 1 cup onion)

Salt and pepper

(to taste)

Other seasonings

(optional)
Instructions
Start by preparing your jars and getting water in the canner heating. You want the canner hot, but not boiling, when the jars are ready to be processed.

If you are new to using a pressure canner, see this article for full pressure canning instructions. This includes more detailed information and step-by-step instructions on how a pressure canner works.
For Hot Pack
Place chicken broth and chicken in stock pot. Bring to a boil.

Add vegetables to stock pot. Bring to a boil.

Fill jar half of the way with solid ingredients.

Top off jar with broth, leaving 1" headspace.

Remove bubbles, wipe the rim clean, and place on seal and ring. Place jar in the warm canner. Proceed to fill all jars. Process in a pressure canner according to the directions below.
Processing
Processing with a Pressure Canner
Place the jars in the warm canner. Proceed to fill all jars placing them in the prepared hot canner. 
Put the lid on the canner leaving the weights off.  Bring to a boil. Watch for the steam to start coming out the vent pipe in the lid.
Allow the steam to 'vent' for 10 minutes then put the weights on. Use the proper weight for your altitude (check the chart below) This is when pressure will start to build.  
When the pressure reaches the pressure required for your altitude (check the chart below) that is when you'll start your time.  Process for the full time indicated, adjusting the heat as needed to maintain the correct pressure for the entire time.
When processing time is completed turn off the heat. Do not remove weights yet. Let the canner sit undisturbed until pressure comes back to zero. Do not try to speed up the cooling process.
Remove the weight and wait 5 minutes.
Open the lid to allow steam to escape. (carefully don't let it hit your face or arms!) Leave the lid setting on top of the canner slightly ajar and wait 5 minutes.
Take the lid off the canner and remove your jars. (optionally you can wait another 5 minutes if the contents appear to be bubbling so hard it is coming out of the jars)
Put the jars a few inches apart on a thick towel and allow them to cool to room temperature undisturbed. 12 hours is suggested.
When the jars are cool, remove the metal bands, check the seals, and store the jars in a cool dark place.
Processing Instructions (Hot Pack)
Process pints for 1 hour and 15 minutes or quarts for 1 hour and 30 minutes, adjusting for altitude.

Altitude Adjustments for Pressure Canner  
Altitude – Weighted Gauge
0-1,000 ft – 10 pounds
1,001-8,000 ft – 15 pounds
Altitude – Dial Gauge
0-2,000 ft – 11 pounds
2,001-4,000 ft – 12 pounds  
4,001-6,000 ft – 13 pounds
6,001-8,000 ft – 14 pounds
Adapted from:
Ball Blue Book 
Last Updated: 5/27/2021

Homemade Chicken Soup FAQs & Tips
Can You Can Soup Without a Pressure Canner?
One of the most frequently asked questions I get is, "Do I really need to use a pressure canner?" The answer? Yes, you really do need a pressure canner. Chicken soup is a low-acid food, and a pressure canner is the only safe processing option.
Can Homemade Chicken Stock or Chicken Broth Be Canned for Making Soup Later?
Yes! You can make homemade chicken stock or chicken broth. See instructions here.
---
Related Pages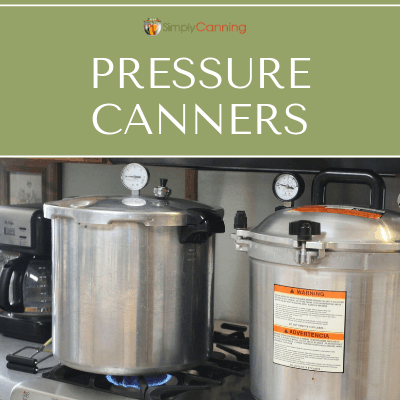 Pressure canners; Learn about the different styles and features of each brand to help you choose the canner that is right for you.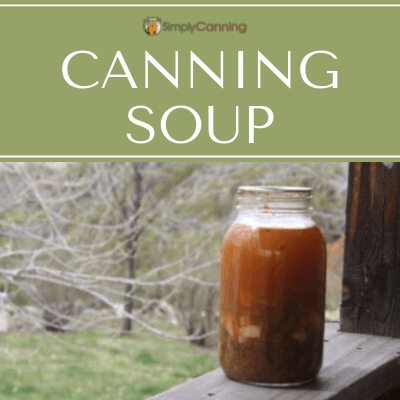 Canning soup safely at home is possible with a few adaptations of your recipe.
Canning School teaches you how to fill your pantry with garden-fresh produce to feed your family healthy, nutritious food.
Pin This to Find Later!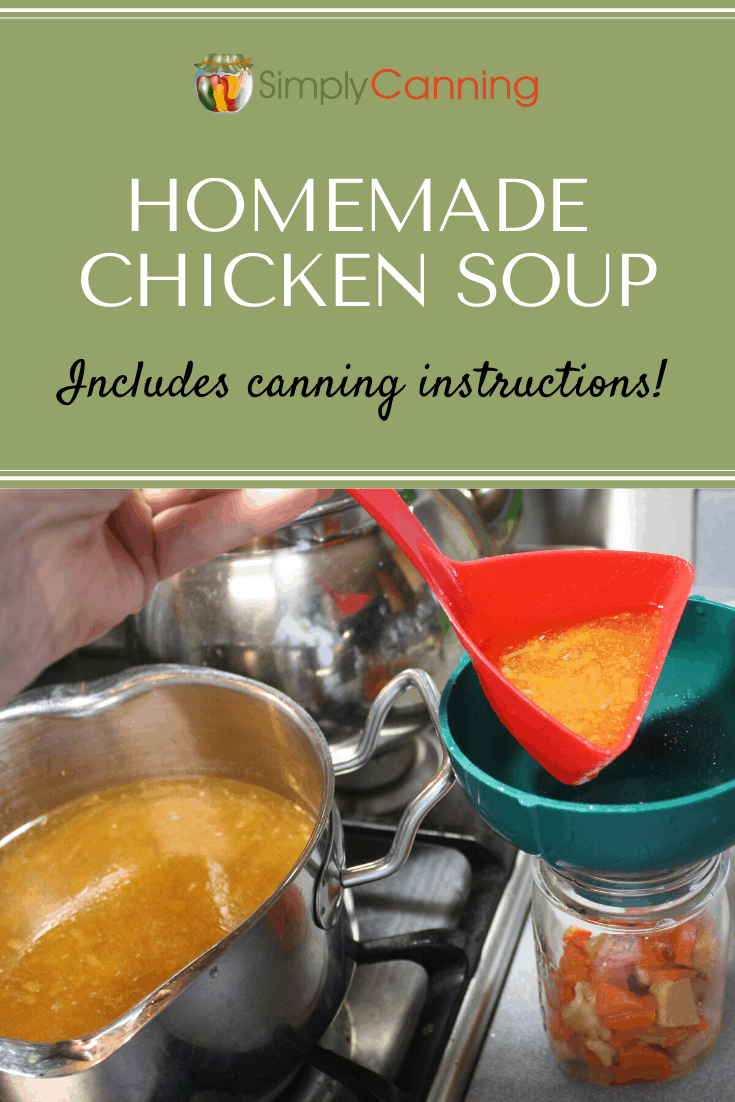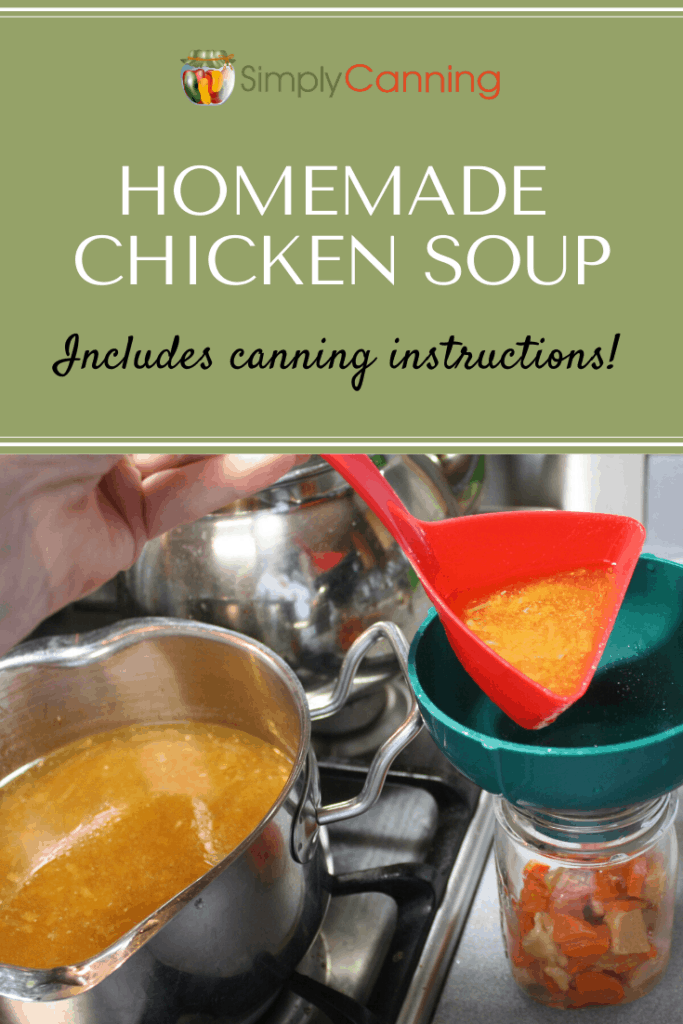 Members' Extra: Access Your Video Tutorial in Your Members Area
Would you like more details and video instruction on how to can soup?
Canning school members, click here to log in.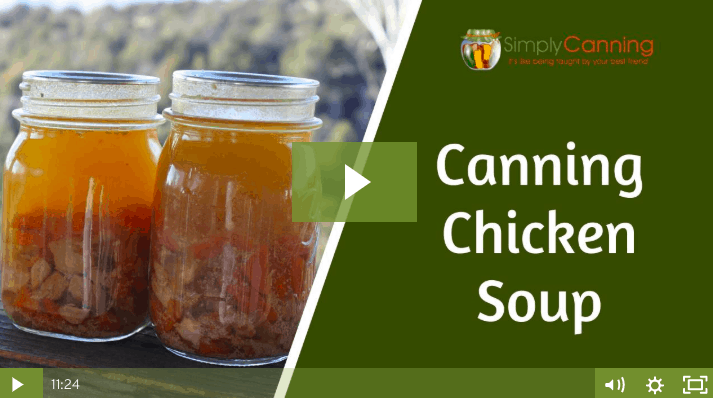 Page last updated: 5/27/2021