With Sharon Peterson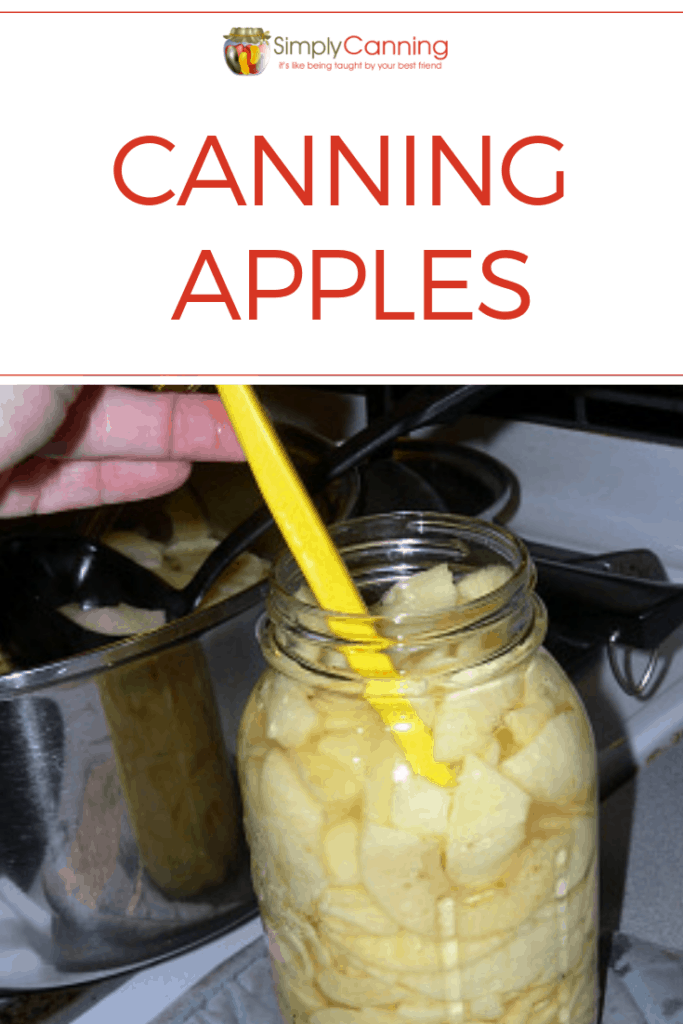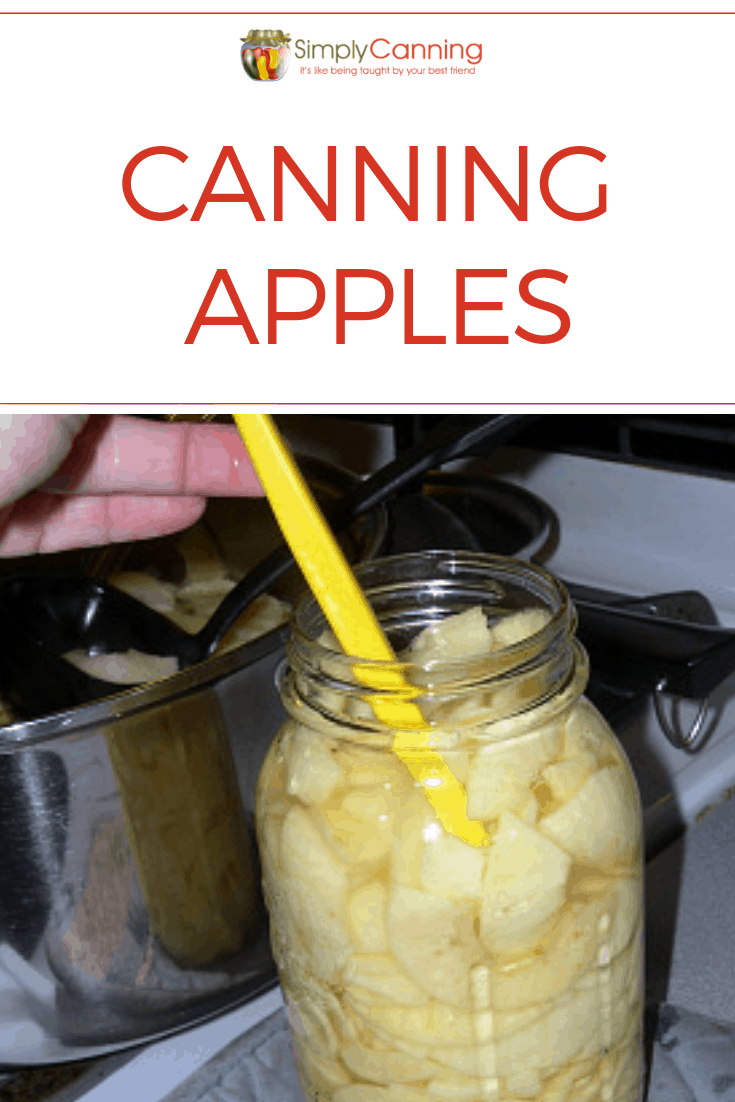 Jona-Golds are what we use for canning apples. But there are MANY varieties that will work: Gala, Granny Smith, Honey Crisp…mmmmm. Honey Crisps are my favorite for eating fresh.
Fruits are a high-acid food and can be safely processed in a water bath canner.
Learn how to can apples!
---
Prepare
Gather Your Canning Supplies:
large pot or blancher
bowls
large spoons
sharp knife
towels and dish cloths
Ingredients:
apples (you will need about 19 pounds for one canner load of 7 quarts)
sugar (to taste)
Canning Tip
An apple peeler-corer-slicer is a great tool when you are working with apples. However, I have noticed that with the slices so thin, the slices tend to get very soft after processing.
If I you are going to use these apples for apple pie, you may want your pieces to be a bit thicker than the slicer will make. But it works fine for apple crisps or just heating with a sprinkle of some cinnamon-sugar.
I still highly recommend the slicer. It is an incredible time-saving tool. But using a knife the old-fashioned way may just suit your needs better.
---
How to Can Apples: Make Your Syrup
Prepare light or medium syrup. (I prefer light syrup.) Simply heat water and sugar in a saucepan until sugar dissolves. The best way to do this is in a tea kettle. Then, you can just pour your syrup over the apples in the jar. Super easy and way less mess. And I'm all for less mess.
Light – 2 cups sugar to 1 quart water
Medium – 3 cups sugar to 1 quart water
You can also make a syrup with honey if you don't want to use processed sugar.
Light – 1 1/2 cups honey to 4 cups water
Medium – 2 cups honey to 4 cups water
Can you can apples without sugar?
It's possible to can apples with just water, but I wouldn't recommend it. Apples tend to get very watery if they're preserved without a sugar syrup.
Do you have to blanch apples for canning?
According to the NCHFP, no blanching is required for canning apples plain. (You may want to blanch apples before making apple pie filing, however, as mentioned at the NCHFP website here.)
How to Can Apples: Procedure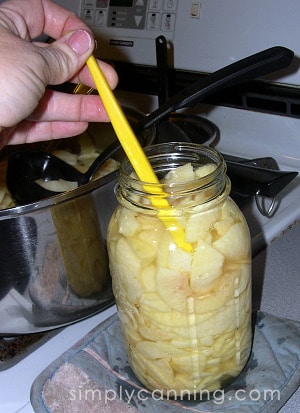 Peel, core, and slice your apples. Use an apple peeler or just a knife.
To prevent browning, you can treat your apples with ascorbic or citric acid. This should be available at the grocery store. Follow the instructions on the package.
After peeling, coring, and slicing apples, place in a large pot with a light syrup and bring to a boil for 5 minutes.
Fill jars with hot fruit and cooking liquid, leaving 1/2-inch headspace.
Place your canning rack in your water bath canner, but have it up out of the water. When each jar is full, remove air bubbles by using a small tool to run down in the jar (like the picture shows). They sell a canning bubble remover tool for this purpose, but I like using my orange peeler. Works perfectly.
Next, clean the rim with a wet paper towel to be sure any syrup will not interfere with the seal, and put the lid on.
Place jar in the rack above the hot water in the canner to keep warm while you are preparing your next jar. Continue until all jars are packed and ready to be lowered into your canner.
Lower jars into canner, heat water to boiling, and process.
For more details on how to use a water bath canner, follow these instructions.
How to Can Apples: Process
Either Pints or Quarts are both processed for 20 minutes.
Altitude Adjustments
Altitude Adjustments for Boiling Water Bath Canner
Altitude in Feet – increase processing time
1,001-3,000 – increase 5 minutes
3,001-6,000 – increase 10 minutes
6,001-8,000 – increase 15 minutes
8,001-10,000 – increase 20 minutes
For more information on why this is important, see this altitude adjustments page.
Best Apple Peeler Corer Slicer Video
Canning apples instruction adapted from NCHFP.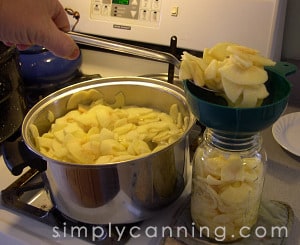 Canning Apples FAQs
Question from Ruby:
"I canned too many sliced apples for pies and not enough apple butter. How can I turn the apples into apple butter? The apples are canned in a simple syrup. Thanks! Ruby"
Answer:
I have not done this before, but it seems like you could simply place them in a Crockpot and continue cooking.
You might want to drain out the juice from your apples. Watch it as it cooks and add a bit back in if it looks like they will need it. Then just continue cooking and whisk until it is the texture of apple butter. You could add in cinnamon or other seasonings to taste. If you used sugar in your apples, you may not need to add sugar to the apple butter. You'll just have to do a taste test to check.
Then, don't forget to reprocess if you want to store it on the shelf. Use the processing directions from this page: Canning Apple Butter.
Hope this helps!
Question: How long do canned apples last?
Answer:
Canned apples are like any other canned good, lasting for at least 12 months when stored in optimal conditions (cool, dark, and dry). That recommendation is because after a year, the food quality will start to decline more rapidly. Some people will keep it longer. However, most fruits are likely to become soft and not as appealing after a year has passed, hence the recommendation.
Members' Extra: Access Your Video Tutorial in Your Members Area
Canning school members, click here to log in.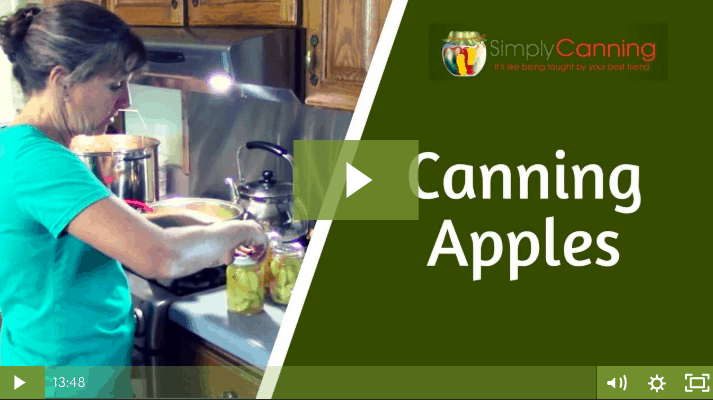 ---
Related Pages
Home › Canning Fruits › Canning Apples
Page last updated: 7/25/2019.