Canning apples: Learn how to can apple slices to use for oatmeal, baking, or pouring over ice cream. YOU control the sugar. Light sugar options included!
Apples are a high-acid food and can be safely processed in a water bath canner. You will need about 2 1/2 to 3 pounds of apples for a quart jar.
Learn how to can apples!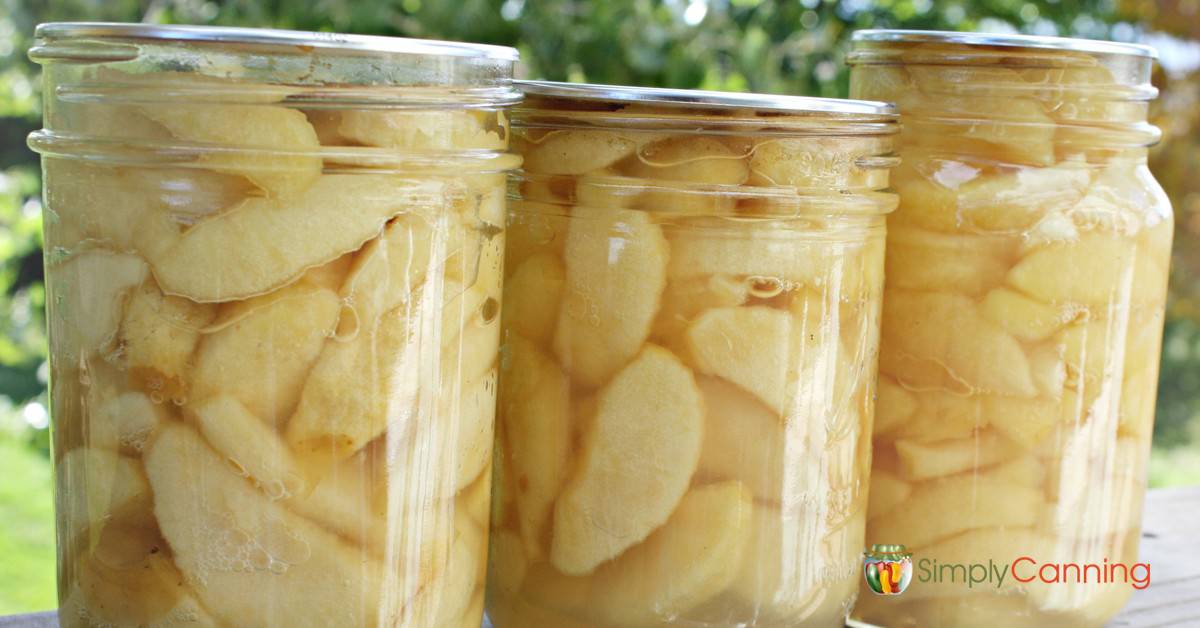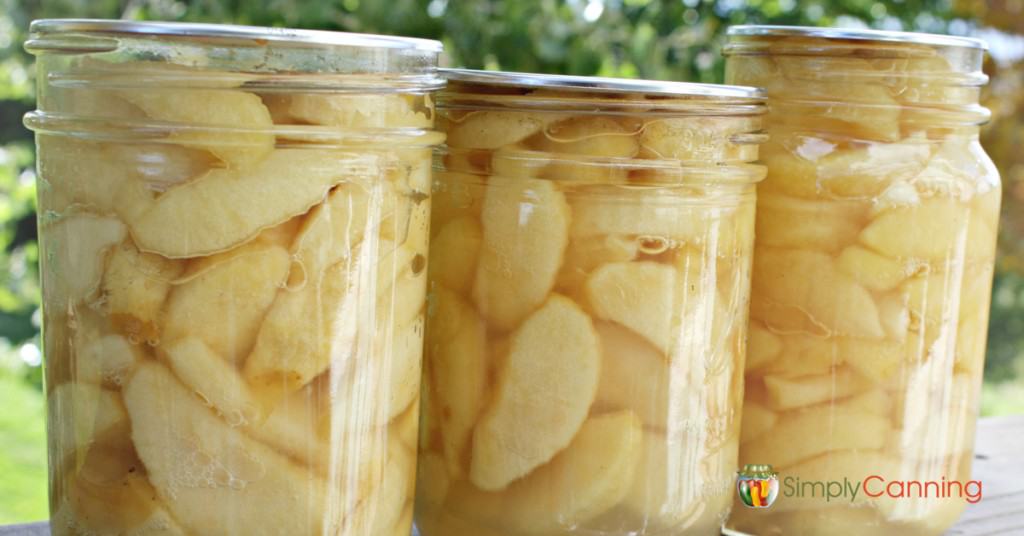 This Page Includes:
Canning Apples: Extended, Step-By-Step Directions
Supplies:
large pot or blancher
bowls
large spoons
sharp knife
towels and dishcloths
Ingredients:
apples (you will need about 19 pounds for one canner load of 7 quarts)
sugar (to taste)
How to Make Your Syrup
Prepare light or medium syrup. (I prefer light syrup.) Simply heat water and sugar in a saucepan until sugar dissolves. The best way to do this is in a tea kettle. Then, you can just pour your syrup over the apples in the jar. Super easy and way less mess. And I'm all for less mess.
Light – 2 cups sugar to 1 quart water
Medium – 3 cups sugar to 1 quart water
You can also make a syrup with honey if you don't want to use processed sugar.
Light – 1 1/2 cups honey to 4 cups water
Medium – 2 cups honey to 4 cups water
How to Can Apples
Peel, core, and slice your apples. Use an apple peeler or just a knife.
How Do You Keep Apples from Turning Brown When Canned?
Treat your apples with ascorbic acid or citric acid. This should be available at the grocery store. Follow the instructions on the package.
Or peel and slice and drop them right in the pot with lemon water. A cup of lemon juice in a pot is fine. It doesn't need to be an exact measurement.
Or peel and slice and drop them right into a pot with your sugar syrup.
Canning Apples Instructions Continued
After peeling, coring, and slicing apples, place in a large pot with a light syrup and bring to a boil. Simmer 5 minutes. Apples need to be processed as a hot pack, so this step is necessary. Apples, jars, and syrup should be hot going into the canner.
Fill jars with hot fruit and cooking liquid, leaving 1/2-inch headspace.
When each jar is full, remove air bubbles by using a small tool to run down in the jar (like the picture shows). They sell a canning bubble remover tool for this purpose, but I like using my orange peeler. Works perfectly.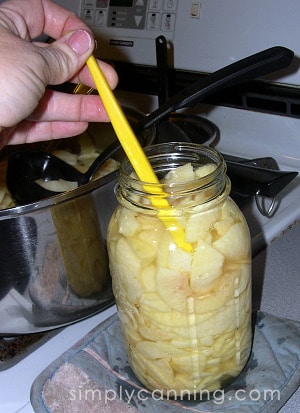 Next, clean the rim with a wet paper towel to be sure any syrup will not interfere with the seal, and put the lid on.
Place jar in the rack above the hot water in the canner to keep warm while you are preparing your next jar. Continue until all jars are packed and ready to be lowered into your canner.
Lower jars into canner, heat water to boiling, and process.
For more details on how to use a water bath canner, follow these instructions.
How to Can Apples: Processing Times
Either pints or quarts are both processed for 20 minutes, adjusting for altitude. For more information on why this is important, see this altitude adjustments page.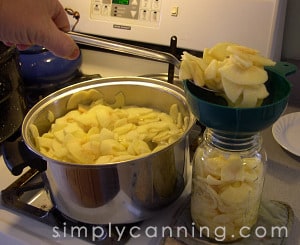 Recipe Card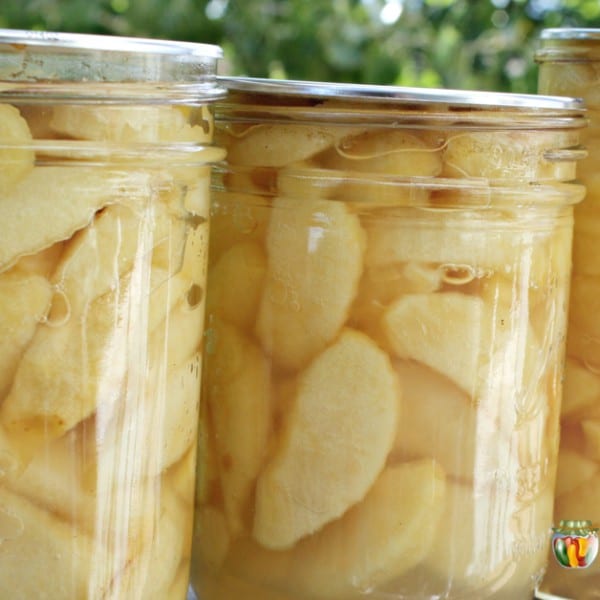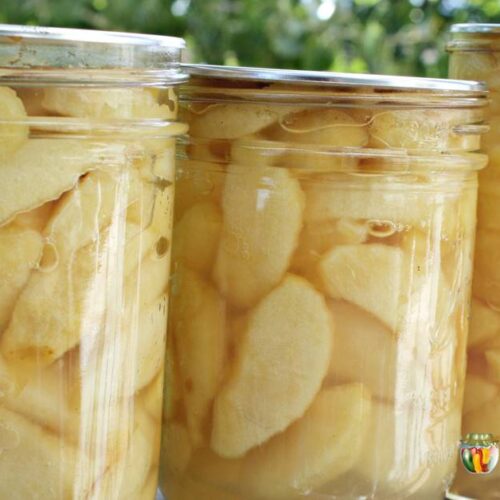 Canning Apples
Learn how to can apple slices to use for oatmeal, baking, or pouring over ice cream. YOU control the sugar. Canning apples is great!
Ingredients
Apples  

Sugar or honey for syrup
Instructions
Start by preparing jars and getting water in the canner heating. You want the canner hot, but not boiling, when the jars are ready to be processed.

See full water bath canning instructions here.  
For a Hot Pack
Make a light or medium syrup.

Peel, core, and slice or cut apples into quarters or smaller slices.

Place the apples directly into a large pot with the syrup.  

Bring to a boil, reduce heat, and simmer 5 minutes.  

Pack hot apples into hot jars, leaving 1/2" headspace. 

Cover with boiling syrup, leaving 1/2" headspace.  

Remove air bubbles. Wipe the rim clean and place on your seal and ring. Place the jar in the canner. Proceed to fill all jars. Process according to the chart below.  
Notes
Processing with a Water Bath Canner
Place the jar in the warm canner. Proceed to fill all jars placing them in the canner.
When all the jars are filled, bring the water in the canner to a boil.  When a boil is reached that is when you'll start your timing.   Process for the length of time on the chart below.  Adjust for your altitude. 
 After your time is over, turn the heat off remove the lid and allow the canner to rest for about 5 minutes. Then bring your jars up out of the water.  Allow them to rest for another 5 minutes. Then remove the jars and place them a few inches apart on a thick towel to cool completely.  Leave them alone for about 12 hours.  
When they are cooled remove the metal bands, check the seals, label the jars and store them away! 
Processing Times for Water Bath Canner (Hot Pack) 
Altitude – Pints and Quarts are Processed the Same  
0-1,000 ft – 20 minutes 
1,001-3,000 ft – 25 minutes
3,001-6,000 ft – 30 minutes
Above 6,000 ft – 35 minutes
Adapted from: The National Center for Home Food Preservation

Last Updated: 6/1/2021

Canning Apples FAQs
Can I Use Apple Juice to Can My Apples?
Video Transcript – Edited for Clarity
Hey there, Sharon Peterson here with SimplyCanning.com where you can find home canning food tutorials, tips, and advice. Come visit me there, and I'll help you get your pantry filled.
Our question today is from Martha who lives in Ames, Iowa. Her question is, "Can I safely can apples by water bath without sugar? I used apple juice before, and they turned out great with no syrup at all."
Yes, absolutely! You can use apple juice or grape juice. Either one of those are a great substitute for water and sugar syrup. It will still make the apples sweet. It's going to preserve it.
Yes, it is safe to can apples in just plain water. I hesitate when I say that because honestly, I think it's not going to taste very good. Apples are juicy. When you process them in just water, it's going to pull the juice out of those apples and into the water. Your apples will be fairly bland. I think they will be poor quality, but it is safe.
So with that caveat, I would recommend either an apple juice or grape juice base. If you don't want to do the sugar water, you can also use a honey sweetener instead of sugar. If you like honey, I'd use a light-flavored honey. Honey comes in different flavors. A deep, strong honey flavor will overwhelm the flavor of your apples. But honey is another way to sweeten those jars.
I hope that was helpful.
What is the Best Apple for Canning?
Jona-Golds are what we use for canning apples. But there are MANY varieties that will work: Gala, Granny Smith, Honey Crisp…mmmmm. Mixing a tart apple with a sweeter variety works great. But honestly…I use what I can get.
Can You Can Apples Without Sugar?
It's possible to can apples with just water, but as mentioned above, I wouldn't recommend it. Apples tend to get very watery if they're preserved without sugar syrup. You'll end up with a poor result.
Best Apple Peeler-Corer-Slicer
An apple peeler-corer-slicer is a great tool when you are working with apples. However, you might want to consider what you intend to do with your apples. I have noticed that with the slices so thin, the slices tend to get very soft after processing. If you are going to use these apples for apple pie, you may want your pieces to be a bit thicker than the slicer will make. But it works fine for making apple crisps or just heating with a sprinkle of some cinnamon-sugar.
I still highly recommend the slicer. It is an incredible time-saving tool. But using a knife the old-fashioned way may just suit your needs better. I have a full video review and demonstration on this page.
Can I Make Apple Butter from My Home Canned Apples?
Yes, just pour your apples into a Crockpot and cook and whisk until it is the texture of apple butter. You might want to drain out the juice from your apples. Watch it as it cooks and add a bit back in if it looks like they will need it. Then just continue cooking and whisk until it is the texture of apple butter. You could add in cinnamon or other seasonings to taste.
If you used sugar in your apples, you may not need to add sugar to the apple butter. You'll just have to do a taste test to check. Then, use the processing directions from this page: Canning Apple Butter.
How Long Do Home Canned Apples Last?
Canned apples are like any other canned good, lasting for at least 12 months when stored in optimal conditions (cool, dark, and dry). This recommendation is because, after a year, the food quality will start to decline more rapidly. Some people will keep it longer. However, most fruits are likely to become soft and not as appealing after a year has passed, hence the recommendation.
Related Pages
Canning Applesauce – The basic idea behind how to make applesauce is to cook the apples, mush them up, and add sweetener if desired, getting rid of the skins and cores somewhere along the way.
Canning Apple Pie Filling – By canning apple pie filling, you will have a dessert already half prepared!
Apple Peeler Demo – An apple slicer called an Apple Peeler-Corer-Slicer (say that five times fast!) is a handy tool that is worth every penny. Personally, I think they're worth their weight in gold, and I use mine constantly during apple season.
How to make crabapple jelly – Got Crabapples? If you have crabapples I recommend making jelly instead.
Pin This to Find Later!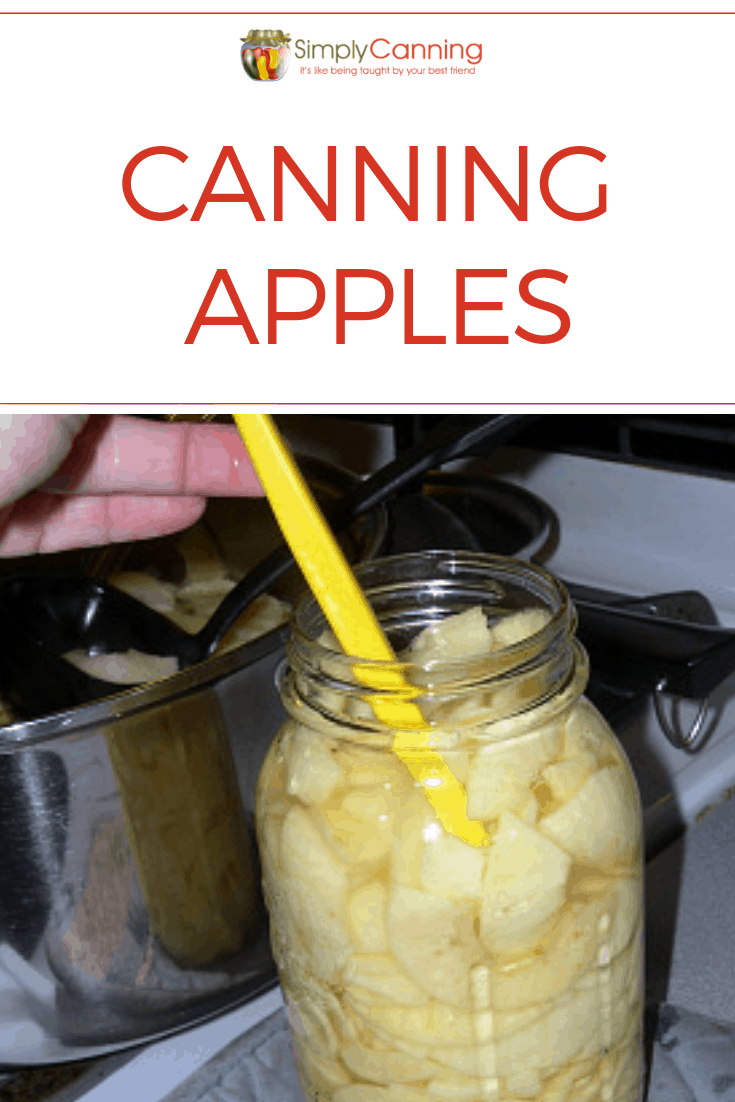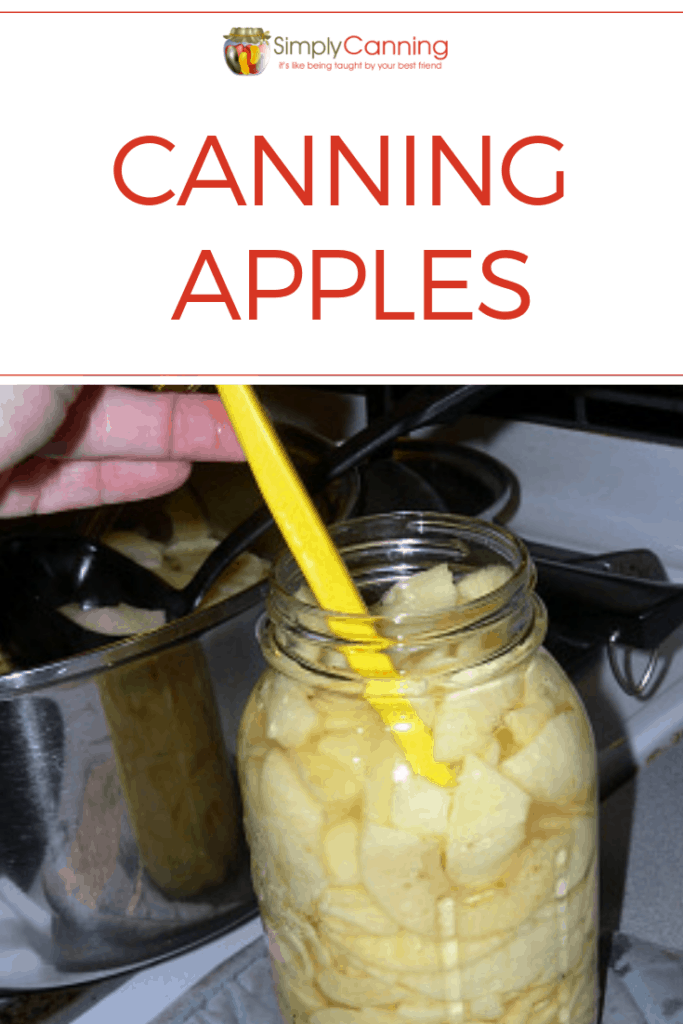 Tested Source: The National Center for Home Food Preservation.
Page last updated: 7/2/2021