Get ready for a delicious sweet Zucchini Relish recipe! An easy-to-make condiment. This is a sweet recipe. We use it just like pickle relish. Perfect for topping burgers, hot dogs, or any other of your favorite dishes. One of my favorites is to add this to potato salad for some extra 'pickly' flavor.
The bonus is…. relish is a great way to use up all that excess zucchini coming out of your garden. O what about the gifts of squash left on your doorstep by that friendly neighbor… who has too much zucchini. 🙂 I use zucchini, but this recipe also works with yellow summer squash just fine.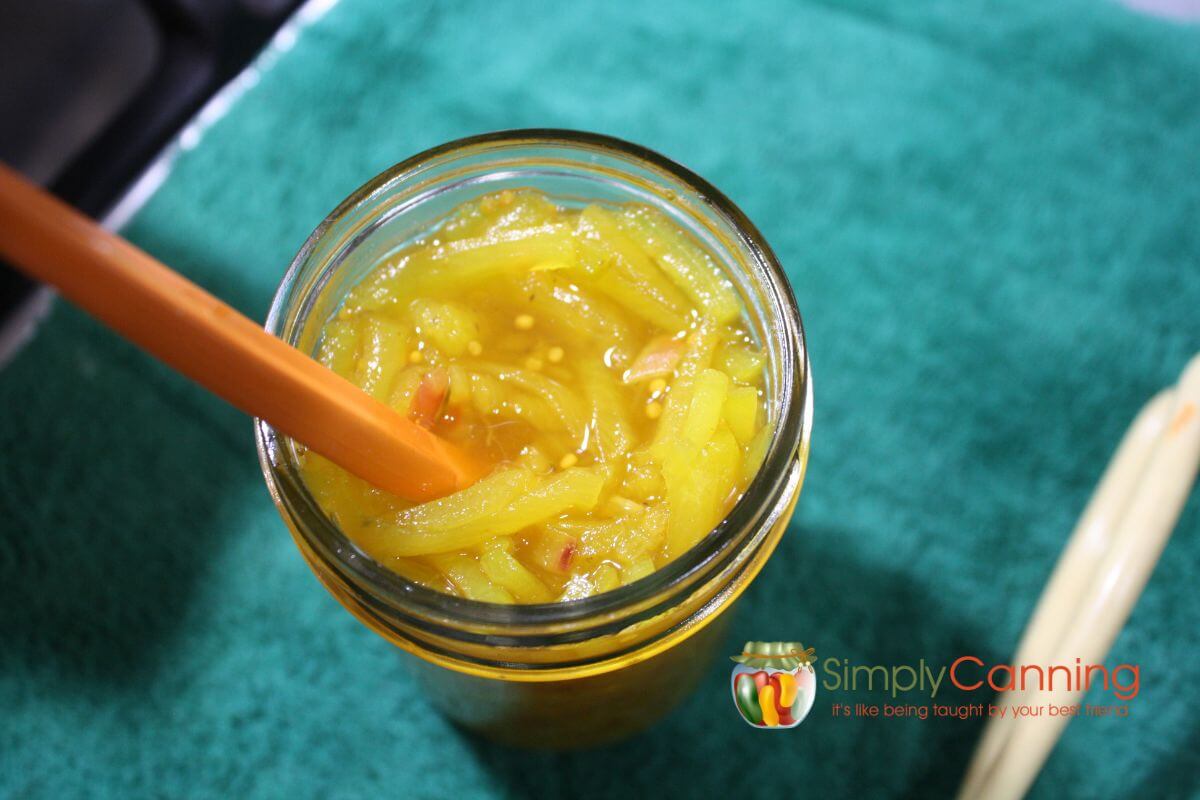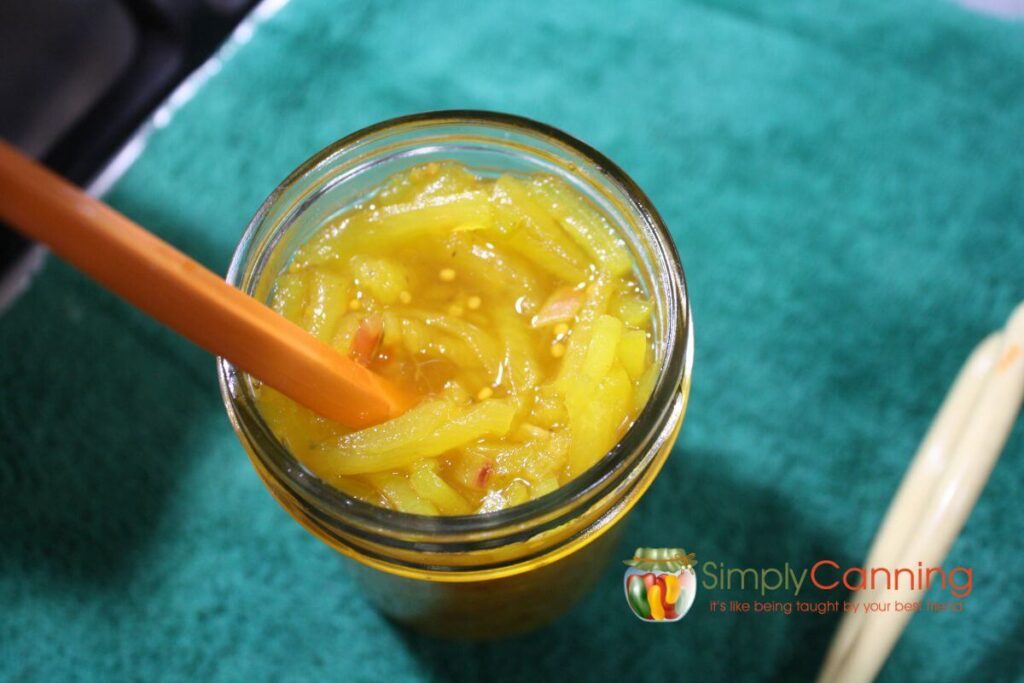 What you'll find on this page.
This relish recipe makes about 5 pint jars or 10 half-pints. Both size jars are processed for the same amount of time. A simple recipe with zucchini, onions, vinegar, sugar and spices. No peppers in this recipe.
And because I know someone will ask, yes you can reduce the sugar in the recipe safely.
Personally I make this in half pints. We are just 2 of us in the house now and pints don't get used up quickly enough. Both size jars are processed for the same amount of time so you can actually do some in half pints, and some in pints. Quart jars are not recommended.
Too much zucchini is almost always an issue. I use it up by shredding, dehydrating, freezing and this relish.
Detailed Recipe Directions for making Zucchini Relish
This section includes expanded instruction for each step of the recipe. I've also got a brief printable recipe format below.
If you are not familiar with how to use a water bath canner you should check this page first. It will tell you how to have everything ready and warmed up appropriately for the canning step. And includes a printable list to keep you on track as you work.
Alternatively, you might want to look at steam canning. Honestly, this is my preferred method these days. It is a great substitute for the water bath and takes a lot less water. Not everyone has a steam canner though so a water bath works perfectly too.
How to Make Zucchini Relish
Your first step is to get your canning supplies ready and gather all your ingredients. Remember, if needed, you can check How to use a Water Bath Canner for specifics on getting your equipment together and ready for canning. You'll be heating up your canner so it is hot but not boiling as you fill your jars.
Ingredients
4 pounds fresh zucchini (or summer squash)
½ cup diced sweet onion, white or red is fine
2 cups vinegar 5%. I use apple cider vinegar. White vinegar is fine too.
2¼ cups sugar
2 teaspoons celery seed
2 teaspoons turmeric
4 teaspoons mustard seed
Wash and cut the ends off of your zucchini. Usually when I'm making relish, I've got overgrown zucchini that I want to use up. I like to cut these large fruits in half length ways and scoop out the seeds. It is not appealing to have all that large seed in your relish. (The chickens get the seeds.)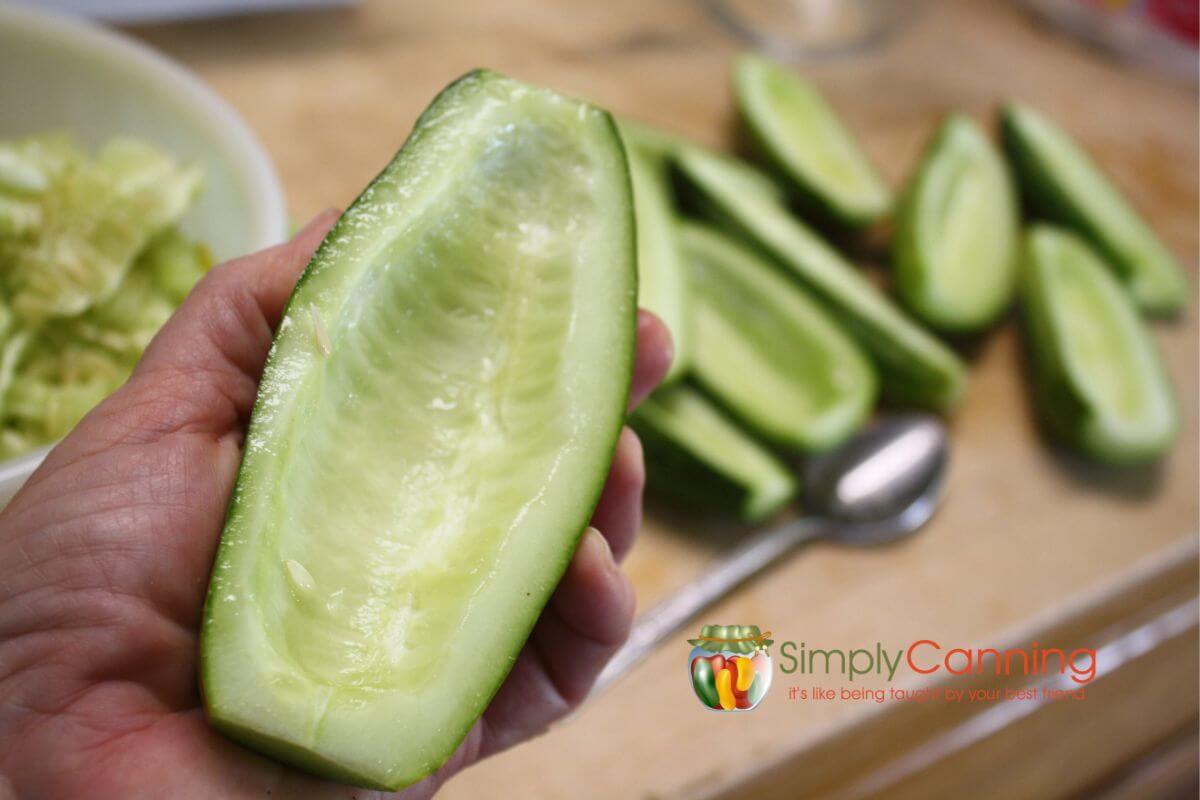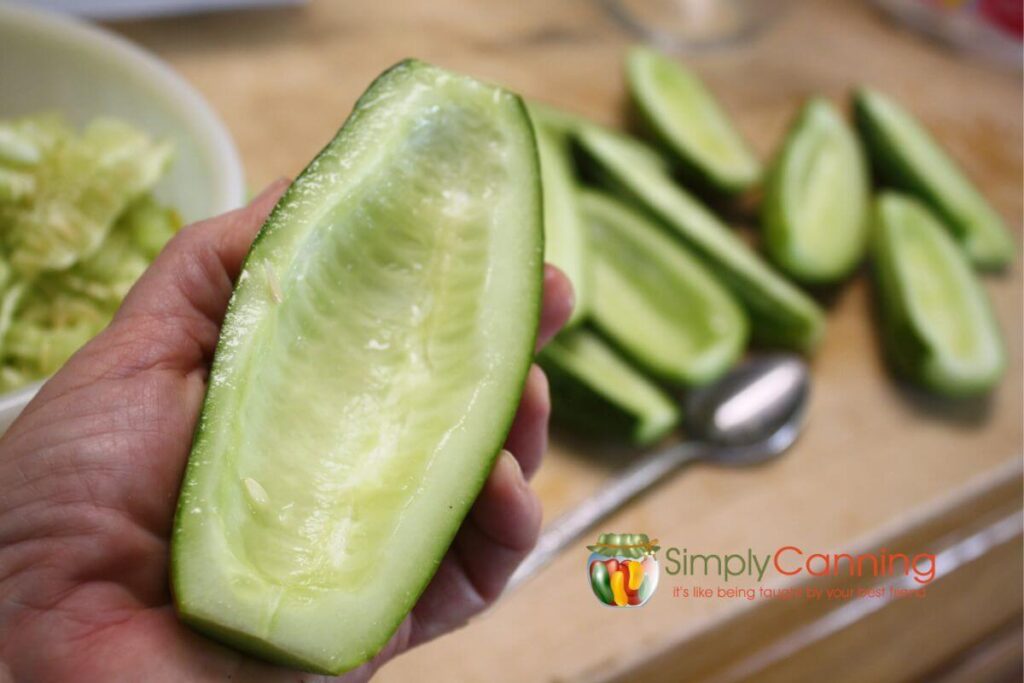 I also peeled mine. Peeling is optional. I actually think next time I'll leave on the peels. It gives your relish a little more color. Just looks nice.
If you have normal size zucchini just wash and slice the ends off. A small amount of seed that might be present is fine. No peeling, or seed scooping needed for normal non-ginormous zucchini.
You can peel your onions at the same time so all is ready to chop.
Then weigh your zucchini. A single batch is 4 pounds. You can halve this recipe or double it according to your needs. Just be sure you half or double all ingredients. Do NOT half or double the processing time.

Chopped Vegetables
Next chop or shred the zucchini. You can use a food processor, but be cautious if you plan on shredding the zucchini. This relish will cook. If you've shredded the zucchini too small, the texture of your relish will show it. I used a large shred disc on my food processor and got the size pieces you see in the pictures. A chunky shred. Just chop or shred appropriately. You know…. relish size.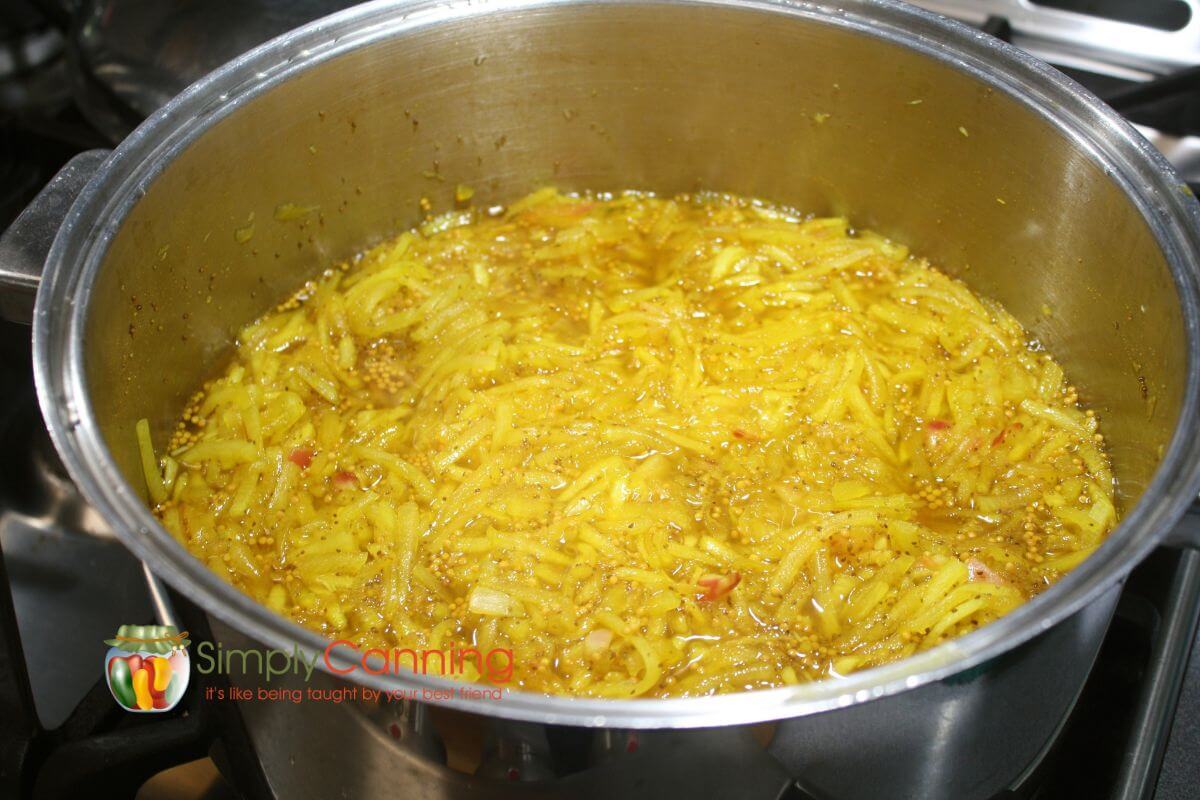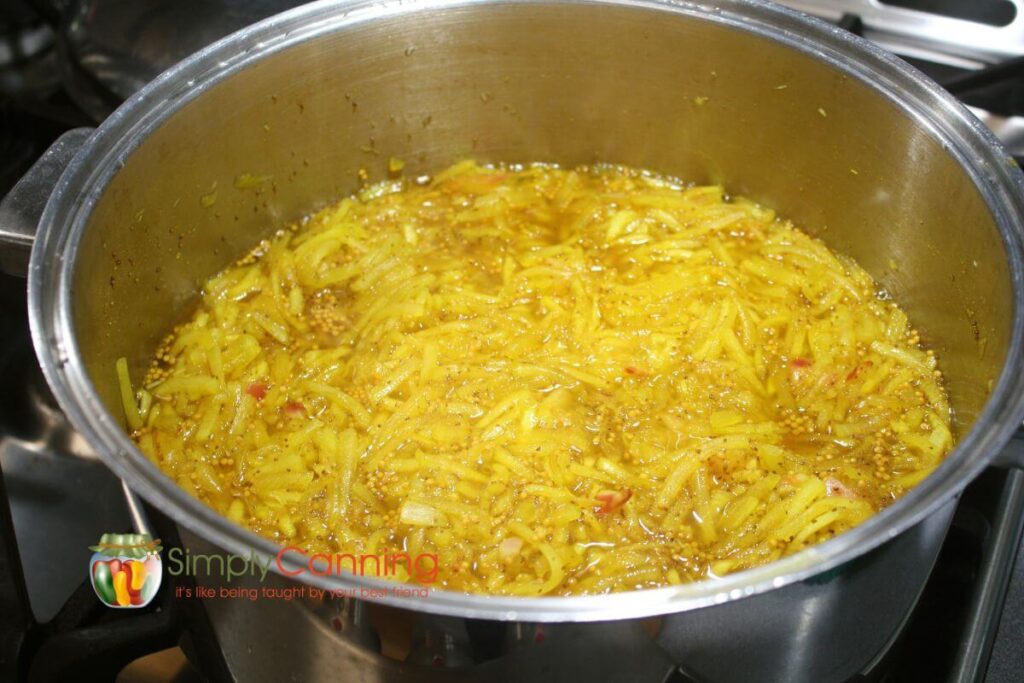 Chop your onions. I pulse mine in a food processor but once again be easy. Don't liquify the onions. You can cut by hand if tears in your eyes doesn't bother you. I used a red onion for just a hint of color. But most of the color faded so it wasn't as pretty as I thought it would be. Any onion works.
Combine Ingredients
Measure your onion, vinegar, sugar and spices. Add these to the zucchini and mix in a large stockpot. Bring the mixture to a boil over medium high heat and simmer for 5 minutes. Stir often. This makes sure your zucchini mixture is hot throughout and ready to go in the jars.
A note about vinegar. I used apple cider vinegar in mine. You can easily substitute white vinegar. The flavor will vary slightly. The vinegar must be a 5% acidity. This is pretty standard vinegar that you buy at the grocery store. Check the bottle for the acidity level. Don't substitute homemade or flavored vinegars. Standard white or apple cider vinegar is what you need.
Packing the Jars for Canning
You should have hot jars and lids ready and the canner warming up.
Ladle the relish into canning jars and leave a 1/2 inch headspace. This is the space between the food and the lid of the jar. This is important. You want the correct space to allow for expansion while processing.
Use a bubble tool or a plastic utensil (an orange peeler works if your bubble tool is lost in your kitchen somewhere!) Just run it down into your relish along the sides of the jar. This releases any trapped air.
Check your headspace again and add liquid if needed to be sure your food is covered with liquid and has the correct headspace.
Wipe rims of your jars clean. I'll use a damp paper towel. The brine in this is sticky. You don't want this on the rim as it might interfere with the sealing process.
Put on your canning lids and screw bands. Tighten just finger tight. No need to tighten down super hard. If you are wondering what does finger tight mean? Check this page for video demonstration.
Canning Zucchini Relish
Put the jars of relish in the canner rack as you fill them. When all your jars are filled, process the batch in a water bath canner. Follow the times indicated in the printable recipe below.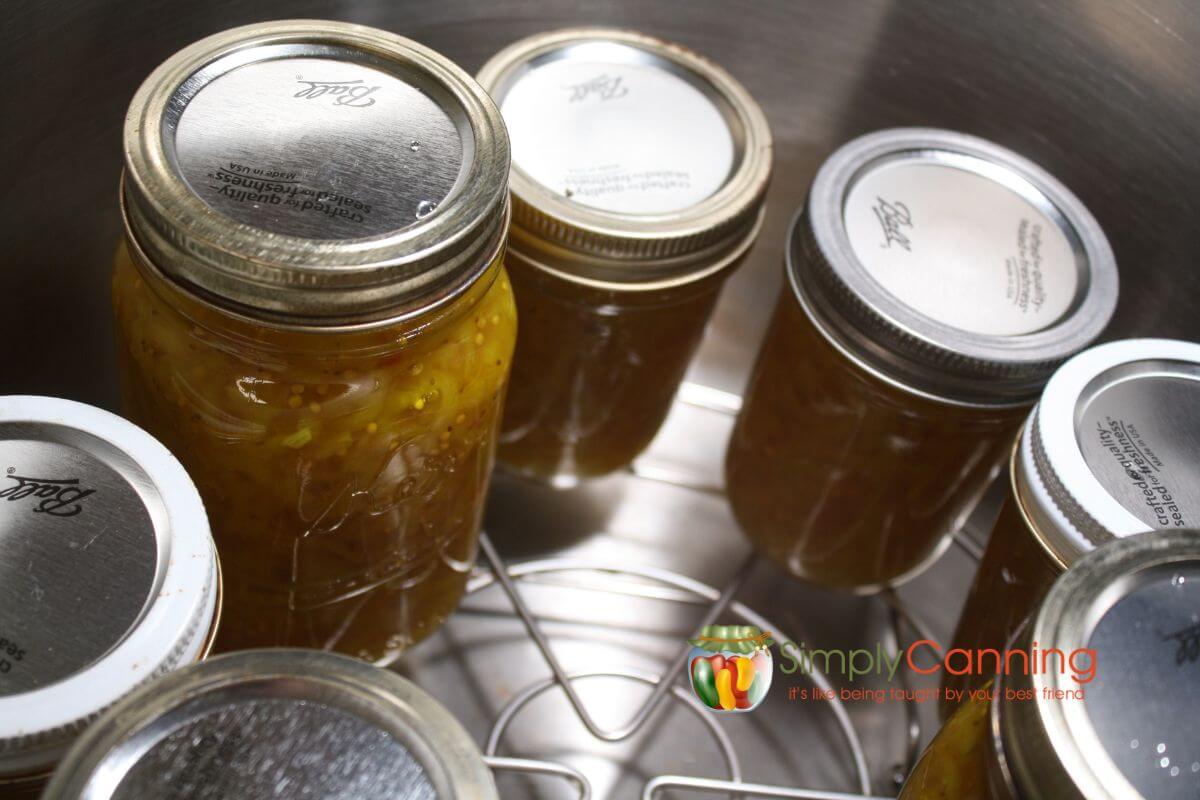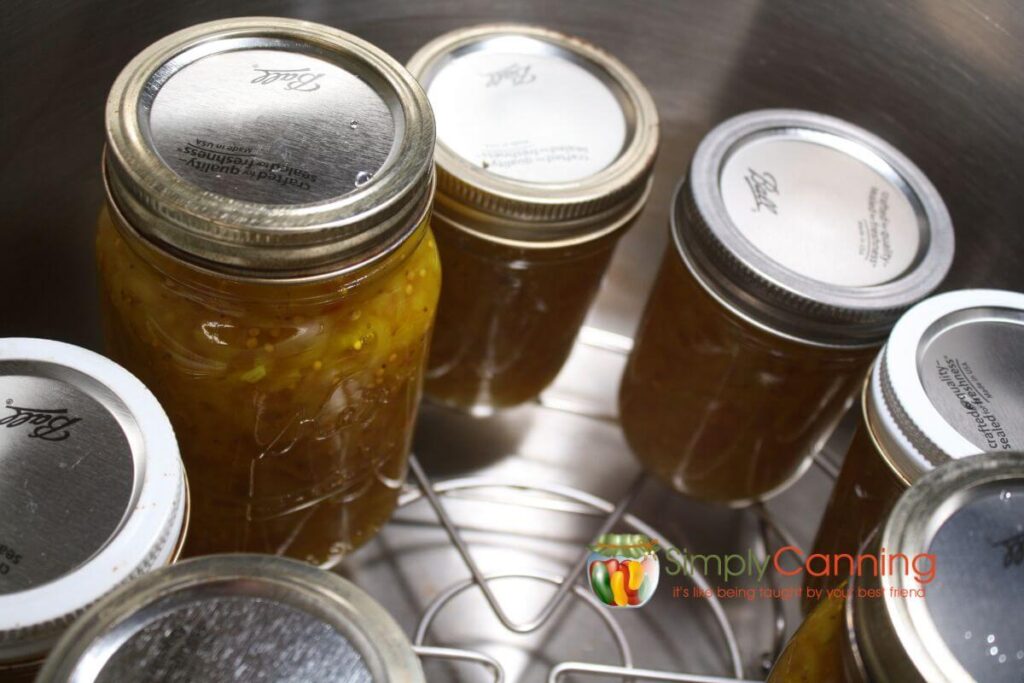 Don't forget to adjust for your altitude. This is important as well! (So many details!) If you wonder why… check this page. Altitude Adjustments. Why does it matter?
Pints and half pints are processed for the same amount of time. There are no directions for relish canned in quarts. That would be a LOT of relish. But even if you think you want quarts, there are no tested recommendations for processing. Check for the printable recipe below for processing details for your specific situation.
Zucchini Relish; No Canning
For the most part, I know most reading this want to can it to store on the shelf. However, maybe you only have a small amount of zucchini (is there such a thing?). Yes you can make this relish and put it in the refrigerator. The nice thing is, since you are not preserving it, you can change up the flavors and combinations as you like.
Fill your jars, let them cool for a bit. And put them in the fridge.
Important – The jars might seal just from the temperature change, but that does not mean they are safe for the pantry. If you do not process it it is not shelf stable even if it seals.
The relish will last a couple weeks in the fridge. Or alternatively you can put this is freezer packaging and freeze it.

Just be aware of how much you make and be sure you'll use it up in a reasonable amount of time. Halving the recipe is easy. Just cut all ingredients in half.
A Few Other Relish Recipes
Sweet Corn Relish – Get ready to make the tastiest sweet corn relish ever with this easy and delicious recipe! No pressure canner needed even though it's corn.
Pickle Relish – This easy-to-make sweet pickle relish recipe is sure to be a hit with all your family and friends.
Other Ways to Preserve Zucchini
Freezing Zucchini – Freezing zucchini, whether it is chopped, shredded, or cubed, is a fantastic way to preserve all the extra.
Dehydrating Zucchini Chips – How to dry zucchini, both chips and diced.
Canning Squash – The good news is, Yes! Canning Squash is possible with the right canning methods. How to can both summer and winter squash.
Frequently Asked Questions.
Can you use frozen shredded zucchini for relish?
That is not really a good idea. The freezing process breaks down your zucchini. When you thaw it out it will end up very soft and loosing a lot of water. Your relish will be very poor quality.

Frozen Zucchini can be used in many other ways though. Check this page for more on how I freeze and use frozen zucchini.
Can I do some pint and some half pint size jars together?
Yes! Since both size jars are processed for the same amount of time you can do a combination of sizes. You can see in my images above that I have both pint and half pint jars being processed at the same time. Remember, no quarts.
This has too much sugar. Can I reduce the sugar in this recipe?
Yes you can reduce the sugar in this recipe. The general rule of thumb is if your recipe is a quick process pickle (in other words not fermented) then you can reduce the amount of sugar to your taste. This is considered a quick process pickle recipe.
Can I change the seasonings.
The seasonings are for flavor so yes. You can adjust the seasonings to your taste as well. Just stick with dried seasonings for canning safety.
What do you do with Zucchini Relish?
It can be used just like any pickle relish. Add to sandwiches, hot dogs, or hamburgers. I like to put it in my potato salad for a bit of 'pickly' flavor.
Other Ways to Use and Preserve Zucchini
Canning Squash – How to can both summer and winter squash. From zucchini to pumpkins, learn safe canning methods and which types of squash are best suited for it .
Zucchini in Tomato Sauce – A great Basic for your pantry. This tomato based sauce can be used in many meals. Options for both zucchini and Okra as well.
Zucchini Pineapple – Learn how to can Zucchini Pineapple. Canning Zucchini in Pineapple juice results in a surprisingly pineapply (just made that word up) faux pineapple.
Printable Recipe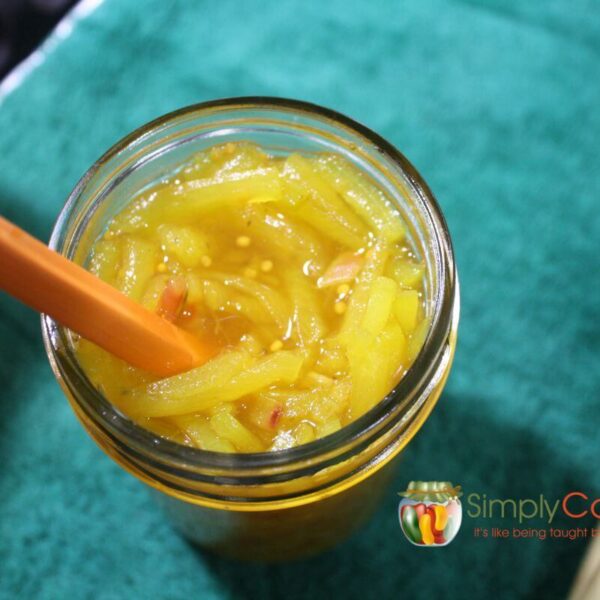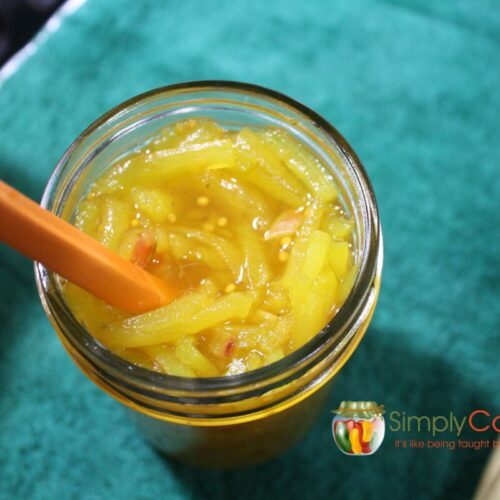 Zucchini Relish Recipe
This zucchini relish recipe makes about 5 pint jars or 10 half-pints. Both size jars are processed for the same amount of time.
Ingredients
4

pounds

fresh zucchini

½

cup

diced sweet onion

2

cups

cider vinegar

5%

2¼

cups

white sugar

2

teaspoons

celery seed

2

teaspoons

turmeric

4

teaspoons

mustard seed
Instructions
Wash squash and cut off the ends of zucchini. Remove seeds if needed.

Weigh the zucchini. Then shred coarsely or chop.

Combine vinegar, sugar and spices. Add to zucchini/onion mixture.

2 cups cider vinegar,

2¼ cups white sugar,

2 teaspoons celery seed,

2 teaspoons turmeric,

4 teaspoons mustard seed

Bring relish to a low boil 5 minutes.

Pack your jars with hot relish leaving 1/2 inch headspace.

Remove air bubbles.

Check headspace again adding liquid if needed to be sure food is covered.

Wipe the rims of jars clean and place on the canning seals and rings.

Process in a water bath following the time chart below. Be sure to adjust for your altitude.
Notes
Processing with a Water Bath Canner
Place the jar in the warm canner. Proceed to fill all jars placing them in the canner.
When all the jars are filled, bring the water in the canner to a boil. When a boil is reached that is when you'll start your timing. Process for the length of time on the chart below. Adjust for your altitude.
After your time is over, turn the heat off remove the lid and allow the canner to rest for about 5 minutes. Then bring your jars up out of the water. Allow them to rest for another 5 minutes.
Then remove the jars and place them a few inches apart on a thick towel to cool completely. Leave them alone for about 12 hours or until complete cool.
When they are cooled remove the metal bands, check the seals, label the jars and store them away!
Hot Pack Processing Times for Zucchini Relish
Half pints and pints are processed for the same amount of time.
Altitude – Processing Time (after boil)
0-1000 feet – 15 minutes
1-6,000 feet – 20 minutes
Above 6,001 feet – 25 minutes
source: https://catalog.extension.oregonstate.edu/pnw355/html
Pin This For Later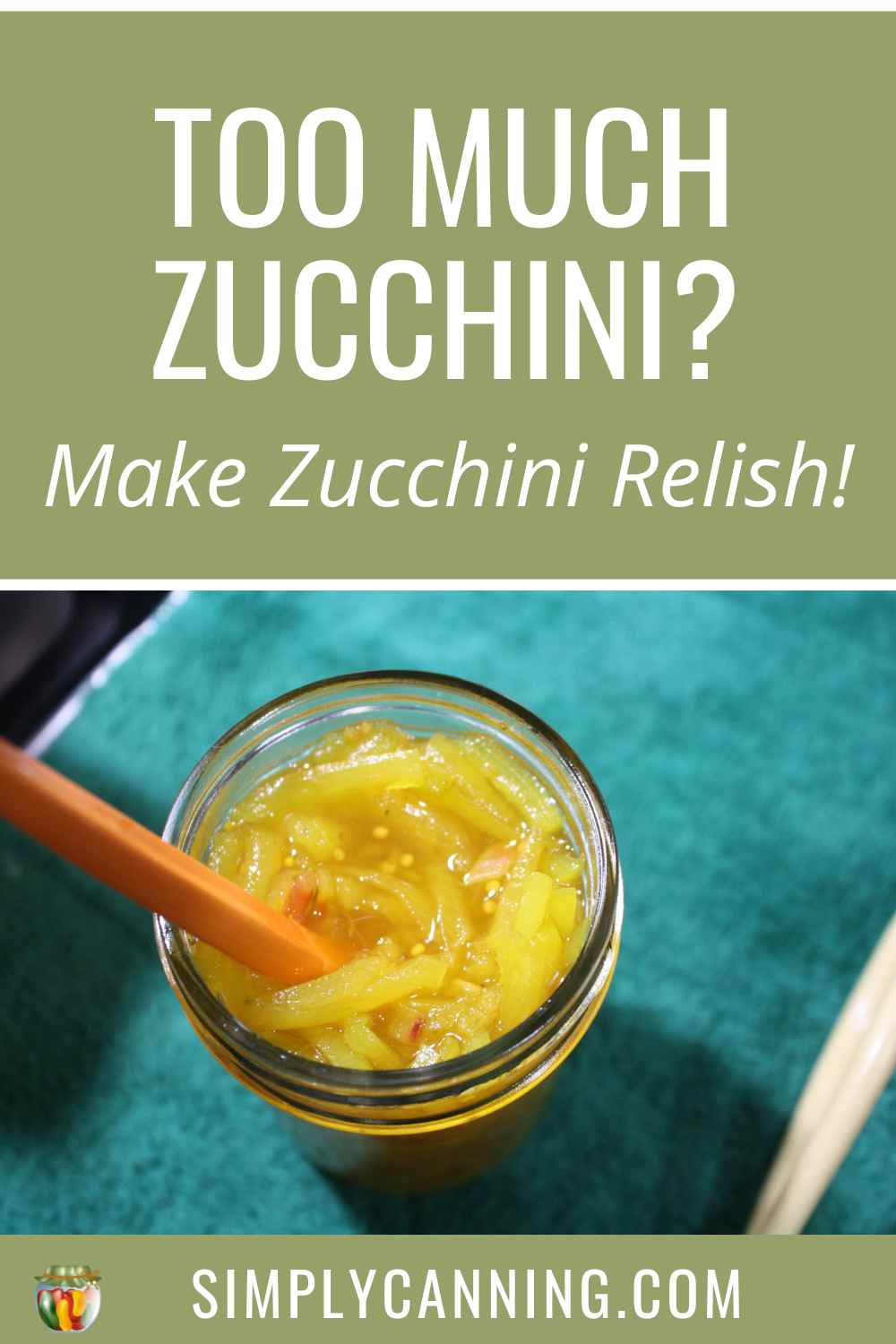 Page last updated: 1-6-2023