Do you have extra Zucchini or summer squash?
Dehydrating foods like zucchini either in chips or pieces is a great way at to preserve them.
Dried Zucchini, diced or chips!
Zucchini Chips
First find some extra zucchini, or squash. I used both zucchini and yellow crook necked squash.
Slice the squash into very thin slices. About 1/8 inch is great. The more even your slices are the more evenly they will dry. Using a mandolin slicer makes the job quick and easy.
Lay the slices in a single layer on your dehydrator trays. Sprinkle with seasoning of your choice. I used season salt.
You'll have to experiment with how much to use. I found out that a little season salt goes a long way.
Dry at 125 degrees until dry and crispy. Check every so often and remove slices that have finished drying earlier than the others.
Store in an airtight container.
Great for a quick healthy snacks.
Diced is another easy way to dehydrate zucchini.
If your squash has overgrown and has a very large seedy center you may want to remove it. Just use a spoon and scoop it out.
Not that we ever leave our zucchini too long so it gets overgrown now do we?
Next cut each zucchini or squash into lengths. Then cross cut the lengths into diced pieces. The more evenly you can get the sizes the better.
Blanch for 3 minutes. Spread on Dehydrator trays and dry at 135 for 5 to 10 hours. Actual time will depend on how small you diced your zucchini, how full you packed your dehydrator, even humidity can affect the time.
Zucchini and squash is done when it is crispy dry.
Related Pages
Dehydrating Food – How to Dry Vegetables, Peppers, Tomatoes and more.
Dehydrating corn, step by step directions to create your own dried sweet corn.
Dehydrating green beans, how to dry green beans, step by step directions from picking and blanching to storage.
Pin this to find later!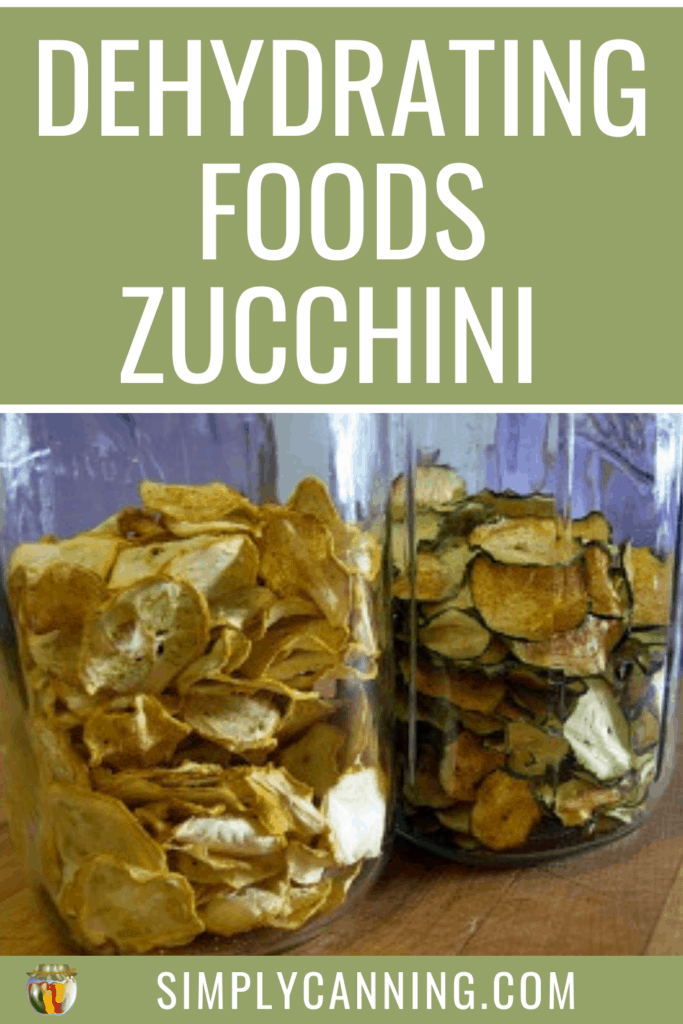 Page last updated: 3/12/2021