The Mirro pressure canner is another choice for those wanting to put up vegetables, meat and other low-acid foods.
This Mirro pressure canner has VERY mixed reviews. Many people volunteered information from their personal experience. I've included their reviews below so you can check it out. Some love it…some not so much.
Photo Credits: Thanks to Sam C. for generously taking photos of his Mirro 22qt canner! He mentioned the canner pictured holds 7 quart jars; you can stack 16 pints (8 per level). He said it also claims you can stack quart jars, but any of the quart jars that they've tried have been too tall to stack.
Mirro Pressure Canner: A Few Facts First
The Mirro range of pressure cookers/canners comes in 5 different sizes.
I can not confirm just how many jars the 16- or 22-quart capacity will hold. There is conflicting information out there. Even the Wearever website (the manufacturer of Mirro) does not list the quantities. I'd suggest that you confirm this before you purchase so you know just what you are getting.
Since I don't own one and can't find one in my local stores to verify in person…I asked around. In the reviews posted below from actual users, there is information on how many jars the canners hold. Even here there are different reports.
Another thing to notice is many people are reporting that Mirro customer support is not very helpful.
So this is me speculating here….
It seems like the people who love their Mirro have had their canner for "years." So it is very possible that the quality has simply gone down and newer canners are not the same as the old ones.
Because of all this uncertainty, I can't recommend the Mirro pressure canner. But of course, do remember that is not personal experience.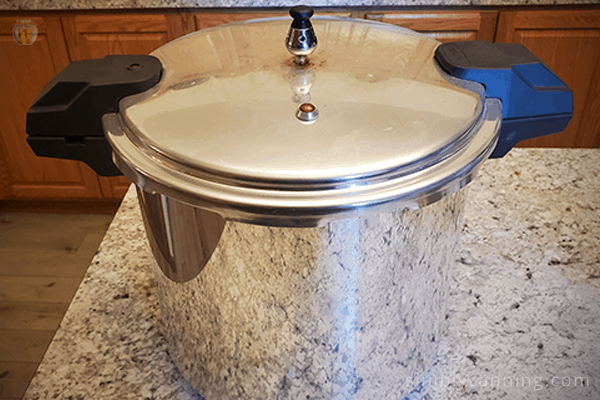 The 22-Quart Mirro Pressure Canner
The 22-Quart Mirro Pressure Cooker Canner is what most people will have for canning purposes.
Although Amazon lists this canner as holding 5 quart jars, I am consistently getting feedback that they will hold 7 quart jars. I'd suggest checking where you will be buying the canner and verifying the quantity it will hold. (I suspect it is actually 7 quart jars.)
Edit to add: Most of the comments below from owners of the Mirro pressure canner are reporting that it does indeed hold 7 quart jars, but one person did say only 5 quart jars will fit.
For the 16-quart cooker/canner, I can't seem to confirm just how many jars this cooker/canner will hold either. From reports of users (found below), anywhere from 5-7 quart jars will fit.  
LOL. I really do think Mirro should work on their marketing and make this clearer.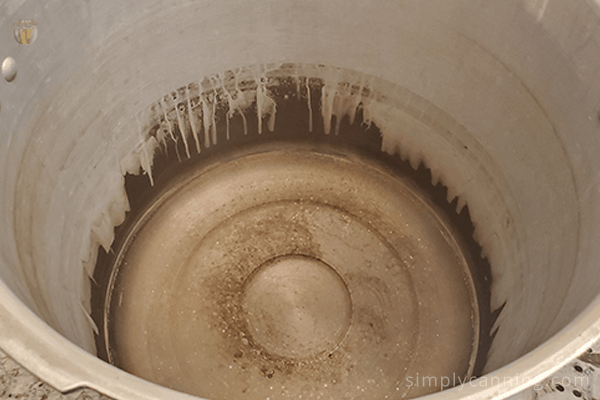 The Smaller Mirro Units: For Cooking, Not Canning
The 8-quart cooker is a good size for most cooking.
The 6-quart cooker can hold up to 6 quarts of liquid.
The 4-quart cooker is a small cooker great for gravies, sauces, and candy spreads.
Things to Remember About the Mirro Style of Pressure Canner
The Mirro pressure canner does not come with a pressure gauge. Pressure is measured with weights. This is not a problem! Weights are a standard way of measuring the pressure in a canner. However, for those who prefer a gauge, you might want to look at either the Presto or the All American Pressure Canners instead.
Mirro Pressure Canner Reviews
I've not used a Mirro pressure cooker or canner. So I asked around for some reviews from people who actually use it. These are some responses I received.  
Just a Note Before We Get Started…
I noticed that many call this piece of equipment a "cooker" instead of a "canner." I'd like to remind folks that there is a difference in the two. A canner is larger and will process foods for storage on the shelf. A cooker is smaller and is for cooking dinner.
Many people use the term cooker/canner. Just be sure which purpose you want to use this for and get the appropriate pot.
According to the USDA, a pressure cooker/canner will only work safely for canning if it is at least large enough to hold 4 quart jars. Not 4 quarts of liquid. But 4 quart size jars, upright.
Anything smaller should not be used for food preservation.
Read more about this topic here.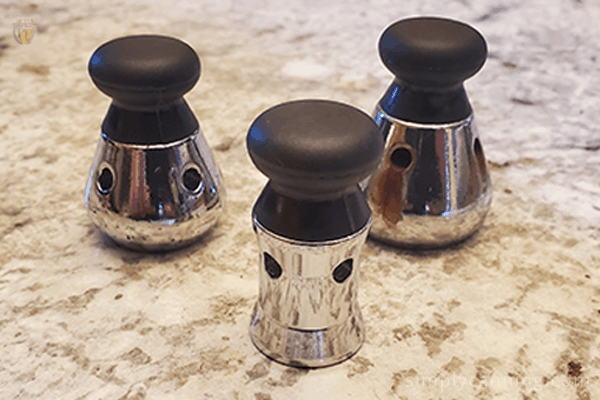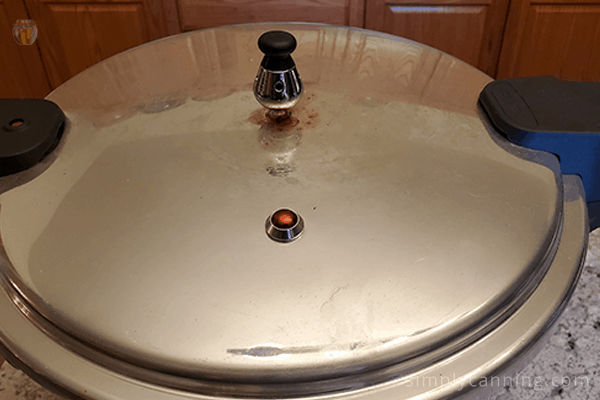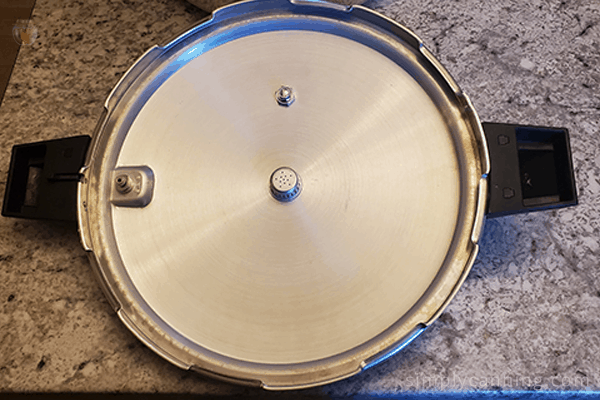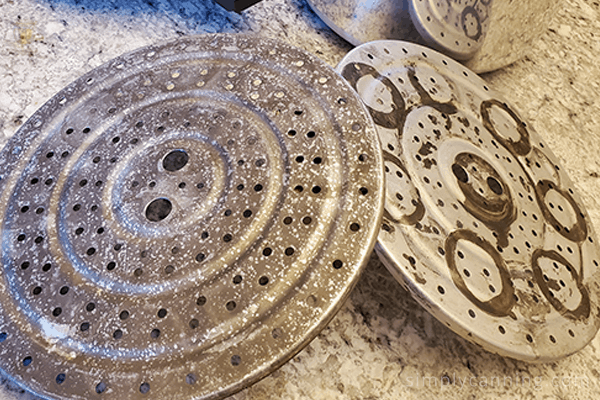 ---
Mirro Canner
by: Mary
I have used a 22 quart Mirro pressure canner since the early 1970s. It holds 7 quarts or 14 pints (stacked). I love it because it is easy to use.
---
Capacity of 16 and 22 qt. Mirro Pressure Canner
by: Anonymous
I just bought the 22 qt canner and the manual says:
The 16 qt. canner holds:
13 half pints
9 reg. pints
8 wide mouth pints
7 quarts
The 22 qt. canner holds:
26 half pints
18 reg. pints
16 wide mouth pints
7 quarts
If stacking jars, use an additional rack between layers.
---
Mirro Matic Canner
by: Anonymous
I love my mirro matic canners. I have had one of them for 32 years and it holds 4 qts. The other canner is a mirro also and it holds 7 qts. I have never had issues with them other than replacing overpressure plug. Will probably never use any other brand. Love using the weights.
---
Customer Service????????
by: Anonymous
I bought the Mirro 16 qt canner last summer, and used it for the first time last week. Called customer service, and received very poor information. Was told it would hold 10 pints. I struggled to fit 9 pint jars in it, and one broke during processing. Also, found that the 10# vent wt was not jiggling, moving at all, simply emitting a steady release of steam from the 4 holes in it. If I turned the heat back so it only released steam intermittently, the red safety button on handle would release. After use today, customer service tells me that it is defective, and I must mail it back at my expense for replacement. Never have I had a company refuse to pay shipping for return of a defective product. They refuse to refund money, yet expect me to pay shipping ? I am disappointed with customer service and product.
---
How Many Jars?
by: Anonymous
I have a 22 qt mirro pressure canner and it holds 5 qt jars with 8 pints on top level, or 16 pints total in two layers. Make sure you use the dividing shelf…you cannot stack quarts in this one.
---
No Mirro Pressure Canner for Me
by: Anonymous
The size is perfect for the garden I have.
The product is terrible; rust came out to the top vent tube. I followed the limited, poorly written instructions to the best of my uninformed ability. I reread, had my husband read and reread, the instruction. After the first test run, which worked, I load the meals I spent 8 hours preparing for meals. The side handle vent leaked!!! So I shut the canner down, waited an hour, opened it up! I check the relief valve, rest the silicone gasket, replaced the water, reset the jars and started again….That also failed. Before the next attempt his AM, I decided to read these posts… So the only thing I tried different was a drop of oil on the gasket. FAIL.
I called the 800 number and was told to take the product back; they didn't know what was wrong…I WILL BE RETURNING THIS PRODUCT…I WASTED A DAY'S WORK AND TONS OF GOOD VEGGIES. NO MIRRO FOR ME!
---
I Got My Weight to Wobble!
by: Anonymous
I finally got my weight to hiss and jiggle to perfection only after ripping my hair out, having a temper tantrum, and putting the weight on properly! The directions were not clear. Follow all directions as usual. When you place the weight on the stem, be sure to push it all the way down. If there is enough pressure in the tank, the weight will jiggle. I hope this is helpful.
---
Rusty Petcock
by: Anonymous
Mine did not turn to rust but an orangish look where the water spit out. I clean the vent stem with a green Scotch brand pad. I also clean my weight in Efferdent. I do this between each canning session. I have no problem with putting my weight on.
I get a slight jiggle and a twirl several times a minute with all the hissing going on. It takes awhile to find the right spot on your stove settings.
Happy canning!
---
Poor Instructions
by: dudleyfudpucker
We recently bought a new 22 qt. mirror pressure canner. The instructions are very poor compared to the old cooker. Old instructions had what weight to use for each cooker, jar sizes and type of food. The new one has very little instructions for any canned food. We are using the old instruction book. The weight jiggler (5 psi) on the new cooker fell apart on the second time we used it this year.
---
No Jiggle on New Model, Just Hiss!
by: Anonymous
Just got off the phone from Mirro. I have a 16 Qt model #92116. I was very frustrated with my jiggler not jiggling as per instructions. She said they are going to be updating the manual.
So she told me this. Do the 10-minute steam evacuation as per the manual, on high. Then put the weight on and turn stove to low. After the 1st hiss or burst of steam, start timing. Then should have 1 hiss every 3-4 minutes. Wow, no wonder my canner went dry. Broke 6 jars, have 12 in my freezer. I'm so irritated with them for not updating the manual with the canner I bought. Nice gal though, and she was frustrated too.
---
Love the Mirro Pressure Canner
by: Morris the Canner
Not sure why people are having problems with their Mirro canners. We have a 16 quart among other brands, and it will hold 7 quart. You MUST heat the canner up, as the instructions say, until there is a constant hissing BEFORE you put the weight on. It will then need to be adjusted so it jiggles 3 to 4 times a minute. Yes, it jiggles.
Those who are having to bang, hit, bop or whatever to "seat" the weight should purchase a new vent stem and/or weight. Mirro made some changes in the 70s and 80s so make sure you are buying the correct gasket based on the model and YEAR it was manufactured. A model number may have two different sizes and thicknesses based on the YEAR of manufacture.
NEVER oil a gasket. It does not improve the seal, make the seal last longer or stay pliable. In some cases, it even breaks down the seal.
Find a dealer that sells your gasket based on model AND year. If they only offer one gasket for your model, check until you find a dealer who knows that there are two sizes for the same model.
Nearly all canners are aluminum, even though many think they are steel or whatever.
---
Mirro Pressure Canner 8 Quart Gasket Issue
by: Bob Leibold
I have a Mirro 8 quart canner M-0598-ll dated 5/83 and ordered a new gasket. I was sent a S-9892 gasket, which isn't thick enough to seal the lid and steam escapes all around the lid. Lid fits on very loose and the S-9892 gasket is about 3/16″ thick and I need one about 1/4″ thick to take up the slack. The diameter is fine, the thickness of the replacement gasket is not.
I have called or emailed several places including PressureCookersOutlet, among many others, and they all say, "Sorry, we only have the S-9892 gasket for your model." Well…it does not fit! Canner is in good condition and not compromised in any way. It is just that the aftermarket gasket is definitely too thin.
I have other, larger pressure canners, but really liked this one for small jobs.
Anyone else having this problem and did you find a gasket that fits?
---
Many Mirro
by: Anonymous
I have used Mirro canners for 40 years. Love them. Replacement parts are easy to get even after 40 years. They never fail. Foods always are preserved. You can't go wrong with a Mirro.
---
Mirro Pressure Canner #92122 Regulator Weights
by: Amy B.
The regulator weights provided with my #92122 Mirro canner do not jiggle. They only hiss and (sometimes) spin. The instruction book was not updated to reflect this change of design from the older Mirros, which had jiggling regulators. The non-jiggling weights are far too ambiguous. I was never sure whether the pressure was correct unless I constantly watched it.
Prior to getting the Mirro, I used Presto canners (with jiggling weights) for decades. I now use an All-American canner (also uses a jiggling pressure regulator) and I absolutely love it.
---
Mirro 22 Quart Canner
by: Anonymous
I have owned and used my 22 quart Mirro pressure canner since 1982. I love the weighted gauge and the instruction booklet gives great instructions if read carefully. The book says after venting 10 minutes, add weight. When it starts to jiggle constantly, turn temperature down so that it jiggles 3 or 4 times a minute.
I hated my mom's old gauge canner because she had to babysit it the whole time; with mine, I can hear from another room. Mine holds 7 quarts and I have never tried more than 14 pints in it. Incidentally, the bottom on mine is perfectly flat and I have used it on my ceramic stovetops for the past 10 years. When I bought my stoves, I made sure the manuals said they were okay for canning.
---
Mirro 16-Quart Canner
by: Anonymous
I found thru another site that Mirro re-did their weights approx. a year ago but didn't upgrade their manual. The new weights only hiss instead of jiggling. Very hard to use especially if you're hearing impaired. Does anyone know if you can use Presto weights that visibly jiggle on a Mirro canner? This hissing is for the birds. I'm only guessing at things now.
---
Mirro Pressure Canner – Tops
by: Anonymous
Almost tops. I really love the All American 30 quart that I have, but it is a monster!
As far as having a gauge or not: If I had to choose between the weight and the gauge, I would absolutely choose the weight. Mine has the single round 'jiggler' weight. The All American has both. Joy! It is so huge that it takes a long time to build up a head of steam.
I have a M-0622 (22 quart) and it was made in 1976. It has the original gasket (!!!), which is discoloured, but pliable and seals well. As someone else mentioned, it needs to be lightly oiled from time to time.
You can tell the age of your Mirro by looking on the bottom – there should be a fraction such as a 3 on top and an 81 on the bottom. That means it was made in March of 1981. That will help you determine which gasket to buy. There is only one source of gaskets for the older Mirro canners that I could find and that is: PressureCookerOutlet (Red Hill General Store) – call and ask for gasket 3440 for canners built before '83.
I had read something by someone saying they would never use a Mirro. Can't understand for the life of me why. Easy-peasy. Just twist the lid shut, no fiddling around with all those wing nuts, wait for it to evacuate, set the jiggler and you're off to the races!
---
16-Quart Mirro Pressure Canner
by: Pat
This canner holds 7 quart size jars. I hope this helps.
---
22-Quart Canners
by: Julie
The 22 qt. Miro will hold 7 qts or 20 pints.
---
Shortie from Michigan's UP
by: Anonymous
I have used a Mirro pressure canner for 40 years. You do need to keep an extra gasket on hand but have had years of wonderful service from it. They are basically good for life. The basket rusts after a few years' use, but you can purchase a new one, but it is fine to use like it is. Happy canning–nothing better!!!!
---
Mirro 22-Quart Pressure Canner
by: spedoodle
This is my first pressure canner, and I agree that the manual is incomplete. It gives you all the warnings but doesn't actually tell you how to use it.
I have had a lot of trouble finding information on the internet about canners with the weights, and have had some problems.
I would recommend a canner with a pressure gauge for other beginners because it is easier to find directions and monitor the pressure.
I've never done more than 6 qts at a time. (You could probably fit 7.) It comes with a second bottom so you can do multiple layers of smaller jars.
---
Mirro Preferred
by: Anonymous
I have owned my Mirro 16 quart for 23 years. I have primarily used it for canning quarts, of which it holds seven. I have replaced the rubber gasket only once in this time, and though I bought extra safety pop off valves, I have never had to use one.
I prefer the weights used in comparison to the Presto that has a gauge.
The only pitfall I have found is that the Mirro cannot be used on flat top ranges (it is concave and won't contact the burner in the middle) and the Presto claims that it can (flat bottom).
Although my range is a halogen quartz flat top, I have an interchangeable coil/canning burner that I can switch to during canning season.
My Mirro has been reliable and I have never stressed over the safety of it. I hope this helps someone to make the choice which is best for them!
---
Mirro Pressure Canner
by: Missy
I bought a used 22 quart Mirro pressure canner in 2003 at an auction for $30.
It holds 7 quart or 20 pint jars. I had some trouble at first getting it to seal well; steam would keep coming out under the lid, and I figured out that you have to take the gasket out and stretch it and oil it each time for best results.
I got a new gasket last summer with no problem at the local farm supply store for about $12.
I have great results with vegetables and foods without fat. But things like chili and bean soup, I have had some problems with some not sealing, I think maybe because I am not keeping the temp even enough.
I want to get an All American but will still keep my big Mirro.
---
Mirro Pressure Canner
by: Anonymous
In your article, you said the 22 was good for small batches of canning. What size do you recommend if you are going to can a lot this year? I have to buy a canner and want to buy it once, not find out after purchase it isn't big enough.
Sharon's Answer:
I've edited my article because the feedback I'm getting is conflicting with the information posted online. I don't have a Mirro myself so I can't confirm it, but I believe the 22 quart is large enough.
I'd recommend getting a pressure canner that will hold at least 7 quart jars. That is a standard size. Presto and All American also make canners that are tall enough to stack 2 layers of jars. I like stacking pints so that is what I have.
---
Related Pages
All American pressure canners set the standard for being heavy duty and easy to use. Made in the U.S.A.! Pros and cons to help you make the right choice!
Presto pressure canners have been around for decades. Check this review of the canner, in use, and hear SimplyCanning.com's list of pros and cons!
Pressure Canning Confidence – Learn How to Use Your Pressure Canner with No Fear or Overwhelm! Get the course now.
Pin This to Find Later!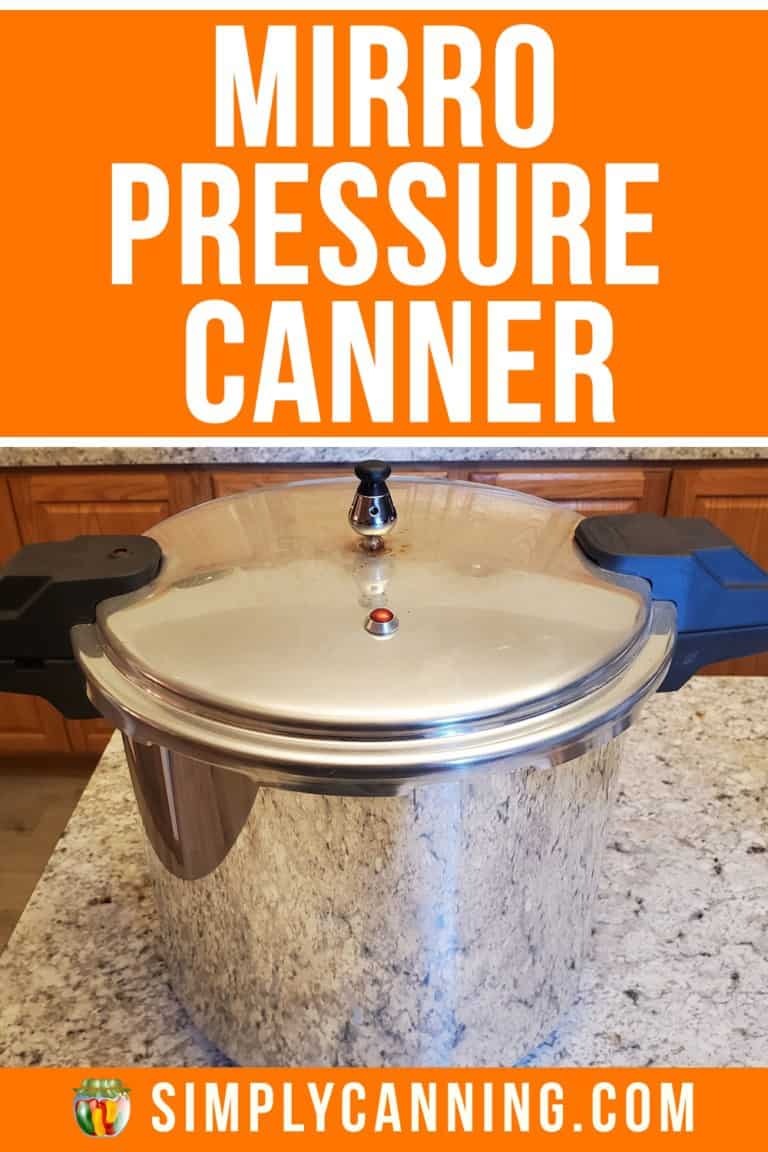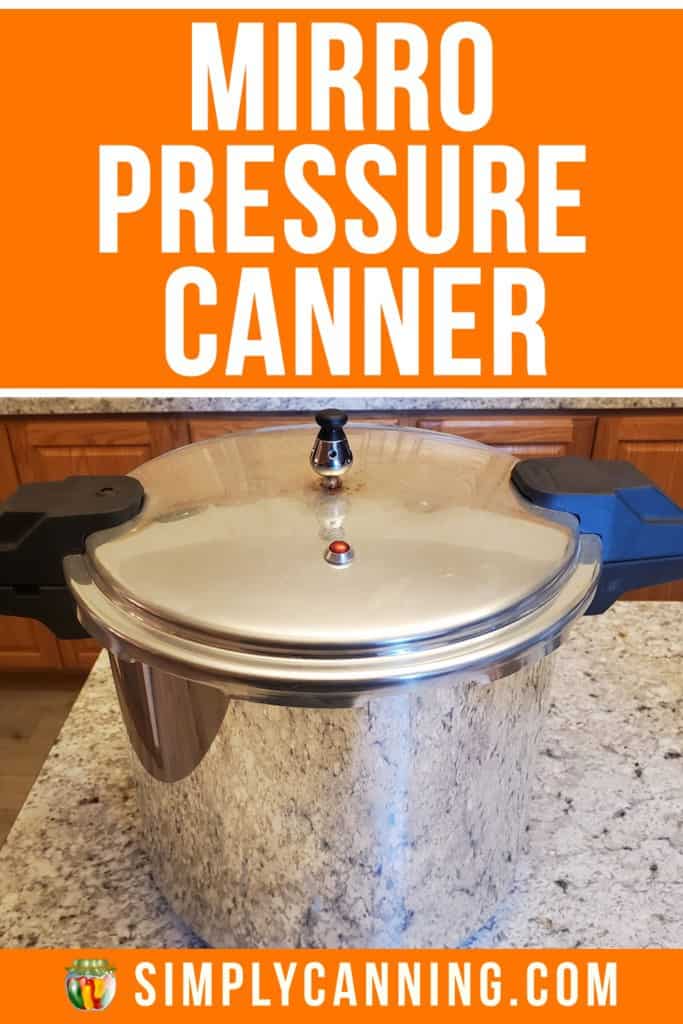 Page last updated: 10/7/2021