How to Make Apricot Butter; 3 methods to cook and then can apricot butter.
This page may contain affiliate links. More Information.
Fruit butter is a great way to make a sweet spread that doesn't have quite as much sugar as jam or jelly. It is basically a cooked down version of sauce. For instance, applesauce can become apple butter by simply cooking it a little longer.
I've made apple butter, pear butter, and peach butter, but other fruit can be used as well. Apricots, plums, grapes, and even crabapples can be used for making fruit butter. (Some fruits benefit from the addition of apple juice or cider.) This post is how to make Apricot butter.
This Page Includes:
Apricot Butter: Extended, Step-By-Step Directions
Supplies
large pot or blancher
ladle and bubble tool
Ingredients
2-3 pounds of apricots (to make 2 quarts pulp)
1/2 cup water
4 cups sugar
Spices to taste (I use 1 tsp. cinnamon, 1/4 tsp. ground cloves, and 1/4 tsp. salt)
How to Make Apricot Butter
Wash and blanch apricots to peel. Remove pits, along with any bruises or bad spots.
Combine fruit and 1/2 cup water in a pot and simmer until fruit is soft. Puree apricot mixture then measure out 2 quarts of pulp. Combine pulp with sugar and spices.
Cook down the mixture until thick.
A Tip for Pureeing the Fruit
No matter what method you use to cook down your fruit you'll need to puree it to make it all smooth. If you've peeled your apricots you might be able to just use a whisk and get it all smooth that way. You could try an electric mixer as well.
You can also use a blender or a stick blender… but use caution! You just want to get it smooth. A blender might just do too much and you'll end up liquifying your batch. It would still be tasty, but you want to make this spreadable not pourable.
Slow Cooker Apricot Butter
Simply place your fruit, sugar, and spice mixture in the cooker. Cook on high for 3 hours or so. This gets things heated up faster. Stir and set on low.
At this point, I leave the lid ajar to allow moisture to escape. The butter thickens sooner this way. Allow the mixture to cook, stirring occasionally as the fruit gets softer. Finish off with a whisk for a smooth product.
This can cook overnight if you have a cooker that will not heat up too much. In my experience, new slow cookers cook too high to be left that long and will end up scorching. My old cooker works great.
Stovetop Apricot Butter
Cook ingredients on very low and stir often. The fruit may scorch if you are not careful. This would be the least efficient way to do this, in my opinion.
Cooking Apricot Butter in the Oven
If you want to cook it in the oven, use a wide pan and bake on low at 275°F. A glass baking dish works well. I would avoid aluminum as you may end up with that flavor in your butter. Check often, stirring occasionally. This might be anywhere from 2–3 hours…or more. It varies a lot
according to your fruit and how juicy it is.
When is it done?
Your butter is done when it is thick enough to round up on a spoon. Just spoon some out of the pot. Hold it for a moment and see if it remains rounded up. If so… it's perfect!
How to Can Apricot Butter
Once the apricot puree is made, you need to fill your jars and process them. An old fashioned method that is sometimes still promoted is to just fill hot jars and turn them over on the counter to seal. Please don't do this! You have a much higher chance of spoilage and you don't want all you work and fruit to go to waste. It is simple to just take the time to process your jars to ensure they will store on a shelf.

Steps are to ladle butter into hot jars with hot apricot butter. Leaving 1/4″ headspace. Wipe rims clean as the fruit butter might be sticky. Then add your lids and screw bands tightening just finger tight. Process according to the chart below, adjusting for altitude. (see the recipe box below)

If you always wonder 'just what is fingertip tightness mean anyways?!" I've got a video here showing just how to do it… How to tighten the bands on your canning jars.

You can process this in either a water bath canner or a steam canner. If you don't know the difference check these posts for more information….
How to use a waterbath canner (boiling water canner).
tip: If you have one, go for the steam canner. It is super easy!
Fruit and sugar ratios.
If you have more or less fruit pulp, use this ratio: 1/2 cup sugar to 1 cup fruit pulp, adjusting your seasonings accordingly.
You can use an immersion blender to blend up your apricot mixture. However, be very careful not to over blend it. If you are too zealous, you'll end up liquifying it. We want a smooth, sauce consistency.
Tip for Getting Fruit
Gleaning from orchards after the main season is a great way to get free fruit. These will usually be seconds, but they're still perfectly useable. Be sure and call ahead, and always treat the orchard with respect! That orchard owner is trusting that you won't allow your children to climb trees and break branches or otherwise be a nuisance. Pick up after yourself when you leave. This is their livelihood, so honor the trust they show by allowing you there.
Apricot Butter Tips & FAQs
What is the Difference Between Apricot Jam and Apricot Butter?
Jam will have more sugar than Apricot Butter. The texture is different as well, the butter is more of a smooth applesauce consistency, while jam will jell more. Both are delicious!

Apricot butter will be pureed, while jam might have chunks of fruit in it depending on your preference. Some people make jam with bits of fruit some like it smoother. But the consistency of jam is still more of a jell than butter.

Here is how I make apricot jam… this is a no added pectin recipe with options on how to make it no or low sugar as well.

There is also a sweet spread called apricot preserves. This is yet another texture. It is more of the chunks of fruit made with a sweet fruit sauce. Chunkier. Then there are also chutneys…. so many ways to use fruit!
How Long Does Apricot Butter Last? What is the shelf life?
For shelf life prior to opening the jar, the general recommendations are to make only what you'll use in a year. However…. it lasts much longer. Jam, Jelly and Butters will last several years with no problems. They have lots of sugar and that sugar helps preserve. It is more of a quality issue than a safety issue.

If you are making a low or no sugar version…. it will not last more than a year. The quality will go down and the jam will discolor. I've got more on that in this video about the The Pitfall of Low Sugar Jams & Jellies
How Long Does Apricot Butter Last when opened?
After you open the jar you'll want to use it up in a few weeks. Remember commercial products have added preservatives that make it last longer after opening. I used to make my jam in pints. We had 4 sons and had no issues using it up! Now that it is just my husband and myself, I make half pints.

You can actually make it in even smaller amounts if you like. But process it according to the directions. You do not want to reduce the processing time, even if your jar is smaller.
How do you eat apricot butter?
You can actually use it just like jam. My favorite is just toast with butter and apricot butter… or apple, or peach… or whatever the fruit may be. 😁. You can add it to muffins cake or other desserts.

One thing I have not tried but I've seen many recipes for apricot butter cookies. If you find a recipe you like let me know!
How Thick Should Apricot Butter Be?
It should round up on the spoon. You don't want it too thin… it just seems watery. But you don't want it to become a paste either. Slightly thicker than baby food.

If you cook it too long, no problem just call it syrup. :). Syrups can be used in many ways. Think pancakes, ice cream, marinades, cake topping… The list could go on.
Do I need lemon juice?
Many sources add lemon juice to fruit butter. My Ball Blue book doesn't call for it. And other online extension service websites do not call for it. Lemon juice would add to the flavor and likely help maintain a nice color so it certainly won't hurt, but it is not required.

Most times you must use bottled lemon juice for canning recipes as it has a standard acidity level. In this case it is more for flavor… so fresh lemon juice would work if you've got lemons available.
Related Pages
Canning Apple Butter Recipe: A Delicious Way Get Started – Canning apple butter recipe the easy way! How to make apple butter in a Crockpot to save time spent in the kitchen.
Pear Fruit Butter is a special treat that is easy and delicious!
How to make peach butter. Recipe for a slow cooker or stovetop options. Learn how to make peach butter. Stovetop or slow cooker. Canning recipe and directions for traditional spiced peach butter.
Pin This to Find Later!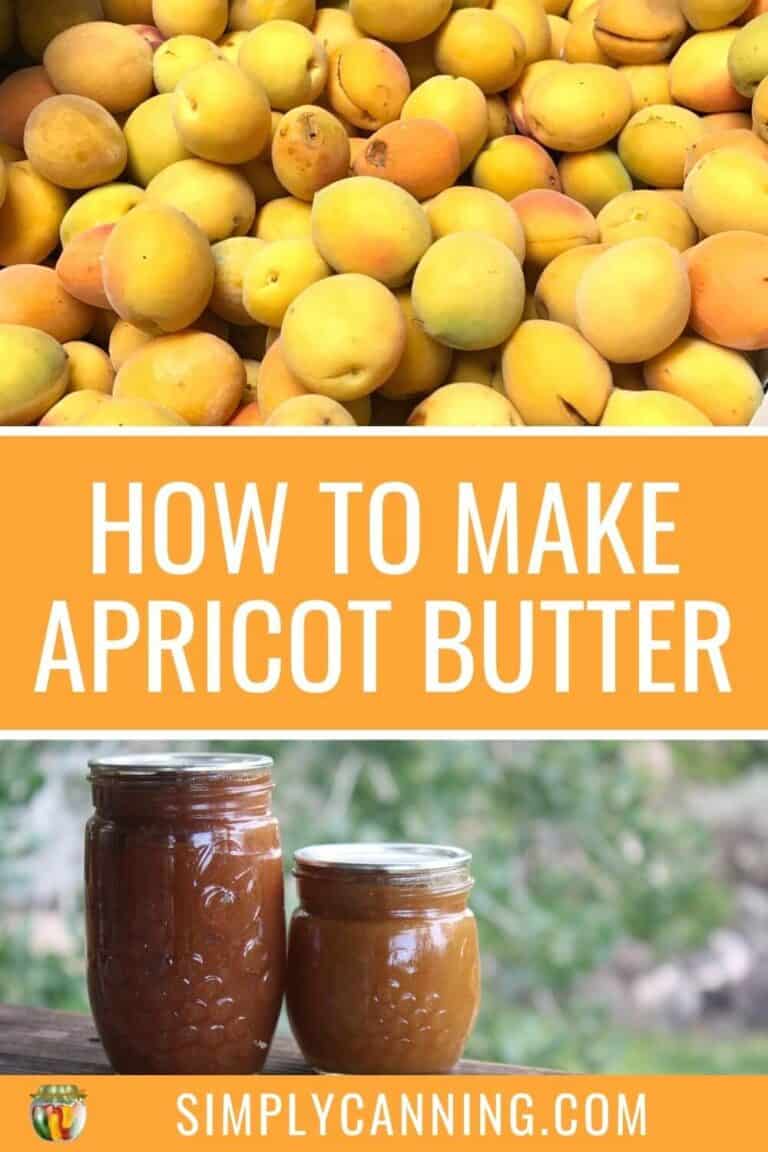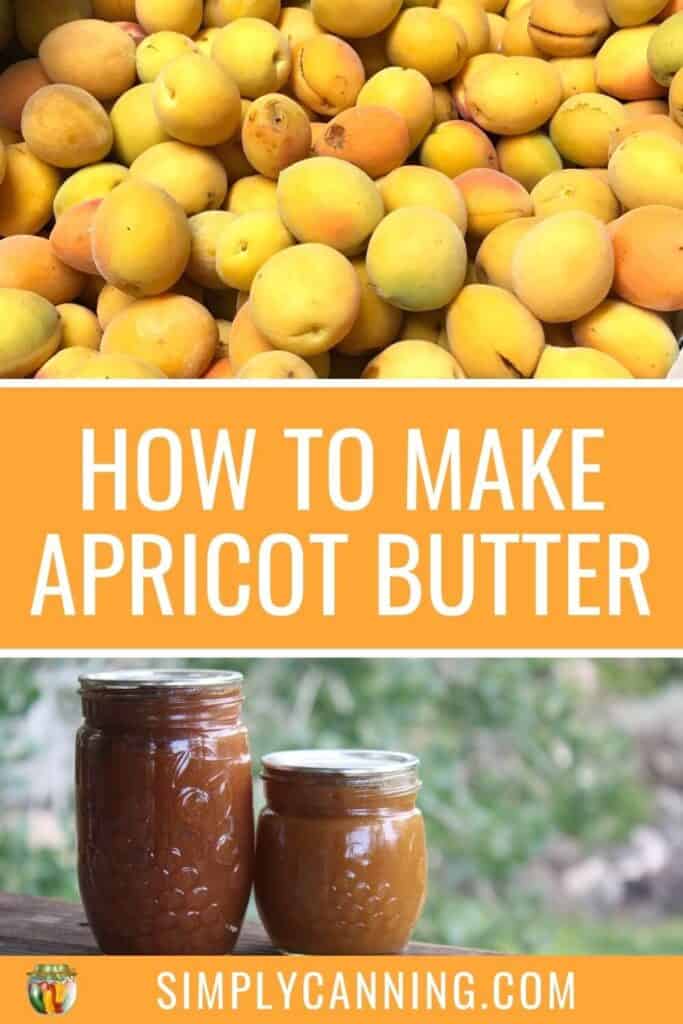 Source: Ball Blue Book, Oregon State Extension
Page last updated: 12/09/2022