With Sharon Peterson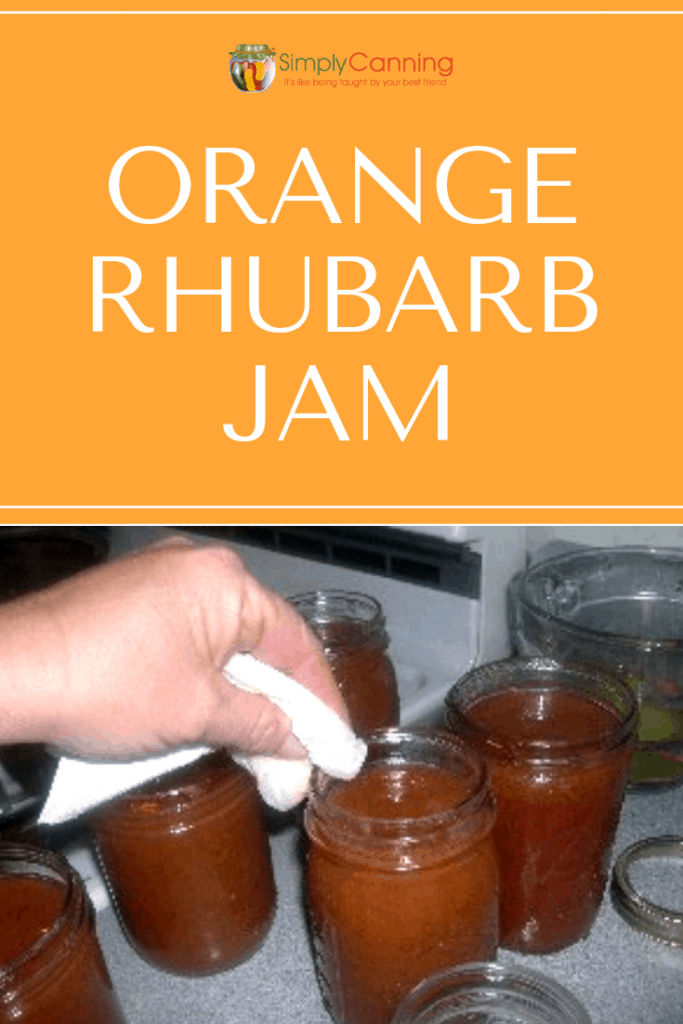 This orange rhubarb jam recipe is make with liquid pectin.
This makes about 4 pints. It is VERY tempting to double jam recipes and make more. However it is difficult to make double batches of jam.
If you want to make more at a time (I don't blame you) simply have two batches going at the same time in different pots.
This recipe can be processed safely in a Water Bath Canner.
Here is a link to my strawberry rhubarb jam recipe.
Prepare
Gather your canning supplies
bowls
large pot
large spoons
towels and dish cloths
sharp knife
strawberry corer
potato masheror whisk
Ingredients
orange rhubarb
2 1/2 pounds of rhubarb – diced
6 cups sugar
2 oranges
1 package powdered pectin
Start by washing jars, and get water in your canner heating.
(see Water Bath Canning for full directions)
Procedure
Weigh, wash and dice your rhubarb.
orange
Zest 1 orange. You could do both if you like a stronger orange flavor. I zest one orange and end up with about 2 – 3 Tablespoons of zest.
Zest is the outer orange layer of the orange peel. A zester is a handy little tool used to zest an orange. Scrape it along the outside of your orange. You could also use a cheese grater if you don't have a zester.
Alternatively you could slice one orange peel up very thinly after you have juiced it. (The next step) My boys don't like the texture with the orange peel, so I use the zest. Shh don't tell em it's got orange peel in it.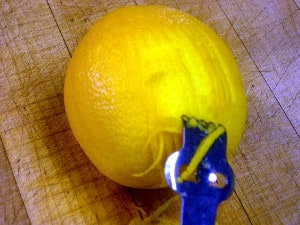 Now squeeze the juice from both oranges. Measure your juice and add enough water to equal 1 cup. Now is the time slice your peel if you choose to not use the zest. Pull most of the white pith from the inside of one of your oranges and thinly slice the peel remaining.
Combine orange juice, diced rhubarb and zest (or sliced peel) in a stock pot and simmer covered for 3 minutes. Turn off the heat and leave this steam for another few minutes or until rhubarb is tender and mushy.
Stire in powdered pectin and bring to a boil.
Stir in powdered pectin and bring to a boil. Add sugar, stir and return to a boil. . Boil hard 1 minute, stirring often.
If you have used a green type of rhubarb like I have you will notice that the jam is a sickly green color. It is just not appetizing to me.
So as much as I don't like to I reluctantly added red food coloring.
About 15 drops makes it a nice cinnamony color. Add as much as you prefer. You can skip this if you don't mind the green. But I know my boys and I don't think green jam would go over too well. (remember don't tell em it's got orange peel!)
Skim foam if necessary.
Fill hot jars with hot jam leaving 1/4 inch head space.
Pack and process according to water bath canning instructions.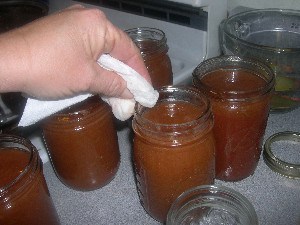 Processing time
1/2 pints or pints
process for 10 minutes if you are below 6000 ft elevation.
15 minutes if you are above 6000 ft elevation.
---
Related Pages