Freezing rhubarb will allow you to enjoy rhubarb crisps all year around. How to freeze rhubarb both dry pack or with a syrup.
Rhubarb is high in fiber and high in vitamin C. Harvest time for rhubarb is spring to early summer. When you harvest, simply pull the stalk from the plant with a twist. Cut off the leaves and base of the stalk. The leaves are not edible. In fact, they are poisonous, so don't eat them.
Rhubarb plants come in several varieties. Colors range from light green to pink. My rhubarb plant is green. (Sigh.) I've heard the pink varieties are supposed to be sweeter. I know they are much prettier.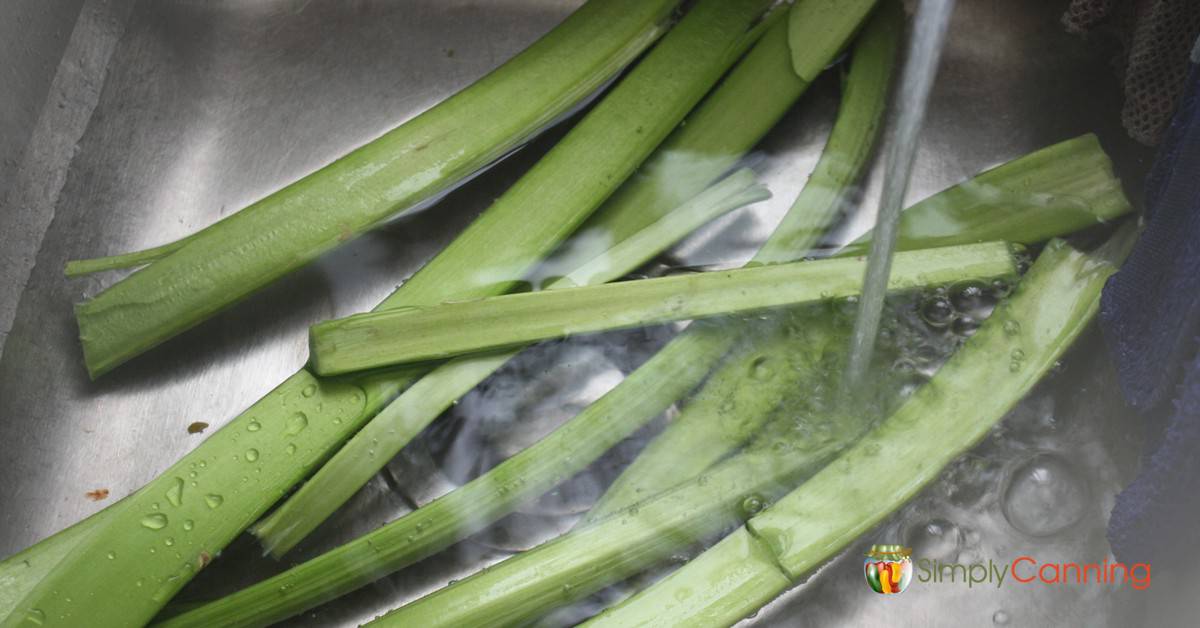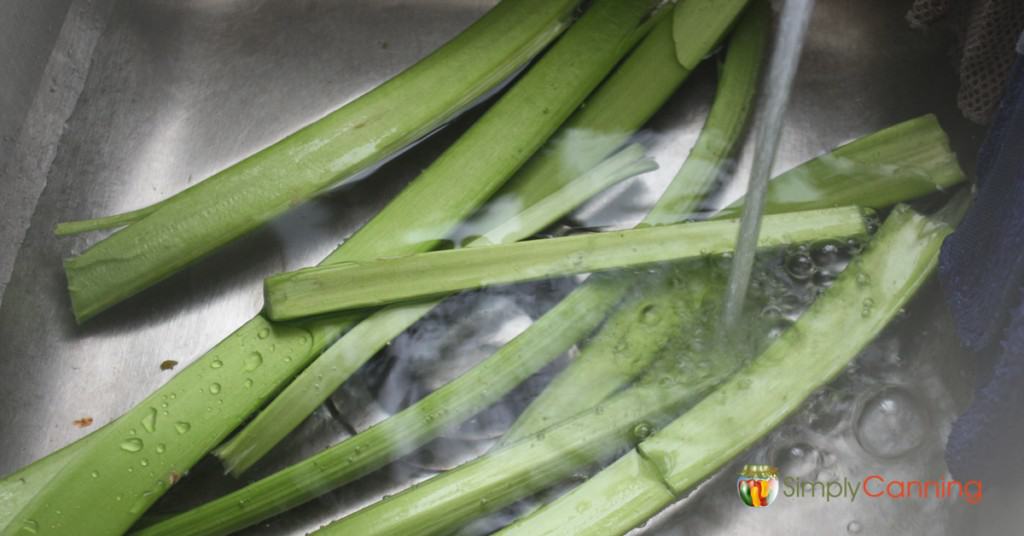 This Page Includes:
Freezing Rhubarb
Freezer bags are a very easy way to pack foods for the freezer. However, they are meant for only one use. (Do you wash your freezer bags? I do sometimes.) Freezer boxes can be used over and over again.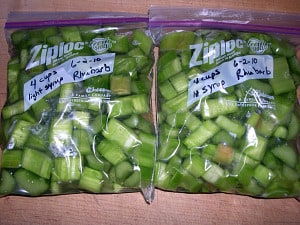 What you choose to pack in is personal choice. I used quart-size freezer bags in 4-cup quantities.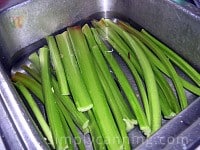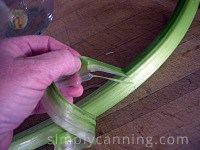 Blanching Rhubarb for Freezing
Blanching is optional. Personally, I have not blanched before freezing rhubarb. However it is supposed to help retain both color and flavor. Simmer rhubarb in boiling water for 1 minute and cool promptly in cold water.
How to Freeze Rhubarb Using the Dry Pack Method
Wash and pack either raw or blanched rhubarb tightly into containers. Remove as much air as possible. Label, seal, and freeze.
I don't think that it gets any easier than that.
Freezing Rhubarb Using Sugar Pack Method
Measure out how much rhubarb you have after slicing. Mix in 1 cup sugar for each 4 cups rhubarb. Let sit until sugar is dissolved. I saw this in my old/outdated Ball Blue Book. I had not seen this recommended before, so of course, I had to try it out. I did not think the rhubarb would be juicy enough to dissolve the sugar. But it did. It was probably only 5 minutes or so.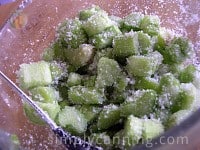 It seemed like a LOT of sugar. I guess I'll know if I like this when I open the package later.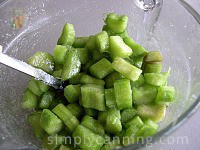 Pack into your preferred container. Remove as much air as possible. Seal and Freeze.
How to Freeze Rhubarb Using the Syrup Pack Method
Pack either raw or preheated rhubarb tightly into containers, and then cover with cool syrup.
To make syrup, simply combine water with sugar and heat until dissolved. Let this cool before pouring over your rhubarb. It can be warm, just not hot to where it will react with the plastic.
Light – 2 cups sugar to 1 quart water
Medium – 3 cups sugar to 1 quart water
Use only enough to just cover rhubarb. Not very much is needed. Remove as much air as possible. Label, seal, and freeze.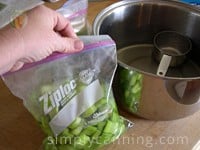 Recipe Card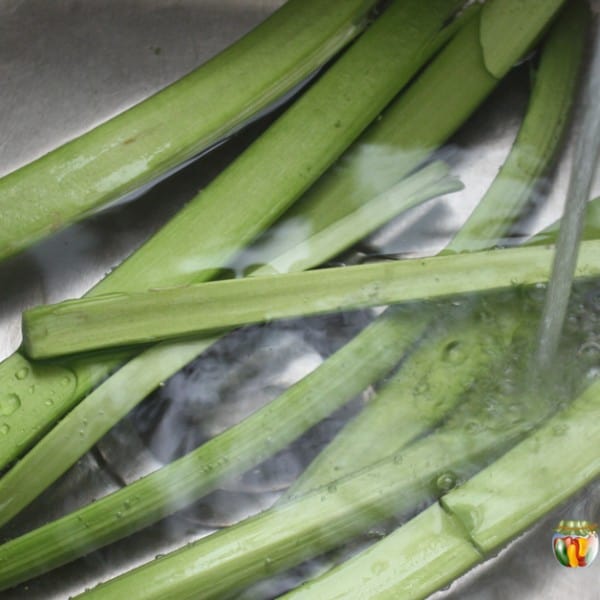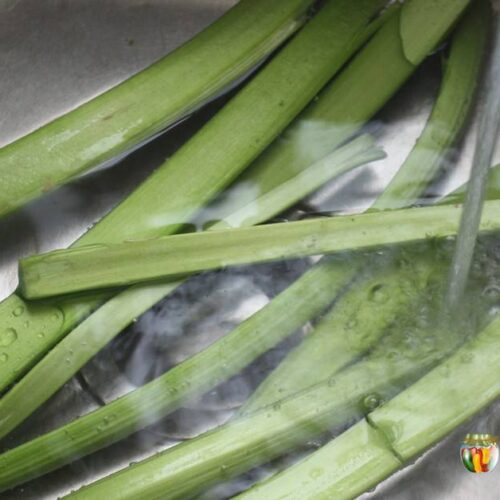 Freezing Rhubarb
Ingredients
Equipment
Freezer bags/containers

Sharp knife
Instructions
Wash, trim, and cut firm, tender stalks into 1-2" pieces, blanching if desired.

If desired, mix 1 cup sugar for each 4 cups rhubarb and let dissolve.

Place in freezer bags/containers.

Remove air, seal, and label.
Processing
Notes:
You can also pack rhubarb using syrup:
Light Syrup: 2 cups sugar to 1 quart water

Medium Syrup: 3 cups sugar to 1 quart water
Use only enough cool syrup to just cover rhubarb.
Last Updated: 6/3/2021

Freezing Rhubarb Tips & FAQs
Tip for Freezing Rhubarb
Here is a freezing tip: If you want smaller amounts, for instance 1 cup per package. Use sandwich baggies for each 1 cup. Then place those sandwich bags in gallon size freezer bags. The sandwich bags are cheaper, but stored in the freezer bag, you still get the protection of the thicker bag.
I plan on doing some dry pack rhubarb in 1 cup sizes to have on hand for yogurt smoothies.
Related Pages
Freezing cherries to preserve them is easy and gives you a taste of summer, even when there's snow on the ground. Sweet and delicious!
Freezing bananas is a savvy way to cut waste, especially on well-ripened fruit! It makes a great summer treat and can be used for banana bread later.
Learn how to freeze strawberries the right way and and enjoy them anytime! Freeze either whole or in ice cube trays for convenience.
Pin This to Find Later: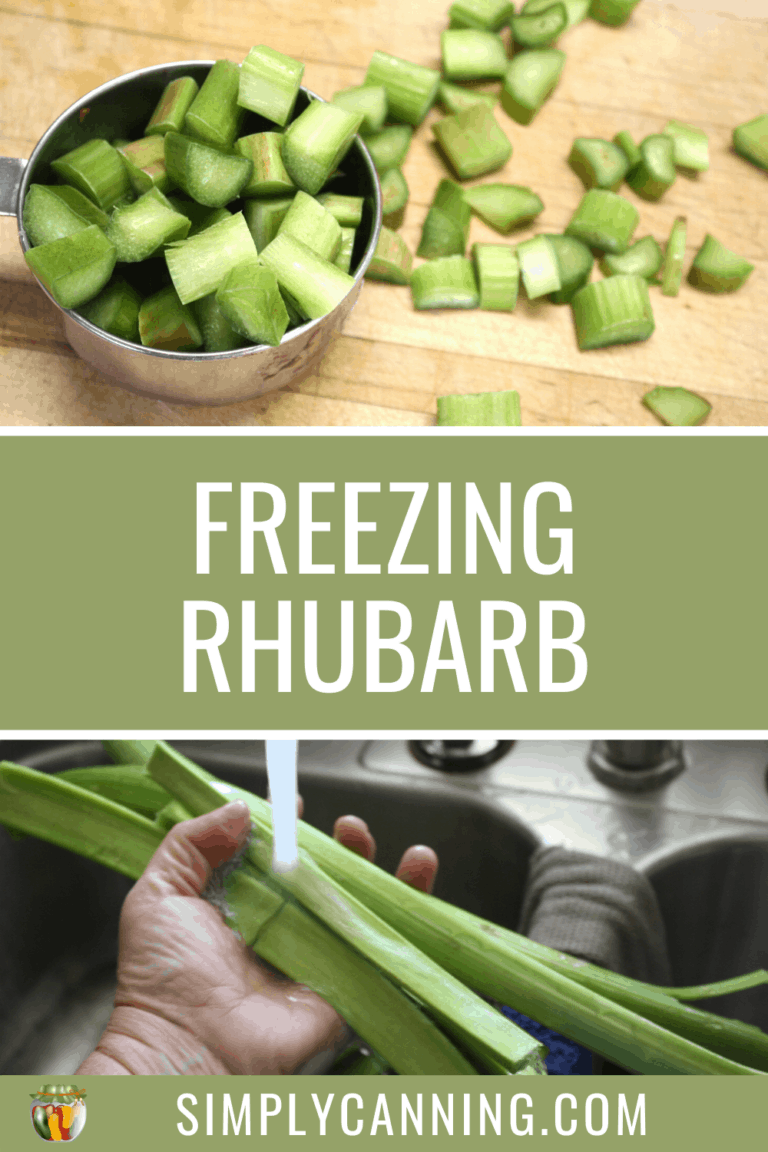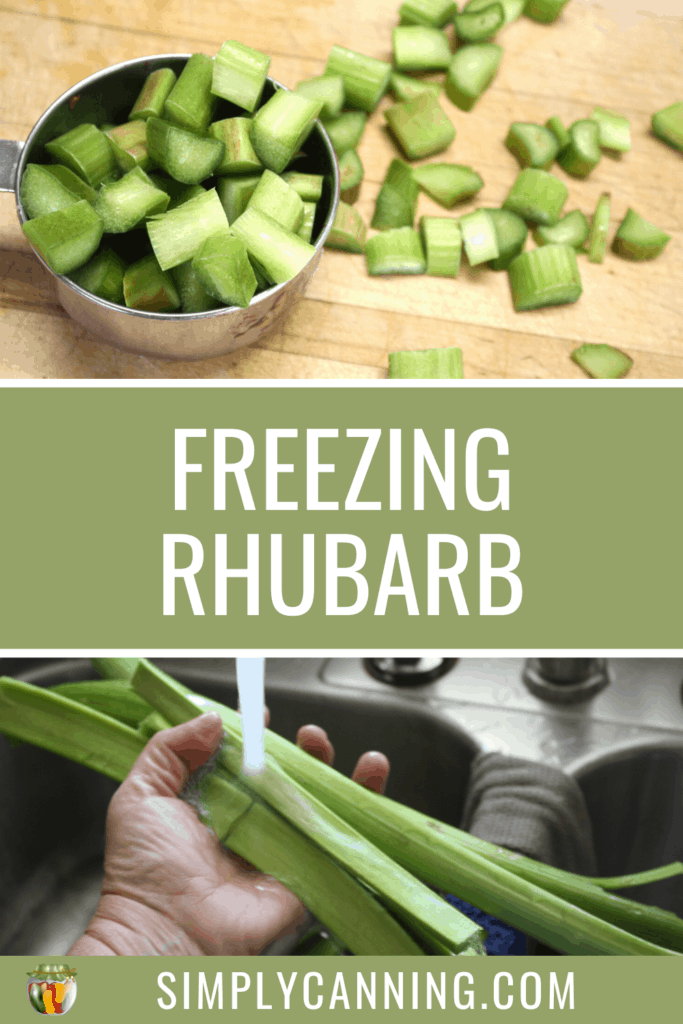 Page last updated: 6/3/2021