With Sharon Peterson
Freezing Rhubarb will allow you to enjoy Rhubarb Crisps all year round. How to freeze rhubarb both dry pack or with a syrup.
Rhubarb is high in fiber and high in vitamin c. Harvest time for Rhubarb is spring to early summer. When you harvest simply pull the stalk from the plant with a twist. Cut off the leaves and base of the stalk. The leaves are not edible. In fact they are poisonous, so don't eat them.
Rhubarb plants come in several varieties. Colors range from light green to pink. My Rhubarb plant is green. (sigh) I've heard the pink varieties are supposed to be sweeter. I know they are much prettier.
Freezer bags are a very easy way to pack foods for the freezer. However they are meant for only one use. (do you wash your freezer bags? I do sometimes) Freezer boxes can be used over and over again.
What you choose to pack in is personal choice. I used quart size freezer bags in 4 cup quantities.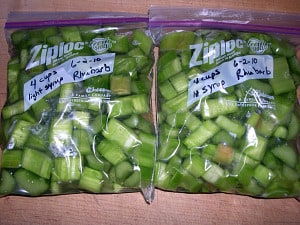 Here is a freezing tip: If you want smaller amounts, for instance 1 cup per package. Use sandwich baggies for each 1 cup. Then place those sandwich bags in gallon size freezer bags.The sandwich bags are cheaper, but stored in the freezer bag you still get the protection of the thicker bag.
I plan on doing some dry pack rhubarb in 1 cup sizes to have on hand for yogurt smoothies.
Freezing Rhubarb
Choose firm, tender, stalks. Wash, trim and cut into 1-2 inch lengths.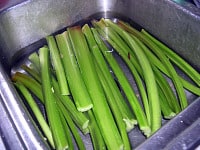 Some rhubarb will have stringy fibers running through them. Well actually I think they all do but some are more stringy than others.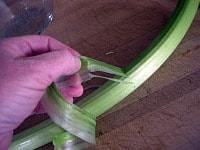 These can be pulled off when you slice. Some of my rhubarb from this batch had been left far too long and were pretty stringy. You can see as I sliced them they actually divided into little sections leaving the stringy part to be discarded.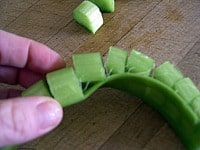 Blanching
Blanching is optional. Personally I have not blanched before freezing rhubarb. However it is supposed to help retain both color and flavor.
Simmer Rhubarb in boiling water for 1 minute and cool promptly in cold water.
Dry Pack Method:
Wash and pack either raw or blanched rhubarb tightly into containers. Remove as much air as possible. Label, seal and freeze.
I don't think that it gets any easier than that.
Syrup Pack Method:
Pack either raw or preheated Rhubarb tightly into containers, cover with cool syrup.
To make syrup simply combine water with sugar and heat until disolved. Let this cool before pouring over your rhubarb. It can be warm just not hot to where it will react with the plastic.
Light – 2 cups sugar to 1-quart water
Medium -3 cups sugar to 1-quart water
Use only enough to just cover rhubarb. Not very much is needed. Remove as much air as possible. Label, seal and freeze.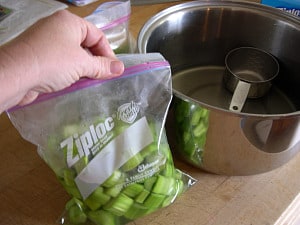 Sugar Pack Method:
Measure out how much rhubarb you have after slicing. Mix in 1 cup sugar for each 4 cups rhubarb. Let sit until sugar is dissolved. I saw this in my old outdated Ball Blue Book. I had not seen this recommended before so of course I had to try it out. I did not think the rhubarb would be juicy enough to dissolve the sugar. But it did. It was probably only 5 minutes or so.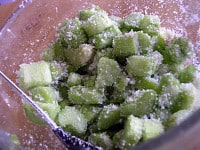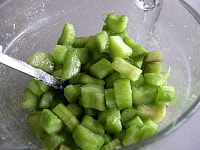 It seemed like a LOT of sugar. I guess I'll know if I like this when I open the package later.
Pack into your preferred container. Remove as much air as possible. Seal and Freeze.
Freezing Fruits
Freezing Cherries
Freezing Bananas
Freezing Strawberries
Freezing Apples
Freezing Rhubarb
From Freezing Spinach back to Home