What is Siphoning in Canning?
This page may contain affiliate links. More Information.
I have been asked questions about this topic numerous times. Siphoning in canning is common and can be frustrating.  Sometimes liquid is lost during processing. It happens to the best of us…even me! And sometimes, it drives me crazy!
Siphoning in canning is when liquid is lost in the jars through the processing step. You may notice this lower liquid level immediately when you remove the jars from the canner or it may show up after the jars have cooled.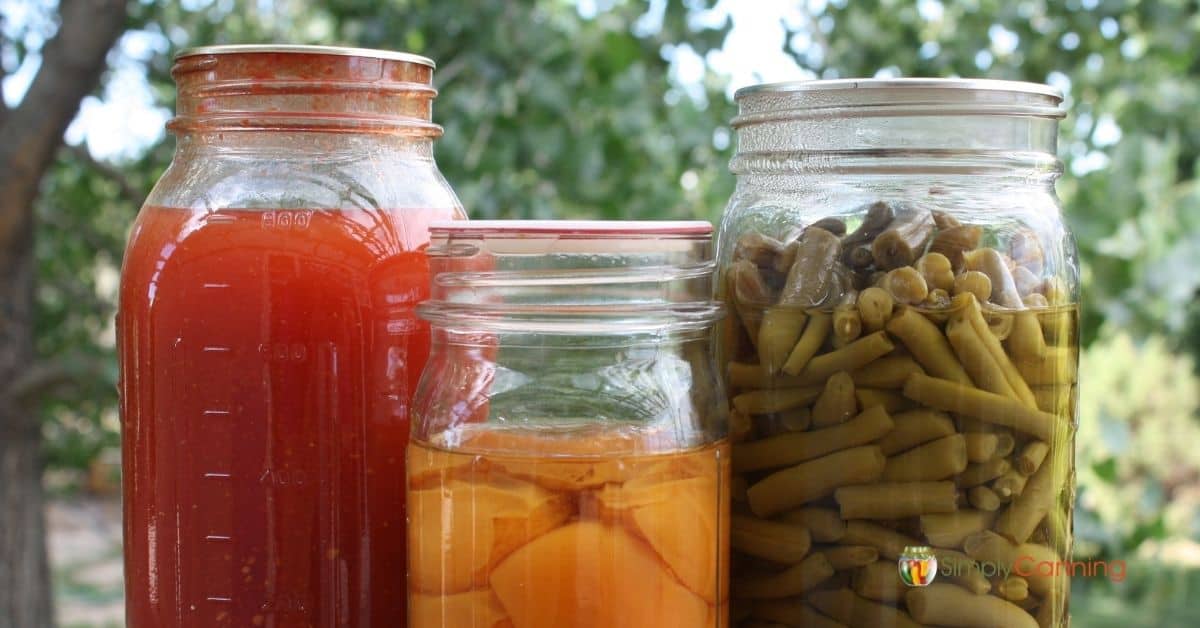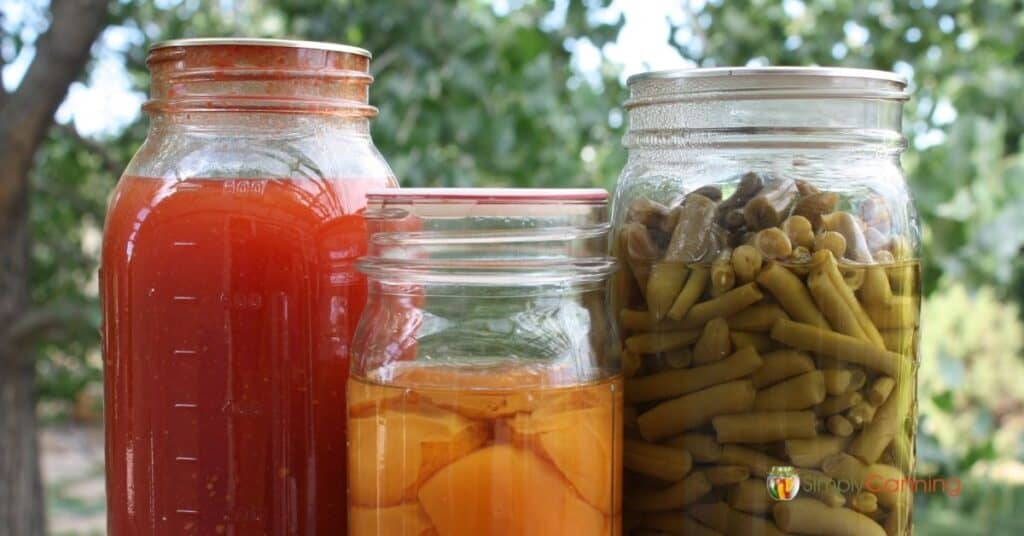 First, let me say that as long as the siphoning is not extreme, the food is fine. Extreme can be defined as more than half the liquid was lost out of the jars. 
Why is this liquid loss happening?!
When is the Liquid Loss Too Much? Is My Food Safe?
Yes.  If you have used safe canning recipes and followed directions.  You just need to store and use it differently depending on that siphoning affect.  
If you have jars that have experienced extreme liquid loss (more than half the liquid is gone) put those jars in the fridge and plan on using them soon. 
If the liquid is lower than you like, but not extreme, place them in the front of the pantry so they get used first. 
In either case. You can still use your food. You just might need to use it within a few days.
Personally, if it is close to half the jar siphoned.  I'll go ahead and store it in the fridge and use it soon. 
Sometimes food above the liquid mark may darken. (I have not had that happen to mine.)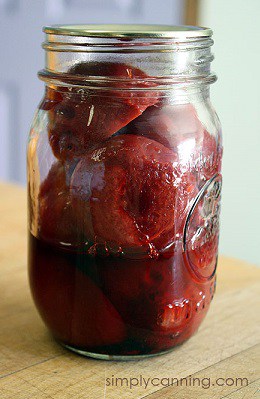 Possible Reasons for Siphoning
Here are a few possible reasons why canning jars may have siphoned.
Incorrect headspace: If the headspace in your canning jars was incorrect, this could be a reason for siphoning.
Air bubbles: If you didn't remove air bubbles before putting on the lids, this could also cause siphoning.
Soaked beans: Foods like dried beans may have absorbed all the water. Beans should be partially cooked prior to canning.
Loose screw bands: If the screw band wasn't tightened enough, the lid may not have sealed properly and siphoning could have occurred. Make sure the lid is snug, but not overly tightened.
Most Common Reasons for Liquid Loss in Home Canning.  
There are three more causes that stand out as being most likely.
Cool Down Time – You cooled your canner or jars too quickly from the canner after processing.
Pressure Fluctuation – You allowed pressure to fluctuate in your canner during processing.
Raw Pack Recipes – You are raw packing food.  (That is not bad if the recipe calls for it, but it can make liquid loss more likely).
Cool Down Time Can Impact Liquid Loss. 
The most common cause I've found for liquid loss in home canning is hurrying the cooling-down process or removing your jars too quickly.  
That cool down time needs to be a natural release of pressure and heat.
You don't want to hurry those temperature changes along.  Don't delay either… but don't rush.  Liquid loss is more common in pressure canning but does happen occasionally with a water bath.  
Here is what to do with both pressure canning and water bath canning to avoid that loss of liquid.  
How to Manage Cool Down Time Using a Pressure Canner:
Always allow the pressure canner to cool and reduce pressure to zero naturally. Do not speed up the cooling process with cold water, cool rags laid on the lid, fans or any other method. 
Just leave the canner sit at room temperature and cool.
When it has come to zero pressure, remove the weights.
Wait 5-10 minutes. 
Then take the lid off the canner.
Let the jars rest for 5 minutes or so in the open canner before removing them.
It's important for both the canner and jars to cool off at the same rate, to ensure equal pressure reduction.   If the canner is cooled too quickly, the pressure inside the jars will decrease more slowly, causing there to be more pressure inside the jar than outside. This can cause the contents of the jar to swell and push out any liquid.
Full step by step instructions on how to use a pressure canner can be found here.
How to Manage Cool Down Time Using a Water Bath Canner. 
The same basic principle applies with a water bath.  
Once the processing time is finished, turn off the heat and remove the canner lid.
After about 5 minutes, lift the jar rack so the jars are above the water. (this is assuming your canner has this style of rack) 
Allow the jars to rest for another 5 minutes on the rack above the hot water 
Remove them to the counter to cool.
There have been occasions where jars are still rapidly boiling and liquid is actually seeping out when you lift them out of the water.   If this happens put them back in and wait a couple more minutes before trying again.  
Bubbling is normal, but when it is is so hard that you can actually see liquid seeping out, that is too much.
Full step by step instructions on how to use a water bath canner can be found here.
Important Note – This gradual cool down does NOT mean you can leave your jars in the canner overnight or even for several hours. You do still want to get them out in a reasonable time. Just don't rush it. 
Fluctuating Pressure Can Cause Liquid Loss
Allowing pressure to fluctuate in a pressure canner can be a problem. When pressure canning, you don't want your pressure to rise higher than required. If your pressure is too high, you're more likely to experience liquid loss.
You also want to do your best to keep the pressure steady. Try not to allow it to fluctuate up and down during processing. That up and down pressure is likely to cause liquid loss. 
And remember…if the pressure dips below your recommended pressure, you'll have to start your time over again. No one wants to do that!
Your recipe should have the information on the pressure recommendations for your elevation.  More information on adapting recipes according to you altitude can be found here.
Raw Packed Food Can Result in Siphoning in Canning 
Many foods are perfectly safe for raw packing.  So raw packing in itself is not bad.  Raw food naturally has more air it in, and that can affect the liquid levels. Raw packed food may sometimes float as well.  
Important Note – Remember, raw pack does not mean don't process in a canner. It just means not pre-cooking your food before you pack it in the jar. More on what canning terms mean
For many foods, raw pack, or hot pack are both acceptable options.
Often canning recipes give both options but recommend the hot pack because it will have a better end quality.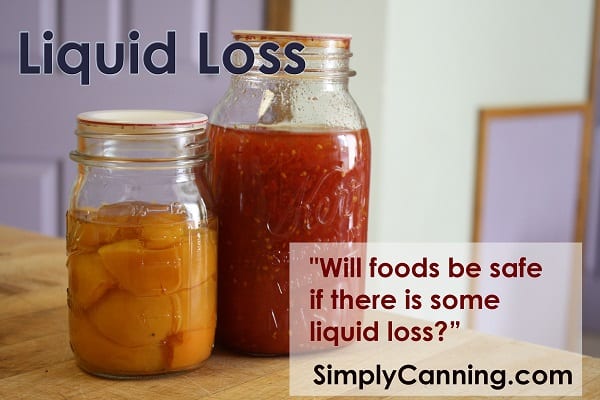 A Note About All American Pressure Canners Gauge Readings.
One thing I have noticed when I use my All American pressure canner is that the gauge will sometimes read zero, but when I pull the weight off the pipe, steam escapes. I can tell that there is still pressure inside the canner.
If that happens to you, put that weight back on immediately and give the canner more time to cool down. It can be frustrating, because that gauge reads zero, but the pressure steaming out indicates it is not zero!
So especially with an All American, have patience! Don't rush the canner.
I mention this in my review/comparison of the two most popular pressure canner brands here. 
So is the Food Still Safe?
It sure is!
Quote from the National Center for Home Food Preservation.

So even though liquid loss in home canning is certainly a bummer, and your jars are not nearly as pretty when that happens, remember your food will be fine. If liquid loss is excessive (halfway or lower), go ahead and put it in the fridge. And those with milder liquid loss, place in the front of your cupboards, so they get used first.
Video Answer on our Youtube Channel can be found here…
Liquid Loss in Home Canning Tips & FAQs
What happens if you have too much headspace after canning?
This is likely a case of siphoning.  If it is half the jar liquid lost, put it in the refrigerator.  If it is less than half the jar liquid lost, put it towards the front of the pantry so you'll use it up.  
Can You Under fill a Canning Jar
It is not safe to under fill a canning jar.This is a different scenario than the liquid loss this article explains. Siphoning is when you filled to the proper headspace but have too much headspace coming out of the canner.  

You do not want to intentionally leave more headspace than the recipe indicates. 
Concerned about botulism? Thankfully, it's very easy to avoid! Learn how on this page.
What about canning safety overkill, anyway? Well, food can be spoiled even without mold. 
Here's a tip for serving home canned foods safely! Boiling low-acid foods prior to eating them – not during the processing. Let's clear a few things up.
Pin This to Find Later!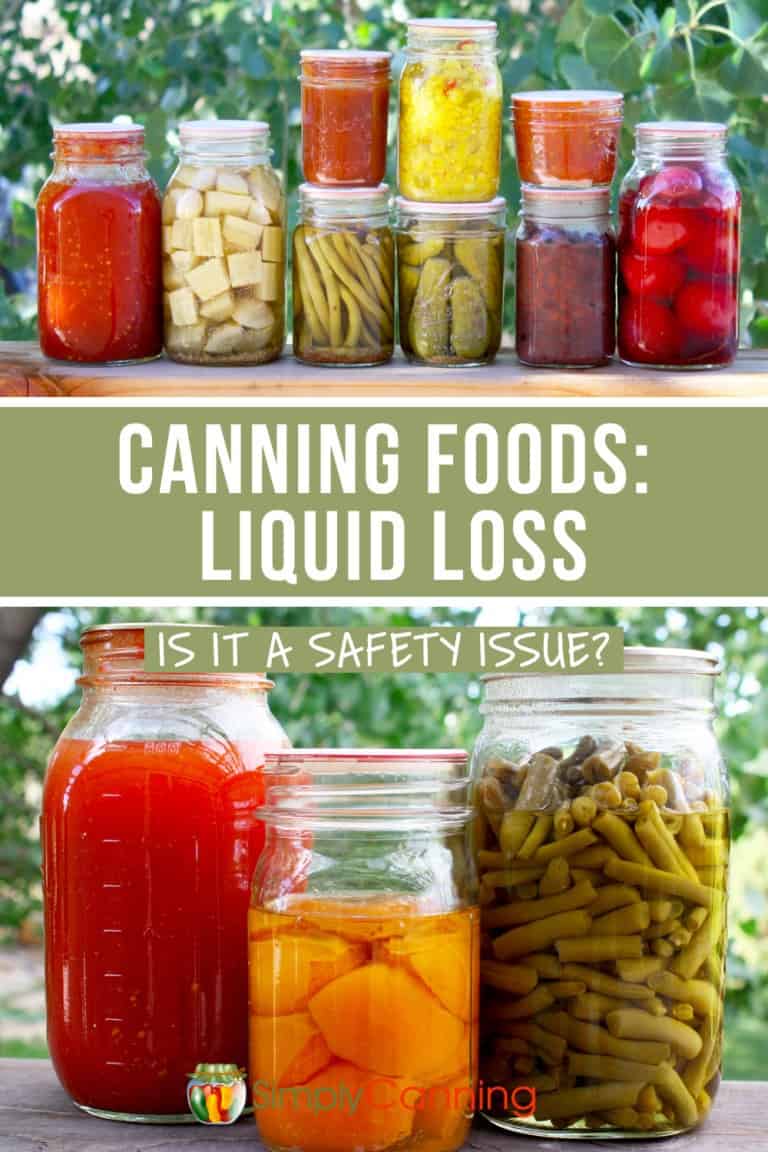 Source: https://extension.psu.edu/why-is-liquid-lost-during-canning