I often get questions from people who are asking about re-canning store-purchased foods. Especially when it is purchased in those large, #10-size cans.
Green beans, tomatoes, corn, fruit and other foods can be purchased in large cans at a cheaper price than the smaller, individually sized cans.
Sometimes you can't use the food all at once, but the food is actually cheaper when purchased this way. So it seems logical that re-canning it would save money. But is it a good idea? Is it safe? Is it really economical?
Maybe you were given some of these cans. Or you just found a really great deal. Now what do you do with it?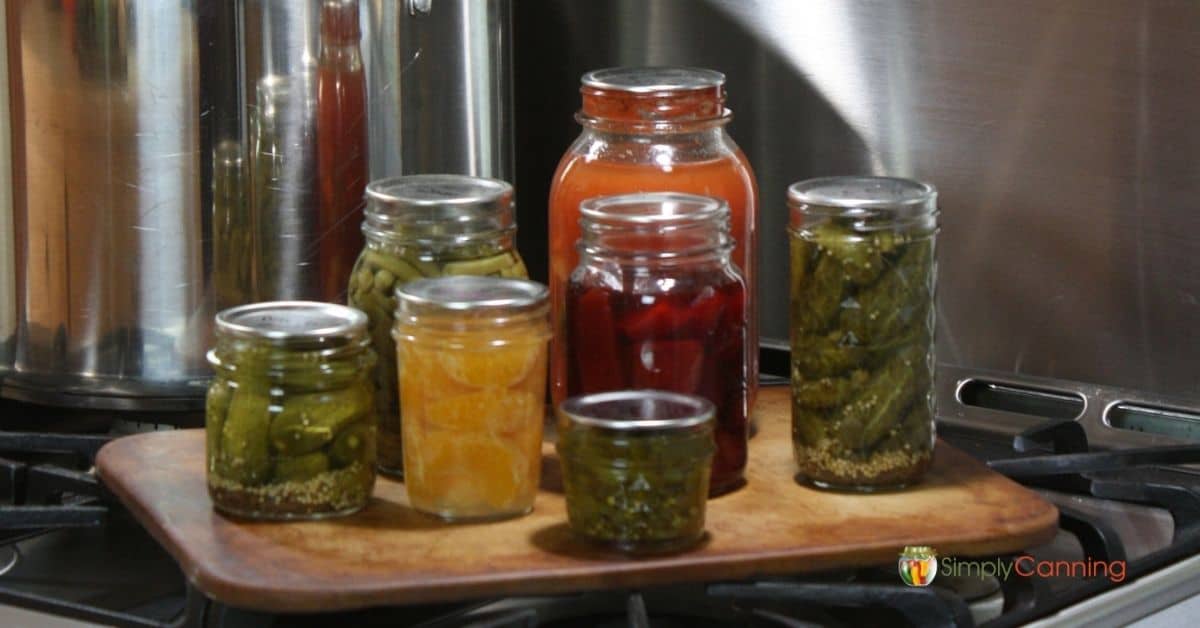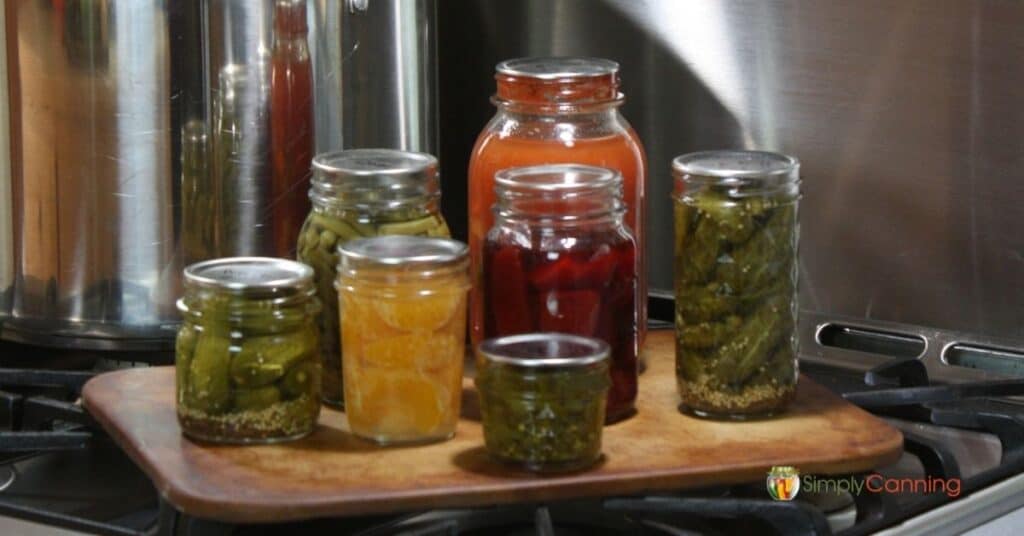 This Page Includes:
Quote from NCHFP Regarding Re-Canning Food
Since this is a question that some of you may disagree with, I decided to quote the National Center for Home Food Preservation. They are an organization that has the facilities to test food safety issues. You can agree or disagree… I'm okay with that. But this is where my suggestions originate. They bring up some valid points.
NCFHFP – "We have no safe tested processes to do this. In some cases, the way the heat is distributed throughout the jar during canning will be very different if you start with already canned/cooked food than with fresh.

Excessively softened foods will pack more tightly into a jar, or arrange themselves differently and the processing time recommended for fresh foods will not be enough for the already canned foods.

Under processing can lead to foodborne illness or at the very least, spoilage and loss of product. You definitely could not just transfer the food and "seal" the jar. You would need some heat treatment known to destroy any organisms transferred with the food."
Source – https://nchfp.uga.edu/questions/FAQ_canning.html#32
When you consider green beans, for example, they are soft when canned. You will be able to pack much more in a jar. When you are canning them at home from fresh, you have the option to raw pack or blanch first and hot pack.
Even hot packed green beans are only blanched…already canned green beans will be much softer and can easily pack more in the jar. This thicker product may mean that original canning instructions may not have enough time to get the heat through to the center of the jar. So the risks of underprocessing is higher.
Re-processing Will Result in Overcooked Food
The food will be overcooked!
When you open that can from the store, you are exposing the food to the air and spoiling agents. You lose that sealed environment, and you are basically starting over.
The food that is going into your jars is already cooked and soft. Even though it is already cooked, you will still need to use the entire processing time. Processing twice will create mushy, unappetizing food.
Does Re Canning Really Save Money?
By the time you add your time in bottling up the food and the costs of jars and lids, the energy you use to run the canner for the processing time…are you really saving that much?
I'm all for being economical. I consider myself to be pretty frugal and I shop wisely, not wasting any of my food budget. But I guess I'm not convinced that the savings is that much.
Time is valuable to a busy woman (or men!). I know we love to can, but honestly…if it is not economical, I have a ton of other stuff to do with my time as well.
So What Do I Do with All that Extra?!
Plan your meals so that you will be using that food type often and store extras in the fridge. Or do some freezer preparation where you prepare several meals and freeze them.
Another option is to open the can, use your first serving, and then freeze the remaining food in serving-size portions.
So my final recommendation is…don't do it. Re-canning store-bought food has not been tested safe, I don't know that it will save you that much, the food may turn out unappetizing, and freezing is so easy.
Related Pages
Altitude adjustments are important. Before processing your food, you should make sure you're using the correct time/pressure for your specific altitude!
Pressure canner or water bath canner? Which one prevents the risk of botulism?
Learn about the two made different canning methods here. SimplyCanning.com uses USDA safety methods, with good reason!
Pin This to Find Later!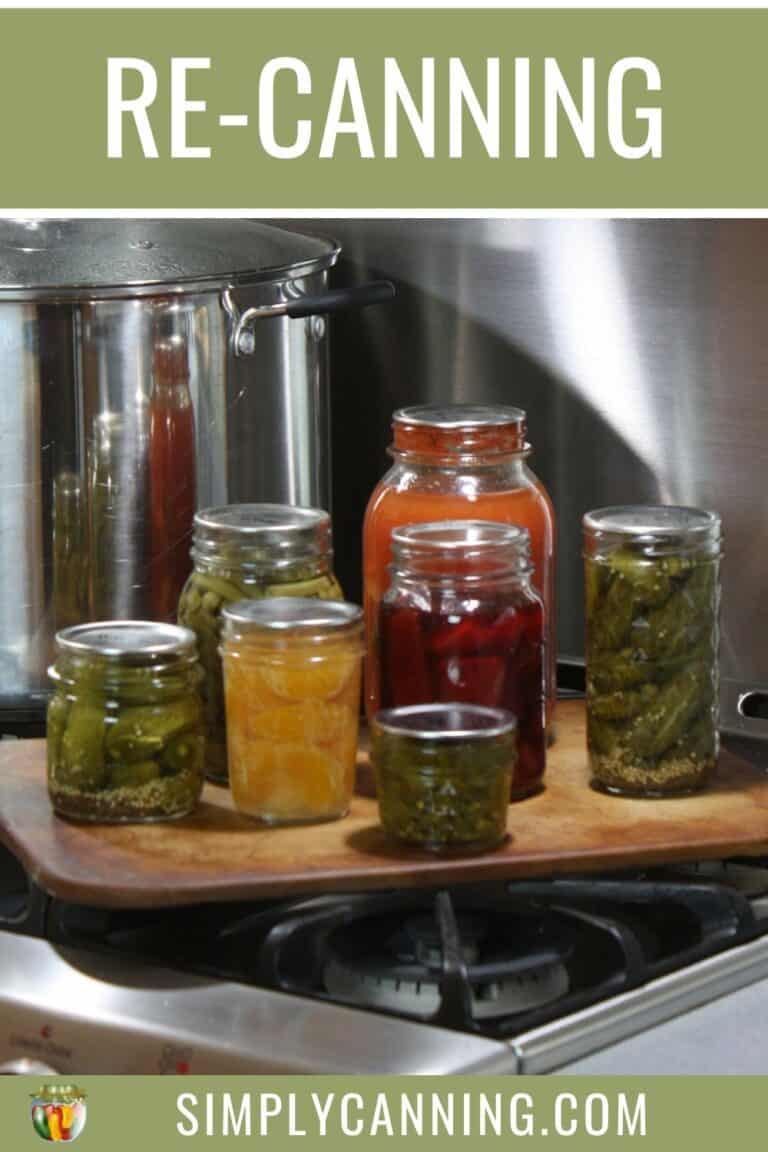 Page last updated: 10/21/2021