With Sharon Peterson
This orange marmalade recipe is started the day before you will be canning it. Chopped Oranges need to soak for 12 – 18 hours. I start it in the evening and then finish and process it late the next morning or after lunch the next day.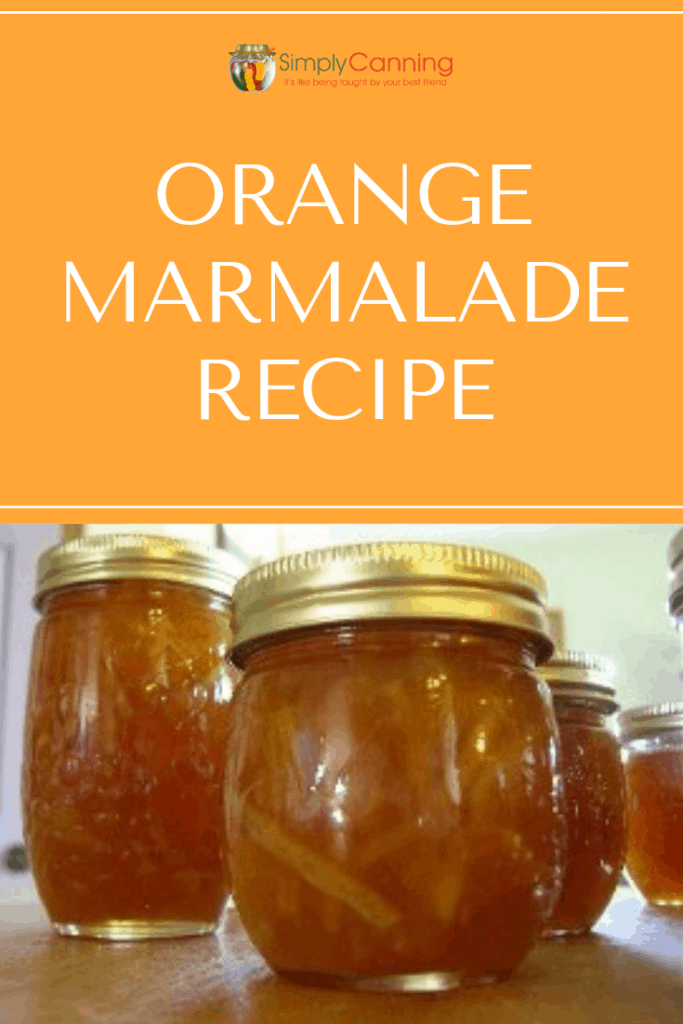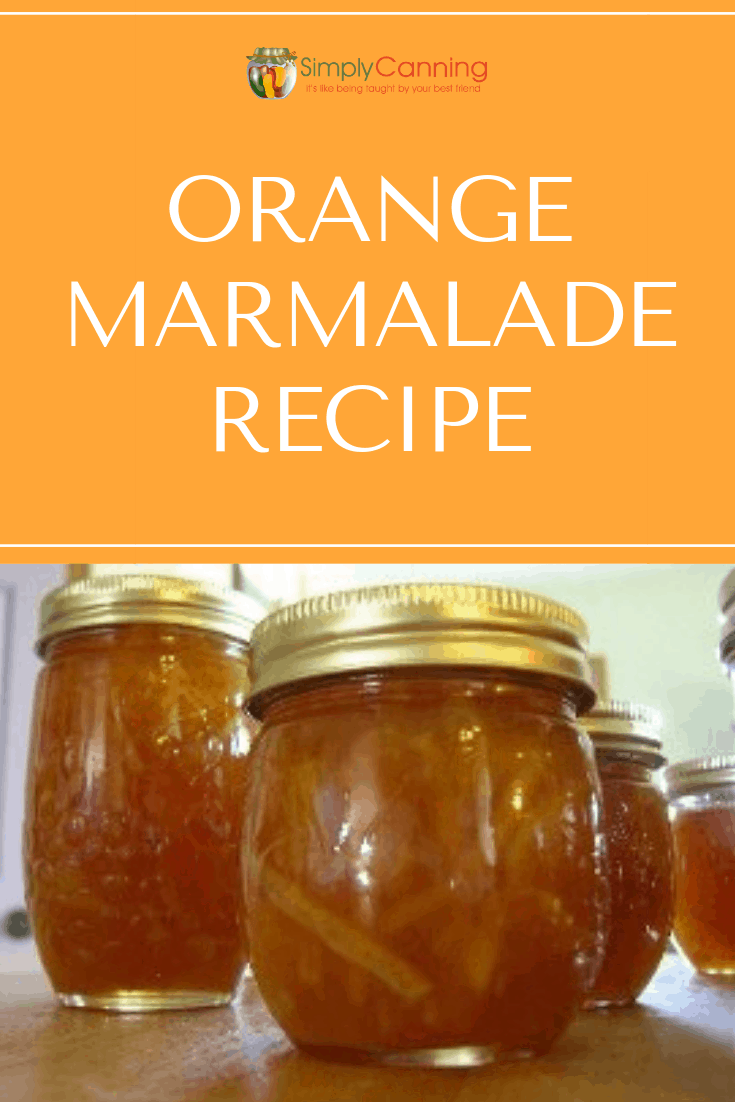 Serve on toast or spread on pancakes for a scrumptious breakfast.
I like it slathered on saltine crackers!
This orange marmalade recipe is easy but it is a little more fiddly than a plain jam. Lots of little steps. Don't let me scare you away though! The final product is so very good.
It makes a great addition to any gift basket.
Here's a orange filled muffin recipe you can make with marmalade.
---
Prepare
Gather your canning supplies
large pot or blancher
bowls
large spoons
sharp knife
towels and dish cloths
Ingredients
15-20 oranges
1 large lemon
2.5 quarts water
approximately 11 cups sugar
This orange marmalade recipe does not include spices but flavors like cinnamon or cloves would make a fantastic addition.
Procedure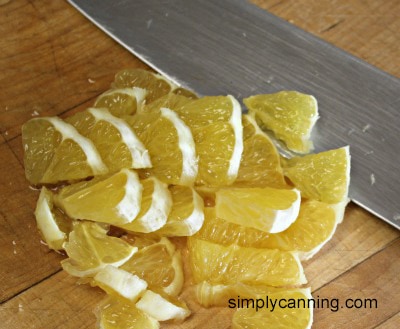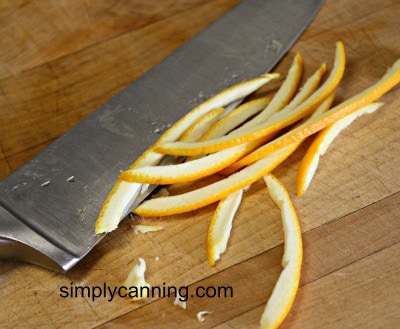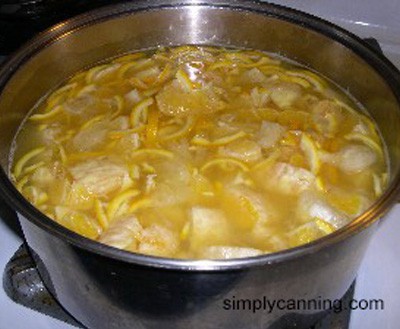 Peel and chop oranges. You will need about 2 quarts oranges chopped. The best way to do this is to thinly slice your oranges then cross cut to make small pieces.
Slice Orange Peel – you need about 2 cups thinly sliced peel (more or less to taste)
Peel and chop 1 large Lemon.
Add water to fruit and orange peel in a large pot. Heat to boiling and simmer for 5 minutes. Cover and let stand in a cool place 12- 18 hours.
---
After the 12-18 hour soaking time.
Now you are ready to make and can your recipe. Start by preparing jars, and get water in your canner heating.
(see Water Bath Canning for full directions)
Measure your orange mixture. You will need an equal amount of sugar.
Place a spoon in the freezer. You'll use that in a little bit.
Heat orange mixture to boiling and cook until peel is tender. This takes about 30 minutes.
Then add sugar to mixture. Bring to a boil stirring until sugar dissolves. Cook rapidly until it reaches the gelling point.
Gelling point
Another (probably easier) way to tell if you're marmalade is ready is by temperature. First you'll need to figure out the gelling point for your elevation.
Determine the boiling point temperature by holding a candy thermometer in boiling water. Add 8 degrees. This is your gelling point. This means it is the point where the jam will set up nicely!
When your jam has reached this temperature it is ready. Remove it from the heat.
This is where that cold spoon comes handy. Take your spoon and scoop up a bit of marmelade. It will cool quickly and you can tell if it is starting to gel. If it is still runny simply cook a bit longer. As the mixture thickens you will need to stir more often to keep it from scorching.
Pour hot marmalade into hot jars. Leave a 1/4 inch head space.
Wipe the rims clean, place your lids on your jars and follow Water Bath Canning directions to process.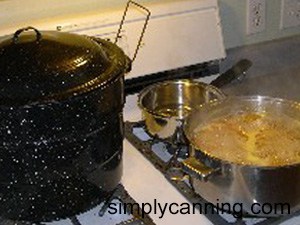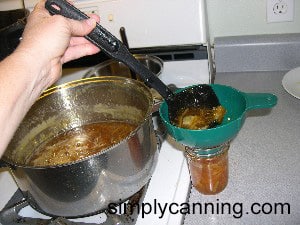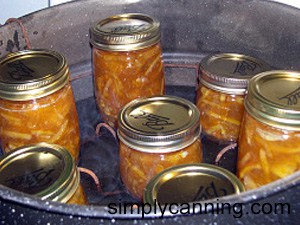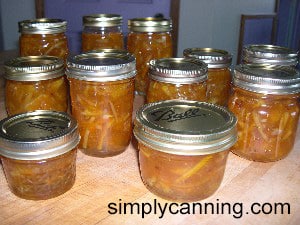 Process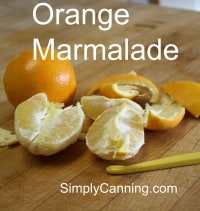 ---
Orange Marmalade Recipe Questions from my inbox:
Orange Syrup… What did I do wrong?
by Lillian
I have many jars of orange marmalade "syrup". What did I do wrong? Is it not enough sugar? I cooked it to 230 degrees.
Can I take the mixture out of my canned jars and add more sugar to make it jell?
answer:
You could try to reprocess the marmalade. I'd go ahead and use pectin if you choose to do this. There should be directions for reprocessing right in the box.
But why don't you wait a while first. Sometimes it takes a while for the orange marmalade to thicken up. Wait first and if it still does not get thick then go ahead and reprocess.
And my final suggestion is to just use it like it is. You could pour it over some chicken in the crock pot, adding a bit of soy sauce for Orange Chicken!
---
Other pages you might like
Members' Extra: Access Your Video Tutorial in Your Members Area
Canning school members, click here to log in.