With Sharon Peterson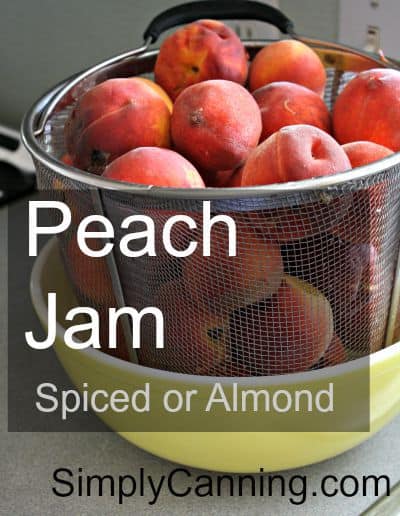 A hint of cinnamon gives this peach jam a spicy warm flavor. Leave out the spices for a standard peach jam. Or add almond extract for an almond jam. All are equally delicious.
I prefer canning these in pint jars or 1/2 pint jars.
You will need approximately 4 pounds of peaches, or enough to make 2 quarts when peeled.
Jam is an acid food and may be water bath canned.
This recipe makes 5 – 1/2 pints.
It is VERY tempting to double and make more. However it is difficult to make double batches of jam. If you want to make more at a time (I don't blame you) simply have two batches going at the same time in different pots. Then you will get enough for 5 pints. This is what I always do. I just can't see running a canner for five – half pints.
This can be processed safely in a Water Bath Canner
Prepare
Gather your canning supplies
water bath canner
canning jars
canning seals and rings
jar lifter
canning funnel
large pot or blancher
bowls
large spoons
sharp knife
towels and dish cloths
Ingredients
peaches – about 4 pounds
6 cups sugar
1 stick of cinnamon
1/4 tsp ground allspice – more or less to taste
1/4 tsp ground cloves – more or less to taste
1 tsp almond extract – optional
If you adjust the spices in this peach jam don't forget that the flavors will get stronger while in the jar on your shelf.
To make a plain peach jam just leave out the spices.
Start by preparing jars,and get water in your canner heating.
(see Water Bath Canning for full directions)
Procedure
Wash peaches and remove any bruised portions.
Peel your peaches
Do this by dipping peaches in boiling water for 30 seconds to 1 minute. I use my blancher and do 5 or so peaches at a time.
Immediately remove the peaches to a sink or bowl with cold water to stop the cooking.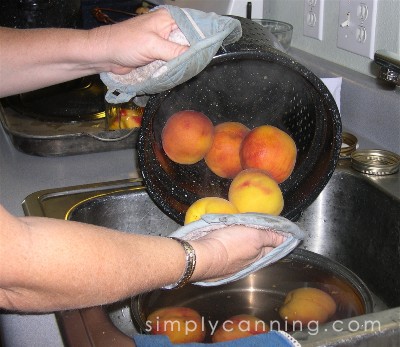 Slice the peaches in half and throw away the pit. You'll notice a 'seam' down one side of your peach. If you slice around the diameter of the peach following this line you will be able to pluck the pit right out.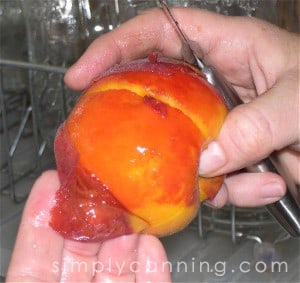 Skins should slip right off in your hands. If your peach is a little green it will be harder to skin. you can just use a paring knife for the stubborn spots.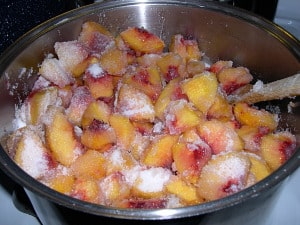 Slice peaches into large heavy pot. Add sugar. Bring to a boil while stirring constantly. Place your spices into a cheesecloth bag and add the bag to the jam while it boils. Remove the bag before filling your jars. (optionally you could add the spices right to your jam just be sure and remove the cinnamon sticks)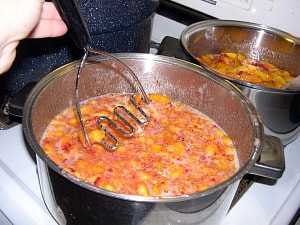 Boil rapidly until it thickens. Stir frequently! I'll use a potato masher to help mush up the peaches.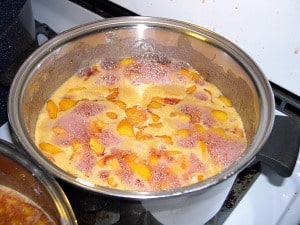 This takes about 15 minutes. You want a good strong boil. Remove the spice bag and turn off your heat. When bubbling has stopped add almond extract if you'd like to use it, and stir well.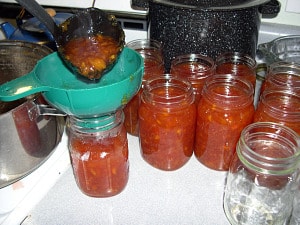 Fill hot jars with hot jam leaving 1/4 inch head space.
Wipe the rims clean, place your lids on your jars and follow Water Bath Canning directions to process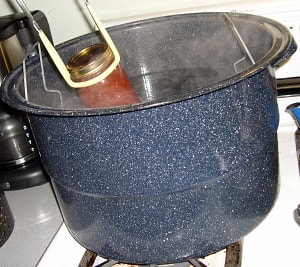 Process
1/2 pints or pints
process for 15 minutes if you are below 6000 ft elevation.
Adjust for your elevation as shown in the chart.
Altitude Adjustments
Altitude Adjustments for Boiling Water Bath Canner
Altitude in Feet – increase processing time
1,001-3,000 – increase 5 minutes
3,001-6,000 – increase 10 minutes
6,001-8,000 – increase 15 minutes
8,001-10,000 – increase 20 minutes
For more information on why this is important, see this altitude adjustments page.
Source – Ball Blue Book
From Spiced Peach Jam back to Jam or Jelly
From Spiced Peach Jam to Home
What else can you do with peaches?