Easy peach jam recipe. Adding a hint of cinnamon and cloves gives this peach jam a spicy warm flavor. Leave out the spices for a standard peach jam or add almond extract for an almond jam. All are equally delicious.
You will need approximately 4 pounds of peaches, or enough to make 2 quarts when peeled.
Jam is an acid food and may be water bath canned.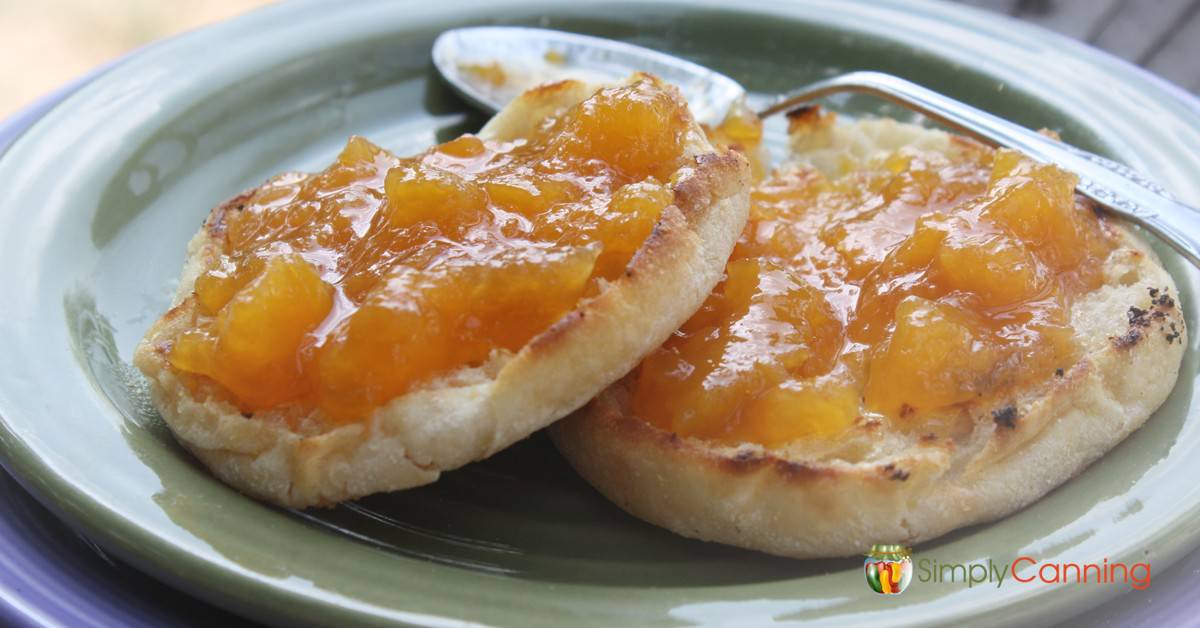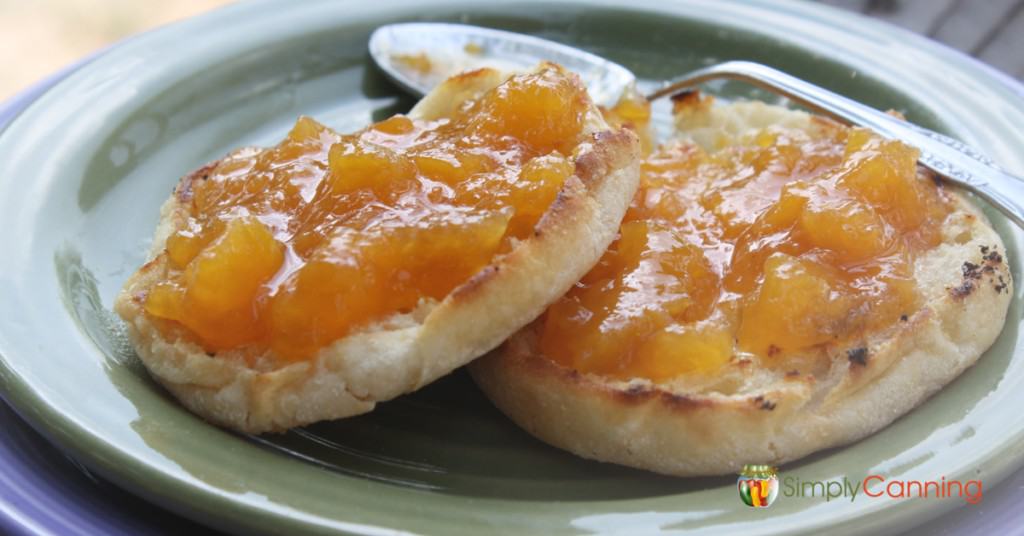 This recipe makes 5 – 1/2 pints.
It is VERY tempting to double jam recipes and make more at a time. However, it is difficult to make double batches of jam because they do not set up correctly. If you want to make more at a time (I don't blame you) simply have two batches going at the same time in different pots and process it all at the same time.
This can be processed safely in a Water Bath Canner
How to Make Peach Jam Recipe
Gather your canning supplies
water bath canner
canning jars
canning seals and rings
jar lifter, canning funnel, lid lifter
ladle and bubble tool
large pot or blancher
sharp knife
cheesecloth
Ingredients
peaches – about 4 pounds (enough for 6 cups peeled chopped peaches)
5 cups sugar
2T lemon juice
1 stick of cinnamon
1/4 tsp ground (or whole) allspice – more or less to taste
1/4 tsp ground cloves – more or less to taste (or 2-3 whole cloves)
1 tsp almond extract – optional
If you adjust the spices in this peach jam don't forget that the flavors will get stronger while in the jar on your shelf. To make a plain peach jam just leave out the spices.
Start by preparing jars,and get water in your canner heating.
(see Water Bath Canning for full directions)
Wash peaches and remove any bruised portions.
Peel your peaches
First, dip your peaches in boiling water for 30 seconds to 1 minute. I use my blancher and do 5 or so peaches at a time. This depends on the size of the peaches. After the peaches show signs of peeling, remove them to a sink or bowl with cold water to stop the cooking.
Slice the peaches in half and throw away the pit. You'll notice a 'seam' down one side of your peach. If you slice around the diameter of the peach following this line you will be able to pluck freestone peach pits right out. If you have a clingstone peach it will take a little work cutting the pit out because of this I highly recommend freestone!
Skins should slip right off in your hands. If your peach is a little green it will be harder to skin. you can just use a paring knife for the stubborn spots.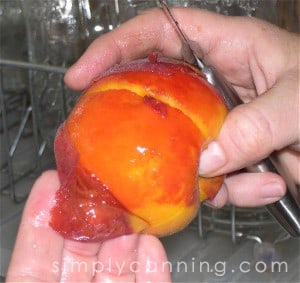 How to Make your jam
Slice peaches into a large heavy pot. Add sugar. Bring to a boil while stirring constantly. Place whole spices into a cheesecloth bag and add the bag to the jam while it boils. Remove the bag before filling your jars. Optionally you could add the spices right to your jam just be sure and remove the cinnamon sticks and any whole spices. You'll get a stronger spiced flavor.
If you want a traditional peach jam just skip the spices.
Boil rapidly until it reaches your gelling point. Stir frequently! I'll use a potato masher to help mush up the peaches. You want a good strong boil.
Remove the spice bag and turn off your heat. When bubbling has stopped add almond extract if you'd like to use it, and stir well.
Canning your Jam
Fill hot jars with hot jam leaving 1/4 inch head space. Remove any air bubbles by sliding a bubble tool around the jar. Then, wipe the rims clean. Jam is sticky and if there is any jam on the jar it may interfere with the seal.


Finally place your lids on your jars and follow Water Bath Canning directions to process
Process
1/2 pints or pints are processed the same. Quarts are not recommended.
0-6,000 feet – 10 minutes.
above 6,000 feet – 15 minutes.
Printable Recipe, Don't forget to check out the extra tips below the recipe card!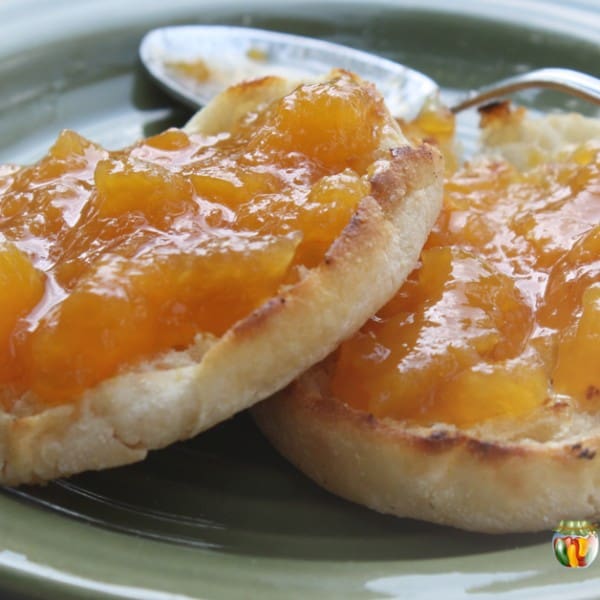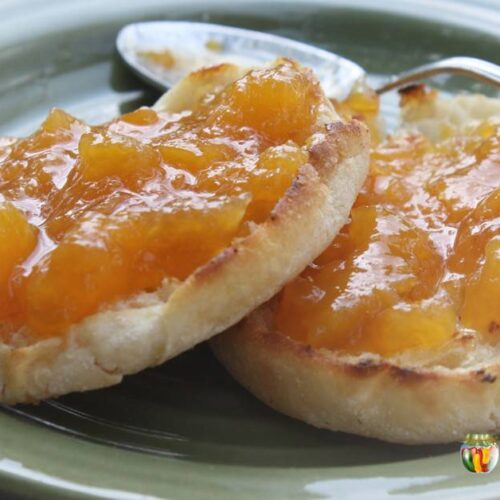 Spiced Peach Jam
Ingredients
Approximately 4 pounds peaches

enough for 6 cups chopped peaches

5 cups sugar

2 Tbsp. lemon juice

1 cinnamon stick

optional

1/4 tsp. whole or ground allspice

optional, to taste

1/4 tsp. ground cloves or 2 or 3 whole cloves

optional, to taste
Instructions
Start by preparing jars and getting water in the canner heating. You want the canner hot, but not boiling, when the jars are ready to be processed.

See full water bath canning instructions here.  
For a Hot Pack
Measure 6 cups chopped peaches and place into a large pot.

Place allspice and cloves in cheesecloth bag and put in jam (optional). 

Add cinnamon stick to jam (optional). 

Bring to a boil, stirring constantly. 

Boil rapidly until it reaches gelling point (about 15–20 minutes), stirring often. 

Remove spice bag and cinnamon sticks. 

Fill hot jar with hot jam, leaving 1/4" headspace. 

Remove air bubbles, wipe rim clean, and place seal and ring. Place the jar in the warm canner. Proceed to fill all jars. Process according to the chart below.  
Processing
Processing with a Water Bath Canner
Place the jar in the warm canner. Proceed to fill all jars placing them in the canner.
When all the jars are filled, bring the water in the canner to a boil.  When a boil is reached that is when you'll start your timing.   Process for the length of time on the chart below.  Adjust for your altitude. 
 After your time is over, turn the heat off remove the lid and allow the canner to rest for about 5 minutes. Then bring your jars up out of the water.  Allow them to rest for another 5 minutes. Then remove the jars and place them a few inches apart on a thick towel to cool completely.  Leave them alone for about 12 hours.  
When they are cooled remove the metal bands, check the seals, label the jars and store them away! 
Processing Times for Water Bath Canner (Hot Pack)
Altitude – Half Pints and Pints are Processed the Same
0-6,000 ft – 10 minutes
Above 6,000 ft – 15 minutes
Adapted from: The National Center for Home Food Preservation

Last Updated:

Tips and Frequently asked Questions
Jam is perfect for steam canning.
I'm steam canning my jams these days. Have you heard of steam canning yet? I don't mean steam pressure canning. There is no pressure involved in steam canning. It is a method of processing that is a substitute for a full water bath. The jars are not covered in water and boiled… they are steamed. This uses much less water. Check out more on this page… Steam Canning.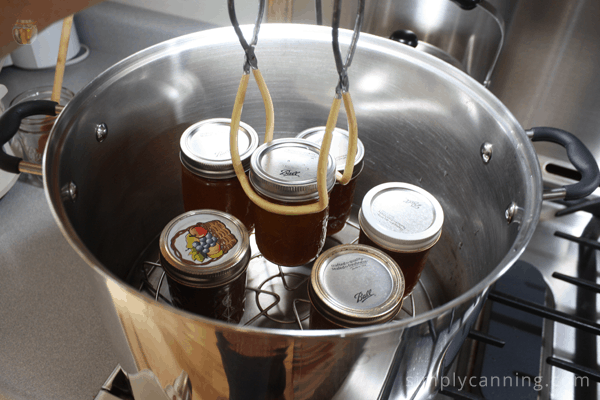 A Note on Spices
If you adjust the spices in this peach jam, don't forget that the flavors will get stronger as the jar sits on your shelf. If you use whole spices, put them in a spice bag so you can remove it before you jar your jam. You don't want a clove in a jar…it will end up super strong. Leave out the spices for a plain, traditional peach jam.
How ripe should peaches be for jam?
Jam is a perfect place to use up some overripe peaches. But keep in mind, there is a difference in overripe… and bruised moldy junk. Don't use junk. Also, keep in mind that as fruit ripens the pectin content tends to diminish. So I suggest using up those overripe peaches… but also include a portion of perfectly ripe so you don't end up with runny peach jam. (If it happens just label it syrup and serve it with your pancakes or ice cream!)
Making peach jam with honey.
You can substitute honey for the sugar in this jam. Honey will affect the jam differently though. Check out this page for some recommendations when substituting honey for sugar.
Sugar free peach jam recipe.
YOu can also make a sugar free peach jam. The sugar is needed for the jam to set up properly so what you'll need to do is use pectin designed just for sugar-free. My favorite is Pomona's Pectin. See how to use Pomona's Pectin here.
White Peach Jam
Unfortunately, white peaches have a natural pH above 4.6. That means they are one of the rare fruits which are actually a low acid food. Low acid foods need a pressure canner. There are no safe ways to use a water bath with white peaches. I know of no testing that has been done with low acid white peaches for jam. Sorry! No can do.
Homemade Peach Jam Reader Tips
My grandmother always used Certo pectin and she used equal peaches and sugar. However, I know that she made larger batches and cannot remember how many Certo pouches used.
The thing that she did that was different from any other recipe was that she would cook the peaches and sugar and lemon together, add the Certo at the proper stage.
When ready to put in the jars, we had a large pan of fresh peach chunks that we would stir into the pot and coat really good, just cooking ever so slightly, enough, I guess, to heat through. Then fill the jars and process accordingly, talking about a super fresh peach flavor, and getting chunks of fresh peaches in every bite.
Also, as I remember she used Alberta peaches, which are NOT Freestone, and they have the BEST flavor of all. Her logic, which was correct, was that you have to butcher the peaches off the pit, so they were best for jam/butters etc.
The would put the pits over in a separate pan, because they had peach meat all over them, and simmer in some sugar water until the fruit came off and add that to jellies, etc.
Also, when canning peaches (sliced or halves), we ALWAYS put a peach pit or two in each jar, supposed to keep the peach flavor better. I don't know if this helps or not, it's just something we have always done.
Mitchell
Bridgewater, VA
What else can you do with peaches?
Cold Peach Slushy recipe for a warm summer day!
How to make a Peach Pie Filling in a jar.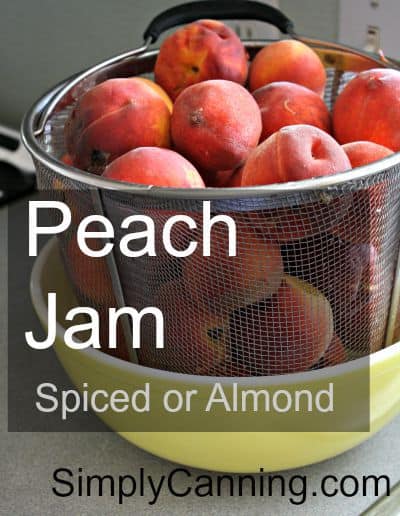 Pin this to find later!