Is water bath canning green beans safe?
In this article, we'll discuss why water bath canning plain green beans is not recommended. But… don't click away just yet. We'll also discuss how your green beans CAN be preserved when you don't have a pressure canner. So all is good!
Canning green beans is a popular topic, and many people wonder if it's possible to water bath can green beans. Pressure Canning is required in most instances. But for those of you who don't have a pressure canner you can still achieve your goal of preserving green beans.
The basic steps to canning plain fresh green beans are: Wash and snap to prepare. They can be successfully canned with either raw pack or hot pack. Pack green beans into canning jars. Add salt to each jar and pack the green beans adding hot water to 1 inch headspace. Add lids, placed filled jars in a pressure canner and process according to pressure canning instruction. Which is where the question comes in. Can I process fresh green beans in a water bath?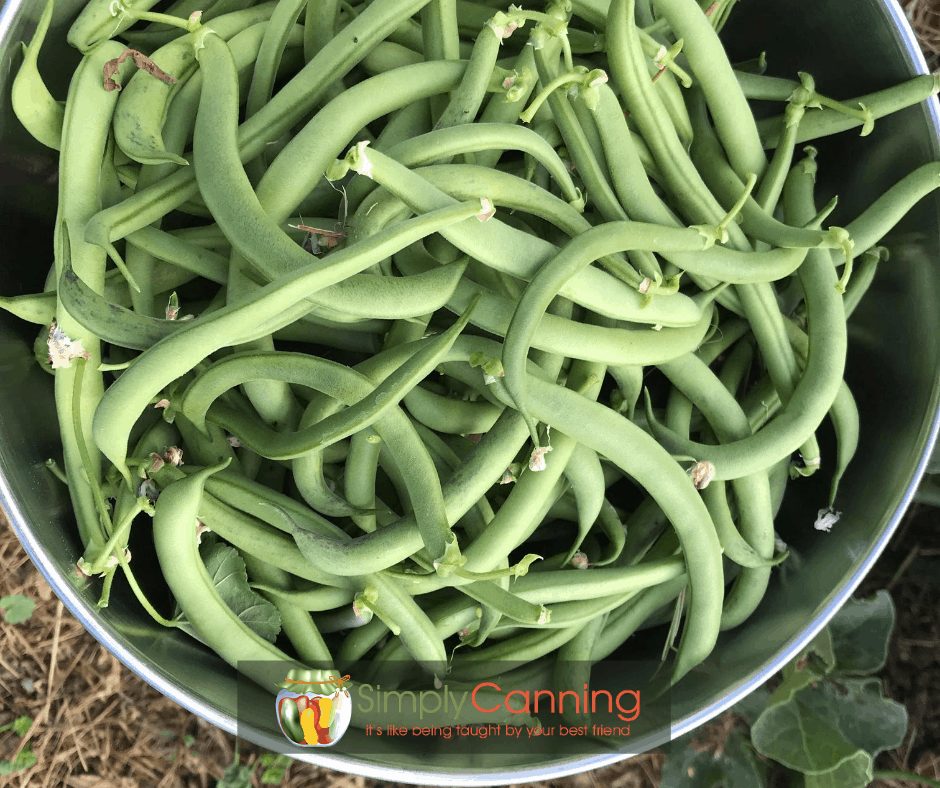 Check these table of contents for specific areas of information. If you want to skip right to the recipes where you don't need a pressure canner just click on down.
Water Bath Canning Green Beans: You've got a Choice
When it comes to home canned green beans, it's important to understand the potential risks associated with water bath canning. Green beans are considered a low acid food, which makes them particularly vulnerable to the growth of toxins and harmful bacteria, including Clostridium botulinum—the culprit behind botulism.
I absolutely am not trying to cause fear. You really don't need to be afraid of botulism because it's easy to avoid.
For more on what is botulism as related to home canning? and why I'm not afraid.
It's not hard to avoid botulism. The spores can be destroyed at high temperatures. Pressure canners are designed to reach and maintain temperatures of 240-250°F (116-121°C), which effectively kills the spores. On the other hand, water bath canners and steam canners can only reach temperatures of around 212°F (100°C), which is not sufficient to eliminate botulism spores.
A water bath simply does not have the ability to get any low acid vegetable to the temperatures needed. Even if you boil water for hours and hours.
Pressure canning is essential. Unlike water bath canning, pressure canning utilizes steam under pressure to reach temperatures between 240-250°F (116-121°C). These higher temperatures are crucial for destroying the spores of Clostridium botulinum and ensuring the safety of canned green beans.
I'm terrified of my pressure canner!
I know so many people who are afraid of a pressure canner. It can be intimidating when you first start. If you are someone who has a pressure canner that has been sitting un-used (sometimes for years!). You are not alone.
But I'd suggest being more afraid of making someone sick. Botulism is not hard to avoid, and you CAN get used to pressure canners. Really I know you can!
I've got a workshop here to encourage you. Check out Pressure Canning Confidence.
I don't trust the recommendations. They just don't want us saving food.
This is a subject I've considered long and hard. I do understand that distrust. I'm not one to blindly follow and I'm pretty disgusted with the way things are going lately. (nuff said on that!)
You'll have to make your own decision on following guidelines or not. It's always good to approach information critically, it's essential to weigh the benefits of following suggested guidelines, vs the risks of doing your own thing.
It's not hard to be extra safe. I've decided that the precautions at the National Center for Home Food Preservation are not hard to follow, and I love peace of mind. :).
Home canning testing was going on for a very long time. Pressure canners have actually been around for a very long time too. (Longer than you might realize)
I go over more in this article on Canning Safety; Are we On Overkill?
The Good news! How to Preserve Green Beans Without a Pressure Canner
Pickling green beans with a water bath, dehydrating them, or freezing them are all viable options for extending their shelf life while ensuring safety.
Pickling green beans
Have you ever had dilly beans? Oh goodness are they good! Because of the added acid, usually in the form of vinegar they are perfect for those of you win no pressure canner.
They have a tangy crisp flavor, perfect for snacking. I use them basically like any dill pickle. You can also add them to salads for a bit of zing. For detailed instructions on pickling green beans, check out my dilly beans recipe. No pressure canner needed.
Dehydrating green beans
Dehydrating es a fantastic method for preserving their flavors and nutrients while extending their shelf life. To learn more about the process of dehydrating green beans and how to enjoy them check out our article on How to Dry Green Beans
Freezing green beans
is a convenient and simple way to preserve their freshness and vibrant colors. Although it doesn't have the benefit of shelf stable storage, it is better than risking getting sick. Here is a step-by-step guide with best practices for freezing green beans.
Freeze drying green beans
Freeze drying is now available to the home food preserver. It is a big investment up front but is a unique preservation technique. Like dehydrating, it involves removing moisture from the beans while preserving their taste, texture, and nutrients. Check out how to freeze dry foods here.
Canning Green Beans (with a pressure canner)
For those who've been convinced, and want to follow the pressure canning steps. Check this article with step by step instruction on how to can green beans.
Frequently Asked Questions
Can You Water Bath Can Green Beans?
Unfortunately, water bath canning plain green beans is not recommended. Given the low acidity of green beans, they need the sustained high temperatures achievable only through pressure canning to prevent the growth of harmful bacteria and reduce the risk of botulism.  
A water bath simply does not have the ability to get any low acid vegetable to the temperatures needed.  Even if you boil for hours and hours.
What about all the online recipes?
If you really want to water bath your green beans, you can.  You'll find many recipes online with instruction.  You have to decide for yourself the risks you want to take.  

It's crucial to understand the risks involved. Water bath canning does not provide the necessary temperatures to eliminate the harmful bacteria.  If you want to can green beans, it's strongly advised to invest in a pressure canner to protect against the risk of botulism. Or you can simply pickle them!
Canning Green Beans Instant Pot
Canning green beans in an Instant Pot is not recommended or safe. The Instant Pot is primarily designed for cooking and pressure cooking, but it does not meet the necessary requirements for canning. I've got more here on canning in general with an instant pot.
What others have to say…
I've gotten some great messages from others regarding this topic. I'm going to include a comment here from a reader who is an "ARNP-C (Family Nurse Practitioner-Certified)"
Sharon, thanks for stressing the pressure canning method for canning green beans. There is no other way to can green beans, not withstanding what all of our grandmas did.
I worked in the operating room for 22 years as a Registered Nurse. Our preferred method of sterilizing operative instruments was by steam under pressure. U can reach a much higher sustained temperature with steam under pressure. This method kills resistant micro organisms and spores, fungus, yeast, viral and bacterial micro organisms.
You just can't kill ALL of those organisms by submerging in boiling water. Some of the most nasty organisms form spores around their cell so they can survive without a host for a long time.
Botulism is the condition when a nasty organism isn't killed by boiling water and comes alive again in a person's gut after it is unknowingly ingested.
Having said that, PLEASE, everyone, there should be no hesitation when it come to using a pressure canner for non-acid foods! The initial investment in a pressure canner is totally, totally worth it! Thanks.
Pin This for Later!