Canning Tomato Vegetable Juice Recipe
This page may contain affiliate links. More Information.
Canning tomato vegetable juice recipe blend. Say goodbye to store-bought juice and hello to homemade taste all year round. Drink it straight or use it in recipes. Tomatoes make a mean tomato soup! Learn how to can tomato juice with vegetables.
Use your choice of vegetables that are safe for home canning. Both Water Bath and Pressure Canning instructions.  
How to Make HomemadeTomato Vegetable Juice
The first step is to make your tomato juice, and add your vegetables of choice. Choose from; celery, onions, carrots and peppers.
The key to making this safely is using the proper ratio of vegetables to tomatoes. The acidity level is affected by this ratio. And the acidity levels are what makes this safe for storage on the shelf.

Tomatoes are measured by weight before you chop and juice them. The vegetables are measured by cups, after chopping.
You want no more than 3 cups vegetables for every 22 pounds of tomatoes. This will give you about 7 quarts of tomato veggie juice.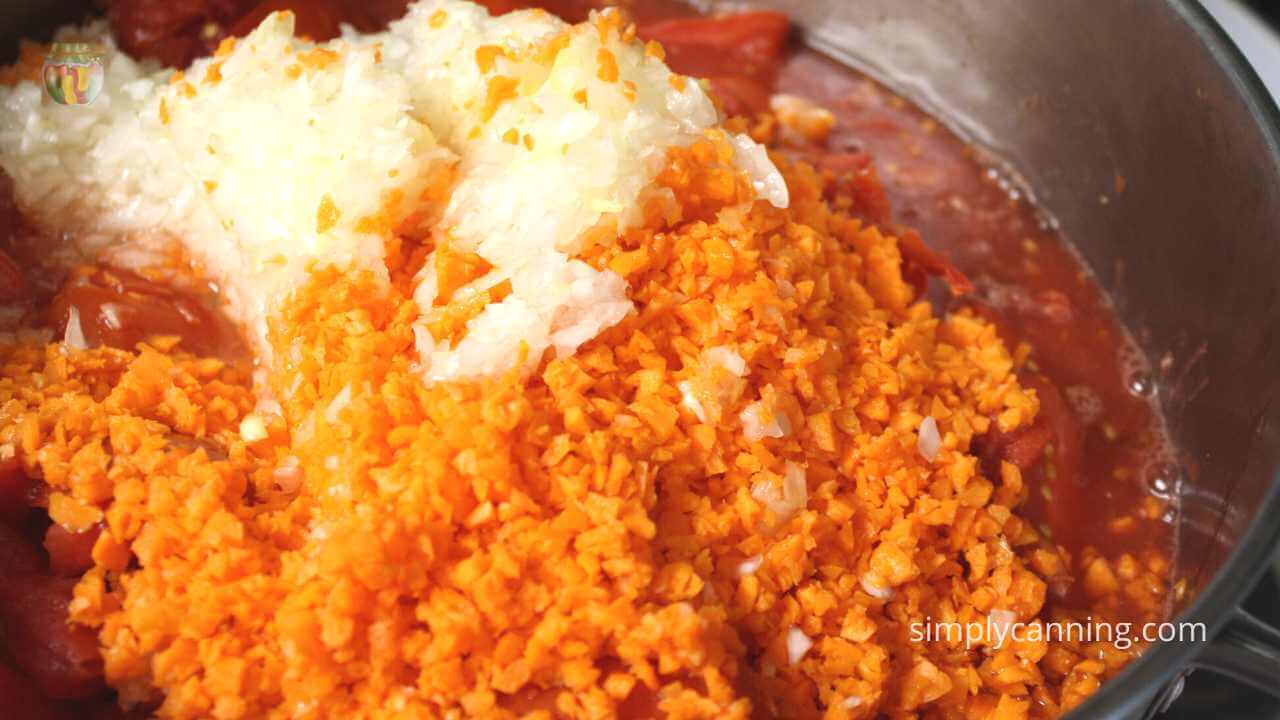 I like to call this V4 Juice, instead of V8.   This is because there are 4 vegetables you can use for this homemade juice.  celery, onions, carrots, and peppers.
Whatever combination of these vegetables you use, it should be 3 total cups for each 22 lbs tomatoes.
You could do 1 cup onion, 1 cup carrots, 1/2 cup celery and 1/2 cup peppers.  That would be 3 total cups. 
Personally I love this with just tomatoes, 1 1/2 cup onion and 1 1/2 cup carrots.  A V2 juice!
Preparing Vegetables and Tomatoes
To make the juice, you'll be washing, peeling and chopping the tomatoes and vegetables, cooking them all together until soft and then pressing through a food mill to remove the skins and seeds.  
I like to start with my veggies and get them all chopped and ready.  Finely chop your choice of vegetables.
Carrots and onions should be peeled
Chop the veggies finely so they will cook to a very soft state and mix into the tomato juice.
You can use any pepper you like. Bell peppers will be mild. If you want spicy tomato juice, add some jalapeños for a bit of kick.
Cooking Tomatoes for Juice
There is a trick to avoiding juice separation.  You need to gradually add your tomatoes to the pot for simmering.  The basics are….  
First wash tomatoes and cut out the stems, bruises or damaged portions.
Cut enough up to cover the bottom of a large saucepan with tomato quarters in a shallow layer.  Bring that layer to a rolling boil.   Crush to draw out the juices.
Gradually cut up and add the remaining tomatoes to the pot keeping the mixture boiling.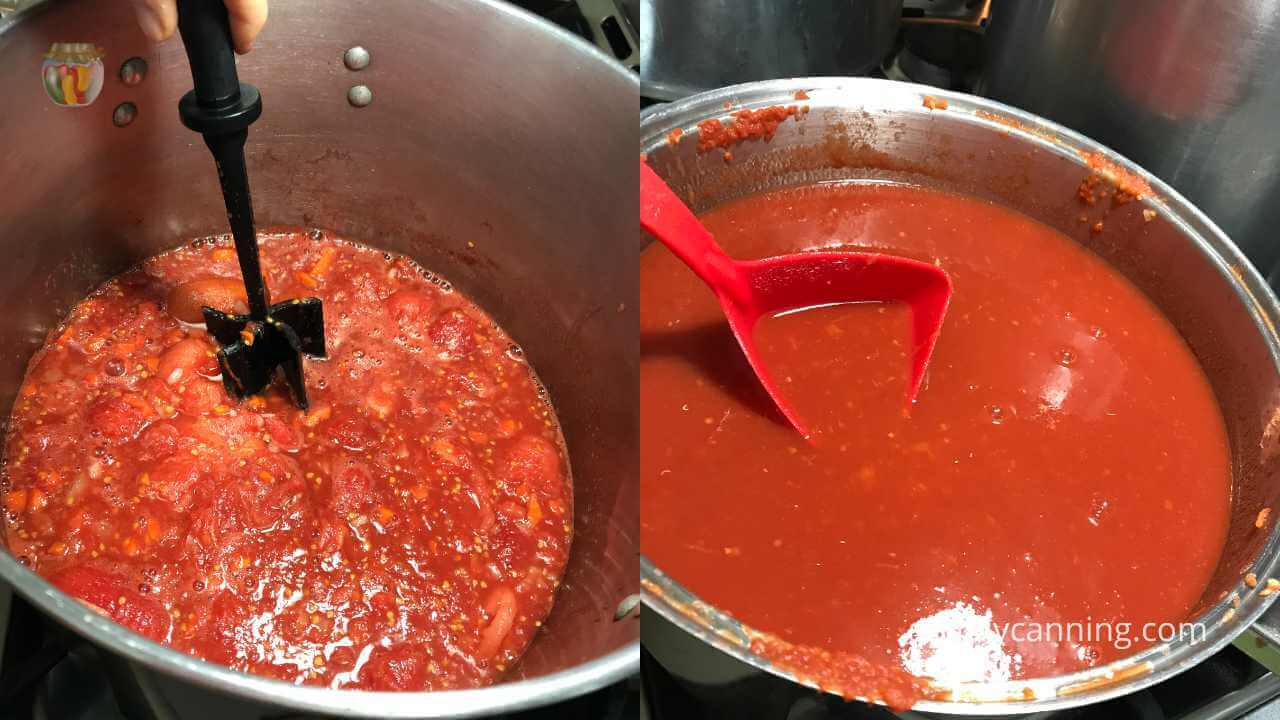 It is this gradual cutting up and cooking immediately that keeps the enzyme action of the tomatoes from causing separation.  Check this post on how to avoid tomato canning issues for more information on why this works.
The separation is just cosmetic. There is no safety issue if you juice does settle. Just shake up the jar before you open it for use and it'll all mix together.
Combine Vegetables and Tomatoes to Make Juice
Bring tomato veggie mixture to a boil then reduce heat and simmer 20 minutes.  You want the vegetables to cook to a very soft texture.
Put mixture through a food mill to remove seeds and skins. (I know someone is going to ask, Yes this step is needed, check the FAQ below for more.)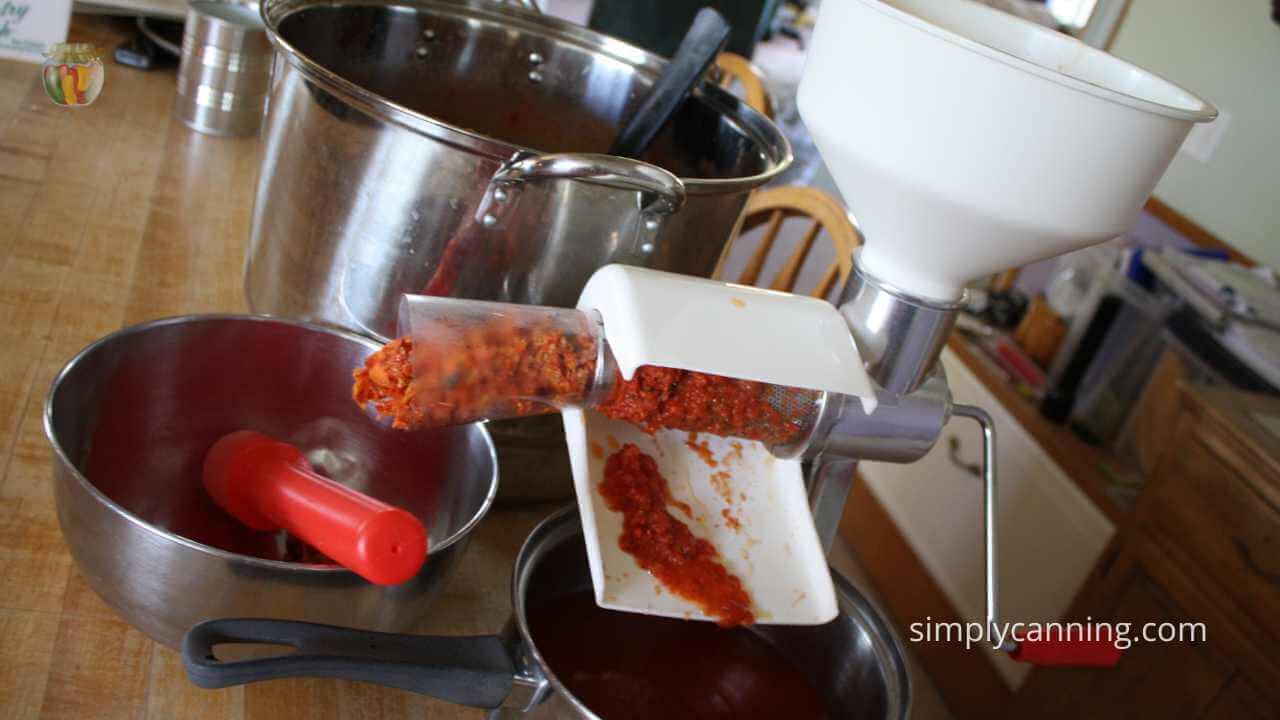 Now you have tomato vegetable juice ready to put in jars and in your canner.  
Canning Tomato Vegetable Juice Recipe
Gather and prepare all canning equipment. (See pressure canning instruction if needed).
You need to add acidification to your jars even if you are using a pressure canner.  This is the way it is tested so this is how I teach it.  If you want more information on acidification and canning tomatoes check this post. 
I add lemon juice to acidify.  Add bottled lemon juice to jars before filling is easiest. 1T per pint or 2T per quart. 
Add salt to each jar if desired. 1/2 tsp per pint, 1 teaspoon per quart.  Good news… salt is actually optional.  I highly recommend adding salt, it adds so much to the flavor.  But if you need low sodium you can skip it or just add less.  
You can also add a bit of pepper or other dried seasonings if you like. Do not add fresh herbs. Only dried is approved for safety.
Now you are ready to fill your jars.
Reheat your tomato vegetable juice if needed, you want hot tomato juice going into hot jars.  Fill jar, leave 1/2 inch headspace. 
Wipe the jar rim clean and put on the canning lid and place jar into the hot canner. Proceed to fill each jar the same way.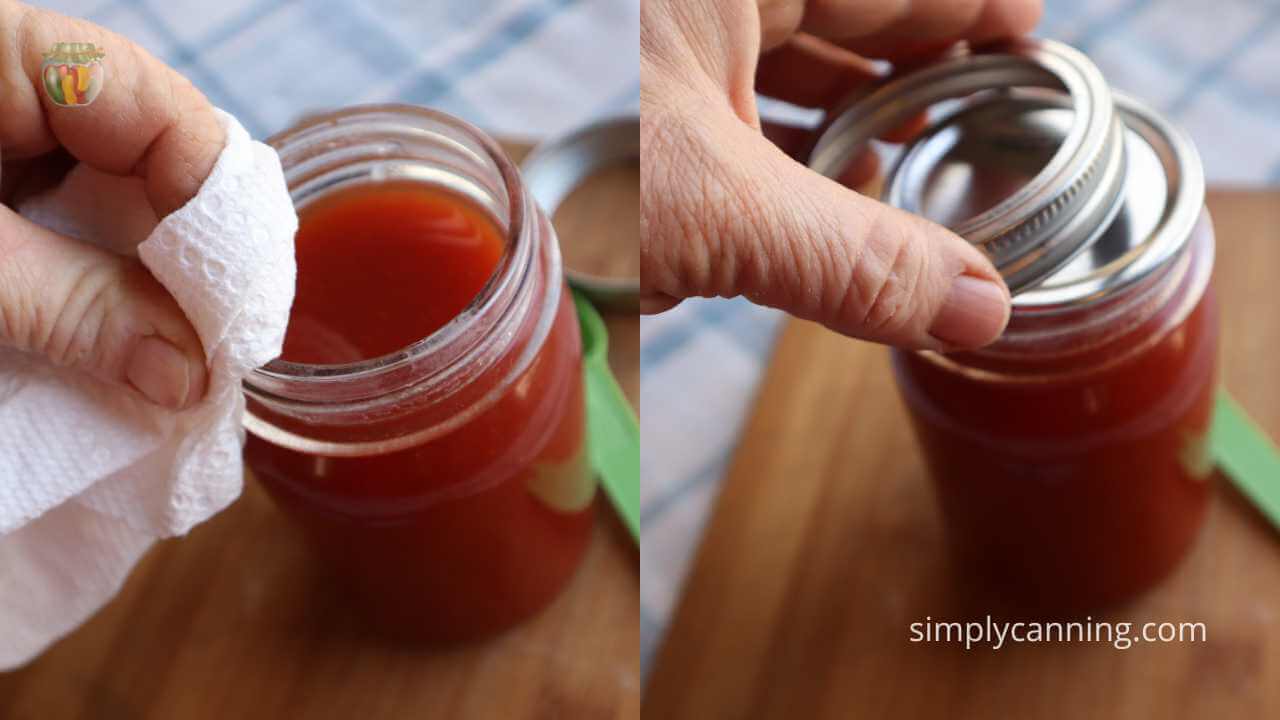 When your canner is full or all your juice is jarred up, you can process it for storage on the shelf.
You can use either a water bath or a pressure canner for processing this tomato vegetable juice. I've got instructions for both in the recipe card below the Frequently Asked Questions. Pay attention to the proper time for the proper equipment.
Frequently Asked Questions
Can I cut this in half? I don't need 7 quarts of tomato juice!
You can double or half this recipe according to how much you want to make. Just be sure you do NOT shorten processing time even if you make a half batch. Processing does not change.
Can I add (insert fruit or vegetable name here) instead? I like my juice with more than just the ones listed.
I know there are other vegetables that you may want to use in your juice but the testing done to make this recipe safe is based on these 4 vegetables.
How can I make this a spicy tomato juice recipe. I like more flavor.
Use your peppers to add a bit of spice. You can use all or part hot peppers. Chilies add some flavor!

You can also add a bit of black pepper or other dried seasonings to the jars if you like. Do not add fresh herbs. Only dried is approved for safety.
Printable Recipe
Sources
https://www.bernardin.ca/recipes/en/tomato-vegetable-juice.htm
https://nchfp.uga.edu/how/can_03/tomato_veg_juice.html
Pin this to find later!