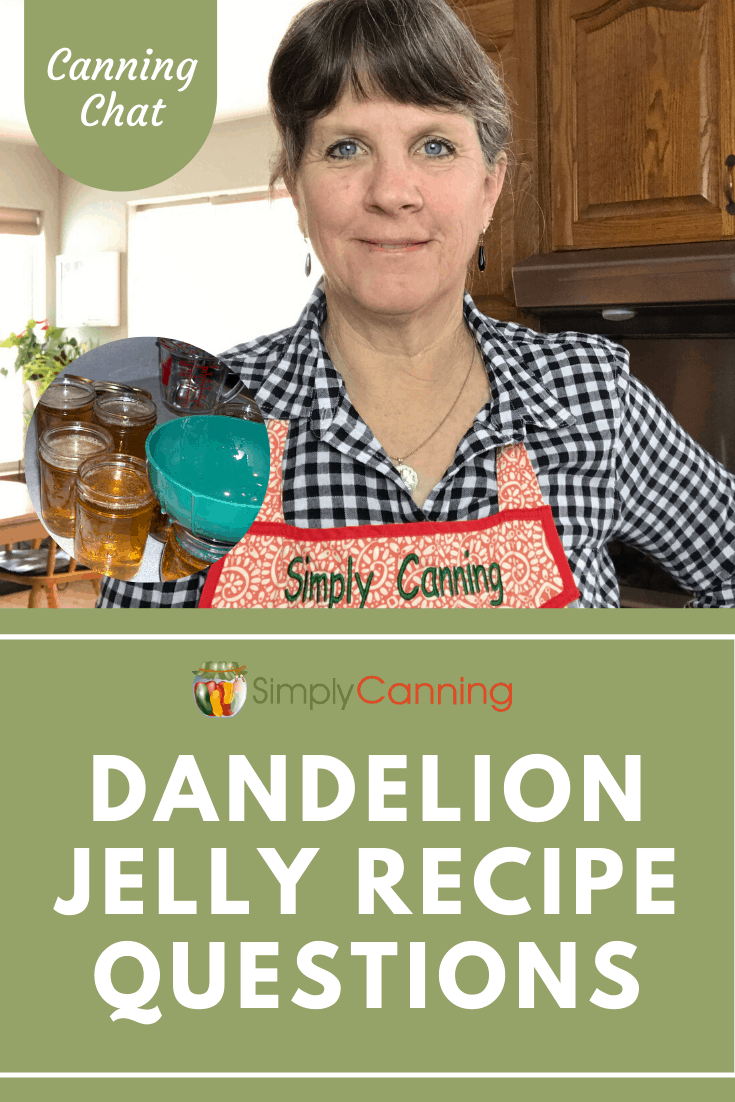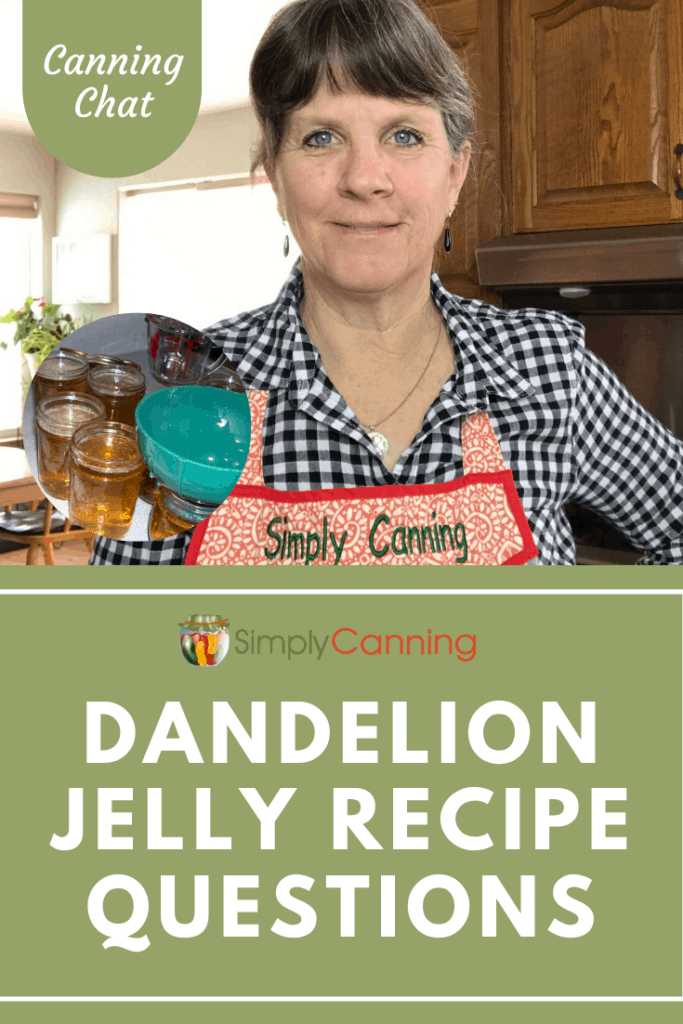 So today's question is about my dandelion jelly recipe.
Video Transcript – Edited for Clarity
Hi, my name is Sharon Peterson, and I'm with SimplyCanning.com where you can find home canning tips, tutorials, and classes. Come visit me there, and I will help you get your pantry filled.
This comes from ToniAnne, and she asks, "I am fascinated by your dandelion jelly recipe. One thing about the recipe I would like a little more input on. You don't say how much water you steeped the dandelion petals in. Could you clarify? Is it four cups? Is it six cups? And is the water bath necessary? I've made lots of jams and jellies without that. Thanks. ToniAnne."
---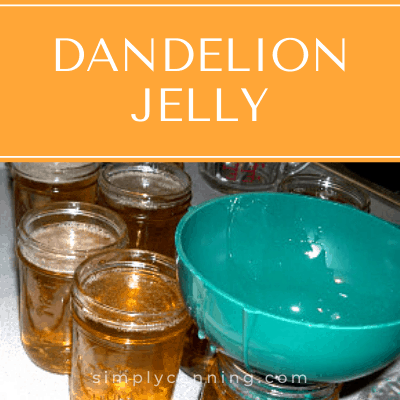 This is the recipe ToniAnne is asking about.
Dandelion jelly is a taste of spring, all year round! Learn how here.
---
What Does the Dandelion Jelly Recipe Taste Like?
This dandelion jelly recipe, if you've never had it, is so good. A lot of people say it tastes like honey. That's another one of the questions that I always get about that recipe. What does it taste like? And it tastes a little bit like honey.
That's really true, because the very first time I made it, my youngest son tasted some and he said to me, "Mama, this HONEY is good." He really did think it was honey. He was about four at the time. It was quite a while ago.
Clarification on My Recipe for Dandelion Jelly
Anyway, ToniAnne, as a part of the process of making the dandelions, you pick a bunch of dandelion petals. All you need is the petal part of the plant. You don't need the whole stem. None of the greens. You just want the yellow.
Like I said, it is spring right now, but it's still way before dandelion season. I don't have any to actually show you. But I wanted to answer the question because by the time I get this up, I bet dandelions might be sprouting in your area.
I pick enough dandelions to fill this up to about the six-cup mark. It just depends on how much you want to make.
Then pour hot water over those petals and let it steep. It makes a tea–I call it a "tea." You don't want to drink it, but when you add the sugar and everything and make your jelly, then it's really tasty. Add just enough water that it covers. If your dandelions are up to here, you're going to have your water just above that. All the dandelions need to be soaking in the water. There's not a set amount.
You will need about four cups of juice or tea for each batch of dandelion jelly recipe that you want to make. If you want to make a double batch, just keep in mind that you're going to need eight cups of liquid.
Short of Dandelion "Tea" for Dandelion Jelly Recipe?
I will put in my liquid here. And maybe after I strain it and take my dandelion petals out, I'm just a little bit short, maybe a half cup shy of the right amount of tea. I'll just add a little bit of water. It's not a big deal. Every ounce doesn't have to have been soaked.
Now you don't want to replace more than a half of the liquid with just plain water; that's going to affect the flavor. But as long as you have almost enough water to have about four cups of liquid to make your dandelion jelly recipe, then that's how much you would add to your dandelion petals.
I hope that makes sense. Let me know if you have any questions, and I'll post them below and see if I can answer them for you.
Must I Use a Water Bath Canner for Storing the Dandelion Jelly? Why?
And then ToniAnne's second question is, "Do I need the water bath?" And yes, you really do need that water bath. It used to be really common to make jam and jelly, boil your jars, make sure everything is sterilized, pour your jam into the jar, and then just cover it and let it cool. It seals. That is what happens. It does seal. But because it's sealed doesn't necessarily mean that it's sterilized or sanitized.
Inside the jar is what prevents the spoilage. There may be contaminants on your ladle that you're using to put the dandelion jelly recipe in the jars. There are all kinds of things that the jelly is exposed to before everything is sealed up. When you water bath your jar, you're putting everything in your jar. You're putting a lid on, and then you put it in the water bath and that sterilizes everything. Then the lid is on, so it keeps it sanitized. That's what prevents the spoilage.
I recommend the water bath. You might as well not skip it and waste all of that sugar and hard work. It's really not a hard step to do. If you don't have a great big batch, you can just use a regular stock pot. You don't have to have an actual canner. I hope that was helpful.
Dandelion Jelly Recipe Recap
To recap, you want enough water to cover your petals to steep it. You're going to need about four cups of liquid for your recipe. And yes, please do the water bath. You will need it.
So I hope that was helpful. You guys have a great afternoon, and we will see you in the next Canning Chat. We'll talk to you later.
Related Pages:
Would you like to receive notifications when more Canning Chats are released?
More Canning Chats
Corn Cob Jelly: Save those cobs, don't throw them away. Make this!
Put all of those dandelions to good use by making homemade dandelion flower salve with just a few simple ingredients!
Page last updated: 11/28/2020