The Excalibur Dehydrator is one of the most popular dehydrating units I've seen on the market. Those who are looking for a top-of-the-line food dehydrator should take a look.
I don't personally own one… but I borrowed one from a friend once! Oh, goodness, if I didn't already have my Cabela's commercial dehydrator, I'd get one in a flash. 🙂 I'd be hard pressed to say which one I like better.
Excalibur Dehydrator and Cabelas Commercial Dehydrators are definitely my picks.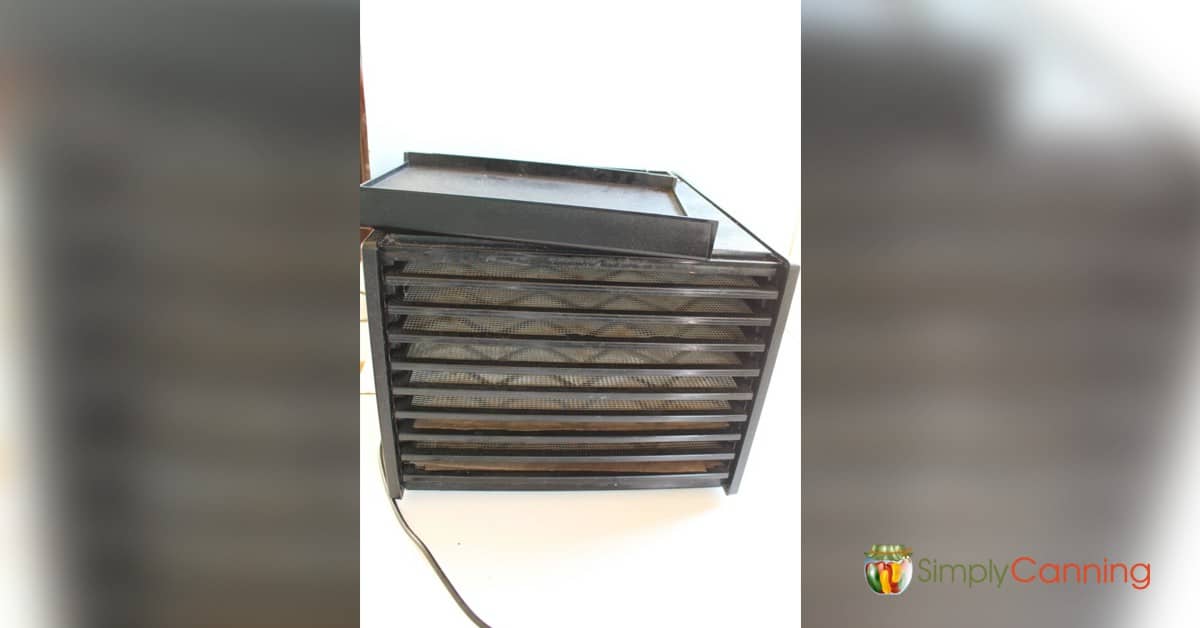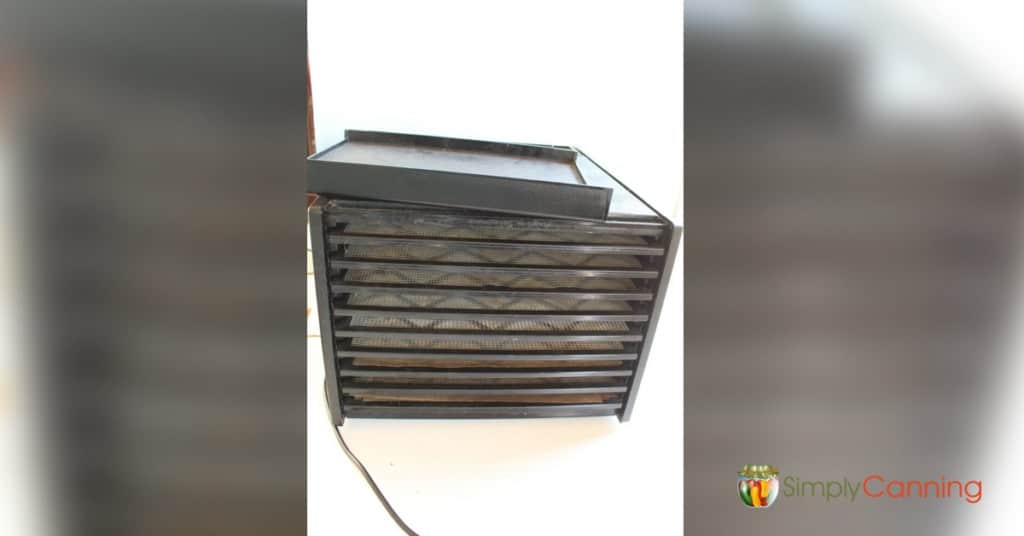 This unit has plenty of positive features, which make it a must-have for anyone serious about drying foods to make healthy snacks.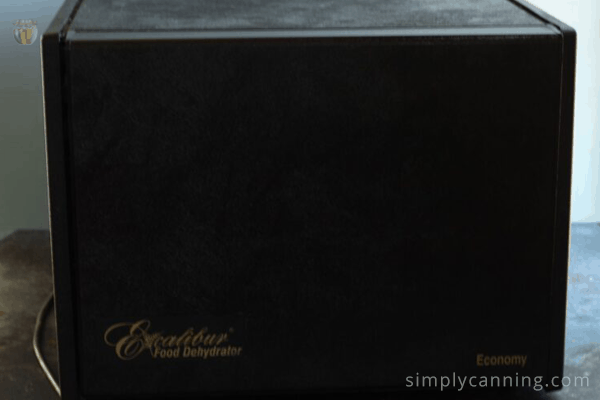 The Excalibur Dehydrator offers several different models for dehydrating.
The Excalibur 3900 is the "big daddy" of the line. With 9 trays, it is perfect for those with large gardens and people with large families.
The Excalibur 3500 is the next in line. This unit includes 5 trays with medium capacity.
The Excalibur Dehydrator 2900 houses 9 trays and is another model that is good for larger families.
The Excalibur 2500 offers 5 trays and is great for those wanting to dehydrate smaller portions.
The Excalibur 2400 is the smallest unit available with 4 trays, measures in at 11″ X 11″, and is perfect for couples and those with minimal dehydrating needs.
Excalibur Food Dehydrator
The heat source and the fan are both located in the back of the unit, which allows air to move freely around the racks. This ensures even drying times.
The timer is perfect for those who are on a tight schedule and cannot monitor the unit while in use. It will turn itself off automatically so it can be used at any time. In addition, the accurate temperature control will allow the user to select different temperatures for different types of foods.
The trays on the unit are square and large so will hold a lot of food on each one. Those who are getting a steady stream of produce from their own gardens will find that this is an asset, as more food can be dried at any one time.
All the trays feature a mesh liner, which means that foods do not fall down onto other trays, and therefore cross-contamination can be avoided and more than one type of food can be dried at any one time. The trays are all removable, so more room can be made easily for larger items of food.
As well as drying foods, the Excalibur Food Dehydrator can be used to proof sourdough and culture yoghurt, particularly when using the larger containers. These both need to be covered so that they do not dry out because of the air movement.
Peace of mind for the user is provided by the 10-year warranty. Plenty of users have had units for longer than this with no problems, and the Excalibur Dehydrator will soon pay for itself.
(opens in a new tab)">The Excalibur dehydrator can be found on Amazon here—>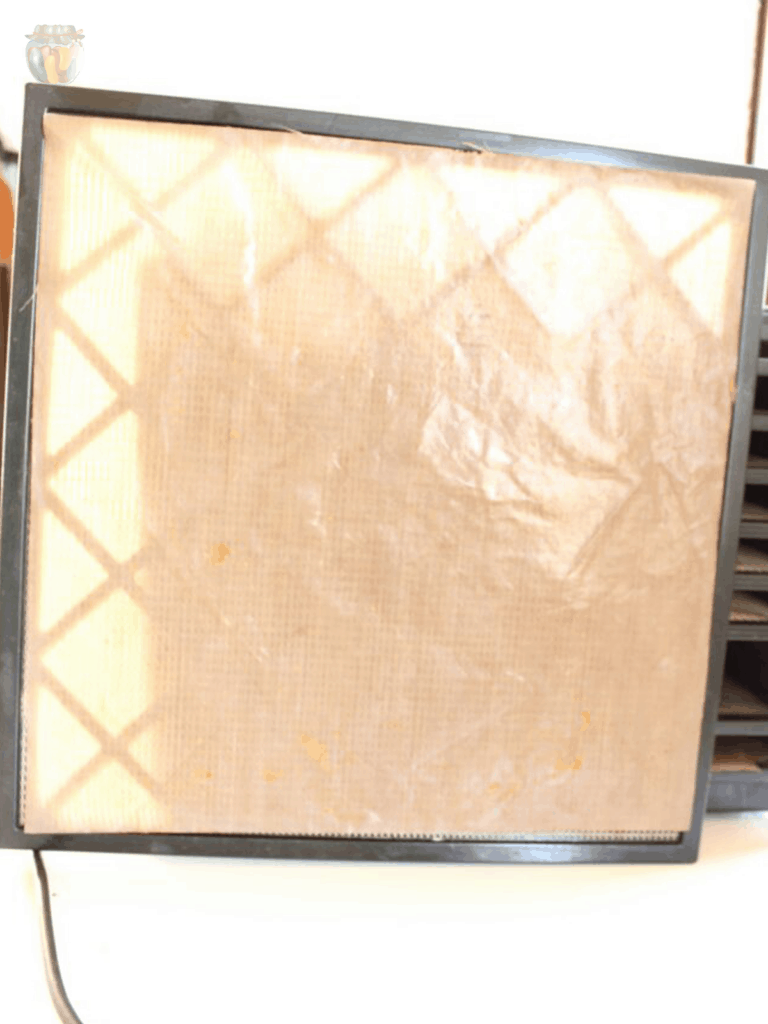 Reader Comments on the Excalibur Dehydrator
5 Stars to Excalibur
by: Sissy
I've only had my 9 tray for 6 years but I use it constantly from dehydrating fruits and vegetables from our garden to proofing doughs. Honestly could NOT imagine my life without it and often wonder how I ever got along without one.
About a year ago I saw a 5 tray at an Estate Sale for $20.00 and pounced on that one as well. Now, I've got a total of 14
trays drying at once. Did I mention that we have a VERY large garden.
---
GREAT for drying tomatoes
by: Anonymous
When we have our overload of tomatoes, we dry them in the Excalibur dehydrator. I cut the tomatoes and sprinkle them with herbs. The house takes on the most wonderful smell that I look forward to it every year. All winter we have tomatoes, and sometimes we just eat them like candy. I recommend the Excalibur to anyone who wants to preserve their summer fruit and veg bounty.
---
Brilliant Excalibur Dehydrator!
by: inda
The hubbie bought me my Excalibur for my 60th as I had always wanted one. It is brilliant!
---
Excalibur Fruit leather
by: mdy
My 9/tray Excalibur is awesome.I thought I purchased one that came with the fruit leather sheets but I was wrong. Found flexible cutting boards from WallyWorld (some are white/some colorful). and they fit and function as tho they were designed for the trays.wonderful find and cheap.
---
Excalibur dehydrator
by: rwvidun
I got mine at a Junque Store for $8.00. After getting a replacement door for it and a couple of new trays, we used it almost constantly for all of the summer. But the heating element burned out and I have to get a new one or find a small appliance repair person to fix it. It is so old that the Company did not have replacement parts for it. From all of the comments I have read, I think that I will go for the 9 tray model.
---
My Excalibur Smells
by: Carolyn
Hi there my parents bought me in Excalibur with five trays for my birthday. I've had to return one it made a watermelon, I dehydrate, smell and taste so funny that it was unedible. My son and father both said that the dehydrator smelt like it had electrical problems. But when they returned it and got me a new one this one still smells like the old one. Is there waiting .
Or something I should be doing besides washing everything to get rid of the smell? I've let it sit out for a week and it still smells funny. My mom is asking me if I've used it yet and I haven't because of the smell she wants to make sure it's OK because this was fairly expensive. If the smell is a manufactures defect , what brand should I go for after the Excalibur? because I don't know I haven't used a dehydrator in years.
I cried happy tears when they gave me this one, I wanted one for so long. I don't want to have to give it up but I don't know what to do about the smell, it really does smell like an electrical problem. My daughter had once poured a cup of water on a power bar that smell is the same smell that I'm getting from this dehydrator. It makes me so sad.
---
A GREAT MACHINE,
by: GEORGE
MINE IS A 9 TRAY PLASTIC ONE I USE IT ONCE A YEAR FOR TOMATOES AND FRUIT. I BOUGHT IT CAUSE THE FACTORY WAS CLOSE BY. I HAVE HAD THE UNIT FOR 10 YEARS. NO PROBLEMS SO FAR.
---
thrift store buy that's a gem!
by: Anonymous
I got mine on shear luck. A friend had one she lost & was crying she wanted another. I found & bought mine (9 trays!!) for $45 without looking at the label & fell in love with it.
It's fan is in the back & that means I can dehydrate dill & oregano at the same time without losing flavor.
Yes, we have a largish family at 10 current members, but even if we were 7 or 4 this would still be ideal!
It is fast, great at heating the house in the winter. It needs to be outside or in a place you don't care if the room heats up in the warm months. It is easy to get extra parts for from the manufacturer who even has a FB page with recipes, tips & a helpful customer support staff!
---
Excellent and fast
by: Anonymous
I've had my Excalibur dehydrator a year and have dried everything in it. Buying frozen or fresh veggies for a recipe, but don't use them all? Dehydrate them! Plums for free from a neighbor's yard? Dehydrate them! Got cheap peppers from a fruit stand at the end of the season? Dehydrate them!
One comment: if you buy the one from Costco you get stainless steel for the price of the plastic (no other difference, just prettier). Ships from Excalibur in California labeled "Costco Model" with a couple free fruit leather sheets, and mesh for every tray.
Also note that there are two model lines below the commercial models, the 3xxx and 2xxx models. 3xxx models have a higher wattage heat element. x9xx are 9 tray, x5xx five tray. The cheaper ones you see at BB&B and such are always the 2xxx models.
You CAN save a little by buying the non-timer models, but a good quality room heater timer from a home store will cost you $20-30 so it's not really worth it unless you're home to unplug it and don't need a timer.
---
Aid to healthier eating and money saver too!
by: K. Romer
My husband is one of those who turn up their nose and say "yuck" whenever I try to get him to eat healthy. He keeps a snack jar by his lazy boy with chocolate covered nuts and trail mix, but the kind with lots of chocolate and candy pieces.
I started putting in dehydrated fruit and vegetable bits and told him it was a deluxe trail mix I had found. He loves it and doesn't know he's eating healthy. The grand kids also love the "deluxe trail mix".
I have a large organic garden and small orchard – dehydrating is so much less effort, easier and the produce takes up less space than canning.
I've had various other dehydrators but the Excalibur dehydrator beats them all. I have two of them and use them all the time. Check out some of the websites for dehydrating and you'll learn all sorts of ways to use them and save money.
---
Great unit
by: Anonymous
I bought my first Excalibur dehydrator over 30 years ago. It is still in use, but just bought a new and will use my other in my craft room. WOW, THE NEW ONE IS WONDERFUL.I highly recommend this brand.
---
It's the best.
by: Anonymous
Wanted one for years. When mine quits, maybe. Cost to much for my household.
---
Excalibur dehydrator 9 tray
by: Jeannie Shaw
I have a nine tray and it stays on my counter year round. I dry everything and this dehydrator is up to whatever you put in it. We make jerky year round. We grow everything we can and with more than acre in gardens and an orchard I could use another one during the summer when we have so many things coming off at once!
---
want to win
by: Anonymous
I have been dreaming of starting dehydrating. This would be a wonderful way to start!
---
I heard they are the best
by: Tonie Price
I have been wanting on of these for years.
---
EXCALIBUR 9 TRAY
by:
LOVE LOVE LOVE THIS DEHYDRATOR USE IT ALL THE TIME.
HERBS, FRUIT, VIEGIES, JERKEY EVERYTHING COMES OUT GREAT!
---
Excalibur dehydrator
by: Lola b
After my daughter researched different types dehydrators for her personal use, she decided on the 5 tray Excalibur. Since she has a two person family, as I do, and a small garden plot, as I do, I followed her lead and purchased the same style.
Love it. Easy to use, have done pineapple, apples, green beans, green pepper, carrots, papaya, kiwi, bananas and recently we have made beef jerky. My neighbor, who as one of the round ones that you have to remove top trays to check the trays below, has now decided he wants one like ours. So much better to use.
Planning to learn to make my own dehydrated instant potatoes since we use them a lot and don't like all the salt and additives in the commercially packaged ones.
---
Excalibur dehydrator
by: Hillbilly
It is a good machine. I bought a reconditioned machine to save money and it showed up not working. I thought this odd as they say they test each machine 3 times before shipping.
I did a quick check with a multimeter and found a bad connection not crimped thru the wire insulation.
I wish I would have researched a little more cause I feel I would have gone with a SS one from Waltonsinc…..Over all I am happy with it.
---
It's soo easy to use my Excalibur dehydrator
by: Penny
Live in the UK and got an export model from the US about a month ago. It's brilliant we are no longer eating oil soaked snacks but delicious dried slices of pear, apple, mango – you name it we've tried it! Highly recommended dehydrator for quality build, efficiency & ease of use.
---
Excaliber Dehydrator
by: Anonymous
I have a 9-tray Excaliber and it is used almost every day. We have dehydrated vegetables, fruits, nuts, made bread crumbs, yogurt, cheese, and many, many meals-in-a-jar. I have no idea how I got along without it.
My granddaughter is a college student living in a apartment. She dries her lingerie in a small one. Beats going to the laundry room!
---
My Marvelious Excalubur Dehydrator
by: FEATHER
I have a 9 tray Excalibur with timer. I love this one. We have had several others thru the years. I do EVERYTHING from proofing/rising bread to jerkey,fruit, vegies,to herbs drying to yogurt.
The temperature is adjustable & the timer makes it even more convenient. Our favorite trick is is if we have something to dry we will prepare it after dinner, load the trays (as many or as few as we want)set it & go to bed. In the morning when I make my coffee, I'll check whatever I'm drying, frequently it is done, but if it is not, I will check/reset the time, for the item drying to finish.
Usually by afternoon before we fix dinner its ready, cooled down & in its temporary bag overnight. The next AM I seal it up.(Mylar/vacuum bag or jar)
ALSO A NEW DEHYDRATOR TRICK WE LEARNED: pecans: wash pecans, let drip dry, load onto dehydrator sheets & put in dehydrator for 4 -5 hrs. the nutmeats come out very easy & dont stick.
Then we dry can them. If you mess up & wet your cell phone just put it into the dehydrator on the lowest heat setting & time out of 10 it will work again!!!
---
Manual needs work
by: Anonymous
Unit works fine so far but the instruction manual needs work.
The making yogurt instructions say to boil the milk. Other sites say to heat at 160F to 180F. Instructions do not state whether or not to cover the jars when you put them into the dehydrator. Other sites say to cover the jars. I almost ruined the first batch as it started to get a dry film on top of yogurt.
The instructions for raising yeast bread were also vague. I gave up on that process. Were you supposed to leave the unit on or just warm the unit? Were you supposed to cover the dough? Wouldn't the blower ruin the dough? The suggested heat level seemed too high for yeast raising.
Drying fruit came out fine. I have not tried the recipes yet.
---
Love It!!!!!!
by: Helen
I absolutely love my excalibur dehydrator. I can't imagine using anything but an excalibur.
I love the consistency of the drying no need to rotate the trays. It is the best investment! I can't say enough about it!!!!
---
Excalibur
by: Kim Campbell
I love mine! It is SO easy to use. It's the best gift ever. I received this from my step mother last year for Christmas. Easy-peasy to use. You will love it.
---
Excalibur–9 tray
by: Grannie (aka Sandy)
I absolutely love my Excalibur dehydrator; and since I got it at a garage sale for $35.00, I feel like I have more than gotten my money's worth.
(Sharon's comment: Wow, what a deal!)
If there is one draw back, it is when I am drying a full load of fruit leather–I feel the need to turn the trays so that the front is now in the back and the back is now in the front.
This helps to speed up the drying time. I only do this with the leather as the other items dry more quickly.
Related Pages
How to Dry Vegetables, Peppers, Tomatoes and more.
Learning how to dry herbs is fun, easy, and economical. Do you grow and cook with your own fresh kitchen herbs?
What did SimplyCanning.com think of Cabela's Commercial Food Dehydrator?
Pin this to find later!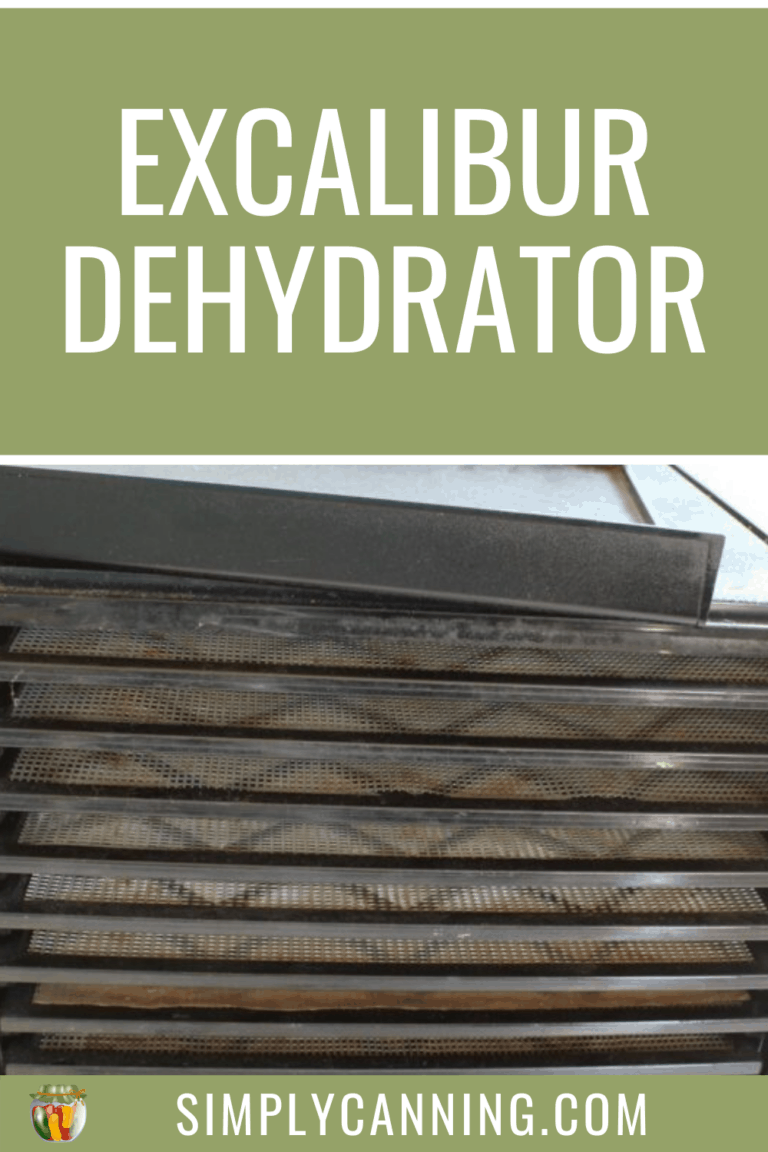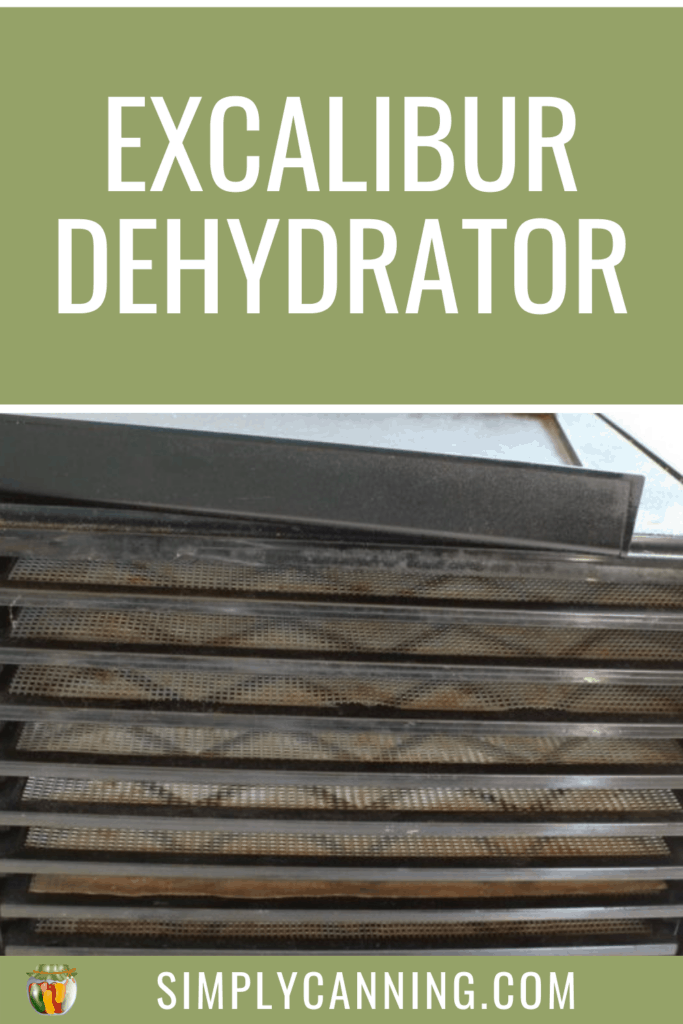 Page last updated: 3/8/2021