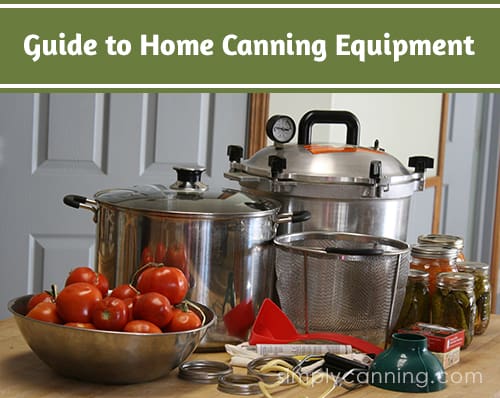 This is a list of my favorite home canning equipment. Note: many of these are affiliate links which means we probably get compensation if you purchase after clicking a link.
This in no way affects your purchase price.
The only way the canning equipment below made it on this list is because I truly recommend it. Otherwise it would not be here.
We are a participant in the Amazon Services LLC Associates Program, an affiliate advertising program designed to provide a means for us to earn fees by linking to Amazon.com and affiliated sites."
Pressure Canners
All American Pressure Canner Model 921 – The canner I have that allows stacking pint jars.
All American Pressure Canner Model 941 – The big canner that will allow stacking quart jars.
Presto Pressure Canner – 23 quart – The presto that I have. It allows for stacking pint jars.
Weighted Gauge for the Presto – This fits various models. Be sure and check to see that it fits the model you have. The model number should be stamped on the bottom of your canner.
Extra pressure canner rack – If you want to double stack jars you'll need an extra rack.
Mirro Pressure Canner – This canner has no dial and relies only on the weight.
Waterbath Canners
Black Granite Ware Canner – A great inexpensive way to get started.
Stainless Steel Canner – My top recommendation.
Aluminum Canner – This is not a vintage canner like mine but is similar.
Canning Racks – I recommend stainless steel and flat.
Ball Small Batch Basket – This green basket holds 3 pint jars. Great for use with a stock pot.
Canning Jars
Gallon Jar – These are not for canning but are great for storage and fermenting.
Half Gallon – These are great for storage of all kinds. For canning purposes the only thing you can process is apple or grape juice.
Quart – Most things are done in quarts.
Pint – Perfect for those who need smaller portions.
1/2 pint – I use these often for pickled items.
Teeny 4 oz Jar – I don't use these much for canning but you could!
Jelly Jar – You may get lucky and find embossed jars one like the one I show in the lesson, but they are a rare find. A quilted pattern is very common.
Squatty Jar – Cute! (can a jar be cute?)
Squatty Jar – This is a slightly larger version than the one I showed in the lesson. I use these all… the… time for both canning and storage. They are perfect for leftovers or taking lunch.
Ball Heritage Collection This is to the colored selection of Ball jars. I believe they now have purple, green and a pretty blue.
Canning Lids
Regular size flat lids only – lids only
Wide mouth 2 piece lid set – lids and screw band
Wide mouth flat lids only – lids only
Ball plastic storage lids – These are the inexpensive plastic white lids
Decorative storage lids – These are the metal cute purple, red and blue decorator lids
The Three Essential Hand Tools
Canning Funnel – There are a variety of canning funnel styles. Just be sure it is a funnel with a wide mouth to fit in your jars
Jar Lifter – A must have to lift your hot jars.
Magnetic Lid Lifter – Not absolutely essential but highly recommended and inexpensive.
Canning Tool Kit – Often these tools come in a kit. If you don't have any of it, a kit is probably a more economical way to go. There are lots of variations so do a search on canning kit and you'll find lots of options.
Handy Tools
Ball Low Sugar Pectin – If you want to taste the fruit in your jam, go with low sugar.
Pomonas Pectin – If you want NO sugar at all, I recommend Pomonas.
Canning Salt – Remember canning salt has no fillers and is needed for canning and pickling.
Vinegar – Link to vinegar at Amazon, but you are probably better off just getting it at your local store. 5% acidity is what is required which is the usual standard vinegar. Flavored vinegars may have different acidity levels. It should state the acidity on the packaging. Either apple cider vinegar or white vinegar will work.
Pot Holders – Any pot holders will work. I linked to these because I like the pocket style.
Kitchen Towels – Any kitchen towels will do but…. these are so cute!
Candy Thermometer – Use this when you are making jam and jelly.
Soup Saver Scoop Ladle – I'm not an affiliate for Memo, I just really like her scoop! Of course, any ladle will do.
Large Tea Kettle – This is not exactly like mine but very similar.
4th Burner Pot – Kuhn Rikon, stainless steel, I love this pot.
Polder Strainer – This is the strainer I use. I highly recommend it!
Large Metal Bowls – Lots of options here.
Mandolin Slicer – Mine is a Pampered Chef brand. But there are lots of varieties available.
Foley Food Mill – Hand crank food mill.
Victorio Food Mill – My preference in food mills.
Weighted Gauge for the Presto – This fits various models. Be sure and check to see that it fits the model you have. The model number should be stamped on the bottom of your canner.
Apple Peeler Corer Slicer – For very thin slices with no peels all in one easy step.
Apple Slicer Corer – This gives somewhat larger chunky slices. I prefer this for pie and plain apples.
Headspace Tool – This tool is inexpensive and can be reassuring for new canners.