How to Can it… then How to Use it.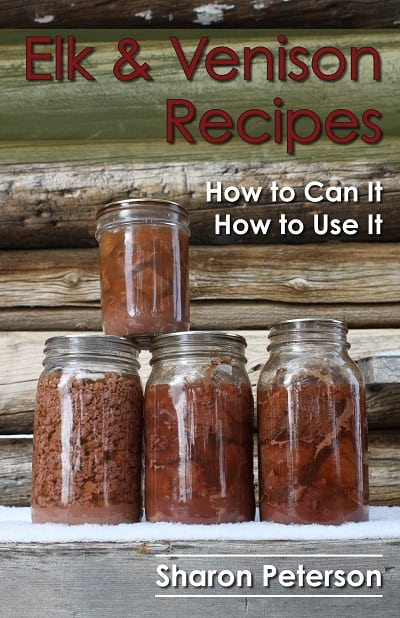 With Sharon Peterson
You've had a successful hunt. You've carefully field dressed and cared for your meat.
You've been busy canning venison. Now what?
Your shelves are full of canning jars with ground or cubed elk…. what do you do with it?
Make supper of course!
Canning and Preserving is a part of our frugal simple life style. A lot of food finds its way into jars in my kitchen. I can everything from fruits and veggies, to the meat that the guys in our family bring home from hunting camp. And that can be a lot of meat in a good year!
Most people don't realize how easy canning venison or elk can be. I remember checking out what would be involved with canning the wild game my guys brought home from hunting camp.
I could not believe it would be so easy.
Cut it up, put it in a jar and pressure can it?
Surely, there is more to it than that! Well there is a little bit more… but not much. Let me teach you how easy and how efficient this form of food storage can be.
Then I share some recipes I use in my own kitchen.
Simple Meals with Home Canned Wild Meat
How to can it; How to use it.
Information on cooking with home canned wild meats.
21 family recipes using home canned wild meat and other home canned foods
Includes Canning Venison and Elk. Printable step by step instructions, how to can venison and elk.
These recipes are not fancy or complicated. Simply delicious and simple to prepare.
Recipes are from my own personal recipe notebook.
Tested by my family.
Lunches and Suppers included.
Crock pot recipes
Cast iron skillet recipes (all these can also be made in a regular casserole dish so if you don't have cast iron, no problem)
21 Recipes for both ground and cubed meat. Many are interchangeable.
Ways to adapt recipes to produce different variations.
Suggestions for side dishes
You'll also find the recipe for my favorite, make ahead, time saving trick!
From the Field to the Table, It's all in YOUR hands. Doesn't it feel good!