With Sharon Peterson
I'd had the Sun Oven on my wish list for a while now…. and you know what my very cool husband did for me?? Yep, he ordered it and had it shipped, and surprised me!
He can be sooo cool sometimes!
Reasons why I love solar cooking.
Great emergency preparedness tool. Cook any time you have sun with no other energy source.
Save on electricity.
Save on Propane.
Keep the heat out of my kitchen.
This company also donates ovens to people in countries less fortunate than we are.
And face it… it is a cool self reliance toy for me…. just cause I like that kind of stuff.
New the All American Sun Oven
The new oven is bigger, it has guides to help you align your oven with the sun and best of all it has a stabilizing bar in the back to make the oven more secure if there is a breeze.
Unfortunately my Global Oven was blown off my deck. I ended up with potatoes all over my yard and glass all over my deck. I was able to easily purchase a door from the company so I was back in action with little delay.
Edited to add: Guess what I won! You know all those Rafflecopter giveaways you see on facebook and blogs. I don't usually enter them. I figure the chances of winning are small and I don't want to take the time to click all those like and follow buttons.
But I did this time and….. it paid off. I won a new All American Sun Oven. I found some fun sites to browse too. Tess at Ready Nutrition.com was the host of the giveaway.
Just below is a video review of the Solar Oven in action in my backyard. I was heating up a casserole for lunch and thought I'd show you all the parts of the oven and how it works.
Solar Cooking – what I've made
A partial list of my solar cooking adventures……..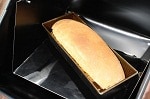 Whole Wheat Bread – I was so pleased when I tried my regular bread recipe… it worked great. It took a little bit longer to bake but other wise I did everything exactly the same.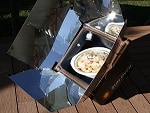 Apple Butter – I attempted to cook my apple butter in the sun oven. It worked fine but the day was just a little too short. When I lost the sun I just brought my crock back inside and finished in the crock pot. Even though I could not complete it outside, I still saved several hours worth of electricity.
Next time I'll do this in my black crock instead of the white. Directions state to cook in dark colored pots… uhm this is definately not dark. Not sure what I was thinking.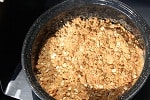 Peach Crisp – I'll post my recipe for this soon. I can say it worked great!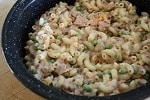 Tuna Hot Dish Another home recipe that worked great in the sun oven. I put the casserole together in the normal manner and cooked it with solar energy.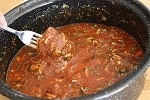 Italian Venison – I'm always looking for new ways to cook venison. I threw this together one afternoon to see how it would work. Sliced and tenderized venison roast. Home canned tomatoes. Some dried zucchini, onions, carrots. Home grown basil, oregano and a clove of garlic pressed. Cook it down … yum. After it cooked for a few hours covered. I took the lid off the pot cracked the door of the oven and cooked the sauce down to a nice thick consistency. Pretty good stuff!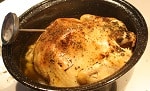 Baked Chicken – Plop a whole chicken in the 3 quart pot, sprinkle with a few spices, I used paprika and …. basil. Use a meat thermometer to check for doneness. This chicken fell off the bone and was moist and delicious.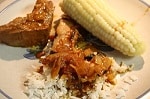 Unusual things I've done with the sun: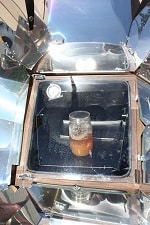 Honey – One day I was about to de-crystalize some honey in my usual manner. Heat up some water on the stove and place the canning jar with honey in it to warm…. It struck me, why not try the sun oven. It worked like a charm.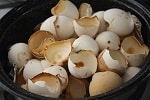 Baked egg shells… so they are easier to crush and feed back to the chickens. This is probably one of the weirdest things you'll ever see cooked with a solar cooker. Who in the world would bake egg shells???
If you've tried to crush egg shells that are not dried out well you'll know just what I mean when I say it is a pain in the neck. Yes I could just leave them out for days to dry out on the counter… but I got it done in a hour or so.ycanning.com/image-files/sun-oven-eggshells-150.jpg