With Sharon Peterson
Are you interested in no sugar jam? I am!
However…. My husband and boys like the sugar so I have only experimented with low sugar varieties.
My sister in law Trish makes no sugar jams all the time… so I asked for her tips.
This is what she shared. My questions are in italics.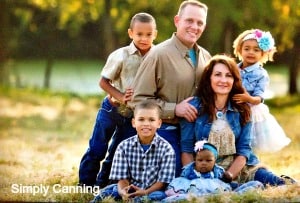 Trish, I know you make sugarless jam all the time. Do you have any tips I can share?
Jam and jelly both seem to set better with sugar, but I hate the expense and the ridiculous amount of sugar so I just cut it way back and deal with it's more natural fruity taste.
You can add things to the jam to help with set, like jello (if you do not care about the sugar content LOL). For a more natural take, try using chia seeds. I love them and are small enough like a raspberry sort of. They have a syllium effect which makes a gelatinous type sauce without the ill effects of other things.
Dates and raisins are good sugar substitutes that can be added as well.
I mix and match my sauces and the sky is the limit really. As you already know..I love adding certain spices like cardamom to jams so that the dense flavor distracts from the lack of regular sugar taste.
Please note: Most of these ideas are great for a refrigerator or freezer jam. I do not have information on how to can these for storage on the shelf. If you want to make low or no sugar jam for canning purposes…. try this page. Canning Low and No Sugar Jam
What about the family? Do they like it?
Truly if one needs or wants to reduce sugars, they have to adjust somewhat to the difference in flavor and taste so it is a personal decision..and sometimes they need to play with the thickness and decide what is best for their family.
A great idea to get to a low sugar type spread is to slowly back off on the sugar over a period of time. Then the family will adjust to the low sugar taste. Till one finds the balance for their family.
I am a believer that no jam or jelly is a waste [Sharon says Amen!] and I use it for pancakes, smoothies, oatmeal if it is less than desirable when finished… Oh yeah…less sugars makes it less scorchy so they can cook the sauce or jam longer to help with set as well.
Not sure if any of this helps, but good luck.
Thank you Trish. I knew you'd have a lot of information to share with us. It IS a big help.