How to Make Salmon Patties with Home Canned Salmon
With Sharon Peterson
This recipe for salmon patties uses either home canned salmon or commercially canned salmon. You could even substitute tuna for this recipe if you don't have any salmon on hand.
Here's the Recipe for Salmon Patties…
Ingredients
1 pint salmon
1 egg
3T some sort of flour*
1/8 tsp onion powder
salt and pepper to taste.
other seasonings as you like (optional)
3 T oil (for frying)
How to Make Salmon Patties
Drain salmon.
Dump salmon out into a bowl and gently use a fork to pull off the skins and discard. This is super easy, just lightly scrape the sides and the skin slides right off.
Next, use a fork to crumble the salmon. Add in the rest of the ingredients. Mix well with a fork.
Create patties by simply rolling the meat into balls and flattening them out. I used a large cookie scoop to make even sizes. These were small, and I ended up with 7 patties. You can make them bigger if you prefer.
Fry in your choice of oil. I used butter. 🙂 Butter makes everything good!
Fry until browned and flip once. They are more fragile than burgers, for instance, so the less turning and fiddling with them, the better.
Recipe for Salmon Patties: Tips & Tricks
What goes well with salmon patties?
Serve salmon patties with a side veggie!
What flour should I use for salmon patties?
*I used a THM-style homemade baking blend to keep it wheat-free, but you can use regular flour, oat flour, or whole wheat flour. Possibly even cornmeal, although I have not tried that. It sounds good.
What seasonings should I use for salmon patties?
You can use the seasonings as I have it in the list, or substitute your own preference for what you like with fish. I used onion powder, but finely diced onion would work too, as well as a bit of dill or some finely diced hot peppers for a little heat. Use what your family would love.
Quick family tip for this salmon patty recipe…
If you have family members who will NOT like the image of the fish direct from the jar, don't let them see that first step! LOL I admit it is not very appetizing.
My 16-year-old son saw me taking the fish out of the jar and asked, "We are not eating that, are we?" However…when dinner time came around, he ate it with a little encouragement (i.e., dad scolded him). He must have liked it as we had no complaints, and he went back for seconds!
Pin It!
Related Pages
Members' Extra: Access Your Video Tutorial in Your Members Area
Canning school members, click here to log in.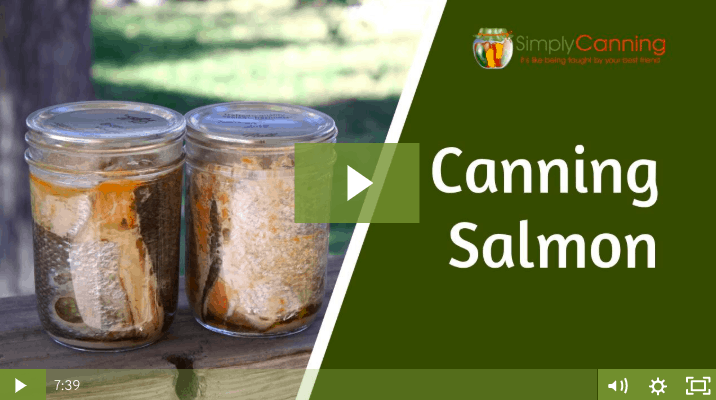 Home › More Recipes Using Home Canned Foods › Recipe for Salmon Patties
Page last updated: 1/28/2020.