With Sharon Peterson
How to Make Pizza with Homemade Pizza Sauce & Whole Wheat Pizza Crust
This is a quick, easy pizza sauce recipe using home-canned tomatoes. Not a canning recipe, but it's still delicious and healthy. You will know exactly what is in it!
Here is my homemade whole wheat pizza crust recipe to go with the sauce.
Pizza Sauce Recipe
Ingredients:
1 pint whole tomatoes OR Mexican tomato sauce, drained
1/2 jar "thick" tomatoes (When I drain the jars, there is about 1/2 jar of the "thick" tomatoes to make the pizza sauce. The thin tomatoes can be discarded or saved for soup or some other use. The exact amount will depend on your tomatoes that were canned.)
1 – 1 1/2 Tbsp tomato powder (If you don't have any and the sauce is thin, use tomato paste to thicken it.)
1/4 tsp garlic powder OR 1 clove of fresh garlic, minced
1 tsp dried basil
1/2 tsp salt
---
Tips:
Quantities of the spices can be adapted to your tastes. (As you can see, I used parsley when I was making this batch.)
Sometimes, I will use Mexican tomato sauce for a different flavor.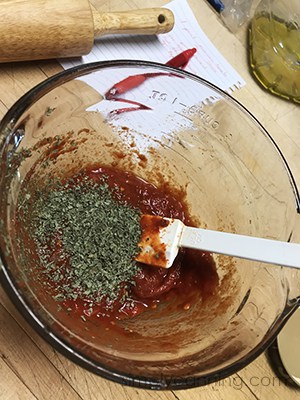 Mix and pour into a pan and bring to a boil. This will not get as smooth a consistency as a store-bought sauce and it will have seeds, but it all gets smothered in your favorite pizza toppings and cheese, so you won't notice the difference.
Simmer for 10 minutes, stirring to prevent sticking.
Spread onto dough, add toppings of your choice, bake, and enjoy!
Not for canning.
---
You Might Also Like…
Home › Recipes Using Home-Canned Foods › Pizza Sauce Recipe
Page last updated: 10/4/2019.