With Sharon Peterson
We love this oatmeal bar cookie recipe. The first time I made this with cherry jam. I then used other flavor jams for different cookie flavors. Apricot was especially good!
My latest experiment with this recipe was to use a cherry pie filling instead of jam and add some chopped rhubarb. worked great! The only problem….. I was going to add chocolate chips to the topping. I forgot until it was in the oven. Oh well next time.
Oatmeal Bar Cookie Recipe
Ingredients
1 1/2 cups flour
1 1/2 cups rolled oats
1 cup packed brown sugar
1/2 tsp baking soda
3/4 cup butter
1 pint cherry jam or other jam flavor of your choice.
1 cup chopped rhubarb
Directions
My Latest Videos
Stir flour, oats, brown sugar, baking soda. Cut in softened butter until crumbly.
I use fresh milled wheat flour using my brand spanking new Wonder Mill. (Yeah can you tell I like my Mill?) but I'm guessing any flour would work. On this occasion I ran short on oats, so I added a little extra wheat flour to make up the difference. It worked fine. The bar cookies were a little softer when done, but still good!
Press 2/3 of the crumbs into the bottom of an ungreased 13x9x2 inch pan. I have a stoneware bar pan that works perfectly for this. This forms the bottom crust of your bar cookies.
Spread with the fruit filling of your choice.
Any Flavor Jam works great use about 1 pint.
Today I'm experimenting with a cherry pie filling. Use about 2/3 of a quart. Save the rest for icecream. Add 1 cup chopped rhubarb optional.
Spreading your filling out is the tricky part. The crust wants to come up with the filling as it is spreads. But with a steady hand it can be done. A few bits of crust mixed in won't hurt.
Note: I tried this once with applesauce. It was just ok. The applesauce has a milder flavor and didn't stand out much. It was still good…. but not nearly as good as a jam.
You know it actually doesn't look that good in the picture. Trust me… it tastes great when done!
Sprinkle the rest of the crumbs on top. Pat down lightly with your fingers. Do your best to get most of the filling covered. This is also where you could add a few chocolate chips to the top if you want.
Bake at 375 for about 30 minutes or until the crust starts to lightly brown.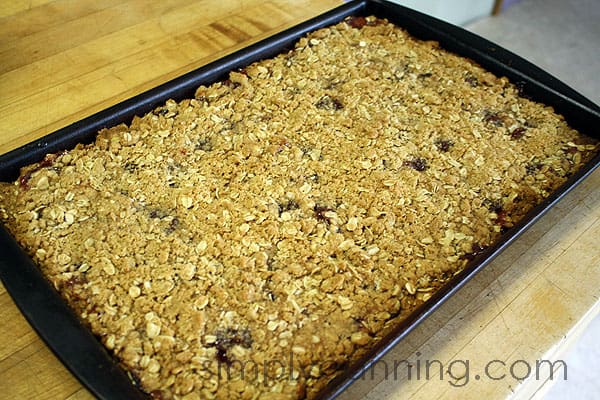 You can use different flavors of jam, as you prefer. I was thinking about trying my orange marmalade.
Let this cool completely cut into squares and serve. They will be soft when warm.
Other pages mentioned in this recipe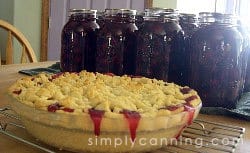 Home › Click here for more recipes using home canned foods › Oatmeal Bar Cookie Recipes