Garlic Tomato Sauce Made with Home-Canned Tomatoes
This is a quick, homemade tomato sauce recipe for using over pasta of all kinds.
I make this with home-canned tomatoes, along with garlic and oregano from the garden. You can use regular canned tomatoes or try a stewed tomato. Either style will work.
Just to clarify, this is not a canning recipe. It is a homemade sauce I make from my home-canned tomatoes. Please do not put this in jars and process it for storage. Make it for dinner as you need it.
Homemade Tomato Sauce Recipe with Garlic
Ingredients:
1 T olive oil (or other oil of your choice)
1 or 2 garlic cloves
1 quart home-canned tomatoes
1 T red pepper flakes (to taste)
1 T dried oregano
2 T dried parsley
½ tsp salt
2 tsp sugar
1 T corn starch (Optional, for texture fixes.)
Procedure
Do you have a family who balks at the thinner texture of most any homemade tomato sauce? Mine love the flavor of my homemade sauces but always said they wished it were more like store-bought sauce.Hurt my feelings…after all, this is HOMEMADE! How can you compare it to Ragu or any other store sauce? Humph.
Well after I got over myself and dug a bit, I realized it was the texture they were missing. Easy fix? A tablespoon of corn starch. I tried it and they loved it.
Adjust the amount of red pepper flakes to your taste. Two of my sons thought this was too hot…one loved it. Heat is such a subjective thing. I thought it was perfect.
How to Use Garlic Tomato Sauce
Remember this is not a recipe suitable for processing and storing in jars. Canning is not an option. But you can use this in many ways on your dinner table!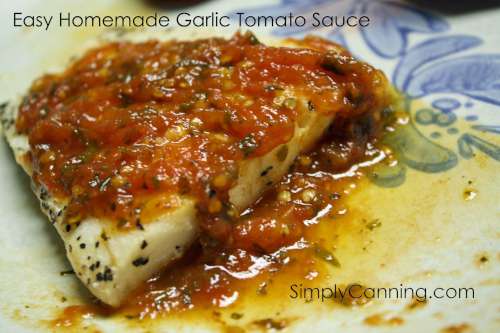 I serve this tomato sauce recipe with fish fillets and spaghetti noodles (because I always have spaghetti noodles on hand) and a quart of home-canned beets on the side. It could also be poured over some chicken breasts with Parmesan and mozzarella cheese for a Parmesan chicken.
I also use it in my Hamburger Casserole Recipe. This is one of our favorite ways to use this tomato sauce recipe:
Hamburger Casserole Recipe
Ingredients:
Homemade garlic tomato sauce (or your choice of Italian tomato sauce)
1 cup chopped bell pepper
1 pint (or 1 pound, cooked) ground beef or venison
1 cup macaroni
½ cup mozzarella cheese, shredded
1/2 cup cheddar cheese, shredded
Process:
Cook macaroni according to instructions on the bag or box.
Mix sauce, meat, and peppers together and bring to a boil. Stir into the macaroni. Pour your hot ingredients into an 8×8 casserole dish. Add in mozzarella cheese. (Just put it on top and use a spoon to gently stir it into the noodles.) Then add your cheddar cheese to the top.
Bake at 350 degrees for 15-20 minutes, or until bubbly and hot.
Serve with a side veggie, like corn or salad. We like buttered toast with it too. 🙂
Freezing Hamburger Casserole?
This casserole freezes well. Since it is more than enough for one meal (there are only 3 of us at home now), I'll often split it up and put about ⅔ of the ingredients in one dish and use a smaller dish to freeze the rest. A bread pan-sized dish works well. Simply pour in your casserole ingredients, cover tightly with foil, and freeze. If the food is well below the pan rim, push the foil down so it is against the food. This keeps air out and keeps the food fresher. Then you can add another foil wrap to give extra protection.
Another option is a freezer bag or plastic container. I like the pan and foil option, because it is then oven-ready.
I like to write on the foil itself the date, what is in the pan, and how to cook it. This pan will sometimes make it's way to my 2 adult single sons' apartment. 🙂 So now it is ready for them to just cook!
Changing the Recipe…
This is a very adaptable way to use this tomato sauce recipe. Add or subtract different types of cheeses. Pepper Jack would add some spice! Add in a veggie instead of keeping it on the side.
If you like your tomato sauce to be a little thicker, you can add a can of tomato paste or some tomato powder.
In my membership, I have a recipe for Crockpot Hamburger Casserole.
Hot Dish vs. Casserole
So we always call this type of meal "hotdish". In Minnesota, where my husband grew up, the term is common. Many people would call this a casserole. Just out of curiosity, I Googled "hot dish vs. casserole." Goodness, there are official definitions…and folks who insist the official definitions are wrong! LOL. So hotdish/casserole, call it what you want. Just enjoy!
More on Canning Tomatoes
Home › Cooking With Home Canned Food › Homemade Tomato Sauce Recipe