by Rhonda
With Sharon Peterson
There's just simply nothing as comforting on a cold or rainy day, a day when you're sick, or just feeling a little blue as a steaming bowl of homemade soup.
We dehydrate most all of our garden produce using the living foods method. The living foods method preserves the enzymes in the food because the food is not exposed to high temperatures. This is done by setting the dehydrator on the highest temperature for the first 2-3 hours, then turn it down so that the temperature does not exceed 120°F/49°C.
If you can't be available to turn the dehydrator down after the first 2–3 hours, then set the dehydrator somewhere between 105°F/41°C and 120°F/49°, but keep in mind that when you use this lower temperature, the dehydration process will take longer.
Making Homemade Soup
Foods that have been properly dehydrated rehydrate very well. When rehydrated, they return to their original size, shape, and appearance. Using dehydrated vegetables in soup is a snap since you already have a liquid base (the broth) to put them in.
There are three major broth-base options when making homemade soup: Vegetable, beef, and chicken. Vegetable broth is easily achieved by bringing your vegetables to a boil and then simmering them on low for at least an hour.
A rich, beefy broth can be achieved by placing your bone-in beef in your crockpot or Dutch oven and cooking own low for 12 to 24 hours. Cooking for this long allows the meat to fall off the bone and the marrow and collagen to cook out into the broth. Another way of achieving a quick beef-based soup is to brown ground meat, add water to cover, and bring to a boil for 30 minutes. After 30 minutes, add your other ingredients.
Of course the most popular broth for soups is chicken! There's just something about it, right? We're sustenance farmers here on Fairhaven Farm, this means that we produce a major portion of our food supply, so we always have plenty of chicken. To achieve a rich, healthy chicken broth, place the whole chicken in your crockpot or Dutch oven and cook on low for 12 to 24 hours. Just as with beef, this allows the meat to cook off the bones and the marrow and collagen to cook out into the broth.
You can prepare your broth ahead of time and separate it and your meat into portions that can be preserved by canning, freezing, or if you're going to use it within a week, refrigeration. I'm in the process of learning to make my own bullion cubes, but haven't yet truly succeeded. When you're ready to make your soup, just take out your broth base, add your other ingredients, cook and enjoy!
Throw it together. Easy!
At our house, we make throw together soup quite often. Unless you're making a specialty soup like shrimp chowder, chicken noodle, chili or the like, you don't really have to have a recipe to follow. Throw together soup is just that, you throw whatever you have left over, whatever you have open that you need to use, or whatever you want into your soup.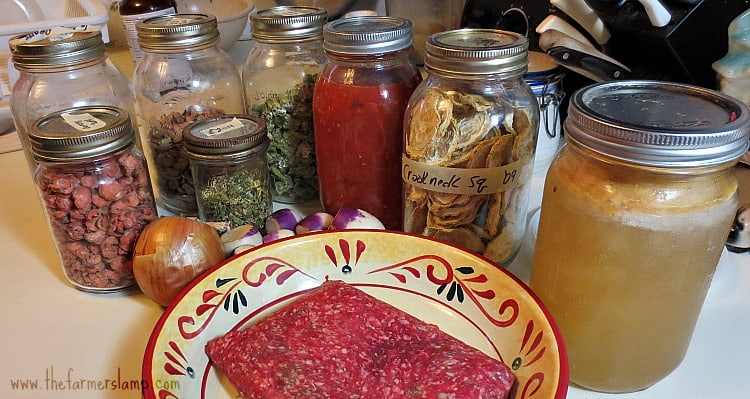 As you can see, I'm using grass fed ground beef, fresh turnips that I got from thinning the turnip patch, a fresh organic onion (because I had already used all my dehydrated onions), a jar of canned tomatoes and yes, I use the whole jar, and dehydrated veggies: okra, green beans, speckled butter beans, yellow squash, carrots, bell peppers, and celery.
I made a quick beef broth for this soup by browning the ground beef and onions together. Then I added enough water to cover the meat, brought it to a boil and simmered for 30 minutes. After that, I added all of my other ingredients. I like my soup slow simmered because I just feel this allows all the flavors to combine well. So when I make soup for supper, I put it on to cook shortly after breakfast and let it simmer until we're ready to eat. Of course, being from the South, no soup meal is complete without a pawn of corn bread. 🙂
Sometimes I will add organic potatoes, rice, quinoa, or sweet potatoes during the last 20 to 30 minutes of cooking for a little filling. Just a tip: if you add sweet potatoes, the broth will have a sweet taste to it which some people don't care for. We're not those people! We harvested 450 pounds of sweet potatoes last fall and have enjoyed them all winter in all kinds of dishes. We didn't hog them all though, we shared them with family and friends. 🙂
A little goes a long way!
I'll share a lesson I learned with you from when I first started making homemade soup with dehydrated veggies. Since dehydration is removing all the moisture, everything you dehydrate shrinks.
Well, when I went to add onions, bell pepper, and celery to my soup, those tiny pieces just didn't seem to be enough in that big pot of soup so I added what looked like enough to me.
Needless to say, I had bell pepper, onion, celery soup! Lesson learned: Rehydration returns food to its normal size, so a little bit goes a long way. I also find that the flavor of dehydrated food is deeper and more intense…so it doesn't take as much to achieve that yummy flavor.
Do you have a favorite homemade soup? Do you make throw together soup at your house? I love hearing your experiences, ideas, questions, and suggestions. You can always get in touch with me at The Farmers Lamp. Be sure to check out the great information, recipes, and tips found here at Simply Canning.
Safe and Happy Journey
Rhonda and The Pack
About Rhonda
Rhonda comes from a family of generations of farmers, "I couldn't be anything but a sustenance farmer. It's who I am. It's an exciting, never ending journey." Besides being a farmer, she is a wife, mother, business owner, retired registered nurse of over 21 years, writer, and owner of The Farmer's Lamp.
You can read her articles in Countryside and Small Stock Journal, Backyard Poultry Magazine Blog, and on the upcoming Countryside Magazine and Small Stock Journal Blog.
Old-timey, down to earth, common sense knowledge is what you will find at The Farmer's Lamp
Home › Cooking with Home Canned Foods › Homemade Soup Recipe