Growing Sweet potato slips is the best way to grow sweet potatoes. I've read that you can just plant the potato shallow in the ground, but starting slips first then planting the slips will give you better results. Rhonda of the Farmers Lamp gives all the step-by-step directions.
Guest post with – Rhonda of the Farmers Lamp
One thing you should know about me is that I love sweet potatoes! Last year we harvested about 450 pounds of sweet potatoes from six 25 foot rows. Needless to say we shared a lot and ate a lot over the winter.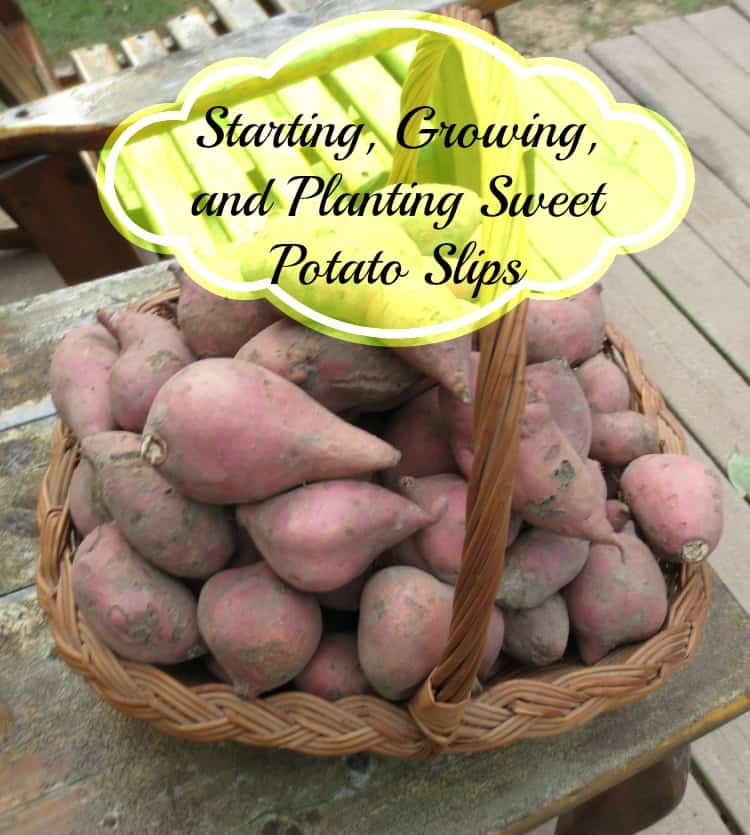 My sweet potatoes are even in a movie! My oldest son took some home with him to Mississippi. He lives in his grandmother's old house there. Her house was selected to be the home of the main character in "Life At These Speeds" which will be released here in the U.S. in September of this year.
The story line is about forgiveness and hope as it follows a teenager from the south who loses his best friend in an accident. He channels his grief into running, becoming a high school track star.
Anyways, when they were setting up the scenes in the home, they really liked my sweet potatoes so they displayed them in the kitchen! Isn't that exciting? I knew my sweet potatoes would be famous. 😉
Growing Sweet Potatoes
Sweet potatoes are one of my most favorite things in the garden. I like everything about them. Starting slips, planting, watching their beautiful vines and purple flowers grow is such an enjoyable experience for me. Harvesting? Oh! don't get me started. Digging sweet potatoes is like finding treasure! And then, of course, there's the eating. Sweet potatoes are one of the most nutritious things you can grow. They are long keepers and you can even eat the leaves. The recipes for them are endless.
Because I'm in U.S. gardening zone 8, I can start my sweet potatoes making slips from the middle of January to first week of February. This means I'll have plenty and be ready to plant the last week of March or first week of April. This year, however, we didn't have a very cold winter and we have been exceptionally wet.
As I'm writing this article, it's the second week of April and the garden is still too wet to plant. This means I had to do a little something extra with my sweet potato slips. We'll talk about that a little further on. No matter what zone you are in, you will need to start your slips four to six weeks before your last frost date.
Like other potatoes, the sweet potato doesn't make seeds, but is instead propagated. Other potatoes like, white potatoes, are tubers which put off sprouts from their eyes; but the sweet potato is a true root plant and has no eyes.
What is a Sweet Potato Slip?
If kept around long enough, a sweet potato begins to sprout. These sprouts are called slips. I've found that it's best to use medium-sized potatoes because they will produce the most slips. Years ago, I read this and it seemed strange to me so I decided to experiment.
When I started to make my slips, I chose two huge potatoes to try along with the ones I had set aside for this purpose. Sure enough, the huge ones and the very small ones put off fewer slips than the medium-sized potatoes. Each medium sweet potato will put off between 20 to 50 slips.
Growing Sweet Potato Slips: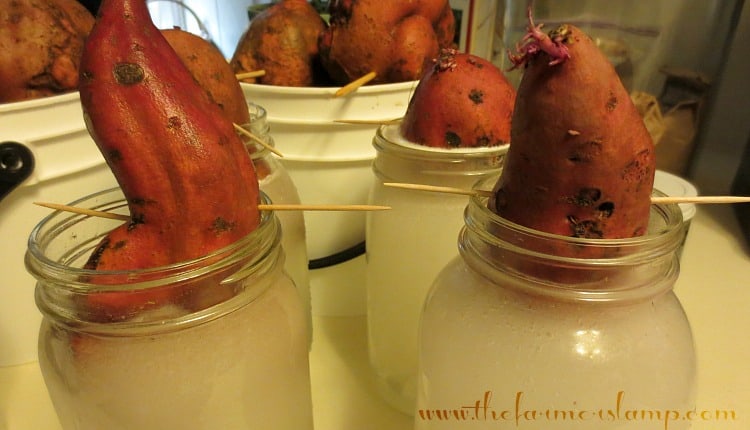 Some people bed their sweet potatoes in soil by burying about half of the sweet potato in soil at least a foot deep. Some people cut their sweet potatoes in half and place them in water so that each half of potato is half-way covered. I use another water method.
In the fall, set aside some of the healthiest medium-sized potatoes. When it's four to 6 weeks before your last frost date (I would go with 6 weeks just to allow plenty of time just in case) it's time to start your slips. I use quart jars regular and wide mouth, depending on the size of the potato.
Using toothpicks, or shish kebab sticks pierce the potato halfway between its two ends. Be sure that they stick out far enough to allow the potato to be supported on the rim of the jar. Set the sweet potato in the jar with the sticks resting on the rim and add water until bottom half of the potato is submerged.
Be sure that your sweet potatoes have indirect sunlight and are kept from getting chilled. Add water to your jar every time you notice a couple of inches has evaporated. Be careful to never let your potato run dry. You should replace the old water about once a week to keep the potato from rotting. Although I will say, sometimes it's two weeks before I remember to do that and I've had no problems with rotting.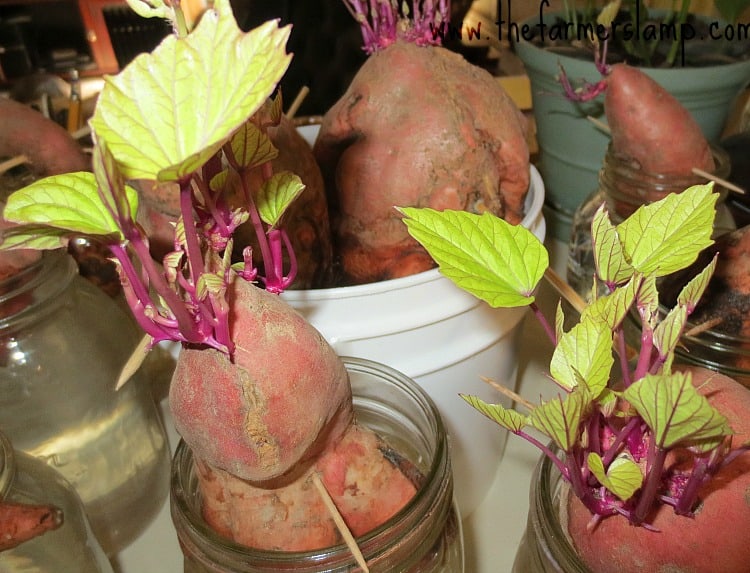 Keeping Your Slips For Planting: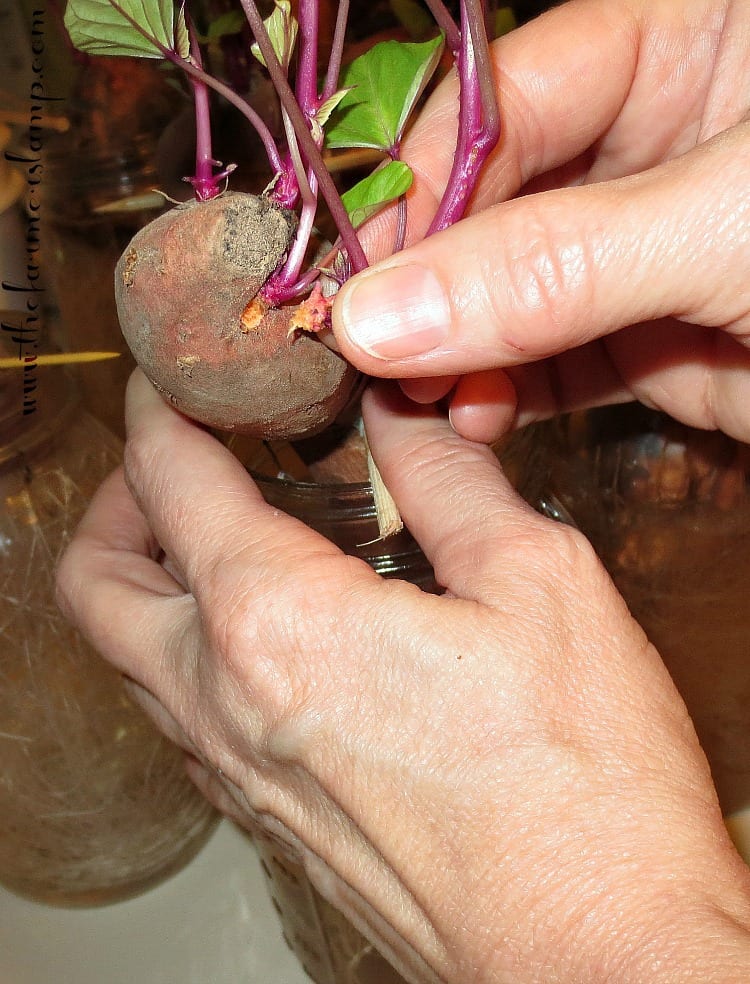 After about two weeks, you should begin to see sprouts. Let the sprouts grow until they are about 6 inches long and have several sets of leaves on them. Once the slips have achieved this stage of growth, it's time to separate them from the mother potato. Some people leave the slips on the potato until they are ready to plant.
I don't do that because I want as many slips as possible from each potato. If you leave them on, the focus is on developing the slips that are there and not on producing more and more slips.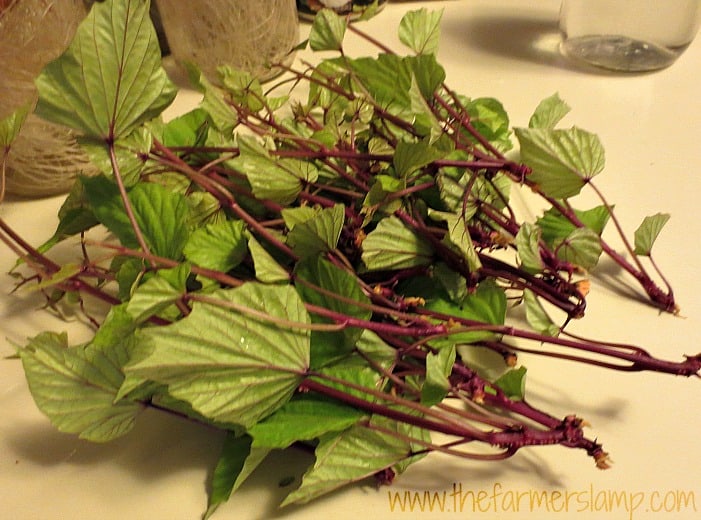 Taking the slip at its base, where it's attached to the sweet potato, carefully pull the slip off. Place your slips into a clean jar filled with cool water and place the jar on the windowsill or somewhere it can receive indirect sunlight.
Just as with the sweet potato, add water to keep the jar full and replace the old water once a week to keep them from rotting. You should be able to see roots developing in a week to 10 days. Your slips will keep like this until ready to go to the garden. I've never kept mine over 4 weeks,…until this year.
As I told you, we had an unusually wet Winter and are experiencing an incredibly wet Spring. My slips were rooting and ready to go into the ground. They were beginning to struggle in the jar of water (they were turning kind of yellow) and it was too wet for me to plant. To keep them from rotting, I banked them in soil. This will hold them and give them a little bit of a head start forming their roots while we wait for the garden to be ready.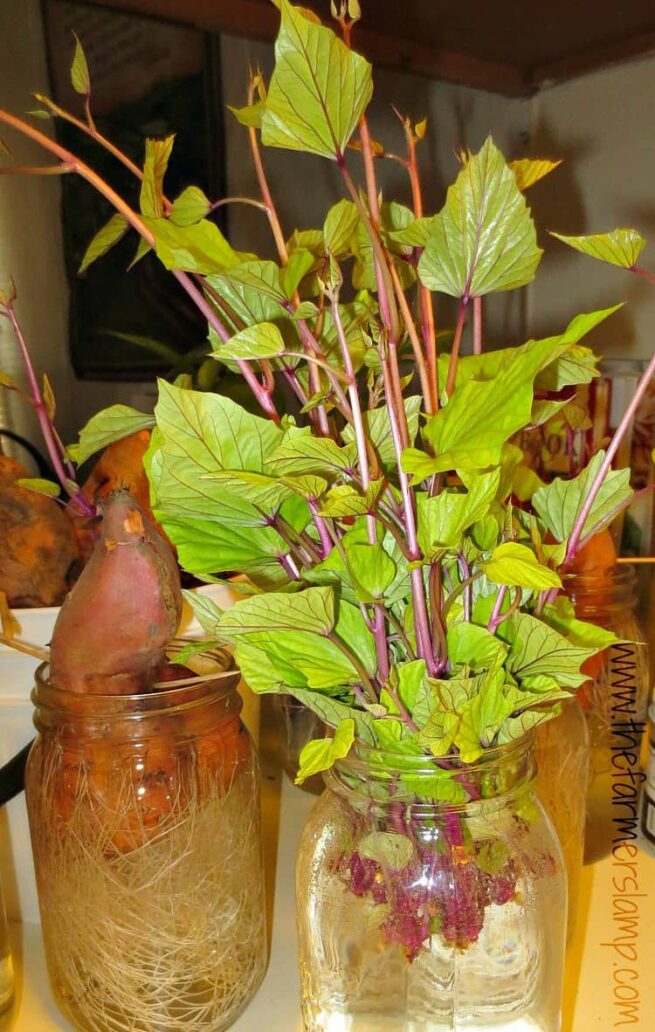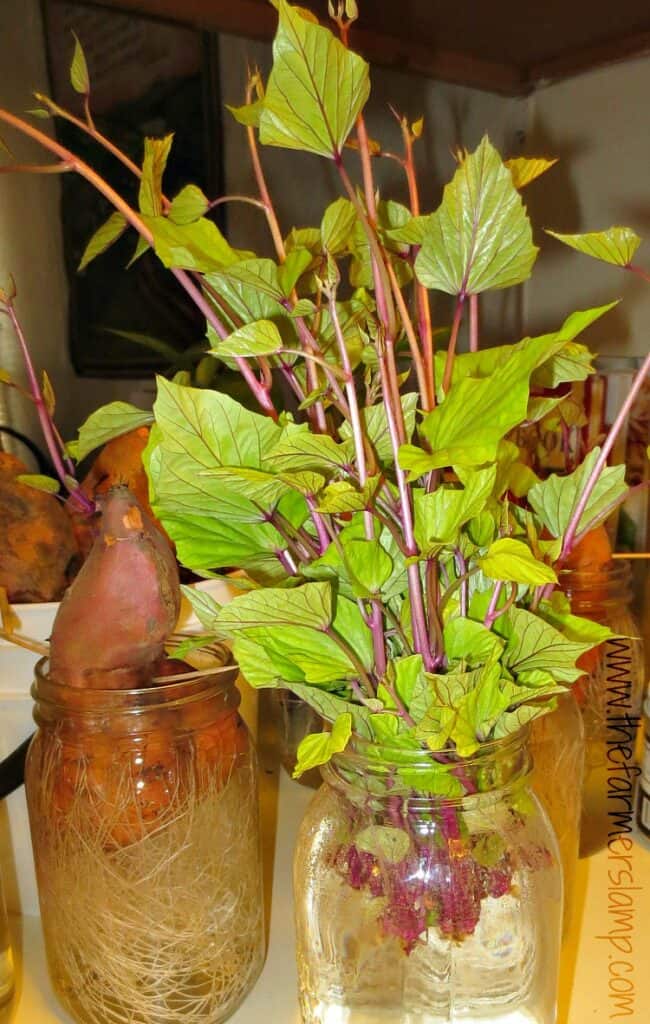 How to plant your slips:
At least two weeks after your last frost, when the soil has reached at least 70°, or when the ground is dry enough for you to work it, hill your prepared garden bed into the desired number of rows. I like my hills to be at least 3 inches high when I start the slips. Set your plants 3 feet apart in rows that are 3 feet apart. Make a hole in your hill about 3 inches deep, or deep enough for all of the slip's roots to fit into, and cover with soil. If it's dry, water the slip before covering with soil.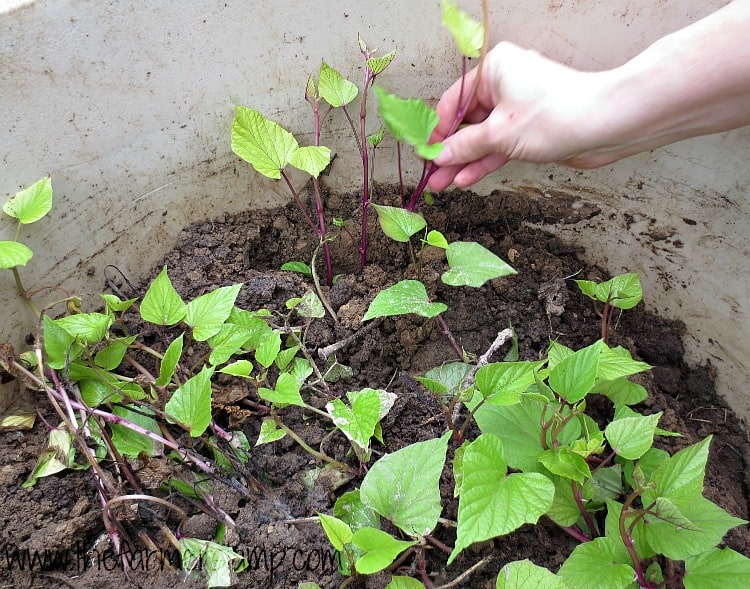 After planting, be sure to keep your slips moist, but not soggy because potatoes like well-drained sandy soil. Someone told me once to plant every slip I had, even if it appeared dead because sweet potatoes are so resilient. Last year I planted a whole row of slips that I was certain would not make it, but they did make it and produced just as many potatoes as the other rows. Guess that proves it never hurts to try.
Be sure to hoe or otherwise weed your potato patch while your vines are developing. Once sweet potatoes start to put off their vines, they will go in every direction putting down roots as they go and smothering out weeds as well. Once they are doing this, there'll be no need to continue weeding.
Be careful not to tear your vines loose because that will hurt the plant and decrease it yields. Don't worry about watering your vines too often if at all. I usually don't water mine once their vines are well established because sweet potatoes are drought resistant and dry conditions actually encourage a bumper crop. After 100 days, It should be time to harvest.
For more on harvesting and storing sweet potatoes, see our article here.
Safe and Happy Journey, Rhonda and The Pack
About Rhonda
Rhonda comes from a family of generations of farmers, "I couldn't be anything but a sustenance farmer. It's who I am. It's an exciting, never-ending journey." Besides being a farmer, she is a wife, mother, business owner, retired registered nurse of over 21 years, writer, and owner of The Farmer's Lamp.
You can read her articles in Countryside and Small Stock Journal, Backyard Poultry Magazine Blog, and on the upcoming Countryside Magazine and Small Stock Journal Blog.
Old-timey, down to earth, common sense knowledge is what you will find at The Farmer's Lamp