Growing peas. Sweet Peas are one of the first crops that can go in the ground in the spring. This makes it a favorite for me.
Colorado's finicky spring always gives some warm days early in spring that makes me want to get out and start planting. Unfortunately, we also have late surprise snowstorms that would kill many less hardy vegetables.
Peas and other early crops allow me to get out in the dirt!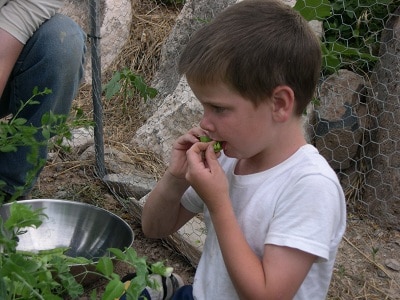 Growing Peas
When to sow indoors– Not Recommended, peas are sown early, there is no point in stressing the plant with transplanting.
When to sow outdoors -As soon as the ground thaws and can be worked
Seed Depth-1 inch
Days to Germination-14
Spacing– plant 1 inch apart
Light Requirements– best in full sun, will tolerate light shade
Watering– moderate until blossoms show. Then keep lightly watered
Companion Suggestions
Good Companions- carrots, corn, cucumber, eggplant, parsley, radishes, spinach, strawberry, sweet peppers
Bad Companions- onions
Sowing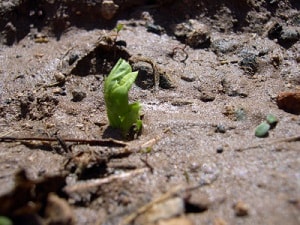 Peas can be planted very early in the spring or you can wait until the soil warms up a bit for quicker germination.
After about 14 days you will see little plants poking up out of the ground.
There are two types of peas that I plant in my garden. A bush pea, which needs no trellis, and a climbing pea which needs to be able to grow up with supports. I have not noticed a big difference in output so it really is a personal preference.
Stiff fencing makes a great trellis. Simply plant staggered along both sides and you can harvest from both sides.
I also plant a snow pea. These are grown to be eaten right in the pod and all. The key to growing snow peas is harvesting early! Harvest these when the seeds are tiny in the pod. If you wait, the pods will get tough and stringy. Ask me how I know!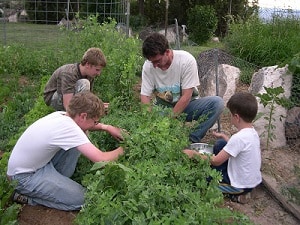 Harvest
Remember to harvest peas of any kind before the pea pods get too thick and starchy. Simply pull the pods from the plant. Harvest often because the peas will get overripe quickly. I plan on picking every other day during the main harvest. It wouldn't hurt to go out each day either.
If you notice pods that you have missed in previous pickings, even if they are overripe, go ahead and pull them. If you leave them the plant will think it is done and slow down production.
The exception to this is at the end of the season I like to leave some pods to ripen and dry right on the vine. When the pods rattle the seeds are done and ready to be pulled and stored for planting next year. Store in a paper bag or envelope. This keeps them from molding in case there is any moisture left. Be sure to mark the type of peas and date on the package.
Preserving
Peas can be canned but… We don't care much for canned peas. I'd suggest freezing them.
Dehydrating is another great option. Great to have on hand to toss into soups.
Pages you might like:
Home › Vegetable Garden › Growing Peas