Guest post with Mike Podlesney
Growing Parsley yourself means you've got fresh ready at hand for your kitchen. My favorite recipe that uses parsley comes from a dish that my mom used to make. She dubbed it parsley potatoes. First you quarter your potatoes, then coat them with some olive oil and then roll them in parsley. Bake the mixture in the oven at 350 degrees until they are golden brown.
I was reminded recently in a radio interview that I was on that parsley serves so much more than being just a garnish and I could not agree more. My mom's parsley potato recipe immediately popped into my head. What makes parsley even better is that this versatile herb is a perfect addition to anyone's fall garden.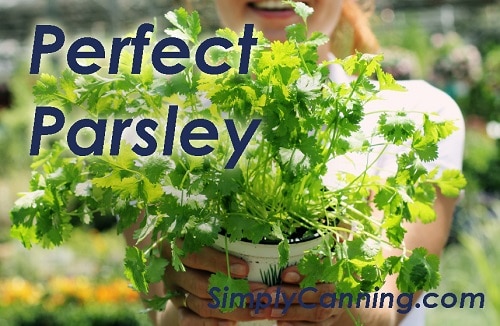 Getting Started Growing Parsley
SOAKING YOUR SEEDS
I recommend soaking the seeds first for 24 hours before you plant them. This will help with the germination process. Simply place your seeds in water, or even better, compost or manure tea to help hydrate them. After 24 hours remove the seeds as they will be ready to plant.
WORK YOUR SOIL
If you are going to grow your parsley indoors in pots make sure you use a good potting soil that is enriched with plenty of compost and/or nutrients. If you are going to grow your parsley outdoors, thoroughly mix plenty of compost into the soil. Be generous with your compost.
WATERING SCHEDULE
Parsley likes the soil moist, so regardless of the location of where you will be growing your parsley this fall make sure the soil is always moist.
HARVESTING
To get the best flavor possible out of your home grown parsley, I recommend that you pick some early in the morning or just before you are about to use it. In my opinion the flavor or home grown parsley improves each time you harvest new leaves off of the plant.
FINAL NOTES
Parsley does not like competition so keep your garden bed weed free. Use a weed barrier or add in some mulch after your parsley has sprouted. I like to lay down multiple sheets of newspaper as a weed barrier and use some pine needles on top of that to help keep the weeds down.
It will take your parsley anywhere from 70 to 90 days to mature. Therefore you might end up crossing that frost date line. If that is the case be sure to cover your parsley with a cold frame if you decided to plant your parsley in your garden bed. If you went the container route, simply bring them inside if that is possible, otherwise use a cloche to keep your parsley protected.
Fresh parsley, of course, is the best way to consume it, but this herb also dries out really well. I have dehydrated plenty from a couple of plants, and to me it still tastes great.
Enjoy!
About Mike