With Sharon Peterson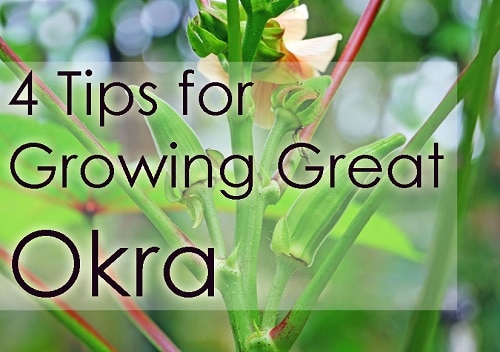 You know growing okra is not something I do. Mike says in his article below many people don't grow it because they don't eat it…. Uhm that would be me!
EDIT TO ADD: Call me crazy but since I posted this article, I've discovered new ways to eat Okra! Namely a certain THM Smoothie. 🙂
Though I'd love to try pickled okra! And maybe Mike is right… growing it yourself makes a tastier dish.
This is a guest post by Mike of Average Person Gardening
Mike has some great tips!
4 Tips for Growing Better Okra
Okra is one of those vegetables that most home vegetable gardeners look past when planning their gardens. Most of the time it is because they, us home vegetable gardeners, say they don't eat it. While that may be true, okra, like many other vegetables you grow in your home garden, tastes so much better than what you will buy in the store.
Okra is part of the Malvaceae, or mallows, family which contains an approximate 243 genera with 4225+ species including hibiscus and cotton. High in fiber and vitamin C, not only is okra a great health choice, it is also easy to grow at home, if you have a little space and some sun.
Pictures of growing Okra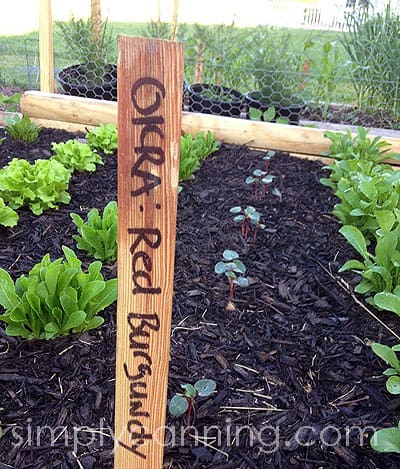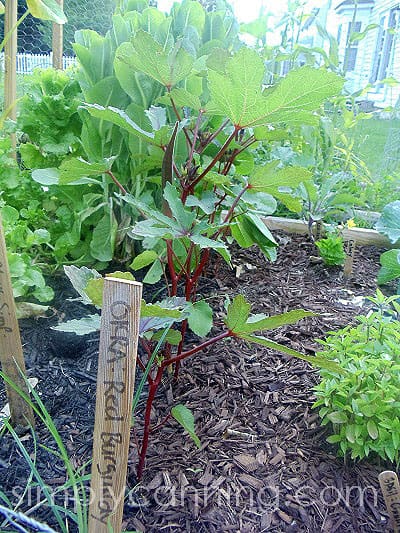 STARTING EARLY
Okra is a perfect candidate to start indoors from seeds. I recommend that you start your seeds no earlier than six weeks prior to the last frost date in your area. Any sooner and you are going to have some large okra plants sitting in your living room. Use a good potting soil to plant your seeds in or expandable peat pods work great also.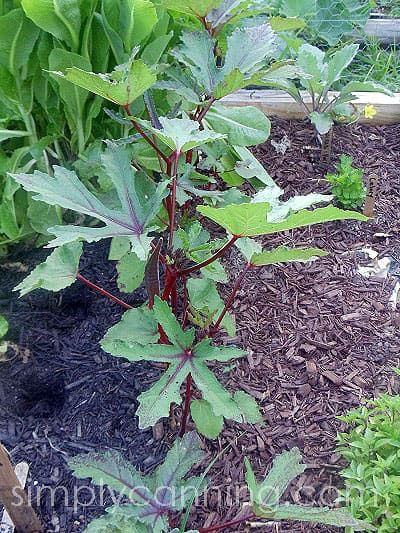 As is the case with any vegetable that you start indoors, you need a good light source. You can pick these up at any home center. They are fairly inexpensive to not only buy, but operate. Set your light source about 2 inches above your seed starting tray and keep it at that height above your okra plants as they continue to grow.
Your Okra plants will need at least 8 hours of light each day, and an automatic timer works best for this application. You can get a real good one for as little as $6 from a hardware store or home center.
GREAT IN SUCCESSION PLANTING
Okra is a perfect candidate to follow peas since peas are considered a nitrogen-fixing crop. That is, a crop that produces nitrogen compounds to help plants grow. Also, peas grow early and are finished by the time Okra is ready to be planted, in most cases. This gives you a soil with nitrogen rich compounds and space to plant them in.
Growing Okra Particulars
Once your okra plants are about six inches tall, put a good mulch around the base. Two to three inches deep of pine straw or pine needles, although other mulches will work just as well, should suffice. This is going to help you conserve moisture, and aids in reducing the amount of weeds that will pop up around the base.
DON'T FORGET TO FEED
All vegetables need to be fed every couple of weeks and okra is no different. Fish emulsion or compost tea make for a great organic solution when it comes to feeding your okra plants. You should feed your okra plants weekly with compost tea and bi-weekly if you are going to use fish emulsion.
When the okra pods are about the length of your finger they are ready to be harvested. Be sure to use a knife or scissors to cut them off from the plant. You could potentially damage your okra plant if you try to pull them off.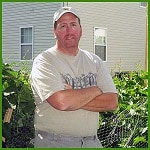 Home › Starting a Vegetable Garden › Growing Okra