Guest post with Rhonda of The Farmer's Lamp
What do you do with volunteers in your garden? Not the kind who show up and want to help you get some work done, who wouldn't like that?
I'm asking about the plant kind. Seeds drop into the ground from mature fruit and the next season…Surprise! Last year we planted 25 okra plants from seedlings. After awhile we began seeing okra plants crop up all over a section of the garden. We had to kill some of them when we were planting other crops there, but we ended up with 60 okra plants in all.
The volunteers actually produced most of our crop last year.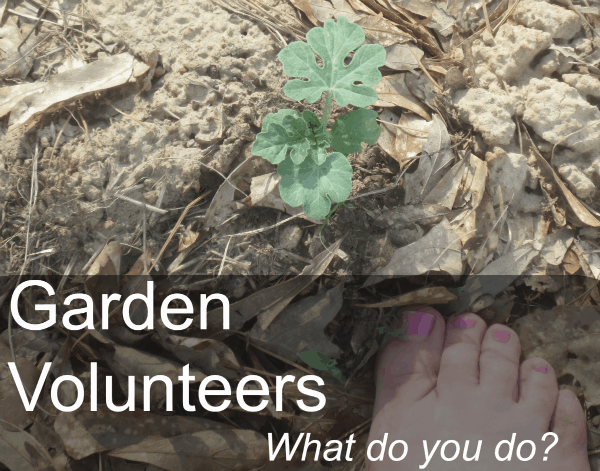 This year we have quite a few Ali Baba Watermelon volunteers. We lost the battle with grass last year because of time constraints so when we cut it down, there were some overripe watermelons hiding in it. Ta da! Volunteers.
Some people pull up any volunteers right away. I have a problem doing that. I dislike thinning or wasting a plant of any kind, I get that from my grandfather, but before I decide to keep them, I have to consider a few questions.
Does the volunteer hurt my Crop Rotation:
As a way of improving and maintaining the soil of our garden (a whole discussion in itself), we practice strict crop rotation. In order to do this, keeping a garden journal is essential.
Our garden is 100′ x 50′, besides the containers and raised beds, so remembering exactly where we planted what every year is not something I put my mental energy to. I use a garden journal for that. So if a volunteer from a previous crop comes up, I look at my plan to see where it was planted last year and the year before. I do this so that I'll have a good idea of the movements of this plant over the garden.
Usually, you won't have more than just a few. We had so many okra volunteers because my mother was diagnosed with a terminal disease and we were traveling a great deal back and forth to doctors. This meant that I did not have as much time to devote to the garden and a few of the stalks went to seed before we could get them down. I left them because they had been in a good crop rotation and that meant the risks of soil overuse or any contamination was negligible.
Was last year's crop a healthy one:
If the volunteer is from a crop that had any health issue the year before, I pull it. Different fungus', insects, and blights can remain in the soil and the seed of an effected plant.
As part of improving and maintaining the soil integrity, it's important to completely remove any diseased plants from the garden and treat the soil if necessary (just a note that we are organic, non-gmo in all of our farm practices).
We have about ½ of our current plot deep mulched. We hope to have the other half done by next spring, but you know how the best laid plans go. I have found that this helps to contain any disease because the plant is kept away from the soil and I can treat the area and remove it before it spreads and before the crops get composted.
Normally, we leave any healthy garden leftovers in the garden to compost there (not seeded fruit of course). That's to say we let compost whatever our chickens leave for us after they scratch through and clean up. 🙂
Is this a crop we like and wanted to have in the garden again: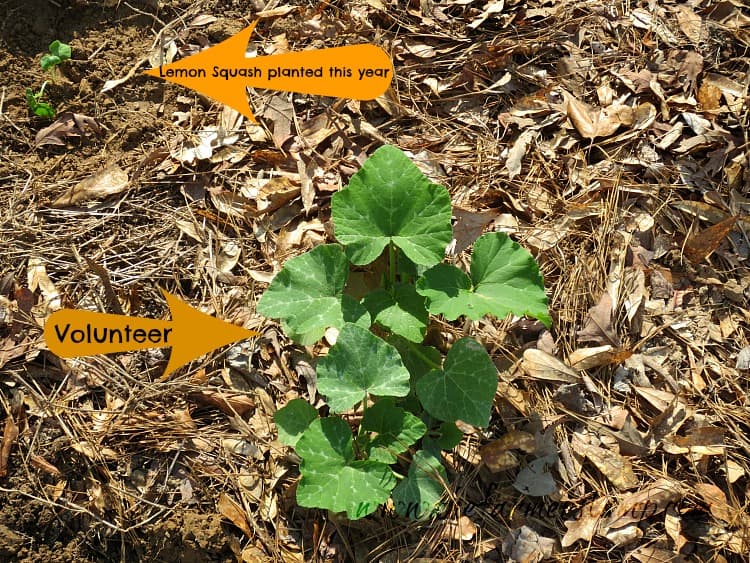 There are only a few crops that spring to mind that we decided did not work for us for one reason or another. A couple of them we just didn't care for, some were not as productive in our climate as we'd like them to be in order to justify taking up the garden space, and a couple were just trials that failed.
Planting something new in your garden every year is fun and can lead to discovering a taste for something you didn't know you liked, and even contribute to saving a rare plant.
Each year, we add at least one rare or endangered fruit or veggie, or a rare variety of a favorite, to the garden. That means we have to decide if we like it, if it produced for us, and if we want to save its seed and continue to have it. If the volunteer meets these requirements, it lives! If not, it gets pulled.
Do you have space for it where it's coming up: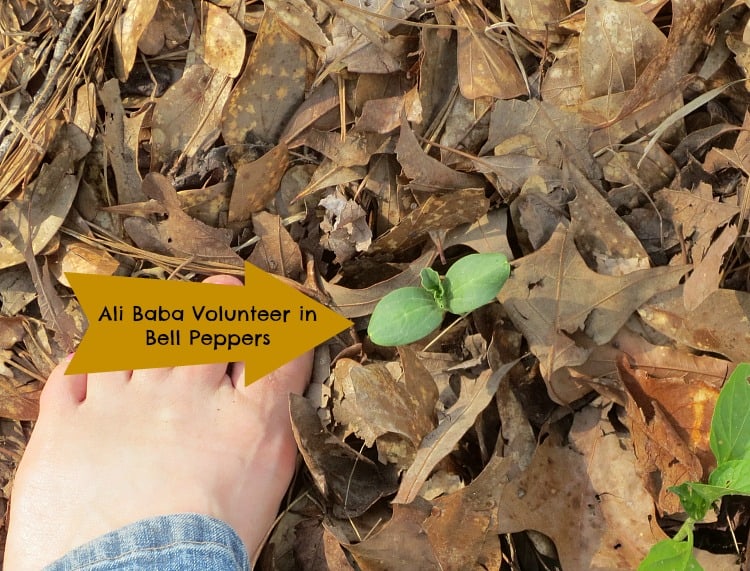 Some plants take up more garden space and require more from the soil than others. Deciding to keep a volunteer in an area where it won't have enough growing room, adequate nutrition, or it will impede the crop you have selected to plant in that area is not the best plan. Under these circumstances it is best for the overall well being of your garden to pull it.
I left a watermelon volunteer in the bell pepper patch because the peppers will be tall and the watermelon will run on the ground. The pepper cages will prevent the tendrils from taking over the pepper plants.
Is it compatible with the crop planted in the area:
I grew up gardening, but one of the pieces of wisdom I failed to gain was why my grandparents planted what they did, where they did. They learned from their parents and so taught me.
They taught me about crop rotation, even though they did not understand the science behind it. For instance, they taught me to plant corn where I had planted peas the year before so that I would have a good crop. They didn't understand that peas fix nitrogen in the soil and that corn is a heavy nitrogen feeder. They just knew it worked best that way.
I'm very sure they discussed companion planting with me because my grandfather planted corn, then beans around the corn, and then pumpkins in the rows. I just failed to listen well so I've had to learn companion planting as I go.
If a volunteer is not compatible with the crops around it, obviously it's best to pull it. I have left a volunteer in an area that it was not compatible with its neighbor, and found that neither of them produce well.
Lesson learned? If it can't get along with the neighbors, pull it. "Yank it like your startin' a lawn mower!"
Here are a couple of companion planting article for you:
Mother Earth News Companion Planting Guide
If you do a search…. you'll find lots of Planting Guides.
I have chosen to leave most of my volunteers this year because
they are not in a repeat pattern in the crop rotation,
they are from a healthy crop,
they are definitely what I want to have,
they have enough space, and
they are compatible.
I have a couple of Upper Ground Sweet Potato (this is a squash), several Ali Baba watermelon, a butternut squash, and two tomato volunteers. The tomato volunteers are oddly enough in my containers. One is in with the lettuce and the other showed up in a container we put a baby cedar tree in.
Cedar Trees? Tomatoes?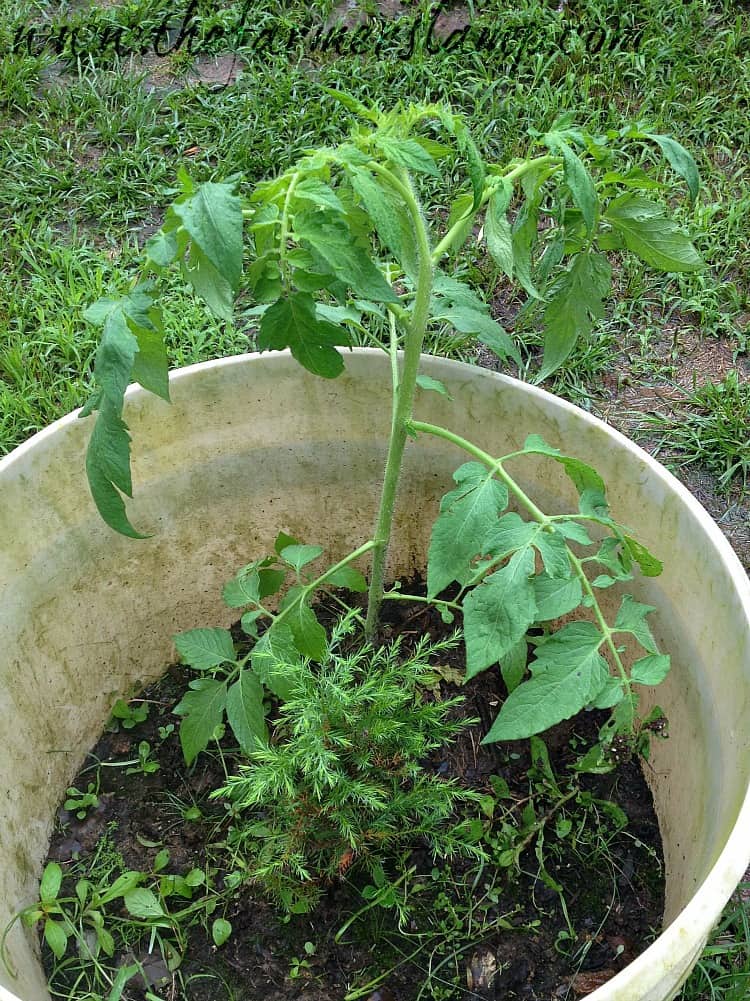 Our farm once was covered in cedar trees. My great-grandfather and grandfather Greer cut them down to build barns, houses, and to use for fence posts. They failed to replant them though so we have few of them here now.
We were getting ready to do some bush hogging and while walking the area, my husband saw this little guy right in the path to the creek. He dug it up and put it in the container to let it get bigger before we chose the site to replant it.
One day he was checking on it and he said, "Hey, this looks like a tomato plant." Sure enough it was. I don't know if I dropped a seed in there of if there was a seed in the compost soil we used for the tree.
Either way it's much bigger than the tree, as you can see.
What do you do with your volunteers? I hope this article helps you decide what to do. You can always contact me personally or leave your question and comments below. While you're here, be sure to explore the wealth of information you'll find at Simply Canning. You may want to sign up for Simply Canning's newsletter and post notifications so that you don't miss anything. If you like this article and this site, please feel free to share it with your family and friends.
Safe and Happy Journey,
Rhonda and The Pack
About Rhonda
Rhonda comes from a family of generations of farmers, "I couldn't be anything but a sustenance farmer. It's who I am. It's an exciting, never ending journey." Besides being a farmer, she is a wife, mother, business owner, retired registered nurse of over 21 years, writer, and owner of The Farmer's Lamp.
You can read her articles in Countryside and Small Stock Journal, Backyard Poultry Magazine Blog, and on the upcoming Countryside Magazine and Small Stock Journal Blog.
Old-timey, down to earth, common sense knowledge is what you will find at The Farmer's Lamp