With Sharon Peterson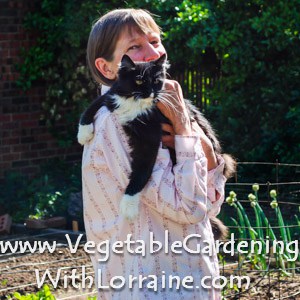 Interview with Lorraine of Vegetable Gardening with Lorraine
French intensive gardening tips and advice from expert gardener Lorraine Ayre. Double dug gardens, raised beds, compost, worms and more.
The following is a transcript of a podcast I did with Lorraine of Vegetable Gardening with Lorraine.
What started out to be a brief interview turned into an amazing session on How to Garden! I've broken up our conversation into subjects and edited the transcripts for clarity.
Start of transcript:
Sharon: Lorraine you have a wonderful site! It's very easy to navigate which is really important to me and all kinds of information. I can tell you know what you are talking about.
I was looking at your About Me page. You have lots of education on gardening. It says here that you majored in botany at Oregon State University and the University of Montana.
And you started organic gardening when you visited a now famous French intensive garden at UC of Santa Cruz. What was that all about?
Topics
We went on to discuss many topics on gardening naturally and working with the soil to produce a successful garden.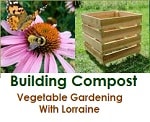 Double Dig Gardens and Raised Beds
Gardening in Clay Soil, Rototillers, Hard Pan and Hard Clay Soil
How to Make Compost, Compost pile or bin? Using kitchen compost,Mulch or Compost
Building a compost bin, Homemade compost bin, Ingredients for creating compost
Composting instruction, Using Manure in your garden, is it too hot? Compost it or just dig it right in?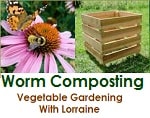 Worms don't go in a compost bin, How to build a worm bin,
Bedding, Temperature, Do they smell?…. NO!
Compost Worms What type of worms, Red Wigglers
Harvesting and Using Worm Compost.
Feeding your Worms.
Garden tools, Why the investment in good tools is worth the expense.
Fall Garden Clean up
Links to pages of interest
For more check out Vegetable-Gardening-with-Lorraine,
Seriously, check out her site. She has a wealth of information and experience.
As you can tell we covered many subjects. Be sure to visit Lorraine at
Vegetable-Gardening-with-Lorraine.com.