Combine Freeze Dried Food with Home Canning
With Sharon Peterson
I've delved into the world of Freeze Dried Foods.
I can hear it now…. you are asking…. "But Sharon?! you garden and can so much. Why would you use this?"
Because it is good, healthy, clean eating!
As you can probably guess, I'm a pretty active home canner and gardener. I call my garden my Happy Place. Canning, freezing, dehydrating and yes…. freeze drying are all ways to preserve food for later use.
It is simply another way to preserve your food. And I'm finding it is healthy, clean and easy to cook.
Two ways I get freeze dried foods.
If you want to try out freeze dried foods there are actually two ways to go.
If you are an avid "do it your self-er" you might consider a Harvest Right Freeze Dryer. The brief scoop is this is a machine to freeze dry foods at home. I'm guessing there may be a segment of my readers that would LOVE this. However it is an investment both in money and time…. you REALLY have to want to handle it all yourself. Read more here –> Harvest Right.
You might think as an avid canner I'd be a part of the above group… but after having the freeze dryer for a couple years I've found that the reality is…. I don't use it.
I tell myself I should, and I have a few times but… the machine mostly sits empty. I use it only on occasion. Sooooo I'm definately working my way into convenience mode! I buy my freeze dried foods commercially.
Are you Health conscious?
Love knowing where your food comes from? Me Too!
Are you pretty healthy conscious? Love knowing where your food comes from? Me too.
Enter in Thrive Life foods. Why Thrive? Easy. Of all the companies I've tried, Thrive has the best tasting food. AND they have the healthy practices, standards and procedures.
They are also open about where their food comes from. If it is possible to source in the US they do! And there is a product sheet with all products listed and specifics on that food. Each has information on where the food is sourced so you can check it out for yourself. I can get you a copy of this if you'd like. Let me know. If you need any help at all contact me here.
Or keep reading.
Healthy
They have what is called the Nutrilock promise.
There are over 40 steps in the proprietary freeze dry process to make sure the taste, quality and nutrition are exactly how people describe it: amazing!
A couple of the steps of this nutrilock system that caught my eye….
Quick-freeze produce within 2–3 hours to maximize flavor and lock in nutrients. (It is NOT picked green!)
Verify country of origin of all our foods and prohibit foods from China and other regions that don't meet our strict food standards.
That is why I choose Thrive.
Plus this guy below!
The Pantry
Canning and gardening will always be a part of my kitchen. But there are holes in my canning pantry. It is just the nature of the method. Some things are best canned… and some not. I still recommend growing your own food! But the things that don't grow well in your area, buy freeze dried.
A couple examples for me are broccoli and cauliflower. They are doubly hard to grow because of the area where I live. I gave up planting them because I never had much luck and I just didn't want the hassle. Even if I could grow them easily, they should not be canned except as pickled food. I always purchased frozen broccoli and cauliflower. Now I'll buy freeze dried.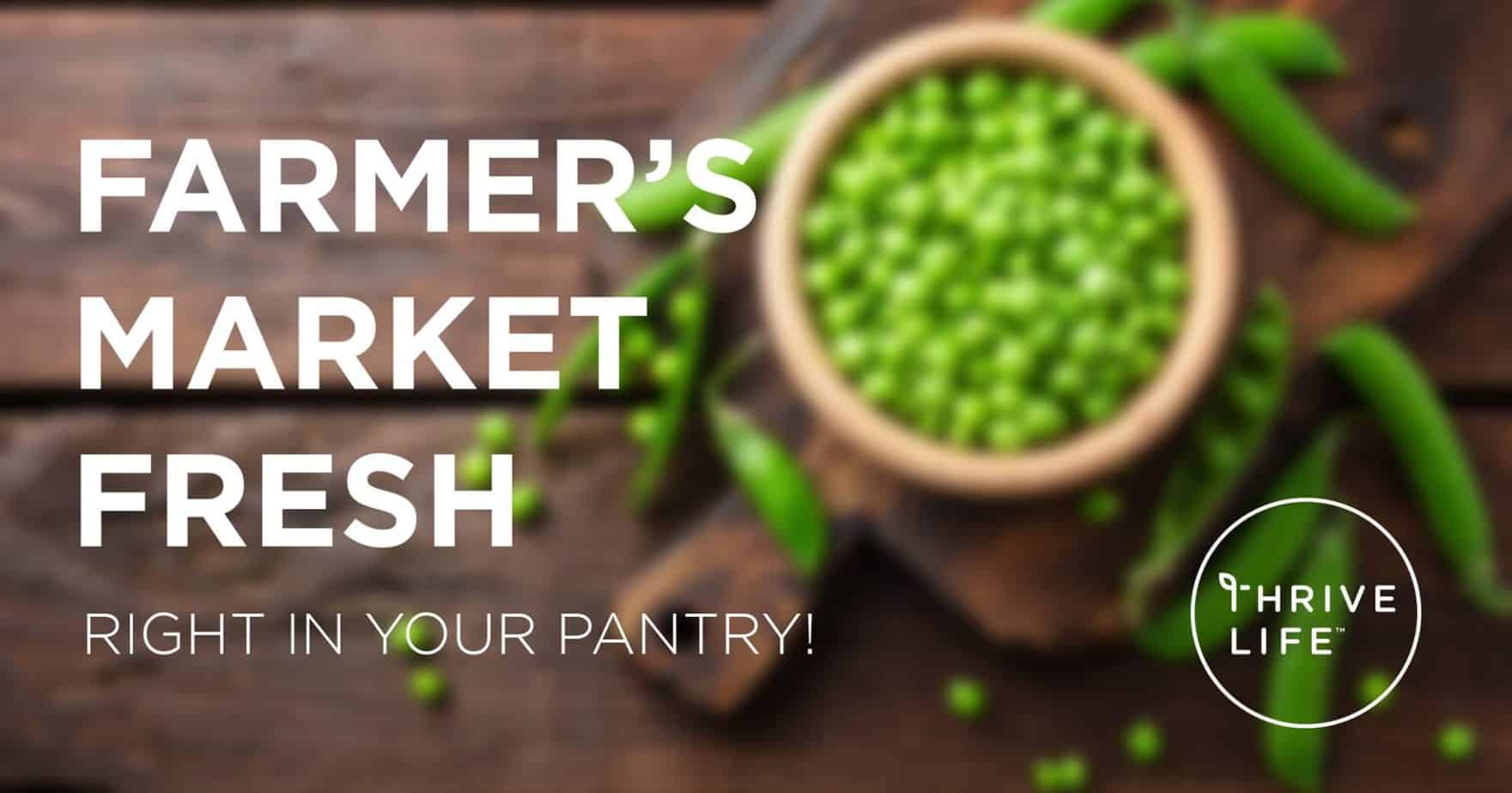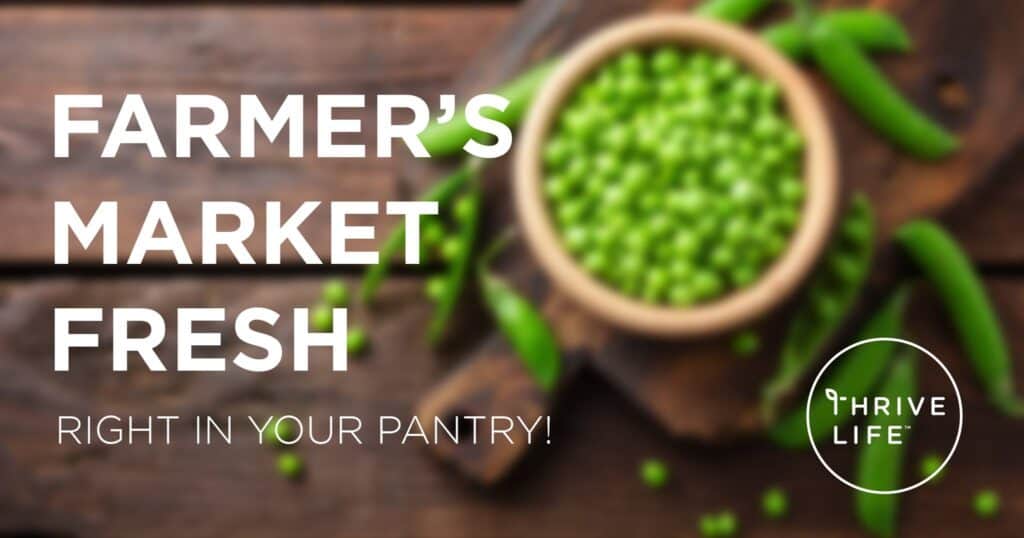 Peas are a favorite in our house. But do you like canned peas??? Uhm I don't. Can you say mush? Freeze dried peas save space in the freezer and they are just like fresh when cooked… I also toss them on my salads for a little crunch!
Fruit is one of those food types that does well with all kinds of preserving methods. I'll probably always can apricots and peaches. But it sure is nice having the freeze dried options to snack on too. Did you know that freeze dried corn is so sweet and tasty you can eat it just like it is? And I top my salads with it too. It adds a lovely crunch.
A bit of security!
Thrive foods is a great way to add to a home food storage for your family. Do you have a plan for emergencies like oh… Hurricanes? Food Storage is another topic that I discuss on Simply Canning that I don't bring up very often. But it is important. More on food storage here.
Freeze dried foods are simply another way to preserve foods.
Freeze Dried Foods are one of the most nutritious and healthy ways to preserve and serve your foods. Add to that the convenience and you have a winner.
Have you ever seen a comparison between the food value of freeze dried food vs the grocery store? Freeze dried food can actually be more nutritious! Stores always pick food unripe. This is so the food will survive the transportation time needed. Thrive foods are picked ripe, flash frozen the same day and then freeze dried.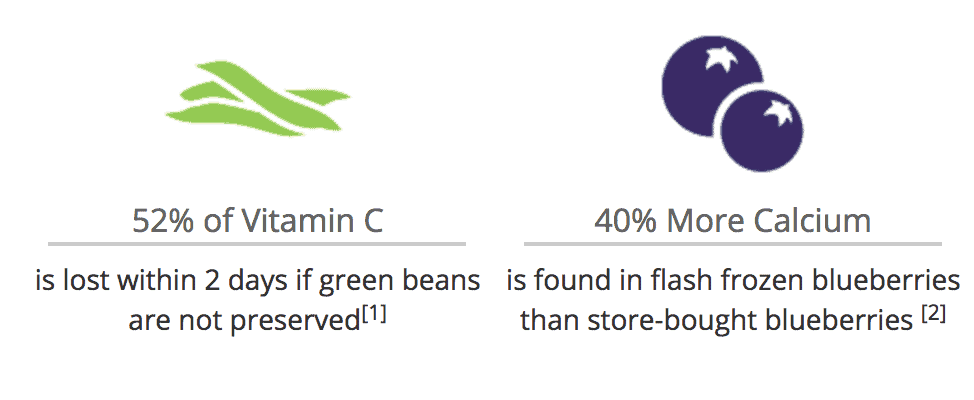 ---
Using freeze dried food in your kitchen.
If you are here on Simply Canning I am assuming you are interested in canning. With home canned chicken broth and thrive vegetables…. you've got a quick soup that is much healthier than the salt and preservative laden soup that comes in a can at the store.
Add freeze dried fruits to homemade granola. I do this a lot! In the past I've always loved shredded coconut and slivered almonds in my granola.
Add Thrive fruit to your oatmeal. Talk about a quick easy breakfast. Make this for a midday snack. Put about 1/3 cup oats in a bowl, add a handful of freeze dried fruits (apricots is a favorite) and about 1/4 cup of water. Heat it up, add a splash of milk or cream. The freeze dried fruit adds a bit of sweet to the oats. Healthy quick and easy.
Dried onions are always handy to have around. With Thrive onions all the chopping and dicing is done! Love that.
Thrive Fruit and Oats
Here is a live facebook I did when I was prepping some quick breakfasts using Thrive fruit.
How to Order
Are you ready to consider Thrive Life?
If you are interested in purchasing freeze dried foods through Thrive click through to my Consultant Store for the best prices. Check out what they have and look through some of the reviews.
You get wholesale pricing by ordering through an independent consultant like me. (I'm an independent consultant, I do get a benefit should you purchase through my store. Thank you!)
You should see Hosting Consultant: Sharon Peterson in the top border.
If you need any help at all contact me here. Contact Sharon
Enjoy your freeze dried foods!
Back to the Home
Thank you and I'll talk with you soon. Have a great day!
Sharon Peterson
Independent Thrive Life Consultant