With Sharon Peterson
This Crockpot Chili Recipe isn't a canning recipe; it's just a dinner recipe that happens to use home-canned food.
On days when I'm doing a whole bunch of canning and don't feel like cooking anything else, one of my favorite ways to make supper is to use my Crockpot. Sometimes I use it to make chili!
If you don't have a home-canned ingredient and you'd still like to make this recipe for dinner, just use store-bought ingredients instead. I used store-bought beans in the video! 🙂 It will work fine, even though I think it tastes somewhat different when you use home-canned ingredients.
My Crockpot Chili Recipe
Ingredients:
1 pint of ground meat. (I used ground elk, but you could use ground beef, deer, pork, chicken, or another meat of your choice!)
1 quart canned tomatoes. (Sometimes, I make this recipe with a jar of stewed tomatoes that contains onions and peppers in it. But if it's garden season, I use fresh onion and peppers instead–see amounts below.)
~1 cup of chopped onions
~1 cup of chopped peppers
1-2 pints of canned beans
1 tsp salt
⅛ tsp paprika
⅛ tsp cayenne pepper
2 tsp chili powder
Directions:
Put everything into Crockpot, give it a quick stir, and plug in Crockpot to cook for at least 3-4 hours minimum. Super easy chili to make.
You may adapt ingredients according to your tastes, including the cayenne pepper! Just be careful with that one… 🙂
Members' Extra: Access Your Video Tutorial in Your Members Area
Canning school members, click here to log in.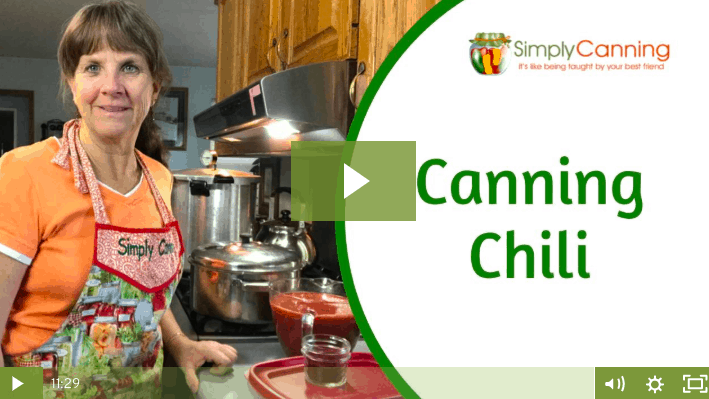 Other pages you might like.
Home › Simple Cooking With Home Canned Foods › Crockpot Chili Recipe