With Sharon Peterson
Canning lids do have a shelf life. I am talking about unused lids in the box. Not lids on jars.
I've seen it recommended that you not buy more than what you will use in a year. But then I've also seen that lids will be good for 5 years. Seems like they contradict, right?
This is the quote I found from the NCFHFP.
"Gaskets in unused lids work well for at least 5 years from date of manufacture. The gasket compound in older unused lids may fail to seal on jars. Buy only the quantity of lids you will use in a year."
My opinion, the 5 year date is a good number to go by. But don't buy too many. You might as well not push that date. One years supply is pretty good but if you go over certainly don't throw your lids away.
Then you'll have the situation where you don't really know how old the lids are but you are pretty sure you are within that 5 year range. In that case, check the rubber compound. If it is flat and not rubbery, don't use them. The seals will not work.
I hope that is helpful. I had several ask that question. 🙂
What about buying second hand lids?
Can you buy second hand lids if they are new and in the box unused?
Use caution if you are buying lids second hand. The flats are not reusable.
Even if the seals you purchase are "new in the box" you need to inspect them. Make sure they are not bent and more importantly check the rubber sealing compound. It needs to be rubbery, soft and not dried out.
Personal used canning lids story….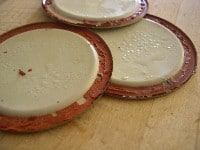 I purchased some seals at an auction. Now I LOVE auctions! My husband and I regularly scour through old boxes of "stuff". We enjoy it. We get some great deals at times.
This time was not one of those. I found a box full of jars and some boxes of seals. The seals were very old but they were in the original box and had not been opened or used. At first glance they looked like new. I thought I'd found a great deal.
However when I heated them before placing them on my jars I noticed that the sealing compound was peeling. Definitely not usable. The sealing compound was totally dried out. Very flat. No rubbery feeling to them at all. They were just too old.
---
Home › Other Canning Equipment › Canning Lids Shelf Life
You might also like…
Source –http://nchfp.uga.edu/how/general/recomm_jars_lids.html