With Sharon Peterson
My make it from scratch butternut squash and apple soup recipe turned out pretty tasty for my lunch. This is not a canning recipe, it is simply a soup I made from my leftover from canning. I had both my pressure canner AND my pressure cooker going on my stove. Canning soup and squash were the activities of the morning.
I had cubed up a bunch of butternut squash and ended up with about 2 cups left over. Perfect! It is lunch time. I'm hungry.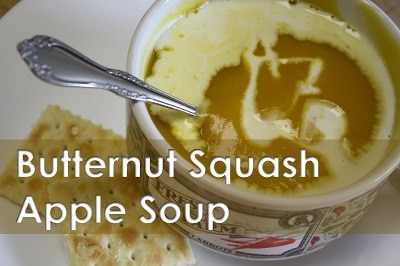 Butternut Squash and Apple Soup Recipe
After looking on the internet for soup ideas I came up with combining the butternut squash some apples and some seasonings to dress it up.
I took the 2 cups of squash I had already peeled and chopped and dumped it in my pressure COOKER. That is my pressure CANNER to the left processing soup and the pressure COOKER on the right making my butternut squash apple soup for lunch.
---
I emphasize this because this is not a canning recipe. It is just a recipe for my lunch made in my cooker. I don't want anyone to get confused and think canning this recipe is ok. I don't recommend canning pureed soups or anything with dairy.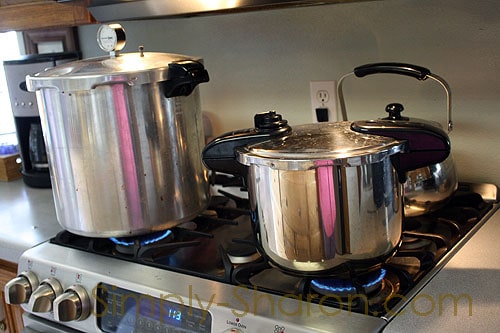 Add one peeled chopped apple. (done with my handy dandy apple peeler corer slicer) and 1 tsp dried minced onion.
I would have chopped a fresh onion but… I used up the last of my onions in my canned soup. (Happiness is; knowing that you have minced onion in your food storage for those occasions when you run out of fresh onion. For my options on freeze dried foods check out this page.)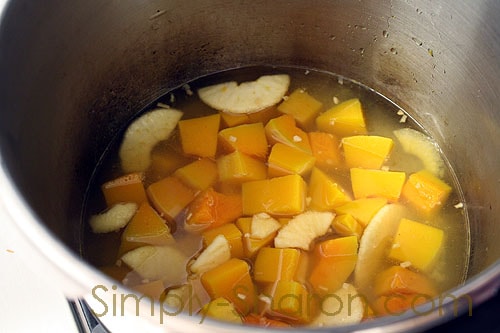 Add 1 tsp salt, 1 tsp dried ginger, 1 tsp dried curry.
Add enough water to just cover, some of the chunks will be above the water and that is ok. You don't want too much liquid. So you now have; chunks of squash, apples, seasoning and water.
Then place the lid on your cooker. The following is the way I make this in my presto pressure cooker. You might want to check your owners manual for any specifics regarding your cooker.
Turn the heat on high and allow to come up to pressure. Then turn the heat down to low and maintain that pressure for 5 minutes.
When the time is up allow the pressure to reduce naturally.
When I opened my pressure cooker, I realized I had too much liquid so I drained off most of it. (Note: next time use only about a cup of water) Place the rest in a blender. Wait a few minutes to allow the soup to cool a little bit. Blend up the soup and add just enough liquid back to get a thickish soup consistency.
Be very careful! The soup is hot, if it slops out it will burn you. If you lay a kitchen towel over the top it will help keep any spurting under control.
Editing to add – Since I made this soup I purchased a stick blender… if you don't have a stick blender, try it! I absolutely recommend mine.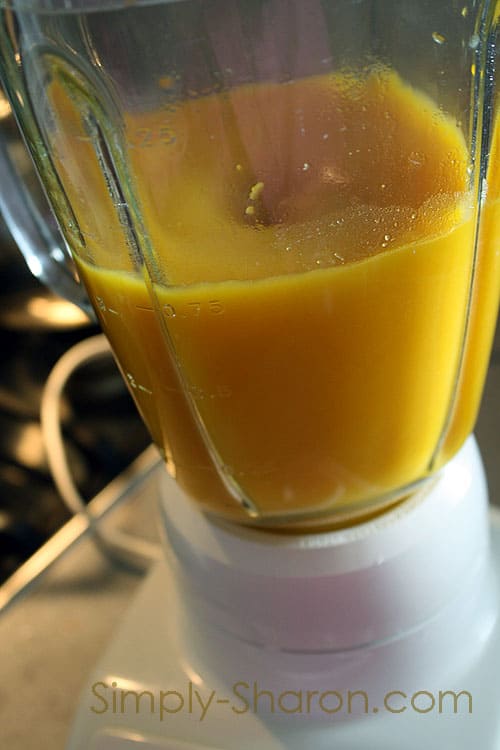 Serve with half and half or some other cream on top…. It makes the soup! You could add it to the blender when you puree it…. But the swirls look so pretty in the bowl!
Crackers or toast make great accompaniments
Notes:
This only makes a small amount of soup. It is just enough for two small bowls. Perfect for just one person with a little extra. If you have a hungry man on your hands…… make more! Add a grilled cheese sandwich. Or a hamburger patty for those guys who don't consider a bowl of soup a meal. (uhm can you tell I live with a couple said guys?)
If you don't have a pressure cooker you could make this on your stove top. Just bring the soup to a simmer and simmer until fork tender. Continue with the puree steps.
OK So as I'm typing this I'm thinking of other additions. You could add some cooked rice after you puree it. Or you could even serve this over noodles. The options are endless.
Be sure you like ginger. If you don't like ginger, you won't care for this soup. If so try just leaving the ginger out. Add some garlic! Garlic makes everything good.
You might also like…